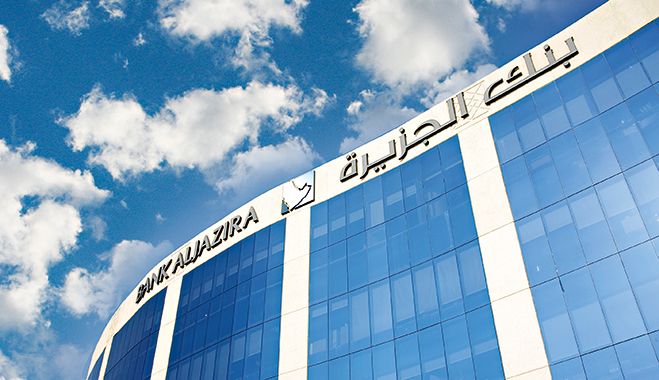 Aljazira head office in Jeddah, Saudia Arabia. In 2007, the bank took steps to become sharia-compliant, restructuring its regulations and services, as well as creating a sharia advisory board&nbsp
Author:
Khalid Al-Othman, Senior Vice President & Head of Retail Banking Group, Bank Aljazira
February 10, 2015
Making banking more secure is now a priority for suffering Western economies ravaged by the financial crisis. Islamic finance, which bans the practice of depending on debts, collaterised debt obligations and hedging bets, was one step ahead, protecting institutions from the downturn when it struck in 2007.
That was the year Saudi Arabia saw the rebirth of Bank Aljazira as a new, fully sharia-compliant institution. Converting from an ordinary bank to one subject to Islamic law meant undergoing substantial changes in its infrastructure, regulations and services, as well as creating a sharia advisory board, made up of leading scholars in the sector. It delved further into the realm of socially responsible banking by launching Khair Aljazira Le Ahl Aljazira – a scheme to provide financial support to charities.
Since then – and in the face of challenges brewed up by the transition – Bank Aljazira has seen significant growth, expanding its operations, growing its assets, increasing its market share and extending its network of branches. As the first bank in Saudi Arabia to launch mobile apps for Android and Windows, it's also expanding its digital reach and setting a trend in the country's financial market.
Bank Aljazira in numbers
2007
Year fully sharia-compliant
$10.66bn
Assets
3.4%
Asset market share
$14.4bn
Deposits
69
Branches
489
ATMs
World Finance spoke to Khalid Al-Othman, Senior Vice President and Head of the Retail Banking Group at Bank Aljazira, about how its ambitious investment and expansion plans have helped it to achieve success, what it offers customers as a market leader in the mortgage sector and where the future lies for one of Saudi Arabia's most innovative financial institutions.
Where does Bank Aljazira stand in comparison to other Saudi banks and which factors drive your market share?
In 2008 the board of directors decided to expand the bank's operations, growing from what was primarily a brokerage firm to become a fully-fledged bank with a diverse portfolio of banking services. Since then the bank's asset book has grown to reach SAR 40bn ($10.66bn), giving us a market share of 3.4 percent in the sector. Our deposits have grown to SAR 54bn ($14.4bn), which gives us a market share of 3.3 percent in that division.
Since 2008 there have been huge investments across all aspects of the business. We implemented ambitious growth plans within our retail banking segment. The bank planned to extend its reach through a large network expansion plan, which incorporated both branches and electronic channels. Our network has grown almost three-fold, increasing from 24 branches in 2008 to 69 branches by the third quarter of 2014. Our electronic channels have also evolved at a rapid rate, helping us to become one of the leading electronic banking channels in the market. In addition to that we rolled out an efficient ATM network, which means there are now 489 ATMs in the country, resulting in a market share of 3.2 percent during the same period.
Over the past few years the bank has attracted strong talent and expertise, forming a workforce that has been able to deliver all of the above with success, while creating innovative Islamic banking solutions. We launched one of the most competitive and flexible real estate financing solutions on the market for both housing and investment, which saw our market share grow within the sector to reach 6.9 percent in the space of three years. We also introduced competitive personal finance services, which grew our market share to 3.34 percent in the second quarter of 2014. Thanks to our balanced scorecard and compensation scheme our demand deposits have also grown, rising 225 percent since 2010.
As part of plans to diversify our revenue stream, we introduced a strategic business line in 2013 in order to tap into one of the biggest international markets – remittance. We launched Fawri, a money transfer service that opened its first remittance centre back in December 2013 and now has seven such centres in Saudi Arabia.
We believe that further investment in expanding our branch network, while continuing to upgrade our electronic channels to serve our clients more efficiently, will be the main pillars for our growth in the coming years.
What are your expectations for the development of the mortgage loan market in line with the new credit regulations?
In the short and medium term, the real estate market will introduce new laws and regulations to govern real estate finance and its impact on the market. Given the demographics of Saudi society – where young people make up the majority – and the estimated demand for real estate units (250,000 to 300,000 units per year), we expect demand for mortgage finance from financial institutions to increase. That demand will be supported by various flexible products, as well as the 'additional finance' product that we offer in partnership with the real estate development fund, which will help citizens to get on the property ladder.
How is the bank leveraging technology to enhance retail banking for consumers? How is that likely to grow your customer base?
We aim to introduce innovative electronic banking solutions that offer a pleasant banking experience in a convenient, user-friendly and secure manner. We have set that out clearly in our vision, 'Retail Banking… Differentiated'. Our network of electronic banking services can add value to both existing and potential customers. That network includes the Aljazira online banking service, Aljazira smart mobile banking service, our award-winning Aljazira Phone and the Aljazira ATM Network, which has a large reach stretching across the country.
What innovative products and services does Bank Aljazira offer?
With regard to services, we were the first bank in Saudi Arabia to launch mobile banking apps on Android and Windows phones. Other banks have since followed our lead.
Bank AlJazira's aim is to provide competitive Islamic finance products that suit our customers' needs. For example, we offer investment mortgage finance, where customers are able to buy an apartment or commercial building and repay the loan out of the income they receive from the property – in installments that suit them. For customers who already own properties and want to repay the loan from their property's income, we offer equity release finance.
Our clients are also able to purchase villas, apartments and actual land, whether from individuals, developers or other financial institutions. They can do that either on their own or with one of their family members. The bank also provides an optional grace period of six months where no installments are required, in order to give our customers the chance to purchase furniture and anything else they might need for the house.
Personal finance is another finance product that we offer our customers at competitive rates, using the Tawurq Islamic compliant concept; the bank takes ownership of local commodities or shares, and then transfers its ownership to the customer. The customer then has the option of either retaining the ownership or authorising the bank to sell them to a third party, with money from the sale going to the customer.
In terms of credit cards we offer classic, gold, platinum, and infinite cards, which provide one percent cash back on all purchases. We are also proud to offer the club cards branded 'Nadeek', which come in seven different designs that represent the football clubs in Saudi Arabia; thereby providing fans with a new way of showing support for their favourite teams.
As well as that we offer Visa low-limit cards, which are accepted worldwide and come in eight different designs, including Tamouh and Nadeek. They are easy to obtain, with the only requirement being that the applicant already has a Bank Aljazira current account. Customers can deposit their own funds to use as payment for goods and services. The card can also be used for online purchases and at outlets worldwide that accept Visa. These cards have proven to be very successful, with a large number of our customers applying for them.
How has the bank sustained its rapid growth over the past few years?
Bank Aljazira has continued to see strong growth over the past three years by focusing on an aggressive expansion project in terms of its branch network, establishing the credit card and remittance standalone businesses, improving internal operational efficiencies and ensuring we attract a workforce with exceptional talent
and expertise.
What is Bank Aljazira's strategy for growth in terms of its network of branches?
We plan on growing our retail assets and liabilities by further expanding the bank's branch network in the future. By the end of 2015, we plan on having 78 branches and 21 women's branches. Our aim is to have a total of 109 branches by 2018, thereby further extending our reach to meet demand in the market.