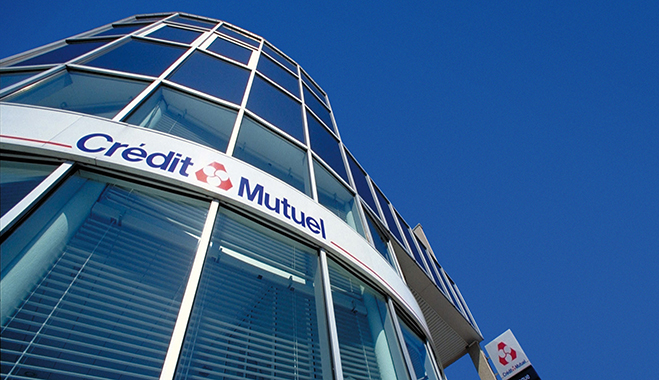 Crédit Mutuel offices. Despite France's economic challenges, the country still has the second largest-economy in Europe, and financial institutes, such as Crédit Mutuel, are bolstering its prospects&nbsp
Author:
Michel Lucas, Chairman, Confédération, Nationale du Crédit Mutuel
August 29, 2014
France has been highlighted by some sources as the weak link of all the major European economies, as the country struggles to negotiate the worst of its national debt crisis and keep pace with the rate of recovery in Europe. Nonetheless, for now the nation remains the second-largest economy on the continent, and boasts a number of key industries still in impressive shape.
One area that is still very much in its heyday is the financial services industry, which has expanded quite considerably over the years, regardless of sometimes-disappointing showings for the French economy as a whole. The industry's sterling performance has been underpinned, above all, by a number of enterprising players, whose contributions to financial services and to the French economy as a whole have been second-to-none.
The country's innovative streak can perhaps best be seen in the case of Confédération Nationale du Crédit Mutuel, a leading and long established bank and insurance group and a key constituent of the French financial services industry. "The Crédit Mutuel group played an active role in financing the economy in 2013, both at the national and regional levels," Confédération Nationale du Crédit Mutuel Chairman Michel Lucas told World Finance.
Crédit Mutuel in numbers
€2.71bn
total net profit
€2.65bn
net profit attributable to the group
14.5%
core tier 1 ratio
5,920
points of sale
78,482
employees
30.4m
customers
€669bn
in savings
€351.2bn
in loans
17.2%
market share in bank lending
14.9%
market share in deposits
A leading lender
Taking into account the entirety of the Crédit Mutuel network, the bank employs upwards of 100,000 employees, 78,482 staff members and 24,000 elected voluntary directors, and delivers its expert products and services to a customer base of 30 million, 28 million of which are individuals. What's more, backed by a long history of local experience, Crédit Mutuel continues to reaffirm its status as a leading lender for individual customers, as well as small, medium and intermediate-sized business (PME/PMI), for which it is the third-largest lender in the industry.
"With a focus on quality of service – the key to its trust-based relationships – the group is expanding all of its banking, insurance and service businesses by constantly making its offering more comprehensive, better adapted and more competitive," says Lucas.
As evidenced by its sizeable contribution to the French economy in years passed, Crédit Mutuel is indicative of the financial services industry's ability to look beyond otherwise unimpressive results and deliver outstanding financial solutions that rival even the most competent global names. The group's chairman speaks at length about the bank's progress, ratings (see Fig. 1) and how exactly Crédit Mutuel has managed to succeed where so many have struggled.
"Underpinned by the strong business growth of its networks, notably in retail banking, it has buttressed its fundamentals while combining growth and efficiency," says Lucas. "The Group maintained its focus on service quality and succeeded in growing across all its segments – banking, insurance, services – with an increasingly adapted and diversified product line."
For the year ending December 31, 2013, the group posted a net profit of €2.65bn and a total net profit of €2.71bn, representing an annual increase of little under 23 percent and thereby bolstering its already impressive share of the market. The bank's core tier 1 capital, throughout that same time, stood at an impressive €30.5bn, marking an annual increase of 6.6 percent and resulting in a core tier 1 ratio of 14.5 percent based on 'Basel 2.5' standards, the highest of any French bank and of any European lender. As of the end of 2013, Crédit Mutuel boasted 7.5 million members of its 11.5 million customers, as well as more than 2,000 local branches administered by more than 24,000 representatives and elected members.
The group's impressive performance has not come without investment, however, and the bank has grown to such an extent that its two main banking networks, Crédit Mutuel and CIC, together with the Targobank and Cofidis networks equate to an overall network of close to 6,000 points of sale. "Fully owned by its members, the Crédit Mutuel Group allocates all of its profits to growth and development, employee training and strengthening capital," says Lucas.
Remote access
Recognising technological expertise to be a key differentiator in the industry, the group holds this attribute at the heart of its development strategy, not only in France but also throughout the entirety of Europe and beyond. "New innovative services are constantly being added, confirming the group's position as a leader," says Lucas.
As a pioneer in the field of remote banking, Crédit Mutuel offers a range of digital services to maintain close ties with its members and customers. Not content with a bricks and mortar branch network alone, customers have the opportunity to indulge in all manner of remote banking products and services, and, in 2013, the group's remote banking division recorded more than one billion contacts, of which almost half were via the internet.
What's more, mobile telephony, the group's third business line, offers yet another means of providing bank insurance and financial services, and represents an alternative payment method to support the group's position in electronic payments. Finally, to satisfy the needs of individuals as well as professionals, the group created EPS, a residential remote surveillance system that stands as the leader in France with a 35 percent share of the market.
Understanding that customer expectations today are greater ever than they have been, Crédit Mutuel, as with any other successful name in financial services, has taken strides to ensure that it can offer a multi-facteed experience for today's much-changed banking public.
The group's insurance subsidiaries are also a major force to be reckoned with in France. Groupe des Assurances du Crédit Mutuel (GACM), Suravenir, Suravenir Assurances and Assurances du Crédit Mutuel Nord (ACMN) together manage a total of 34.4 million policies, up 11.2 percent on the year previous, of which 29.6 million are in risk insurance and 4.8 million in life insurance – on behalf of 12.9 million policyholders.
Total income generated by the insurance business last year reached €14.4bn, representing an increase of 21.2 percent in one year, and in large part driven by life insurance. The group's results in the insurance segment once again illustrate the strength of the historic bank insurance model, which was created by Crédit Mutuel more than 40 years ago now, and accounts for more than 30 percent of its total net profit.
Growing internationalisation
The group's international presence is also on the up, and operations aside from those in France accounted for approximately 18.2 percent of total net banking income last year, up from 4.7 percent in 2005. The bank's expansion into international markets, however, has not come without an appropriate strategy to match, which has seen the bank embark upon a series of carefully chosen partnerships.
In 2013 the group finalised agreements to strengthen its partnership with the Canadian banking group Desjardins and signed an agreement in the insurance segment to mark the creation of Monetico International (SMI), a leader in the global electronic payments market.
Last year also marked the first full-year consolidation of the Belgian division Beobank/OBK and, in the insurance segment, of the Spanish subsidiary Agrupacio. "Crédit Mutuel Group's goals are aligned with those of its shareholder members and customers on behalf of the economy. The group is continuing its diversification policy in France and abroad, while consolidating its retail banking position outside of France," says Lucas.
The same values demonstrated by the group in forming these various partnerships can again be seen in the way in which the bank is governed. Cooperation, responsibility and solidarity are the cornerstones of the group, and have been since Crédit Mutuel was first established.
"It belongs to its members, who own its share capital and guide its strategy through a democratic process," says Lucas. "As a mutual bank, Crédit Mutuel bases all of its actions on the interests of its members. Growth is always guided by the founding values: solidarity, responsibility, equality, proximity and transparency, and these shared values are as strategic as the quality of its services. At the core of Crédit Mutuel's identity, these values affirm its difference and underpin its growth model."
Supported by a stronger balance sheet and controlled growth, the group actively contributes to supporting the real economy on a daily basis. Owing predominantly to the day-to-day commitment of its directors and employees, the trust shown by its customers and solid financial fundamentals, Lucas believes the group can focus on growing, adapting and affirming its difference, constantly aiming to better "help and serve" its members and customers. "With these assets, it can confidently meet the economic, technological, competitive and regulatory challenges of today's world," he says.