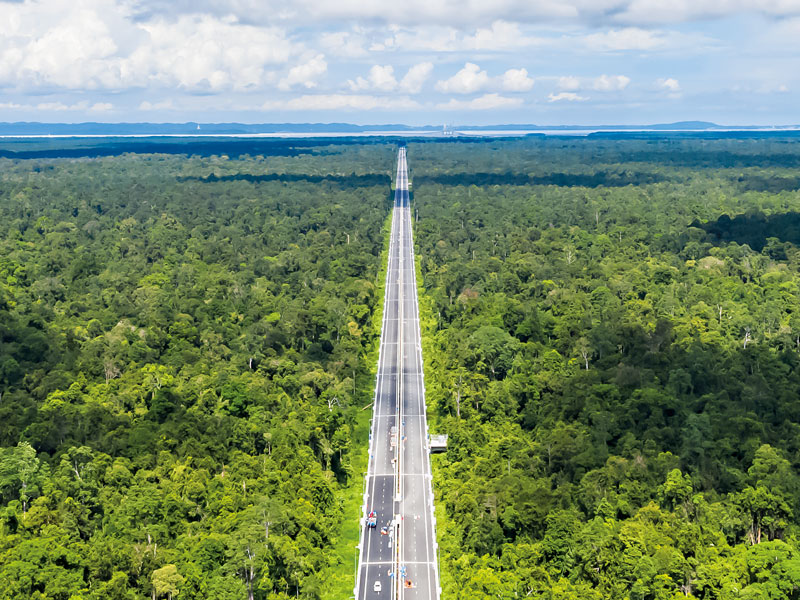 When complete the Temburong Bridge in Brunei will be 30km long&nbsp
Author:
Ti Eng Hui, CEO, Baiduri Bank
Established in 1994, Baiduri Bank is a full-service bank serving individuals, business, corporate and institutional clients in Brunei – while its wholly owned subsidiaries Baiduri Finance and Baiduri Capital specialise in consumer financing and investment solutions respectively. With a Standard & Poor's rating of BBB+/A-2 with stable outlook, Baiduri Bank is recognised as the leading conventional bank in Brunei and one of the strongest in the region.
2020 was an unprecedented year, with the COVID-19 pandemic bringing forth a massive human, social and economic crisis on a global scale. Owing to the effective whole-of-nation approach in combating the pandemic, Brunei recorded positive GDP growth of 1.2 percent in spite of the challenges. According to the Autoriti Monetari Brunei Darussalam (AMBD), a statutory body acting as the central bank of Brunei, the banking sector is liquid and well capitalised. Industry profitability fell by 4.8 percent mainly as a result of the global low interest rate environment, which has adversely impacted interest/profit income on offshore placements with banks and financial institutions.
Against this backdrop, Baiduri Bank demonstrated high resilience and a solid performance. Despite the difficult operating environment, its market share in assets grew by 21.98 percent while net profit grew by 1.09 percent to BND56.2m ($42.1m). With robust credit risk management, loan impairment saw a significant reduction of 51.19 percent even after factoring in additional allowances in anticipation of higher defaults caused by the pandemic. Return on Equity (ROE) was slightly lower, in line with the bank's direction to maintain higher tier one capital, which has increased by 7.98 percent. Subsidiaries Baiduri Finance and Baiduri Capital also demonstrated strong business momentum during the same period.
Speaking to World Finance, Ti Eng Hui, Chief Executive Officer of Baiduri Bank said, "Overall the bank demonstrated a solid performance in 2020 amid the uncertainties of COVID-19. The fact that we were the only major bank in Brunei that recorded an increase in profit in 2020 attests to the strength of our business model and the quality of our execution." In the last 12 months, Baiduri Bank achieved several key milestones in its efforts to adapt to the changing financial landscape and position for growth. "We have enhanced our digital offerings, relocated to our new headquarters, launched our refreshed brand, forged new strategic partnerships, invested heavily in people development and reinvigorated our corporate social responsibility (CSR) programme," Ti commented.
Enhanced digital offerings
In March 2020, the bank launched Baiduri b.Digital Personal, a digital banking platform available for desktop as well as a mobile app version. Recognised as the 'Best Mobile Banking App for Brunei in 2020' by World Finance, Baiduri b.Digital Personal offers enhanced UI/UX, new and improved features including biometric login, single-view account dashboard, in-app calculators and more. The app offers full functionalities to cater for the most common retail banking transactions. Adopting mobile-first design logic, it is a pre-requisite to download the app in order to transact using the desktop version, as the app serves as a digital token for authentication.
"Since the launch, we saw a 40 percent year-on-year increase in average monthly transaction volume and a 43 percent increase in active user base between March and November 2020. Undoubtedly, the pandemic has accelerated digital adoption and the launch of our refreshed offerings was not only timely, but also met a huge need for 'contact-free' alternatives to access banking services," Ti elaborated.
Relocation to new headquarters
In June 2020, the bank relocated to its new headquarters at Jalan Gadong, the hub of commercial and retail activities in Brunei. The new headquarters features an eight-storey building with an adjourning multi-storey car park. Inspired by hospitality design to provide best-in-class service, the bank's new headquarters are designed using modern materials with distinguishing touches of contemporary architecture and incorporate green features that are based on the requirements of the BCA Green Mark Scheme, an international benchmark for best practices in environmental design and performance.
The new headquarters are equipped to provide an enhanced customer experience with the introduction of several new features, one of which is the placement of a front desk reception to greet and assist all walk-in customers, vendors and guests. A digital queuing system was also introduced, where customers can join a virtual queue by scanning a QR code and track their queuing status directly from their mobile device. Other features include a spacious prestige centre for high-net-worth customers, a dedicated digital hub to showcase the bank's suite of digital offerings, as well as an onsite café for financial consultation in a more relaxed setting.
Brand refresh
In September 2020, Baiduri Bank launched its refreshed brand following an intensive year-long process of planning, research and assessment in partnership with an international team of brand consultants. At the heart of the new brand promise, 'co-creating your future', is a renewed focus on being customer-centric and financially inclusive.
A full brand refresh campaign was launched, which saw the introduction of a refreshed logo, collaterals, frontline uniform and a new look and feel across various customer touchpoints. A brand new, mobile optimised website was also launched, along with an artificial intelligence (AI) chatbot, Emmi.
"With our new brand promise, we will continue to explore more platforms and initiatives to fulfil our mission to enrich, empower and engage the communities we serve, adopting a collaborative approach by working closely with various stakeholders," Ti emphasised.
Forging strategic business partnerships
In October 2020, the bank partnered with Brunei's flagship carrier, Royal Brunei Airlines, to launch the first co-branded Visa travel cards in the country, equipped with the latest contactless payment technologies. Although travel has come to a temporary halt in many parts of the world including Brunei due to the pandemic, both brands decided to proceed with the launch, repositioning the proposition to focus on how cardholders could start earning and accumulating Royal Skies miles from everyday spending, in order to redeem free flights or vacations once travel restrictions are lifted.
Investing in people
Since 2019, the bank has been working on a major initiative to digitalise its human resource management and service delivery with the implementation of SAP SuccessFactors, one of the largest cloud-based human capital management systems. Aspiring towards becoming a learning organisation, the bank also partnered with international learning providers such as Moody Analytics and Intuition Knowledge Service (IKS) to enrich its learning curricula for employees.
In February 2021, Baiduri Bank introduced the graduate apprentice programme (GAP). GAP is a six-month holistic development programme aimed at providing recent graduates with the necessary knowledge, skills and experience that will increase their employability in the local job market. Eleven successful apprentices joined the bank towards the end of March 2021, embarking on a series of activities designed to introduce them to the banking world and help them gain comprehensive knowledge of various financial products and services. At the end of the six-month programme, apprentices may apply for any suitable vacancies within Baiduri Bank or its subsidiaries, or pursue their careers with other organisations in the industry.
Ti explained, "GAP is a testament to Baiduri Bank's commitment to support recent graduates by helping them develop employability skills and a learning mindset. This is also in support of goal one for Wawasan Brunei 2035, reflecting the national aspiration to be widely recognised for an educated, highly skilled and accomplished workforce."
Empowering the community
Aligning to the bank's refreshed brand, three main pillars have been identified for its corporate social responsibility programme: support for social community (social), developing the economy (economic) and promoting environmental sustainability (environmental).
In recent months, Baiduri Bank has successfully implemented a number of important initiatives in the CSR space. In April 2021, the bank launched its employee volunteer programme named 'Baiduri cares,' a platform that enables its employees to give back to the community by being directly involved in various volunteering activities focusing on the bank's CSR pillars.
"Aligning with our new brand promise, we have identified new brand values for our employees which include trustworthiness, being inclusive, empathic and enterprising. Through 'Baiduri cares,' we hope to put these values into practice as we seek to make a positive impact in our community," Ti further explained.
In the same month, Baiduri Bank also partnered with the Ministry of Home Affairs to launch a food truck entrepreneurship initiative, 'urban bites by Baiduri.' It also inked an agreement with the Ministry of Culture, Youth and Sports for the development of the nation's first native mobile volunteer app named 'Mengalinga' (translated as 'caring'). Both initiatives are a strong testament to Baiduri Bank's commitment to support the needs of the community in collaboration with its stakeholders.
Doing well by doing good
With the growing emphasis on triple bottom line and sustainability, companies around the world are embracing corporate responsibility in their business operations, setting forth and staying true to their purpose – in particular, purpose beyond profit. "At Baiduri Bank, we believe that safeguarding the interests of employees, communities and the public at large is not necessarily at odds with the imperative of profit. On the contrary, the adage of 'doing well by doing good' holds a lot of truth today. The COVID-19 pandemic has illuminated vulnerabilities within the existing socio-economic systems and underlined the importance of the sustainability agenda. Corporate social responsibility is, and will continue to be, the foundation of sustainable growth."
"As we seek to deliver greater value to our customers and shareholders, we will also embed sustainability and responsible banking in our business strategy. By delivering on our purpose, and helping individuals and businesses achieve success, we grow as a business and we can help meet the needs of the community too," Ti concluded.