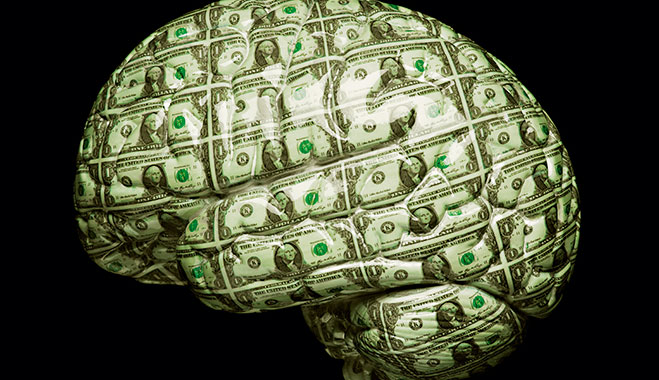 Millenials are less motivated by money than previous generations, creating a problem for the finance industry. Businesses must focus on company culture to entice graduates&nbsp
Millennials (also known as Generation Y) are apparently far less concerned about money than previous crops of young people. Some will argue that their lack of concern for cash is down to their over-doting parents running around frantically after their precious creation, throwing money at them to the point where they would be forgiven for thinking that money did in fact fall from the sky. Or perhaps it is due to this new generation being bombarded with news headlines telling them that they are the 'lost generation', with no hope of landing a job, let alone a career – because their parents who came before them inadvertently mortgaged their future and gobbled up all the cheap energy, leaving them to have an existential crisis a little earlier than normal. Whatever the reason for millennials monetary nonchalance, big business, and in particular the finance industry, needs to wake-up if it is going to keep attracting top young talent.
The aptly named iOpener Institute, which analysed responses from tens of thousands of young professionals from the digital generation, supplied the science that showed that this new batch of youngsters value job satisfaction over everything else. "The digital cohort[s] born after the early 1980s are motivated to stay with their employer, and to actively recommend their organisation to friends, by the level to which they are fulfilled in their job", claims the study.
Businesses will, therefore, need to think about their company culture and restructure it in order to cater for a new generation of graduates who demand engagement, empowerment, and above all, a sense of purpose in their chosen career path, if they stand any chance of fostering and holding onto the young people that they invest in through various graduate programmes and internships. The study concludes its analysis contending that companies hoping to attract Generation Y by "simply throwing money" at them will find that it is not enough to retain them.
44%
Of millenials look for attractive wages
59%
Seek employers that reflect their values
25%
Expect to work regular office hours
Source: PWC
More than money
Millennials choosing to downgrade money's significance in their lives in favour of job satisfaction is bad news for finance, because it has long had a hold over graduates by enticing them with the allure of money, and lots of it. The financial sector is certainly going to struggle to attract young people with anything other than cash, as 90-hour weeks are sure to send students, who are used to waking up at midday, running for the hills. After all, Generation Y has grown up in a world obsessed with climate change. It has made young people extremely eco-conscious, causing them to question the way things have been done over the last century. Many are thinking about how they can shape the future in order to right the wrongs of previous generations.
Climate change has also been the driving force behind a flourishing green-technology sector, as well as one of the reasons why recent university graduates like Arthur Kay, who set up the social business Bio-bean – an enterprise that collects waste coffee grounds and turns them into fuels – opted out of a career based purely on financial gain.
"I am interested in the planning and management of cities, and the challenges and opportunities of the future", says Kay. "With two-thirds of the 9.7 billion people in the world forecast to live in cities by 2050, we need to rethink much of the existing infrastructure… creating a business that is environmentally and socially conscious provides this platform."
This statement alone does a great deal in highlighting the differences between these new graduates and those that have come before them. Kay represents a generation that has been brought up alongside arguably the greatest technological achievement ever created; the internet. This generation is the first to be what American writer and speaker on learning and education, Marc Prensky called 'digitally native'. A term that is used to describe this new tech-savvy set, whose lives and daily activities are centred on digital technologies, which have in turn given them a far broader and deeper understanding of the world around them, as well as the challenges that it faces.
"Young people have a strong, holistic social conscience now, based on a bigger picture ambition that wishes to solve wider social problems", says Kay. "This is essential for our future. There is a growing appreciation of happiness as a form of wealth, as evidenced by movements like Action for Happiness." The social conscience that exists within millennials, as a result of the increased connectivity and access to information that is provided to them through the world wide web, is why a career for Generation Y is much more than merely a method for paying bills, "but a pathway to explore their passions", says Kay. This was illustrated in a recent PwC survey that revealed 59 percent of millennials would seek an employer whose corporate responsibility reflected their own values (see Fig. 1).
Lure of the city
Having said all that, money is still an incredibly pervasive force within society, and it always will be. And just because it may have fallen down a peg or two in terms of its importance to this digitally native generation, they are not all ready to flee the hustle and bustle of city for the sanctity of an eco-village just yet. The same PwC survey, for instance, showed that competitive wages and financial incentives ranked as the second most attractive factor for millennials when looking at prospective employers (see Fig. 2).
This is good news for the finance sector, because money is something it has an abundance of, which it uses with great effect to attract the latest legion of students entering into the workforce. "The lure of the city is the idea that money equals happiness, which remains an entrenched cultural attitude", says Kay. "Despite the changing fortunes of the financial sector, the view exists that it is the place to get rich quick." Though millennials are more in tune with the world around them, making them more interested in the concept of social enterprise, one thing that it has most certainly inherited from their parents is an insatiable appetite for consumption, even though their habits have deviated vastly from previous generations.
An article by The Atlantic explains how Generation Y prefers to splash its cash on "new experiences and adventures and to reward socially responsible companies that they can connect with and that they deem to be authentic." Unsurprisingly, the industry that holds the least favour with millennials is big banks, with one study finding that large financial institutions, such as Bank of America and Citigroup have managed to make it to the top of this generation's least-liked brands. "In the wake of the financial disturbances in recent years, there are many negative perceptions around the financial industry, some of which are unfounded and unfair", says Kay. That may be true, but in order for banks to not just attract this socially aware group of individuals as customers, but as its next wave of workers, it is going to need to beef up efforts at shaking off its tarnished image.
Corporate culture
Kevin Roose, writer and author of Young Money – a book that focuses on the lives of eight young bankers who entered into the industry in the wake of the financial crisis – offers a fascinating insight into how millennials feel about working within a sector that has seen its position and prestige within society fall in recent years. The book also explores how this fall from grace has impacted its appeal as a career for young people, as well as providing CEOs at top financial firms valuable information for improving their corporate cultures.
"Banks are very good at recruiting", says Roose. "They show up on university campuses and say exactly what a nervous, insecure student wants to hear, which is 'that you will have a job, you will be working with other smart young people and you do not have to do this forever… and we will pay you well', which is a big part of their success." No matter how socially conscious millennials may be, they are not stupid and for most graduates the allure of big money is just too strong, especially when most students will leave university with an average student loan debt of $33,000 according to government data analysis by financial aid experts at Edvisors. Student debt is a real burden. It also makes a job in finance an attractive proposition, especially when the average starting salary is $57,300 (see Fig. 3), which to anyone, let alone a financially insecure graduate, is nothing to scoff at. That sort of money will buy a lot of skinny lattes and help line the pockets of socially responsible companies that millennials love.
But money, as mentioned already, is apparently not enough for young people these days. It is also not enough for the budding bankers in Young Money to not have reservations about their chosen career when protestors vented their anger at Wall Street as the occupy movement went into full swing. "I remember one of them saying it is bizarre to be on this side of the divide, he was working at Goldman Sachs at the time", says Roose. "For a lot of young people that hit them especially hard, because they were young and the protestors were young also, and some of them were their friends from university and I think they identified strongly with the protestors, but also felt conflicted because they were apart of the industry that was being protested against."
It is this conflict he believes is part of the reason why many top graduates are beginning to look at other industry sectors. "I think there are a ton of jobs out there that young people are attracted to and I think that what we are seeing now is that more of them are moving into technology based jobs, which is a great way to make money, while doing it in a way that feels good."
This sentiment has been reflected in the attendance of recruitment drives at university campuses up and down the country, with more and more students preferring to hear a pitch from members within the trendy technology sector. "If you go to Harvard Business School or you go to Stanford, I have been to some of these recruitment sessions and they are much smaller than they used to be", says Roose. "You definitely see a shift among higher achieving young people away from finance, and actually the banks have had to sweeten their deals in order to get young people to stay."
Sweetening the deal
But how can financial institutions add a little sugar to their job offering? Well, for starters they are saying goodbye to working on weekends, with Bank of America Merrill Lynch offering employees the opportunity to take a much-needed break from the daily grind. Their decision was then echoed by the other big banks, such as Credit Suisse, who have encourage their new recruits to let of some steam on Saturdays. Moves like this show that the industry is willing to make adjustments in order to better facilitate the requirements of this new generation. Indeed, according to PwCs millennial survey, 70 percent of respondents expect some sort of flexible working hours (see Fig. 4).
Financial organisations are also doing a great job of giving their brand a facelift at recruitment fairs. In the UK, Barclays was giving prospective students the opportunity to have their bike checked, and even passing out smoothies as they waited. The Big Four have also jumped on the bandwagon and found novel ideas of engaging with the youth of today. KPMG travelled up and down the British Isles with its 'KPMG photo booth' in an attempt to cash in on peoples penchant for a selfie, while PwC opted for giving out free coffees on campus and then tweeted photos of the happy campers with the hashtag #PWCFreeCoffee.
It may not be that entirely revolutionary, but it is a step in the right direction if these institutions want to pander to Generation Y's change in attitude and improve the overall image of the industry. But the author of Young Money argues that for all the effort, it may not be enough. "I think [the industry] is going to have to do some sort ground level reimagining of what banking is", says Roose. "Banks are maybe going to have to reform their practices and certainly they are going to have to reinvent their sales pitch. It is not enough to just tell a 22-year-old 'come here and you will make a boat load of money' you actually have to give them a purpose as well."
However, it begs the question, does the finance industry really even want to attract these kinds of individuals to its ranks? If young people want a 'cool' job in technology or elsewhere then that is where they should go. Rather than try and compete with the likes of Silicon Valley for precious graduates who want pool tables and free yoga classes, perhaps they should be thankful to other industries for steering these slackers away from their gruelling graduate programmes. Maybe then the hardcore financiers will be all that is left, and in the end, that is really what Wall Street wants. Hard working hopefuls that favour sharp suit over a t-shirt and jeans. "I think that young people and everyone should be choosing careers based on what they want to do and what they feel they are capable at", says Roose. "If that is banking that is okay, but if it is not, which for many young people it is not, there are a lot of easier ways to make money."
Finance should not be marching to the tune of the millennials' drum. Instead, it should be designing its graduate programmes and internships to better suit those that really want to progress in the industry. That is not to say that a few extra hours shut eye or improving the overall company culture would not go a miss. But finance has always been a place that puts profits first, so why should it try and attract people that do not?