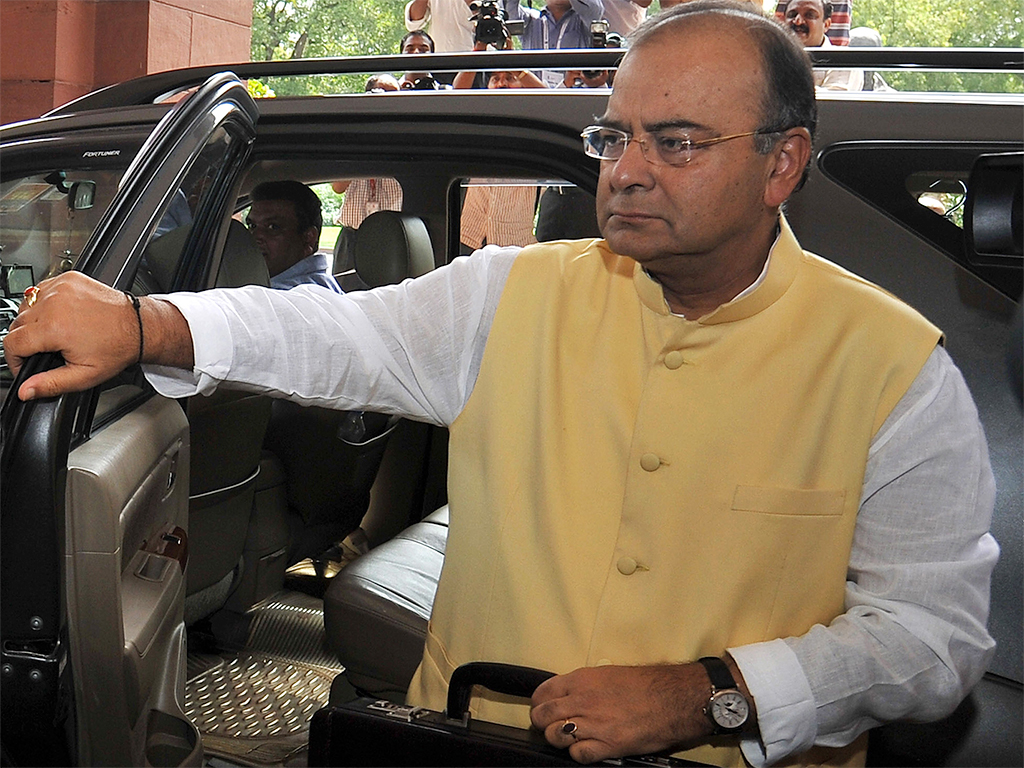 Indian Finance Minister Arun Jaitley arrives at parliament to present the government's 2014 budget&nbsp
Indian Prime Minister Narendra Modi's new government has unveiled a budget it said would revive growth after the country has endured the longest economic slowdown in 25 years.
Finance Minister Arun Jaitley said he would raise caps on foreign investment in the defence and insurance sectors, maintain a low budget deficit, and launch tax reforms to unify India's 29 federal states into a common market.
Two years of economic growth below five percent has exasperated investors and India's 1.2 billion population as it dropped from 10.3 percent in 2010 to 4.4 percent in 2013. By boosting FDI limits in defence and insurance ventures to 49 percent from 26 percent, and getting planned infrastructure spending back on track, Jaitley vowed that Asia's third largest economy would expand at an annual rate of 7-8 percent within three to four years.
This commitment to fiscal discipline was stronger than analysts had expected
Modi won a landslide general election victory in May with a pledge to create jobs for the one million people who enter India's workforce every month. He has since warned that "bitter medicine" is needed reverse high inflation and the worst slowdown since free-market reforms in the early 1990s unleashed an era of rapid growth.
Fiscally tough budget
Surprisingly, Jaitley vowed to adhere to the daunting budget deficit target – of 4.1 percent of gross domestic product for the fiscal year ending March 2015 – that the government inherited from its predecessor.
"I have decided to accept this challenge. We cannot leave behind a legacy of debt for our future generations," Jaitley said, adding that the budget deficit would be reduced to 3.6 percent in the following two fiscal years, according to Bloomberg.
This commitment to fiscal discipline was stronger than analysts had expected with the deficit already approaching half of the annual target just three months into the fiscal year. Nevertheless, Jaitley maintained that "fiscal prudence is of paramount importance".
Prior to the announcement, sources had revealed that the budget would also look to impose a national Goods and Services Tax, ensuring a more fair distribution of revenue between the country's states. Jaitley also announced a review into retrospective tax claims blamed for hindering foreign investment after companies such as UK's Vodafone were hit with massive demands.
However, the budget was not enough to reassure investors as the Indian stock market retreated for the third day running following the budget announcement, leading to the biggest loss in nine months. Without any major reforms or measures to deal with the immediate issues, investors are selling out. A key concern is that oil and food prices will rise following the budget deficit target, but more importantly, because a weak monsoon this year threatens India's food production and a continued dependency on energy imports is sending oil and gas prices through the roof.
Nevertheless, Jaitley maintained that India has adequate food stocks to cope with a drop in output and vowed to keep an eye on price stabilisation for the timebeing.
Indonesia rallies post-election
In related news, Indonesian stocks jumped more than two percent to one-year highs, as investors bet on an election win by Jakarta Governor Joko Widodo or Jokowi as he's commonly called.
Both Jokowi and ex-general Prabowo Subianto have declared themselves the winner after elections on Wednesday revealed contradictory preliminary results in what would seem to be the closest election ever in Indonesia.
Official results won't be announced for another couple of weeks and in the meantime, investors are hoping that Jokowi will take the lead of the MINT economy soon enough, as he's for reforms and greater transparency, while Prabowo has a more protectionist agenda.
Faith in Jokowi's win also sent the rupiah flying and further boosted the Indonesian markets which have had a stellar year, surging 20 percent so far. Despite this, the election is key because it comes at a time when economic growth has dropped to its lowest level in over four years and it will fall on the new Indonesian president to ensure that the Asian MINT doesn't lose its lustre.