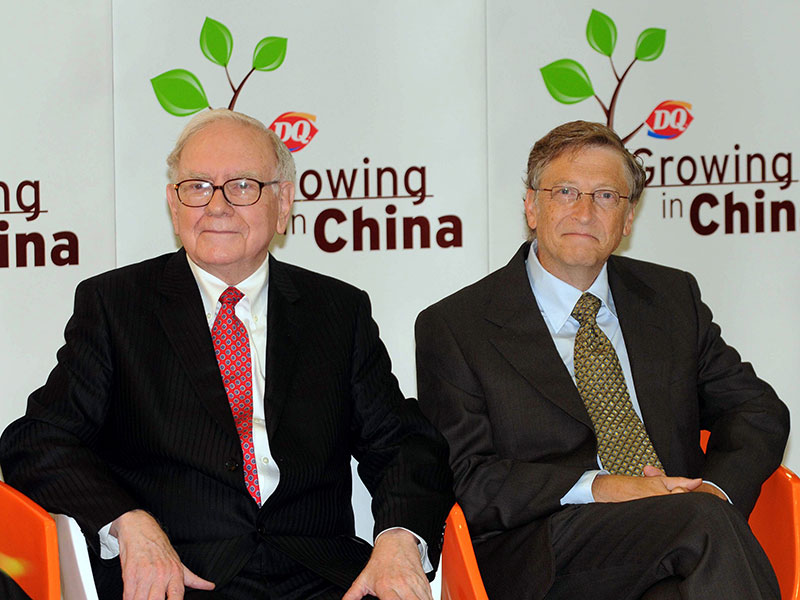 Warren Buffett (L) and Bill Gates (R) are the world's most generous business leaders, donating $46bn and $41bn to philanthropic causes, respectively&nbsp
With every year that goes by, global inequality widens. According to a 2017 report by Credit Suisse, the globe's richest one percent owns half of all wealth, equating to around $140trn. By contrast, the world's 3.5 billion poorest adults account for less than 2.7 percent of global wealth, despite representing 70 percent of the working-age population.
In an attempt to close the wealth gap, many of the world's richest donate a percentage of their earnings to help tackle societal ills, such as inadequate education, fatal diseases and malnutrition. World Finance takes a closer look at the planet's five most generous business leaders.
5 – Michael Dell
As a freshman pre-med student at the University of Texas at Austin, Michael Dell set up PC's Limited, an informal business that sold upgrade kits to his classmates for their personal computers. Just eight years later, Dell's business – renamed Dell Computer Corporation – was booming. The company's success saw Dell become the youngest CEO of a Fortune 500 company, aged just 27.
Alongside running his technology empire, Dell spends much of his time managing a philanthropic foundation with his wife, Susan. Funded by Dell's personal wealth, the Michael & Susan Dell Foundation supports projects relating to urban education, child health and family economic stability, and seeks to provide aid in times of crisis. It recently pledged $36m to support relief efforts relating to Hurricane Harvey, which tore through the US in 2017.
In an attempt to close the wealth gap, many of the world's richest donate a percentage of their earnings to help tackle societal ills
All in all, Dell has donated a whopping $2bn to philanthropic endeavours over the course of his lifetime – that's nine percent of his estimated net worth.
4 – Phil Knight
It's fair to say that Phil Knight's fortune was born from his love of running. A prolific runner while studying at the University of Oregon (UO) in the 1950s, Knight decided to set up a sports apparel business called Blue Ribbon Sports in 1964, following an inspirational trip to Japan. That business would later become Nike, the world's largest supplier of athletic shoes and clothing.
Knight is a noted philanthropist, having donated $3bn – 10 percent – of his $30bn personal wealth to charitable causes. Knight supports his alma maters – Stanford University and UO – the Oregon Ducks sports team and the Knight Cancer Institute at Oregon Health and Science University, to which he has donated over $600m. In 2016, Knight disclosed that he had also given $112m-worth of Nike stock to various charities.
3 – Michael Bloomberg
Michael Bloomberg's accumulation of astonishing personal wealth began – somewhat ironically – with a firing. In 1981, the investment firm at which Bloomberg was a partner was bought out and he was laid off. While Bloomberg received no severance pay, he took $10m in equity, using the funds to set up the eponymous financial news and information provider we all know today.
During that time, Bloomberg's personal fortune skyrocketed and, in 2009, he added $4.5bn to his pile in just 12 months, the world's greatest wealth increase that year. Today, Bloomberg is estimated to be worth $50bn.
Bloomberg has always been a keen philanthropist and decided to set up his own foundation, which focuses on environmental, educational and arts causes, in 2009. In January 2014, he established a five-year, $53m initiative called Vibrant Oceans, which helps support the creation and maintenance of sustainable fish populations worldwide. In total, Bloomberg has donated an estimated $6bn to charitable causes, equating to 12 percent of his net wealth.
2 – Bill Gates
Bill Gates' fate as a technology magnate was set when, at the age of 13, he received a computer from General Electric to help him learn Beginner's All-purpose Symbolic Instruction Code – an opportunity he gladly took. Gates was instantly captivated, and his continued fascination with how computers work led him to found Microsoft in 1975.
For the next 30 years, Gates took charge of the company's product strategy, overseeing the implementation of numerous programs, from Windows to Excel. By the time he left Microsoft in 2008 to pursue philanthropic projects full time, the company was bringing in $60m a year in revenue. The Bill & Melinda Gates Foundation (BMGF) was set up in 2000 to support a range of agricultural, health and policy causes, including helping developing countries combat malaria and support basic nutrition.
Through the BMGF – as well as on a personal basis – Gates has given away $41bn, representing 46 percent of his total wealth. This figure is set to almost double if Gates fulfils his 2010 pledge to donate 95 percent of his wealth before he dies.
1 – Warren Buffett
Often referred to as the "Wizard" or "Sage" of Omaha by media outlets for his legendary financial knowhow, Warren Buffett displayed an interest in economics at a young age, going on to graduate from the prestigious Columbia University as a Master of Science in Economics in 1951.
Buffett's shrewd business sense made him a millionaire by 1962, having merged a number of key partnerships into one holding company, which later became Berkshire Hathaway. He became a billionaire in 1990, when his company began selling Class A shares. Today, Buffett is the world's third-richest man, with a personal wealth of around $84bn.
Buffett has long stated his intention to give much of his fortune away to charity: in June 2006, he pledged to gradually give 85 percent of his Berkshire stock to five leading foundations, with the BMGF identified as the principal beneficiary. Today, much of his philanthropy is achieved through the Susan Thompson Buffett Foundation – named after his late wife – which supports causes such as reproductive health, family planning, education and conservation.
In 2010, Buffett, along with Gates and Facebook CEO Mark Zuckerberg, set up the Giving Pledge, which commits signees to donating at least 50 percent of their personal wealth to charity. Buffett has already succeeded in this noble goal, having donated $46bn to charity – a staggering 55 percent of his net wealth.