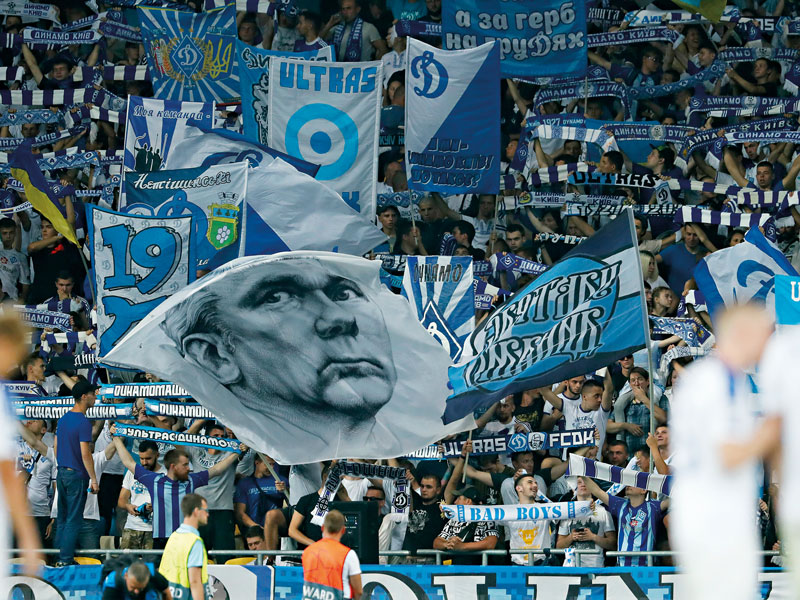 &nbsp
Author:
Scott Rouse, Features Writer
Valeriy Lobanovskyi is generally recognised as the greatest football manager of the Soviet era and then, later, Ukraine. Though undoubtedly there is an army of armchair pundits who pronounce Johann Cruyff as the undisputed great for his re-establishment of the Netherlands' 'Total Football' philosophy at Barcelona in the 1990s, I would be tempted to go further and crown Lobanovskyi the father of the modern game.
Taking on the role of manager at his former club, Dynamo Kyiv in 1973, within a year, he guided them to their first Soviet Top League title in three years. He would go on to help the team win it another seven times during his tenure. In the post-Soviet era, Lobanovskyi is credited with five Ukrainian National League titles between 1997 and 2001.
But how is it that he led his team to glory on so many occasions? At least some of the answer to that question is not down to his career as a footballer, but off the pitch, as an engineering student at a significant place and during a significant time.
He was born and grew up during an age of grand technological optimism in Kyiv, an age perhaps best characterised by a competition not decided over the kick of a pig's bladder, but over which of the two Cold War rivals, the Soviet Union or the US, would break free of the earth's atmosphere first.
It was a competition that the Soviets won, of course. Kyiv was the centre of this technological revolution taking place. In a 2011 article on Lobanovskyi by Jonathan Wilson, he says: "the first cybernetic institute in the USSR was opened there in 1957 and quickly became acknowledged as a world leader in automated control systems, artificial intelligence and mathematical modelling. It was there, in 1963, that an early prototype of the modern PC was developed."
Lobanovskyi's analytical mind, coupled with a chance meeting in 1972 with statistician Anatoliy Zelentsov, resulted in the co-authored book The Methodological Basis of the Development of Training Models, which offered a science-based breakdown of the game. The book, published shortly before Lobanovskyi's death in 2003, forms the basis for many of Lobanovskyi's pioneering methods, which have included video analysis 'field research,' tracking players' fitness levels, and providing a more comprehensive plan for helping players achieve and maintain peak physical condition. He also ensured his players were capable of playing several different positions, to maximise the overall flexibility of the team allowing it to adapt to the changing pattern of play on the field.
A lot of this may seem well ahead of its time. That's because it was
To this end, he is also credited with the diamond midfield formation, in which the midfield is arranged with one attacking midfielder up front, one defensive behind and two wide midfielders to provide multiple options for attack. This formation was adopted with great success by many teams thereafter, including Carlo Ancelotti's AC Milan.
Alongside Zelentsov, Lobanovskyi conducted advanced pre- and post-match analysis with every conceivable statistic on each player and element of the game recorded, up to and including the exact measurement of each football pitch Dynamo played on.
A whole new ball game
If you think about the game today and where we are technologically at this moment, a lot of this may seem well ahead of its time. That's because it was. It is difficult not to see direct parallels with the work of Lobanovskyi and Zelentsov and technology like 'Deltatre Opta,' a modern video analysis system adopted by the UEFA Champions League utilising AI to provide actionable insights into team performance and individual player behaviour and analysis for its coaches.
The global sports analytics market, which includes AI applications, was valued at $1.9bn in 2018 and is projected to reach $4.6bn by 2025 according to a report by KPMG. Many clubs around the world are today investing heavily in AI and data analytics for everything from player performance to scouting for talent. Which is hardly surprising considering the considerable amount of money involved in modern-day football transfers (see Fig 1).
For a team established by the Soviet secret police in 1927, Dynamo Kyiv found in Lobanovskyi a man whose love of the game was tempered by method, by the weight of a game's many variables, by strategy and, perhaps above all, by result. He and Zelentsov were football's original scientists, collecting data in a Kyivian Soviet Laboratory and testing their hypotheses out on the field. It would be trite to say that these men were ahead of their time. They were exactly where they needed to be. And yet, history does have a tendency not to repeat itself, but to rhyme, as Mark Twain would have it.
I write this as we have now caught the second wave, upon which space travel, artificial intelligence and love for the beautiful game ride high above us, three topics upon which we can reliably chart the progress of humankind. Perhaps once we have revisited the moon and used AI to solve the most complex problems we face, then we can turn our attention to conjuring a straightforward explanation of the off-side rule – though I rather suspect if I asked OpenAI's ChatGPT for an answer on this right now, it wouldn't hesitate.
Striving for perfection
It is heartening perhaps to recognise that we are capable of embracing these optimistic, nascent periods where we rediscover who we are and reimagine what is possible, even amid the catastrophe of conflict and climate change, and in the wake of a global health crisis. Football may seem a trivial thing in light of these topics, but try telling that to someone like Lobanovskyi.
Wilson recounts that upon winning the Supreme League Title, a young Lobanovskyi, then 22, said: "a realised dream ceases to be a dream." It was a curious and dour remark, but reflects a man whose vision went far beyond league titles.
Winning on its own, was nothing. Perfecting a formula for winning well, was something. His dream was of the future and he brought it to the game he loved.