Barack Obama, along with other leaders, pledged in 2009 to cut down government support for fossil fuels. But over the last years there has been real inertia in cutting them down&nbsp
In the summer of 2009, G20 leaders reached an agreement in Pittsburgh to phase out needless government-given support for fossil fuels – and so began a concerted global effort to rein in wayward emissions and focus instead on renewable development. "All nations have a responsibility to meet this challenge, and together we have taken a substantial step forward in meeting that responsibility", said a fresh-faced Barack Obama. And in what was then a milestone commitment to tackle climate change, those in attendance pledged to "rationalise and phase out over the medium-term inefficient fossil fuels that encourage wasteful consumption."
The pledge appeared to mark a turning point for the global energy market and a key stepping-stone to a low-carbon future (see Fig 1). "Phasing-out fossil-fuel subsidies represents a triple-win solution", read one report, co-authored by the IEA, OECD and World Bank, outlining a roadmap for the fossil fuel retreat. "It would enhance energy security, reduce emissions of greenhouse gases and bring immediate economic gains." However, while the optimism shared at that time led many to believe that G20 leaders were about to let up on the costly endeavour that is fossil fuel subsidisation, the inaction on the issue since has shown that the promises have come to nothing.
The main case against fossil fuel subsidies is that they distort energy prices and serve only to handicap the renewables sector
As it stands, any predictions that say major oil producing nations might soon turn away from fossil fuels are sorely misguided, and though the savings – financial or otherwise – are well documented, the obstacles standing in the way of reduced subsidies are too great. To the tune of only minor opposition, world governments have shied away from fossil fuel pricing policy reform, yet a number of individuals and organisations have recently taken it upon themselves to re-evaluate and re-present their findings on the subject.
Broken promises
In the period from 2009-12, global oil prices doubled, and in a desperate attempt to keep pace with the uptick, government money spent on subsidies increased to $544bn, from $312bn previously, according to IEA estimates. As opposed to "phasing out" fossil fuel subsidies, as was suggested in 2009 and again in 2013, G20 leaders have deemed it necessary to actually increase the already-colossal sums spent on subsidisation.
Worse still is that these same incentive systems are draining public finances at an alarming rate, and recent IMF findings show that the supporting costs, coupled with any tax losses, equate to some $2trn – or eight percent of government revenues. According to Chris Beaton, Research and Communications Officer at the International Institute for Sustainable Development (IISD): "Fossil-fuel consumer subsidies hamper economic growth by taking away scarce resources that could be put to better purposes."
There are some countries, however, that have responded quickly to this new low price environment, particularly in the case of Indonesia, whose government has not only introduced a semi automatic pricing system but slashed petrol prices at the pumps.
At the turn of 2015, President Joko Widodo abolished subsidies on premium gasoline and introduced a fixed subsidy on solar diesel, for which the government is expected to fetch a budgetary saving of approximately $16bn in 2015.
India, meanwhile, is living proof that an inflexible fossil fuel pricing policy can bring with it economic and social consequences. According to the IISD's second India Fossil-Fuel Subsidy Review, the government and any associated public sector enterprises lost $23.4bn to subsidising diesel, LPG and kerosene. Not only that, but the programme serves to distort prices, inflate demand, and boost emissions, while also disincentivising energy efficiency improvements and stifling the national appetite for clean energy development. This immovability is, of course, relative, and subsidies typically vary from year-to-year, owing chiefly to swings in fuel prices. Yet rarely do governments choose to roll back subsidy payments by significant degrees, and it is this decision, shared between G20 nations and beyond, that has created a fossil fuel market that nears on subsidy dependency.
Nowhere else is this overly generous support for fossil fuels more obvious than in exploration, which receives more in subsidies than oil and gas companies spend on the pursuit themselves. Collectively, G20 nations spend $88bn on an annual basis in supporting exploration, almost double what the IEA estimates the population needs for universal energy access before 2030. What's more, the total amounts to more than double what the world's top 20 private oil and gas companies spend on exploration in any given year, which suggests that the endeavour is propped up by public financing.
"The big problem with producer subsidies is that we can't afford to use all of the fossil fuel still buried in the ground – not without triggering a runaway climate change", says Beaton. "Claims that helping the fossil-fuel industry is good for the economy and jobs are often inflated, or simply not substantiated with published analysis."
Distorted reality
The main case against fossil fuel subsidies is that they distort energy prices and serve only to handicap the renewables sector. However, should authorities rebalance the system in a way that more realistically reflects market conditions, subsidies can play an important role in aligning incentive systems with sustainable development. The fact that demand for coal is slipping and oil prices are plummeting reinforces the point that overly generous subsidies are painting a distorted picture of where opportunities in the energy market lie.
"Governments should price carbon to reflect the social, economic and environmental damage associated with climate change, and to reduce emissions to levels compatible with the globally agreed 2oC target", according to one report co-authored by Oil Change International and the Overseas Development Institute, entitled The Fossil Fuel Bailout. "Governments in the G20 and beyond should act immediately to phase out fossil fuel subsidies to exploration."
Still, exploration subsidies represent only a small part of a much wider debate on the role of fossil fuel subsidies in dampening economic opportunities, impeding growth and stalling renewable development. Whereas fossil fuel subsidies amount to a mammoth $550bn per year, renewable subsidies have barely tipped the $120bn mark. Many critics are of the opinion that the cost competitiveness of renewables is obscured by the imbalance, not least of these being Beaton, who believes wayward subsidies are "locking us into a high-emissions climate pathway."
The criticism most often levelled at fossil fuel consumer subsidies is that they take away precious resources that might otherwise be spent on 'better purposes', namely infrastructure, healthcare and education. What's more, overly generous sums spent on propping up fossil fuel consumption can negatively affect the way in which investors perceive any given country. Producer subsidies, however, "tend not to hamper economic growth particularly, but they do take up resources that could be spent on promoting new and green industries that may be the source of future economic competitiveness."
The realisation that fossil fuels enjoyed a pick-up of around $550bn last year, four times the amount dedicated to renewables, sits uncomfortably with some – chief among them the IEA – who insist that the disparity between the two makes little economic sense. Chief conomist at the organisation Fatih Birol told a London news conference last year that renewables will account for close to 50 percent of new power generation between now and 2040, despite the subsidies thrown fossil fuels' way.
Surely now is the time to re-evaluable the reasons for the imbalance that exists between fossil fuel and renewable energy subsidisation, and question the grounds on which the gap has widened. There is reason to believe that propping up the fossil fuels business is a thankless task, and with emissions gaining and oil prices plummeting, some are asserting that fossil fuels, at their current price, are being kept afloat only by subsidies.
What critics have been quick to overlook, however, is the influence of the political economy in blocking any attempt to reduce the handicap. Without support from all parties, reducing the said handicap will always prove difficult to implement, and campaign financing by those in the industry has succeeded many times in bringing proceedings to a standstill.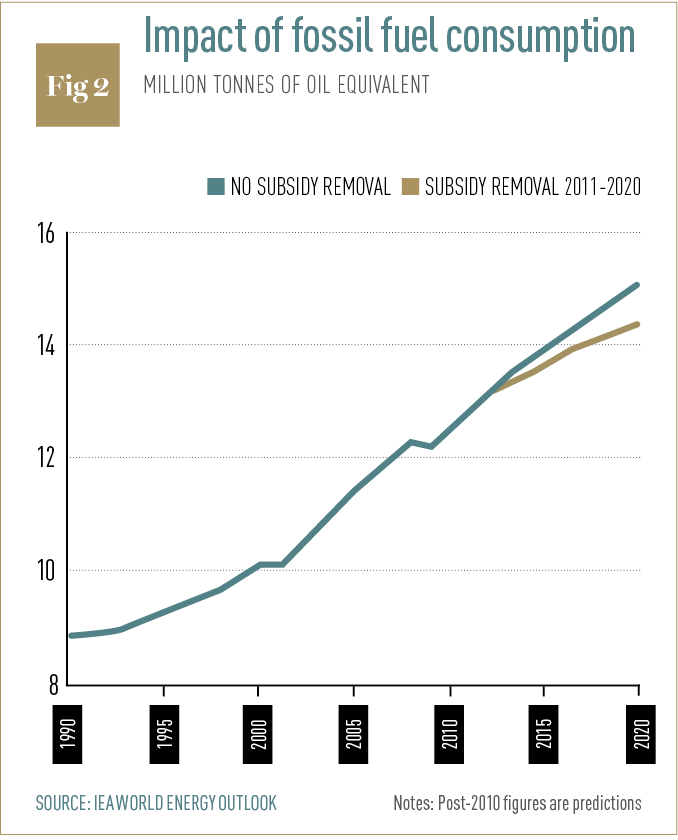 In the US, for example, Obama's Climate Action Plan contained a distinct focus on developing sustainable energy sources ahead of fossil fuels, which the administration conceded would be 'long and sometimes difficult'. However, following through on the actions set out in the plan looks unlikely in that the government has attempted to reform its fossil fuel subsidies policy in every budget since 2009, only to come unstuck at the hands of political process.
The figures show that the steps taken to phase out inefficient subsidies so far have been modest, yet there is a growing pressure to develop renewables and reduce dependency on fossil fuels. With a string of recent reports detailing the damage inflicted by rising emissions, individuals, organisations and governments are beginning to realise the importance of renewable investment.
Even the IMF's Christine Lagarde and the World Bank's Jim Yong Kim have outlined the economic case for removing subsidies that incentivise the use of fossil fuels, stating that the future of energy investment lies with renewables (see Fig 2).
By redirecting investments to mitigation goals, the landscape is shifting in favour of low-carbon alternatives, and the IPCC estimates that annual investments in fossil fuel technologies will decline $30bn, whereas the amount put into low-carbon electricity will rise $147bn. Divestment in fossil fuels, therefore, will play a crucial part in pushing much-needed reforms through and – more crucially – in levelling the playing field between the two. With the pressure mounting on governments to revisit unwarranted subsidies, doing so could finally spark the shift to a low-carbon economy.
Assuming that the gap between renewable and fossil fuel subsidies closes, the barrier that is cost competitiveness – or lack thereof – will begin to fall down, and the overwhelming appetite for carbon-intensive resources will subside.