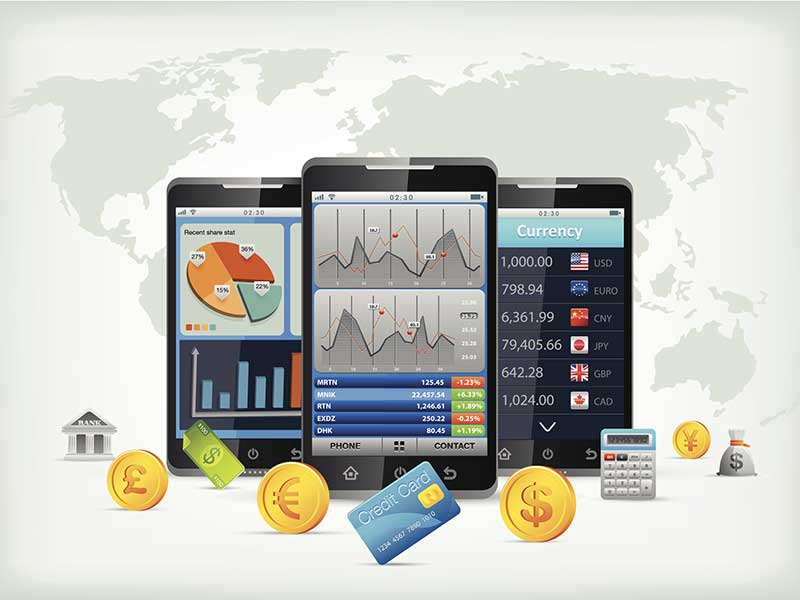 Forex has seen a shift towards mobile trading, with mobile apps becoming increasingly popular&nbsp
Author:
Stavros Lambouris, CEO, HYCM Europe
August 16, 2017
The forex industry has advanced rapidly in recent years, as the online trading of currencies and commodities continues to grow in popularity. As such, the market's structure has changed due to broadening participation in the industry, which is highlighted by the increasing number of forex brokers in the space. Execution within the market has likewise changed, as traditionally the forex market was dominated by trading between dealers.
The oversight of regulated forex brokers and the role of compliance has also evolved in parallel with this growth. In the past few months alone, there have been various regulatory changes, particularly from European bodies, which have implemented tougher guidelines, stricter enforcement and heftier fines across the board. Ultimately, forex brokers are now obliged to guarantee the safety of client funds, follow strict anti-money laundering procedures and ensure the best execution of client orders. This greater level of oversight and accountability has led to far better transparency within the market.
The sector has also become far more competitive, while acquisition costs continue to rise. Consequently, brokers are now looking for new ways in which to manage these changes and succeed in an industry that is set to evolve even further during the coming years. These factors have caused the structure of brokers' operations and the entire landscape of the industry to shift dramatically.
Going forward, we expect further changes to take place with more stringent oversight from the leading global jurisdictions. Nevertheless, it continues to be a lucrative marketplace. Even as stricter regulations come into play, we can look forward to seeing a flow of new products emerge in line with technological advancements in the area.
Technological evolution
The increased ease of entry into the market is largely attributable to the rising number of execution platforms and services. In part, this has been supported by technological advancements, which have reduced trading costs, increased the speed with which transactions take place, and improved transparency. Consequently, electronic trading activity in the foreign exchange market has played a crucial role, now representing around 70 percent of daily turnover, compared with just 30 percent a decade ago.
Technology will inevitably continue to play an increasingly important role in the industry. The extent to which brokers embrace the latest developments will be crucial as they strive to expand their client base and increase their market share. Some of the more recent advancements include trading algorithms and software written specifically for the MetaTrader platform, which can advise traders on which trades to make. They can also be programmed to automatically execute trades on a live account, making the whole process more efficient.
Operating in fractions of milliseconds has become an important component towards achieving faster execution, but it could deter new participants from entering the market in the future
In line with this evolution, the industry has also seen a shift towards mobile trading, with mobile apps becoming increasingly popular, while developments in online payments are facilitating the trading process further still. Not only have technological advancements helped to increase the speed at which transactions take place, they have also reduced trading costs and improved transparency. New technology has also enabled the regular introduction of new products into the market, placing brokers in an advantageous position as they are able to frequently increase their client offerings and therefore stay ahead of the competition.
In terms of regulatory changes, these are a positive development for the industry. Increased regulation means more credibility for regulated brokerages that are proactive in following such procedures. They also benefit the client, as there is increased transparency and protection within a regulated forex market. Ultimately, embracing the latest technological developments enables brokers to offer their customers the latest state of the art trading platforms and advanced tools, providing them with a fast, efficient and continually improving trading experience.
Market trials
The challenges faced by the industry relate to some of the advantages previously mentioned: namely technology, increased regulation, transparency and competition. Although new technology has helped ease entry into the market, the capital investment needed for the long term has also increased. Indeed, operating in fractions of milliseconds has become an important component in achieving faster execution. This, however, could also deter new participants from entering the market in the future, particularly those that may not have the extensive resources required to keep up.
Moreover, though the positive influence that technological changes have had on market functioning is evident, it is not yet certain how these changes may affect the broader price discovery process or liquidity of the markets overall.
As far as brokerage firms are concerned, the marketplace has become a crowded area. With so many new companies entering, new business opportunities are becoming harder to find. This is particularly apparent as greater restrictions are being placed on brokers in terms of their services and promotional efforts. Forex brokers are also facing steeper acquisition costs, and are therefore forced to find new and innovative ways of
increasing their revenue.
To combat these challenges, many brokers are seeking expansion into new markets, such as China and the Middle East, both of which offer great potential for growth. Others offer alternative services to draw in new clients. Both strategies pose new risks and efforts, hence the challenges present in the market today are very real.
Teaming up
Partnerships are a fundamental part of any broker's business, as they help to increase exposure – an important component of any marketing strategy. In the forex arena, partnerships are usually created by way of affiliates, introducing brokers (IBs) and white label programmes.
The relationship between a broker and these affiliates, IBs and white labels is symbiotic, in that both sides get to benefit from the partnership. The key benefit for HYCM is that we get more traffic referred to our website, along with more potential customers, which we might not otherwise have had access to. We greatly value our partner relationships and we are constantly striving to improve the products and tools available to them.
Partnerships are increasingly valuable in the internet age, where maximising online exposure is key to achieving increased sales and longer-term growth. They are also important in an industry where relationship building is central to operations, with successful partnerships often contributing to a considerable part of the revenue stream.
70%
of daily turnover in the forex market stems form electronic trading
30%
The same share 10 years ago
Partnerships therefore help to overcome some of the hurdles we might encounter when onboarding new clients, such as driving traffic to a website, breaking into new markets and reaching new customer bases in different countries. For example, HYCM offers comprehensive partnership programmes for affiliates and IBs that are unique to the industry. In addition, HYCM offers white label solutions, which are a perfect complement to the financial institutions licensed to hold client funds and regulated in their country of residence. As HYCM is a multiregulated broker with 40 years of experience in the industry, its partners benefit from working with a trusted broker with a solid industry reputation and an unparalleled range of compensation packages.
Our partners benefit from a variety of rebate programmes, which are backed by a highly skilled team that is on hand to discuss all available options. We also offer multilevel marketing rebate tiers, free market reviews for clients, customisable marketing and advertising tools, and local office and events support, which are all geared to help our partners grow their business and maximise their earning potential.
Once again, technological developments are of the essence. Our newly launched, fully integrated IB terminal stands at the forefront of the industry, allowing transparent, real-time tracking of client performance and trading activity, with the ability to monitor earnings and manage commissions – all within a secured environment.
The IB terminal also has a host of added benefits, including multiple URLs for registering clients on different packages, on-demand commission withdrawals, and the bonus of two free commission withdrawals per month, providing our partners with a sophisticated, user-friendly experience to support and enhance their businesses.
Steaming ahead
With its 40-year operational history, HYCM has earned a reputation for offering a trustworthy and transparent online trading service to investors. The company excels by providing traders with a state of the art MT4 platform and mobile app, offering an extensive asset portfolio and providing exceptional customer care and satisfaction.
The industry's latest technological developments are central to both our trading operations and client offerings, allowing us to deliver an overall service that is second to none. We pride ourselves on adopting a professional approach in every aspect of our operations, ensuring we always adhere to strict procedures and regulations so our clients can trade in a secure environment with complete confidence.
HYCM also distinguishes itself with its strong company background. The company is part of the Henyep Group, an international conglomerate that was established in 1977 and today operates in the financial services, property, education and voluntary sectors. The Henyep Group is multi-regulated by the UK's Financial Conduct Authority and the Cyprus Securities and Exchange Commission, and has a global presence with offices in the UK, Hong Kong, Cyprus and Dubai.
In spite of so many changes in the market, HYCM continues to experience major growth and is looking to further build on its success. Current plans include extending our global footprint into regions that offer new growth opportunities, such as China, the Middle East, South America, Africa and Europe. China in particular has experienced substantial economic growth as people look for new investment opportunities in the region. This in turn has fuelled some of our growth in recent years.
The Middle East is another important market for us, in which we are constantly looking to expand our presence through local partnerships.
In the short term, we plan to incorporate a new trading platform into our company infrastructure, expanding the range of platforms offered to our clients together with the introduction of variable spreads and the addition of some more exciting tradable assets to our portfolio. For HYCM, a future with innovative technology and increased regulation looks better than ever.