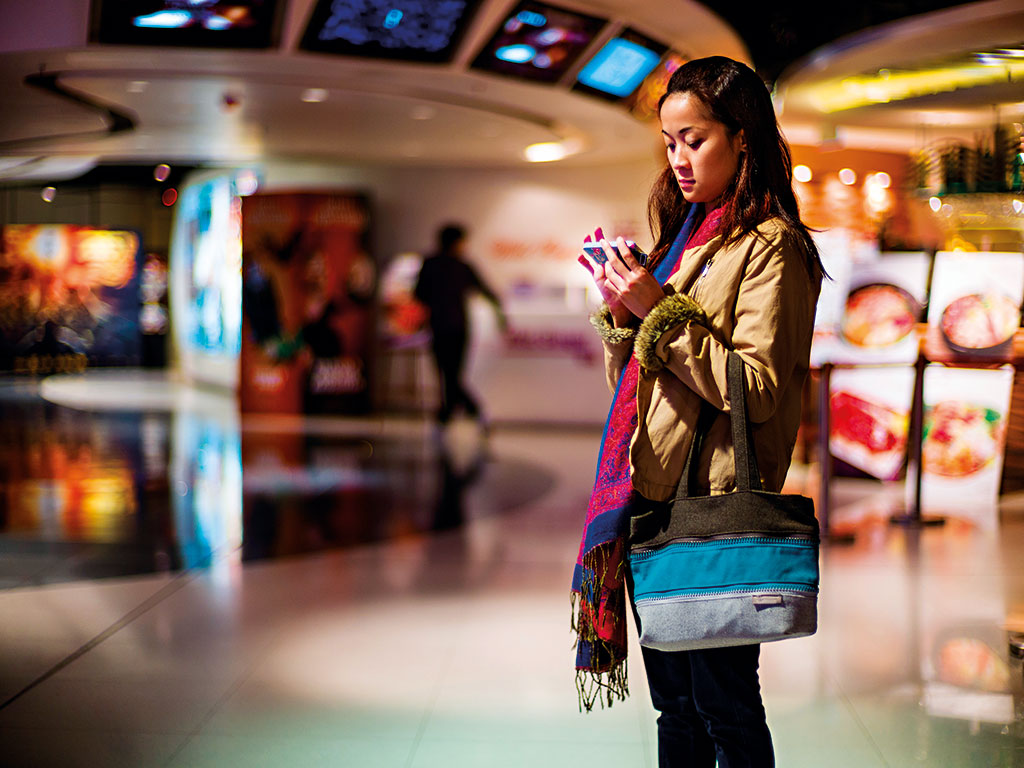 A woman stands outside a cinema complex in the US. More and more women are being represented in cinema, and female viewing figures are also increasing &nbsp
Author:
Elizabeth Matsangou
October 29, 2015
The worldwide phenomenon of streaming services like Netflix exhibits how popular this form of entertainment is – fast, easy and accessible anywhere it needs to be. With such convenience and variety on offer for a fixed monthly price (or for free in the case of illegal downloading), some would argue that there is no longer a need to go to the cinema to get one's movie fix. Yet the big screen offers a form of escapism that simply cannot be achieved at home. The ritual of going to the movies is part of the process: the overpriced popcorn, the tangible tickets in a world of virtual everything, even the trailers that tempt the next visit before that evening's entertainment has begun.
Furthermore, there is the social aspect of the outing. "Cinema offers a materially different experience to streaming or downloading – a communal experience", says Phil Clapp, President of the International Union of Cinemas (UNIC) and Chief Executive of the UK Cinema Association.
Attempts to appeal to female consumers have picked up in recent years, balancing the slate against male-dominated action movies with female-led projects
This year the industry is on track to earn $40bn, a new worldwide box office record, which indicates that the public is still very much in love with the cinema. And with upcoming blockbusters before the year's end, such as new instalments in the Star Wars mega-franchise, as well as sequels to the Hunger Games and the James Bond saga, there is still a lot more to be raked in worldwide – there is even a possibility that 2015 will exceed the $40bn record.
Social needs
While the social media phenomenon of the 21st century helps people to keep in touch, many note that it is also increasing levels of exclusion and isolation. For this reason, participating in leisure activities that can be done collectively is deemed more vital than ever. "It may seem counter-intuitive, but I think that the plethora of different ways in which the public can now see films – on TV, tablets, smartphones – has only served to emphasise the unique nature of the big screen. No other platform offers the same quality of shared, social experience", Clapp told World Finance.
There are also various other factors at play. Complacency is no industry's friend; in order to drive consistent growth and entice a wider audience, both the film industry and theatre owners must continue developing to compete in the highly competitive world of entertainment. "In common with most other areas of retail commerce, cinemas have had to become much more adept at engaging with customers through social media and other digital platforms, and in developing sophisticated Customer Relationship Management (CRM) and loyalty programmes", Clapp explained.
"That has gone hand-in-hand with improvements in the cinema-going experience, with the conversion to digital cinema laying the foundation for new developments, such as immersive sound and higher dynamic range (HDR) projection." As such, making the cinema a more encompassing experience, which includes the build-up of online engagement before a release and offerings of high-end drinks and food, is likely to attract more visitors. Moreover, although a trip to the cinema is more expensive now than previous years, it is still a cheaper 'night out' than other activities, such as concerts, the theatre and sports games.
The film slate on offer to audiences at present has also had a significant impact on the box office figures for 2015. Understanding the importance of appealing to wider audiences, filmmakers are offering a far more diverse range of films nowadays, catering to all tastes, genders and ages. Attempts to appeal to female consumers, for example, have picked up in recent years, balancing the slate against male-dominated action movies with female-led projects.
Then there is the undeniable popularity of animated films, which can count adults as well as children in their mammoth fan base. This year again showed the growing popularity of the animated medium; according to website Cinema Blend, Pixar's Inside Out had the "the highest grossing original, non-sequel property opening ever", with $91m earned in the first weekend alone and $332.7m overall. While the Despicable Me spinoff, Minions, became the second biggest animated film of all time, grossing $1.28bn.
Market takeover
The growing appetite for big blockbusters is not just confined to the US and Europe – it is a worldwide phenomenon. Illustrating this is the success of the latest instalment in the Jurassic franchise, which saw the biggest opening weekend in history, both in the US and worldwide, opening in the top spot in 69 territories. In just 13 days, Jurassic World became the fastest film to earn $1bn worldwide (see Fig. 1).
As with most markets, there is the ever-important China factor. The republic is a significant contributor to global box office figures, as cinema becomes an increasingly important aspect in Chinese consumer culture. According to the research service China Confidential, China's box office revenue grew by 31.3 percent to CNY 29.6bn ($4.6bn) in 2013 from the previous year and it is expected to rise even further to CNY 40bn ($6.2bn) this year. Domestic-made Monster Hunt will become the highest grossing family film in 2015 and the biggest film of all time in China, earning $382m and narrowly beating the new record set by Fast and Furious 7 earlier in the year. China Confidential even predicts that China will overtake the US as the biggest market for cinema by 2018.
This year is a noteworthy one for cinema as it illustrates that there is still a huge appetite for movie-going among consumers, despite the inundation of other sources of entertainment. That being said, maintaining this trend is no small task, as Clapp explained: "The lessons of the past are that cinema cannot afford to stand still; it needs to continue to invest and develop to remain relevant and ahead of the game. Thankfully, we are in a period of unprecedented ambition in that regard. The major studios and smaller film distributors are also upping their game in terms of quality and range of film content, recognising the need to reach out to a wider and arguably more demanding audience." Moreover, through using the growing number of platforms for marketing, from social media to gaming and merchandise, as well as traditional means, filmmakers are able to develop the kind of hype about an upcoming release that was never before possible.
Theatre owners must also do more in terms of adding value and creating a unique experience, which we are already seeing by the growing trend of small boutique cinemas that are furnished luxuriantly and offer high-end food and drink.
A similar approach is also being taken by large multiplex cinemas in order to offset the challenge of low occupancy at off-peak times. Furthermore, cinemas are beginning to offer more than just films in their theatres. "The growth of so-called 'event cinema', live or 'as live' theatre, ballet, opera and so on, has been one of the key features of the last five years, typically attracting an older and more affluent audience", said Clapp. "That said, it remains in its infancy and will surely grow as more content becomes available."
As with any area of retail and entertainment, the cinema industry now faces a throng of new challenges and rivals, but its success this year shows it still has something distinctive to offer. By playing on its draw as a social experience, together with broadening the appeal and scope of what cinema has to offer, ticket sales will continue to grow.
Of course, inflated prices help with swelling box office figures, but they could very well have deterred consumers. Breaking records in spite of rising ticket prices proves the enduring relationship that the public has with cinema, which continues to deepen as the industry works harder to maintain it.