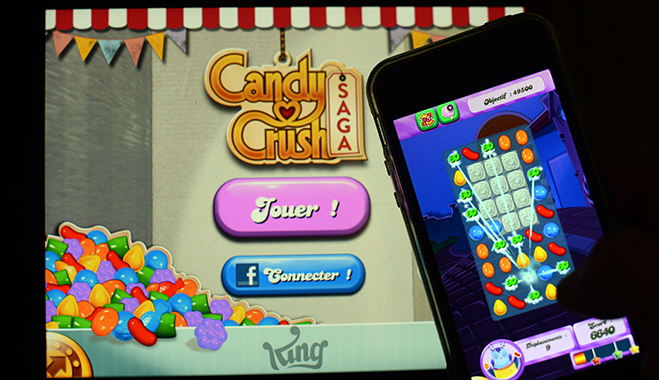 Since rising to popularity in 2011, Candy Crush has dominated the mobile app scene - its 128m players can't seem to get enough. Now, Candy Crush makers King Digital Entertainment are planning to go public&nbsp
In the fast moving, boom-and-bust business of mobile app development, it's virtually impossible to retain control over the market's notoriously fickle consumer base. Similar to speculative investors, app users are constantly on the lookout for the next big thing – and are quick to abandon any sort of software that fails to evolve in line with the fast-paced market. In fact, some 78 percent of mobile users don't even bother returning to a new app after using it just once. King Digital Entertainment, the firm behind global powerhouse Candy Crush Saga, has yet to experience this typical consumer exodus.
[A]pp users are constantly on the lookout for the next big thing
Having blasted from obscurity in 2011, the UK-based games developer has spent the better part of three years riding the wave of success surrounding its frustratingly simple flagship title, Candy Crush Saga, which sees users attempt to overcome obstacles by matching different coloured sweets in groups of three.
The concept itself is hardly new; permutations of this game have been on the market for over 30 years. Yet every day, 128 million players hunch over their mobile phones or tablet computers desperately trying to reach the next level of Candy Crush.
With numbers like that, it's hardly surprising the game is now the second-highest grossing mobile app of all time, after Supercell's Clash of Clans. According to King's prospectus, earnings have skyrocketed from $4m in 2011 to $825m in 2013. Full year sales are currently sitting pretty at £1.8bn – helping to steer an average revenue of $2.7m per employee.
Potential investors will also no doubt salivate at the impressive dividends the firm has started handing out to its current shareholders. In the last five months, King has paid out over $500m; in February alone, the games company shelled out some $217m.
King Digital Entertainment
500m
Downloads since Candy Crush saga launch
128m
Active daily users
4%
Of users make in-game purchases
$1.8bn
2013 sales
$825m
2013 profit
$5bn
Estimated value
With surging revenue and a massive market to boot, it appears the sky is the limit for King; however, its bosses are now hungry for more. At the end of February, the company announced its intent to float on the NYSE, with an initial equity valuation of $5bn.
According to its most recent regulatory filings, the Candy Crush developer is hoping to raise up to $500m by way of an impending IPO sometime this spring. Analysts say that's hardly ambitious. Yet would-be investors may do well to tread carefully; after all, with cautionary tales coming in at a dime a dozen, many firms are beginning to wonder whether the mobile app industry is little more than a disappointing embodiment of the quintessential boom and bust.
Barren farmland
Candy Crush Saga isn't the first web wonder to dazzle bored commuters. When social media mega-giant Facebook turned heads in 2012 by scooping up the popular photo-sharing site Instagram for a then-unprecedented $1bn, bullish investors raced behind in an attempt to obtain similar ventures. Cue the star-crossed fate of Viddy, a mobile video-sharing service that enamoured venture capitalists and was able to raise over $36m in investor funds.
Against all odds, a poorly calculated, reactionary management style ate away at that capital. Within 12 months of its rise to power, jaded users had abandoned the app by the millions, its CEO was given the axe and a third of all staff had been laid off.
Yet no investment in the industry has proven so nightmarish as Zynga – the California-based developer behind viral online game Farmville. Boasting near-identical origins to that of Candy Crush, Farmville rose from obscurity via Facebook, where it attracted players with a free platform with which to create their own virtual farm. Then, those same users were enticed to purchase in-game additions using very real credit card details.
The genius loss leader caught on like wildfire. Within months, the gaming platform was supporting some 200 million active users – whose accumulated in-game purchases helped Zynga post revenues of £1.2bn. With that in mind, investors couldn't wait to get a piece of the pie. So, in 2011, Zynga went public. The firm sold 100 million shares at $10 each, raking in an impressive $1bn. Google alone was said to have invested over £100m in shares – and, for several months, all was well.
Zynga set up shop in new cities across the globe, Farmville's user base continued to expand and public shares hit a relatively impressive $15 each. However, not seven months down the road, investors were ditching those same shares for a mere $2.09, and the number of Farmville players slumped by 90 percent. Shares have since bounced back considerably, but investors may never get their money back in full.
It's not difficult to see where it all went wrong. Zynga's worryingly rapid decay epitomises the primary issue plaguing the mobile app industry: an inability among developers to stay on top of consumer trends and evolving technologies. As the tablet and smartphone industry began to explode in 2012, social media users who played Farmville on their PCs gradually migrated over to their mobile devices, where Zynga's flagship title wasn't adequately supported.
By the time company bosses realised this, millions of fickle users had already moved on to the next big thing. A handful of Farmville spin-offs were swiftly dished out to competing app stores; however, none of them were able to recapture the imaginations of gamers. In the end, analysts dismissed Zynga's turbulent fall from grace as the tech world's biggest fail of 2012.
A one trick pony
While the cautionary tale of Zynga may appear to be a case of the extreme, the parallels it shares with King's Candy Crush Saga are incontrovertible. Both rose to prominence on the same social media platform – and above all else, both companies have thus far proven to be one trick ponies. King has fared slightly better in attracting users onto its various satellite apps, such as the extraordinarily similar Pet Rescue Saga – which has earned some 20 million active users.
[I]t's one thing to unleash a popular app onto the market – but quite another to make any profit out of it
Yet 75 percent of the company's revenues continue to stem from Candy Crush alone. Consequently, it's worth noting that last quarter there was a small but noticeable decline in the number of active users playing the company's most lucrative title. Unlike Zynga, King is set to stage its IPO at the onset of a decline. That doesn't bode well for investors – but it doesn't mean the company is a total loss, either.
King does appear to be aware of the boom-and-bust nature of the mobile gaming industry, and has thus far taken a few proactive steps in order to stay relevant. Not only has that meant creating new apps, but also adding fresh blood into the mix. Last September, the company's board appointed Hope Cochran, one of several figures that helped introduce the world to the concept of a 4G network, as King's new CFO. It also helps that the company is still willing to bet on private capital, as it's looking to take in just half of what Zynga raised in its 2011 sale. This proactive management style suggests that investment here may involve slightly less risk.
Competing developers are certainly experiencing no shortage of cash offers. Supercell, which was only founded three years ago, recently raised a cool $3bn – in turn helping it to work on a diverse range of titles that collectively rake in about $5m per day. Analysts reckon an IPO may also be on the cards this spring for Rovio, the Finnish design house behind viral hit Angry Birds.
App happy
$17bn
Estimated size of mobile games market in 2017
London studio Mind Candy has also been earmarked for a potential IPO. Yet if these up-and-coming tech firms are to have any hope of navigating the volatile waters that occupy today's fast-moving mobile gaming industry, they've got to convince investors their money is being put to good use.
Not only must firms like King be proactive to retain their share of a demonstrably fickle market, they've got to diversify their catalogue to defend against the fallout of one-hit-wonders. They must also strive to create strong models for attention and retention, and encourage active daily use. New creations have got to offer a clear mental model that gives the user enough background activity that they can effectively switch off. But that's not all it takes in order to brave the cutthroat app market.
After all, it's one thing to unleash a popular app onto the market – but quite another to make any profit out of it. Social media app Foursquare, for example, has found it extremely difficult to make a sizeable profit, despite an estimated user base of 20 million. If King continues to cling to the hope of becoming the mobile gaming industry's first successful public venture, company bosses have got to convince investors the studio has a viable, long-term vision for the future. New titles must constantly be churned out in order to stay relevant, and contingency plans must be in place to safeguard King from any sort of platform exodus among gamers, however unlikely.
If they can manage all that, Candy Crush Saga just may have a future yet. But until a sound business model can prove that King won't go the same way as Zynga, would-be investors have every reason to be just as fickle as app customers.