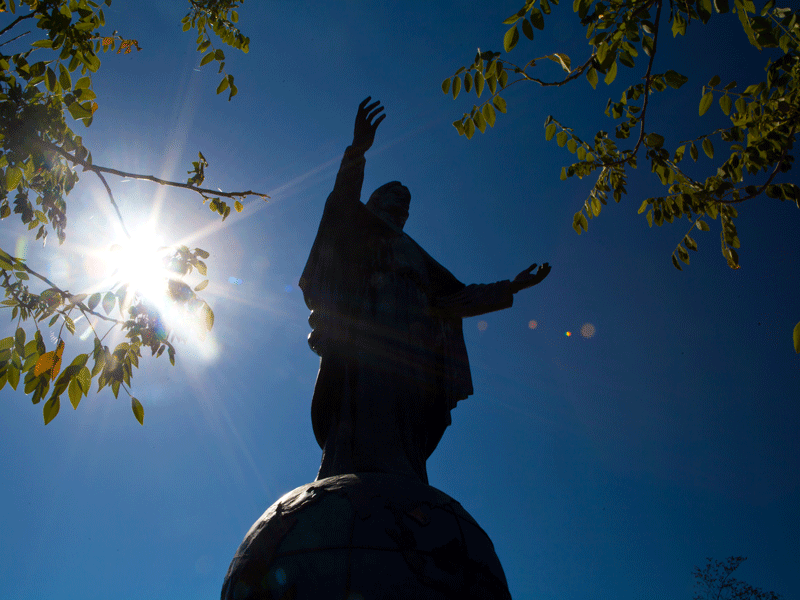 The Cristo Rei of Dili statue in Timor-Leste. The tiny Southeast Asian country has the highest known deficit of any nation around the world &nbsp
According to the CIA's World Factbook estimates for 2017, only 47 out of 222 countries worldwide are not in a fiscal deficit. The 2008 global financial crisis must take some of the blame for this, particularly in the developed world, but other factors are also at play.
Although the crisis caused debt to skyrocket in many EU countries, the deficit figures posted by these nations are not among the world's largest. Instead, the following list is occupied with states that have found themselves geographically isolated, ravaged by war or under the jackboot of authoritarian rule.
1 – Timor-Leste (75.7% of GDP)
Sitting on the eastern tip of Timor Island, Timor-Leste (or East Timor) is a little-known nation that lies just under 600km from Australia's northern coast. Following an often-violent 25-year occupation by Indonesia, in 2002, Timor-Leste became the first new sovereign state to be recognised by the United Nations in the 21stcentury.
The economic outlook was promising in the initial years following independence, with GDP growth rates hitting 64.1 percent in 2004. However, since 2012, development has proved to be wildly inconsistent, with the economy contracting 26 percent in 2014, before expanding 20.9 percent the following year. With estimated revenues of just $300m compared to $2.4bn of expenditure, the World Factbook recorded Timor-Leste's deficit at 75.7 percent of GDP in 2017.
2 – Kiribati (64.1% of GDP)
Located in the heart of the Pacific Ocean, the Republic of Kiribati is one of the world's most geographically isolated countries. Consisting of 32 atolls and a solitary raised coral island, Kiribati is considered one of the world's least developed countries. With the island's scarce resources virtually exhausted by the time it declared independence from the United Kingdom in 1979, today its economy relies primarily on fishing exports and foreign aid, while its dependence on imports has resulted in a substantial trade deficit. Although GDP growth has remained steady, the country's eye-watering deficit of 64.1 percent provides substantial concern.
3 – Venezuela (46.1% of GDP)
The downfall of Venezuela has been widely documented. A crash in oil prices – petrochemicals account for nearly all of the country's exports – meant that the socialist government no longer had the funds to cover its high-spending programme. Rampant hyperinflation (believed to exceeded 2000 percent) has resulted in shop shelves sitting empty and many citizens going hungry. It is estimated that 75 percent of the population lost an average of 19 pounds in 2016 after lacking the required nutrition for a healthy lifestyle. In response to the crisis, Venezuelan President Nicolas Maduro has become increasingly autocratic and has consolidated power in a country now considered a dictatorship.
4 – Libya (25.1% of GDP)
Optimism was high in Libya following the downfall of Colonel Muammar Gaddafi in 2011, but post-dictatorship prosperity has failed to materialise, with successive leaders unable to impose control over a divided, warring nation. Instability has devastated the country's oil production, Libya's main source of revenue, and many other key sectors have been left largely unregulated. Without a fully functioning government, the likelihood of Libya reducing its fiscal deficit remains slim.
5 – Brunei (17.3% of GDP)
Not to be confused with the African country of Burundi, Brunei is a minuscule state split into two parts by Malaysia. A British colony until 1984, the country's economy is supported almost exclusively by oil and gas exports. The government provides free medical care and education despite charging citizens no VAT or income tax. Though GDP per capita remains one of the world's highest, GDP growth rates have only exceeded four percent once since 1995.