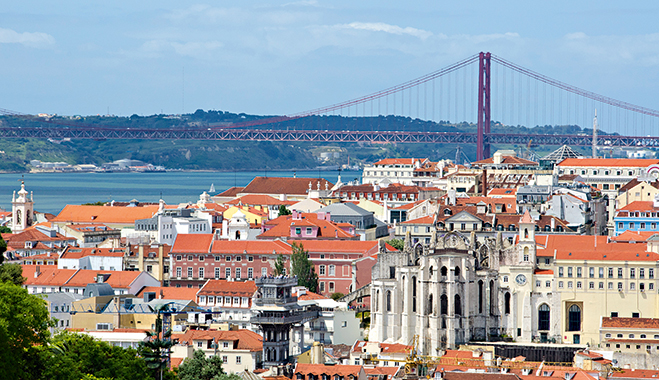 A view over Lisbon, Portugal, where Dif Broker is based. The portfolio manager believes that transparency is essential when working with clients&nbsp
Interview with:
Paulo Pinto, Chief Operating Officer, Dif Broker
Most portfolio management and brokerage houses tend to have rather formal – even on occasion slightly pompous – websites, but that certainly doesn't apply to the Portugal-based international brokerage and investment organisation Dif Broker.
Take a look, for example, at the portfolio management section of its website, and you will see the faces of four of its portfolio managers and the details of their investment styles, the fees they charge, and their investment performance results over the past 365 days. The whole website has a user-friendly, highly professional appearance and shows, in most attractive fashion, that Dif Broker is an ally and colleague for investors in their battle to maximise their returns.
The whole idea of presenting details of Dif Broker's portfolio managers and their results is to maximise the utility of the website to investors and also to pursue Dif Broker's fundamental policy of being totally transparent in its operations. The website not only allows, but actively encourages investors to select their portfolio manager and view the investor's portfolio performance and risk. This way, it's easy for an investor to find a portfolio manager whose style, tactics, strategy and results best match the investor's. In particular, by offering a wide range of strategies, it's easy for investors to see which managers are best suited to their own risk tolerance.
The problem is that investors have difficulty in choosing between all the different strategies available to them
Greater transparency
Where did this desire for transparency come from? Primarily from a belief on the part of Dif Broker's Chief Operating Officer Paulo Pinto that investors were becoming more demanding and sophisticated, and needed – and deserved – to work with a broker who would respect this, and who would give them the level of transparency they need. After all, making money through investment is itself a challenge and the last thing investors need when working with a particular portfolio manager is any obfuscation in terms of what the manager offers them.
"At Dif Broker, our portfolio managers cannot be secretive about the money they manage and they cannot hide behind their portfolios", says Paulo Pinto. "A portfolio manager we employ has to accept that their expertise and results will be out there in the public domain on our website and, in effect, the portfolio managers have to accept that they can't be afraid to know themselves completely and to know their strategies and their strengths and weaknesses."
Choosing a manager
When it comes to selecting a portfolio manager, the company endeavours to allow the investor the opportunity to identify the type of portfolio and portfolio manager that best suits the profile of the client themselves. Dif Broker aids the client in finding a formula that works for them.
"The point is that the client's approach to their portfolio and to selecting the manager who is right for them will naturally mirror the client's own psychological makeup", says Pinto. "After all, unless one is investing in passive investment vehicles such as indexation, there is always a human factor in making investment decisions and seeking a particular type of investment return. I certainly believe, as COO of Dif Broker, that the nature of the investment portfolio a client is building up reflects directly on how the client sees the world, how they see their finances and above all what kind of risk or return combination they are looking for." It is certainly a dynamic approach, in a sector which is, at times, accused of being too static or even robotic in its approach and delivery to its investors. As such, the way in which Pinto's company is going about its business makes for an attractive and exciting prospect to future clients, and can perhaps be seen as a breath of fresh air in the industry.
"At Dif Broker we see people as, in effect, the big new story or new concept in regards to the business of helping investors grow their money. We are completely different from all those fundamentally robotic type of portfolio managers and advisers out there – of course I don't mean robotic biologically but in terms of their investment philosophy – who use algorithms and formulae and interfaces and everything else to allocate money based on certain numeric objectives, we believe in the people factor", says Pinto.
"After all, the money we're investing is owned by people, not computers, and so it makes sense to give our clients the opportunity to express their personal, psychological and even emotional attitudes towards investment."
Ultimately, however, the relationship between any portfolio manager and client must be based on trust. Dif Broker, for instance, allows its clients to withdraw money at any time, without penalty. "Naturally, they can go online at any time to see exactly what they have invested in and every trade that has ever been made in their managed accounts", says Pinto.
"The fact of the matter is that the serious problems that caused the financial collapse back in 2008 haven't yet been comprehensively solved and they have left a market place where savers are only getting a fraction of what they should be earning in money market accounts. Fundamentally there is a crisis still continuing, which constitutes a kind of war on the saver, a war that has forced savers, eager for returns, to get involved with risk investment in order to try and improve their returns. It's not really fair, especially as in many ways what canny and prudent investors are being obliged to do is to bail out people who borrowed large amounts of money and were unable to repay it."
Such decisive and perhaps even strident views may be seen by some as controversial, given the state of the industry – and given reports earlier in 2014 suggesting that Europe was out of recession. But what Pinto's comments do show is his commitment to investors, and the commitment to investors shown within the organisation. He goes on to describe the significant and critical challenges looming on the horizon for investors. "These challenges have arisen for two main reasons. Firstly, because the financial industry can be seen as having, in effect, written off savers and also written off investors who are seeking to live on the income of their investments.
"Secondly, at a more fundamental level, it is obvious to any independent thinking person that matters are not looking promising for the economy or the markets, at least for investors who are seeking to gain a reasonable return on their hard-earned money. The easy money policies of the central banks have resulted in the risk benchmark being more or less abolished by interest rates coming down to close to zero or even below. The trouble is that while it is not clear at the moment whether central banks' policies will succeed or fail, either way the outcome will be potentially disastrous. If these policies succeed, interest rates will eventually rise and economies will suffer, and if they fail central banks are likely to provide further doses of credit, creating more difficulties for the economy."
A whole new reality
Pinto believes that investors need to realise that they are living in a whole new reality and that their investments strategies have to be adjusted accordingly.
"The problem is that investors have difficulty in choosing between all the different strategies available to them. This difficulty of choosing sometimes arises because of sheer lack of knowledge of the different asset classes and sometimes comes from an overriding desire to recapture lost income, but above all it stems from investors having difficulties in understanding who they really are as investors", he says.
"Our approach at Dif Broker is designed precisely to prevent that from being a problem and to help investors know what they want, what risk and return profile they seek, what type of investments are likely to be best for them and, above all, which portfolio managers are likely to suit them."
Such an approach to investment has seen Dif Broker win considerable accolades in the markets. For example, the company was awarded Best Online Broker in Western Europe for 2014 by Global Banking & Finance Review. This was the second successive year in which Dif Broker won the award, having also done so the previous year in 2013. In that same year Dif Broker also earned a place in the elite World Finance exchanges and broker awards. This particular award recognises excellence, innovation and best practices in Western Europe.
"We are proud of our awards because they are a great recognition for our team at Dif Broker and the awards go to show that with the right business model and the right attitude, this brokerage firm can do great things", says Pinto.
"Above all, awards we win are only significant in that they show the calibre and quality of what we can deliver to our clients and that fundamentally, above all, we are there for our clients to make their investments a success."