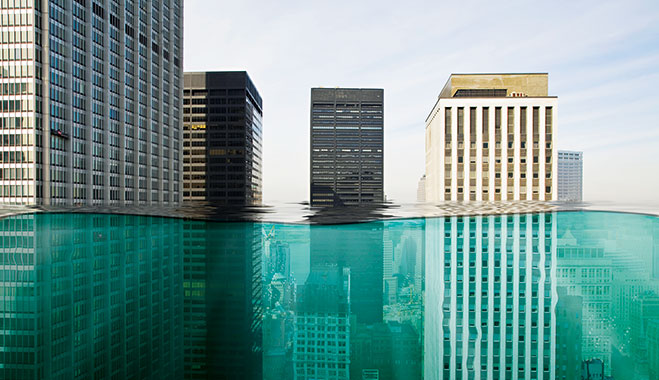 Companies understand the impact that climate change will have on their business. As such, many firms choose to skew the facts in order to make their operations seem greener than they actually are&nbsp
It's not uncommon for companies to skew the facts about sustainability to their own ends, though few – if any – have taken their deception as far as Volkswagen. The so-called 'diesel dupe' made headlines around the globe in September when the EPA found defeat devices, designed to game the system and ensure that theirs were among the cleanest cars on the market, installed in VW vehicles.
The findings resulted in fines of epic proportions and, more pertinently, the exposure of one of the world's foremost brands' attempts to pedal a dishonest product under the guise of sustainability. The ugly saga has some way to go before the full truth of it is known. However, the fact of it up to this point is that over 11 million vehicles were fitted with the device, while millions of consumers – not to mention regulators – were misled about the group's sustainability credentials.
Even with a new chief executive in tow, plus a revised and revved-up commitment to sustainability, disaffected consumers are eyeing Europe's leading automaker with suspicion (see Fig. 1) – and deservedly so. "We need a culture of openness and cooperation", the group's Chairman of the Board of Management, Matthias Müller, said in a statement following the crisis. "We have to look beyond the current situation and create the conditions for Volkswagen's successful further development." However, there is a long way to go before it can hope to reclaim the consumer trust that was lost.
In the cold, hard light of the emissions scandal, we've entered into a period where consumers would be wise to question corporate promises on climate change
"VW, in pursuit of increased sales, showed flagrant disregard for environmental regulation and lost its customers' trust", Frances Way, Co-Chief Operating Officer at CDP (formerly the Carbon Disclosure Project), said in an interview with World Finance. "As the need for transparent disclosure on climate impacts has entered the mainstream, companies are more accountable to all their stakeholders."
Today, having long ago declared itself a leading light on the hot button topic of climate change, Volkswagen has joined a long and growing list of companies to have promised and ultimately failed to uphold their sustainability pledges. And while companies are acknowledging the significance of climate change – more so by the day – the VW scandal is a reminder that these commitments are not always genuine.
In the cold, hard light of the emissions scandal, we've entered into a period where consumers would be wise to question corporate promises on climate change. The risks posed by rising emissions are well documented, though it seems that many companies are all too willing to set aside the risks in sight of immediate profits.
The climate change question
For the most part, companies recognise that sustainability is not a choice, but a fact of the market. Nowhere else can this commitment be better seen than on the issue of climate change. "Companies understand first-hand the disruption that climate change, unabated, will cause to their supply chains, markets and operations", said Kevin Moss, Global Director of WRI's Business Centre, in an interview with European CEO.
Many businesses recognise that climate change could derail their operations, from the physical risks that could threaten their processes, to regulatory challenges that could impact their bottom line. On the flipside, according to Way, tackling climate change is a significant business opportunity: the low-carbon economy was valued at $5.5trn in 2011-12 and is growing at an over three percent clip every year.
This sentiment was echoed last year by a Ceres initiative, known as the Business for Innovative Climate and Energy Policy, or BICEP, when over 1,000 companies signed on to a "coordinated effort to combat climate change". With Apple, Intel, GM, Nike, Unilever and hundreds of others on board, the climate declaration is proof enough that businesses are beginning to pay attention to the issues at hand.
Farid Baddache, Managing Director for Europe, Middle East and Africa at BSR, has stated that more and more companies are now focusing on climate change. The We Mean Business Coalition, of which BSR is a co-founder, already includes 329 companies and investors who have made more than 500 commitments to reduce their carbon footprints. The supporters so far include major European brands such as IKEA, BT Group, Commerzbank, H&M, Unilever and Marks & Spencer, and each has committed to procuring 100 percent of their electricity from renewable sources.
"After decades of debate, the scientific community is agreed on the science that shows that human activity is causing dangerous climate change", said Way. "Just as importantly, this is now an established fact for leading businesses who understand that there is no greater threat to the global economy than climate change."
Speaking about the role of business leaders in facilitating this transformation, Baddache told European CEO: "CEOs must state a vision enabling the transformational changes needed for their company to mitigate risks, capture opportunities and demonstrate leadership, creating value for the long-term."
Where much of the emphasis in years gone by has fallen on governments, communities and the third sector in shouldering the costs, multinationals are being urged – increasingly so, in fact – to engage with the issue at hand.
"More and more companies are understanding that it is in their own business interest to take action to address climate change. CDP's 2015 climate change report reveals that compared to 2010, when just under half of companies said they had activities in place to reduce emissions, now nine in 10 engage in these activities", said Way. "We see that corporations are clearly shifting their strategies to become part of the solution to the climate challenge. The momentous and global nature of climate change means that, ultimately, we need everyone on board to take action."
Playing its part
According to a working paper authored jointly by the Centre for Climate Change Economics and Policy and the Grantham Research Institute on Climate Change and the Environment, "failure of adaptation measures" by business and governments ranked fifth among the global risks with the highest impact. "Yet, the role and impact of the private sector in delivering adaptation and, more generally, climate-resilient development, is poorly understood, perhaps with the exception of certain sectors – such as insurance, tourism, energy and utilities or the food and beverage sector – which have been more visible in terms of their response to climate risks."
Internal factors, such as supply chain disruption and company culture, are the most important issues in driving private sector adaptation. External factors will play a much greater part in the near future, however, as extreme weather events, rising temperatures and rising sea levels enter into the mix. Regulatory changes, together with sustained stakeholder and shareholder pressure, will likewise have a bearing on private sector engagement, as companies look to incorporate climate change in their day-to-day decisions.
According to the latest GlobeScan/SustainAbility Survey, 86 percent of over 600 expert stakeholders representing business, governments, NGOs and academia feel that the private sector will play an 'important' or 'very important' role in advancing climate change solutions.
However, while a commitment to climate change is commendable, wavering from these commitments can breed mistrust among consumers, and doing so serves only to depress public opinion. A survey of 1,500 US citizens, conducted by the Pew Research Centre, shows that 43 percent of Americans view corporations unfavourably. This figure, up from 31 percent in 1985 (see Fig. 2), shows that scandals like the VW diesel dupe threaten to ratchet up the pressures facing corporations. Recognising that action on climate change brings with it valuable brand points and a much-needed competitive edge means that companies have been quick to get in on the act.
The Exxon scandal
As if the situation for corporations wasn't hard enough, it was made worse recently when the news emerged that ExxonMobil may have been knowingly misrepresenting the evidence for man-made climate change. New York State Attorney General Eric Schneiderman has called for company documents that may prove that the world's largest oil major has been knowingly downplaying the risks. If true, the oil major could face legal charges for failing to adequately inform investors about the risks to its bottom line.
To briefly cast an eye over the tenure of Exxon's former CEO Lee Raymond, the company veteran of more than 40 years expressed doubts about whether the planet was warming at all. Not only were his views on the matter at odds with the scientific community at large; they conflicted with scientific studies commissioned by Exxon itself from 1977 onwards.
"In the first place, there is general scientific agreement that the most likely manner in which mankind is influencing the global climate is through carbon dioxide release from the burning of fossil fuels", wrote James Black, a top expert in the company's research and engineering division, in 1977. Expanding on his research the following year, Black warned Exxon's managers that a doubling of CO2 could increase average global temperatures by as much as three degrees Celsius, and as much as 10 degrees at the poles. "Present thinking", he wrote, "holds that man has a time window of five to 10 years before the need for hard decisions regarding changes in energy strategies might become critical." In order to prosecute, the state must find false statements concerning climate-related costs, and sources say that the investigation will likely extend to rival oil majors should the results prove fruitful. In short, the message to energy companies is that they can no longer afford to ignore the climate question, and, more than that, doing so risks legal repercussions.
Research conducted by Yale's Dr Justin Farrell shows that the Exxon scandal is not the only case of a corporation influencing the public's perception of climate change, with 20 years of data on the subject showing that there's a relationship between corporate funding and climate change denial. In the study, Farrell went so far as to conclude that corporate funding actually influenced the specific content and language used by climate change sceptics.
Drawing on two sets of data – the first being a network of 4,556 individuals with ties to 164 climate sceptic organisations, and the second being 40,785 climate change-centred texts produced by those organisations in the period spanning 1993 to 2013 – Farrell said that "the text analysis is entirely computational, and it shows an ecosystem of influence". He continued, writing in the online edition of the Proceedings of the National Academy of Sciences: "They were writing things that were different from the contrarian organisations that did not receive corporate funding… Over time, it brought them into a more cohesive social movement and aligned their messages."
Where many corporations are happy to make a pledge on the issue of climate change, few are willing to carry these promises through to fruition
Painting it green
While there are signs that corporations are beginning to pay heed to the issue of climate change, cases much like VW, ExxonMobil and those discussed in Farrell's analysis show that for every success, there is usually a failure. The fear is that the solution to climate change will not come voluntarily from companies, and so those who feel that it might may need to reduce their expectations. For years, corporate promises on climate change have been met with little in the way of scepticism, but this trust has been gradually eroded over time.
"Risks abound for companies who choose to be bystanders or to defend business-as-usual instead of proactively shaping the future of their industries", said Moss. "They'll find that the proactive and innovative competitors who look for market opportunities to serve the needs of society in a resource-constrained planet will be the ones to gain an advantage." And while Moss' opinion here is very much the general consensus, it has done little to deter companies from skirting their responsibilities.
"In our regular public opinion research on sustainable consumption across 18 countries with National Geographic, statistical modelling shows that greatest barriers to sustainable consumer behaviour were the lack of trust that consumers have in the claims companies make about the environmental performance of their products, and a lack of demonstrated sustainability leadership from both governments and companies (see Fig. 3)", Stacy Rowland, Director of Public Relations and Communications at GlobeScan, told World Finance.
Ultimately, those misrepresenting the facts about climate change risk seriously damaging consumer trust. "While companies are seen as a big part of the problem, our research with both consumers and stakeholders consistently shows that they are expected to be a big part of the solution. Failing to deliver on this will only drive down trust, and it's already at historically low levels", said Rowland.
Those perpetuating green-based environmental initiatives while participating in nothing of the sort – a process more popularly known as 'greenwashing' – have polluted the climate question. Similar to whitewashing, where a company might make a coordinated attempt to obscure an otherwise unpleasant truth, greenwashing operates on the same principle, but in an environmental context.
The most often-cited example is a fossil fuel company that might profess to be green, though in reality this 'greenness' is only a very minor part of what is, in essence, a not-so-green business. Aside from ExxonMobil, Shell has been on the receiving end of greenwashing accusations perhaps more than any other energy company, and critics have taken pains to bring the company's environmental commitments into focus.
The examples mentioned here, together with hundreds – if not thousands – of others, have complicated the question of whether corporations are doing enough to combat climate change. Well-intentioned statements often do little to rectify the real issues at hand, as where many corporations are happy to make a pledge on the issue of climate change, few are willing to carry these promises through to fruition. And while there is a growing consensus that meaningful action on climate change from the private sector won't come without encouragement, there are a few exceptions where climate action takes priority.
A brighter climate
When the White House announced a commitment to the American Business Act on Climate Change in October, environmentalists rejoiced to see that some of the nation's leading names had set their commitments to climate change out on paper. Apple, which runs the entirety of its US operations on renewable energy, pledged to bring an estimated 280mW of additional renewable capacity online before the end of 2016. Facebook, meanwhile, committed to 100 percent clean and renewable energy, and doubled its previous renewables target to 50 percent, by the year 2018.
Aiste Brackley, Research Manager at SustainAbility, said of these efforts in a recent GlobeScan press release: "The landscape of corporate leadership is dominated by technology and consumer companies that have been at the forefront of investing in renewable energy and low carbon solutions, and being vocal about their initiatives on the global stage." While the commitments themselves are commendable, there were few in the group for whom the changes amounted to a cultural overhaul.
In terms of scope, surely no other initiative rivals Unilever's Sustainable Living Plan. Seen in the latest GlobeScan/SustainAbility Survey as having made the greatest contribution to advancing climate change in the last five years, Unilever's contributions stem from its origins as a purpose-driven company. According to the group, "Today our purpose is to make sustainable living commonplace". The aim is to decouple growth from environmental impact, all while making a positive social difference, driving profitable growth, saving costs and fuelling innovation.
The consumer goods company was held up as a shining example to competitors at COP21 on account of its commitment to zero net deforestation by 2020, and again when it revealed that the next phase of its plan was to expand its sustainable supply chain initiative. Working alongside Dutch NGO Solidaridad, Unilever has pledged to reach deeper into its supply chain and deliver environmental benefits to the over one million people working, either directly or not, for the company.
Other notable examples include IKEA, whose commitment to sustainability was clear for all to see last year when the Swedish furniture maker pledged €1bn towards renewables and climate change adaptation in poorer nations; that's on top of the €1.5bn spent since 2009. IKEA's 23 wind farms and 700,000 solar panels will also go some way towards protecting the company from any price swings in the energy market. Special mention should go also to Tesla, whose recent achievements include advancing battery technology and emissions-free refuelling infrastructure across the globe, and to Patagonia, for repurposing its operational strategy time and again in order to reflect the climate question.
The aforementioned examples, as with many others, are living proof that a commitment to climate change need not come at the expense of profitability. More than that, they show that the private sector has some valuable answers on the climate question. "Consumers vote with their feet – and their wallets – if they feel companies are not transparent and trustworthy. So corporate reputations matter to the bottom line", said Way.
Granted, there may be some business models that are ill-equipped to make quite the same stand. However, the fact remains that businesses have a responsibility to acknowledge what many consider to be the defining challenge of our time.