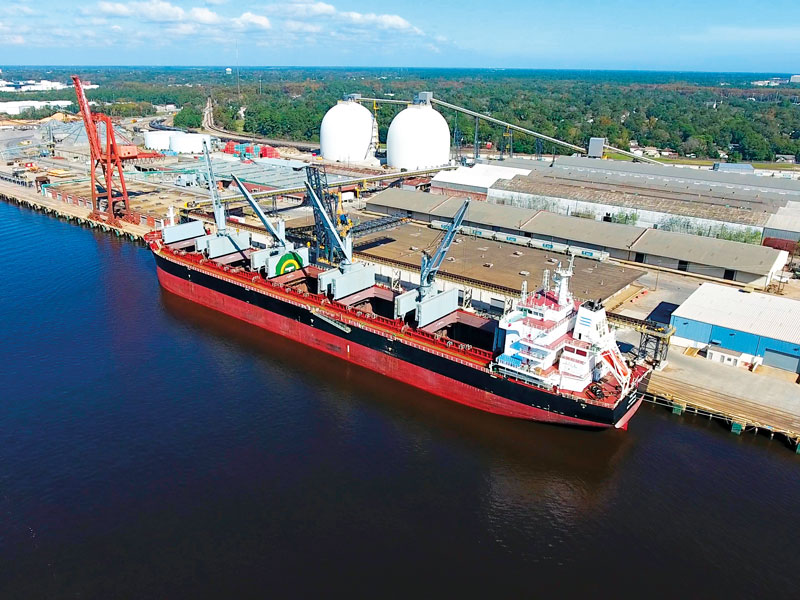 Enviva's port in Wilmington, NC, exports wood pellets to power and heat generators around the world&nbsp
The climate crisis demands urgent action. If we are to meet global commitments to phase out coal, cut greenhouse gas (GHG) emissions and achieve net-zero carbon emissions by 2050, the world needs to embrace renewable energy.
Since its founding in 2004, Enviva's sustainably sourced biomass – industrial wood pellets made from low-value forest feedstock like thinnings, tops, limbs, and sawmill residues – has successfully displaced more than 16 million metric tonnes of coal, enabling its energy customers to avoid emitting 31 million metric tonnes of carbon dioxide into the atmosphere. This equates to eliminating more than 3,519,688,984 gallons of gasoline.
Today, bioenergy accounts for around 10 percent of the world's primary energy supply, almost double what it was when Enviva first began turning low-value wood into energy-dense, low-moisture, and uniformly sized pellets that provide stability, reliability, and flexibility in energy generation.
The world is embracing biomass at different rates. Today, bioenergy represents almost 60 percent of the European Union's (EU) renewable energy and is currently the largest renewable energy source in the EU. Currently the US, where Enviva's manufacturing operations are based, is the leading exporter of wood pellets to Europe, and has the potential to supply as much as 65 percent of the EU's import demand, representing a trade value of approximately $1.6bn per year. Relatively speaking, Europe is on a path to become the first climate neutral continent by 2050.
Enviva's Chairman and CEO John Keppler tells World Finance how this will only be achievable through negative emissions, a solution enabled by woody biomass.
Which nations are leading the pack when it comes to biomass use?
For ambitious countries that have been largely successful in reducing GHG emissions, look to the UK and Denmark, which aim to eliminate coal by 2030. In fact, last year, the world witnessed the UK complete a record-breaking 67-day period without burning coal thanks in part to the recycling/repurposing of segments of grid infrastructure and the deployment of woody biomass.
Recent research shows the UK is halfway to meeting its target of net-zero emissions by 2050. For countries that currently have large dependencies, such as Germany and Poland, coal may not be completely displaced in 10 years, but both economies will be well on their way to achieving net-zero carbon emissions by mid-century.
Additionally, Japan's demand for wood pellets is expected to increase by 33 percent in 2021 alone.
What role can bioenergy play in the global switch to renewable energy and how does the use of biomass work in combination with renewables such as wind, solar and hydrogen?
Wind and solar have a part to play, but they cannot solve the world's energy needs all by themselves. When it comes to replacing fossil fuels for both power and heat generation, the intermittency of these technologies falls short. That's where woody biomass comes in. Wood-based bioenergy is a complement to wind and solar, and when sourced responsibly, it is the only renewable, reliable, dispatchable, cost-effective, low-carbon energy source currently available. What's more, it can provide global power and heat generators with a drop-in alternative to fossil fuels that can be used in energy systems that exist today.
Enviva is one of very few companies that have the track record, the resources, and the know-how to successfully deliver this important benefit globally.
When used to displace coal, sustainably sourced wood pellets reduce GHG emissions by more than 85 percent on a lifecycle basis, and by more than 70 percent compared to natural gas. As we continue to power down coal plants, governments should consider converting those plants to renewable fuel use in an effort to meet internationally recognised climate targets of net-zero by 2050. In doing this, the existing plants, grid connection and the transport links can all be repurposed and essentially recycled from coal to alternative, renewable technologies. It will keep costs down, people employed, and communities supported, and can deliver change in coal-dependent countries quickly and at scale.
Biomass is also projected to play an important role in the hydrogen economy. The most obvious route is to use biomass directly to create hydrogen through gasification and thereby avoid carbon emissions that are associated with natural gas. Even further down the road, when surplus solar and wind could potentially be used to create hydrogen at scale, there will be an exciting opportunity to produce aviation and other fuels with carbon capture of biomass that could result in negative greenhouse gas emissions.
How do you see the potential of BECCS (bioenergy with carbon capture and storage) when burning biomass instead of coal?
BECCS will be significant in terms of the role biomass can play in reducing carbon emissions. We expect the role of wood pellets in the energy system to substantially evolve as we look to exponentially reduce carbon emissions globally and BECCS is one of the very few options on the table that can remove carbon from the atmosphere. Once matured, BECCS could mark the beginning of a new era for renewable, low-carbon fuel applications, one that will enable economies to meet and exceed international net zero targets while still enjoying the benefits of industry sectors like air travel and heavy goods transport, which are difficult and very expensive to decarbonise.
What changes are required for the steel industry to fully embrace biomass to create 'green' – aka carbon-neutral – steel?
'Green steel' will have an important part to play in eliminating the burning of coal and achieving global climate commitments. Biomass was first used for steel production back in the 18th century and fell out of favour as coal became cheaper. It is still used in some smaller smelters today, but for the steel industry to embrace biomass fully, a number of factors need to be addressed. First, current steel production processes need to be adapted to a fuel with lower energy density and structure.
This will require testing and then, based on results, implementing changes to the fuel logistics and infeed systems. Steel producers will also need to be confident that they can source enough sustainable biomass of the right quality to conduct their operations. Finally, these producers would need to see a robust demand for green steel – which Enviva believes is already there – converted into firm contracts for longer-term deliveries. As for timing, many companies are already making this transition. We believe the next two to three years will be spent developing solutions for full implementation, which means green steel, at scale from biomass, could be established before 2025.
What steps is Enviva taking to ensure that the forests it sources from are sustainably managed?
Whether it's biomass for power and heat generation, steel production or hydrogen creation – sustainability is key. Carbon emissions have massive negative environmental impacts and tackling climate change via bioenergy must not come at the expense of habitat destruction or damage to biodiversity and water quality, to give just a few examples.
Enviva's overarching commitment to responsible wood sourcing is laid out in our global responsible sourcing policy, our standing environmental pledge that holds us to the highest standards of sustainability, integrity, forest stewardship and continuous improvement. We do not source from old growth forests, from protected forests, or from forests that could be threatened by forest management activities. The wood we purchase must be sourced from sustainably managed forests and from land that will be returned to forest. All harvest operations must employ best management practices and comply with federal and state water quality standards.
Developed in 2016 and deployed in 2017, our industry-leading Track & Trace (T&T) technology has been our flagship platform for open communication and has proven mission-critical in monitoring, tracking, and reporting exactly where all of Enviva's wood is sourced. The T&T programme enables Enviva to monitor and report on our supply chain as low-value wood travels by the truckload from the forest to the wood pellet production plant. This proprietary system equips our network with detailed insights into the origin of our feedstocks, which we routinely update and make available to the public on our website.
In 2020 we worked to improve our internal processes to prepare for our first internal audit of our T&T standard, and in 2021 we will undertake our first independent third-party audit. We believe that the T&T standard provides our stakeholders with important information about feedstock sourcing and traceability, and in the future we'd like to see other biomass producers adopt this standard as well. Looking to expand and improve the traceability characteristics of T&T, in 2020 Enviva partnered with GoChain to pilot a program designed to enhance the traceability of sustainable biomass. GoChain is a blockchain company that drives the adoption of impactful technology for the betterment of society and our habitat.
The pilot programme identified a select group of suppliers from Enviva's wood sourcing regions in the US Southeast to monitor various data elements such as forest tract locations, load weights, fibre commodity types, and forest types. Leveraging GoChain's blockchain, Enviva was able to monitor the movement of wood fibre in real time from select forest tracts at the time of harvest to Enviva's wood pellet production plants with a unique QR code. The initial pilot is among the largest-scale of blockchain application technology to date in the global biomass industry.
What inspired your recently announced plan to achieve net-zero in your operations by 2030?
Sustainability isn't just about responsible harvesting. Enviva is now taking steps to dramatically reduce the climate impact of its own operations by committing to net-zero carbon emissions by 2030. We plan to reduce, eliminate or offset all of our direct emissions. When it comes to the electricity we consume in the course of our operations, the company plans to source 100 percent renewable energy by no later than 2030, with an interim target of at least 50 percent by 2025. We'll also be engaging with partners and other key stakeholders to address emissions generated as part of our supply chain. An example of this is our partnership with Mitsui O.S.K. Lines (MOL), with whom we seek to develop and deploy an environmentally friendly bulk carrier to reduce the greenhouse gas emissions in the ocean transportation of sustainable wood pellets. Finally, we'll be tracking and publishing our progress in reducing emissions annually. The world is in need of more renewable energy. Enviva is proud to be stepping up to deliver.