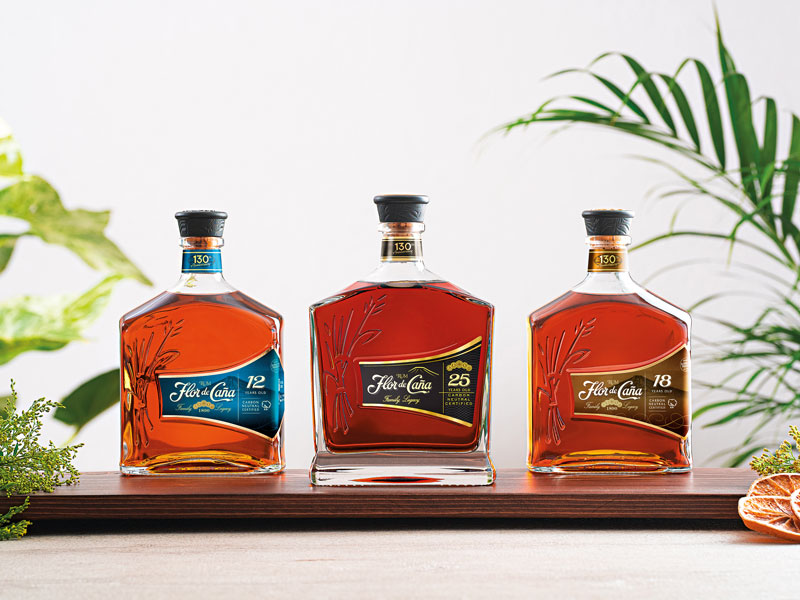 &nbsp
The story of Flor de Caña began back in 1875, when Alfredo Francisco Pellas Canessa, a young Italian visionary, decided to travel to the exotic and tropical country of Nicaragua in search of adventure. In 1890, he came across the most fertile lands at the base of the country's tallest and most active volcano, San Cristóbal, and decided it was the perfect location to establish a rum distillery, marking the beginning of Flor de Caña.
The distillery has been modernised, but remains in the same place where it was originally founded. Today, Flor de Caña rums are present in over 70 countries around the world and the brand has earned top industry distinctions, including being named 'Global Rum Producer of the Year' by the International Wine and Spirits Competition in 2017. Sustainability has always been a core value of Flor de Caña, being passed down through the five family generations who have led the company during its 130 years of existence. The focus on sustainability has shaped how the company produces rum, does business and interacts with consumers around the world.
Producing rum in harmony with nature
Flor de Caña is a single estate rum, which means the company owns and controls every step of the production process, from field to bottle. While this is a huge challenge, it is also a great opportunity to make sure sustainable practices are in place in every step of the process.


The sugar cane is sustainably sourced from fields that are both Bonsucro and Fair Trade certified, which ensure the highest production standards in the industry, in terms of proper and safe working conditions for employees and in terms of protecting the environment with sound agricultural practices. The sugar cane is then crushed to obtain molasses and this byproduct is then fermented with water and yeast cultivated in house in order to produce alcohol.
During this fermentation process, all CO2 emissions are captured and recycled, making sure they aren't released into the atmosphere. The alcohol is then distilled five times in multiple-effect column distillation stills. This entire process is powered with 100 percent renewable energy by using bagasse (the fibrous material that remains after crushing sugar cane) as biomass.
Once the rum is distilled, it is stored in hand-assembled bourbon barrels without artificial ingredients or additives of any type. The barrels are then kept in naturally ventilated warehouses where the rum will be aged for up to 30 years. The result is an exquisitely smooth, amber-coloured, ultra premium rum that has zero sugar content, is gluten free and Kosher certified.
Third-party sustainability certifications
In addition to a sustainable production process, the brand also has several programmes to benefit its employees and the community. Since 1913, the brand has offered employees and their families free education and health services at the company-owned school and the company-owned hospital. The brand is also a strong supporter of non-profits in Nicaragua, such as APROQUEN, which has provided over 600,000 free medical services to child burn victims since 1991.
Flor de Caña is also the main corporate donor of ANF, which has a series of social programmes aimed at alleviating poverty among the country's most vulnerable populations.
It is because of programmes like this that Flor de Caña is proud to be the world's only spirit to be both Carbon Neutral and Fair Trade certified. The Carbon Neutral certification, issued by Carbon Trust in the UK, assures consumers that Flor de Caña offsets all carbon emissions during the entire lifecycle of the rum, from field to market. Additionally, the Fair Trade certification, issued by Fair Trade USA, verifies that the rum is sustainably produced in compliance with over 300 rigorous labour, social and environmental standards.
Sharing the value of sustainability
Not satisfied with having industry-leading sustainability practices internally, Flor de Caña has developed a series of programmes aimed at sharing and promoting the value of sustainability with the trade and rum enthusiasts around the globe, allowing them to be a part of a movement to ensure a greener future for everyone.
In 2021, Flor de Caña announced a pledge to plant one million trees by 2025. Through its own annual reforestation programme, Flor de Caña has planted nearly 800,000 trees since 2005, and the brand has partnered with environmental charity One Tree Planted to launch a global reforestation campaign.
Through this partnership, both organisations work together to raise awareness of the importance of reforestation and to inspire consumers, bartenders and the general public to donate through the One Tree Planted platform. The charity guarantees that one tree will be planted for every dollar received. In turn, Flor de Caña will match all donations received in order to have a greater impact.
There is a saying that really captures Flor de Caña's vision on sustainability: the Earth is not an inheritance from our parents, but a loan from our children
Another signature campaign is Zero Waste Cocktails, a global initiative that invites eco-conscious bars, restaurants and consumers around the world to join forces to reduce food waste, one sustainable cocktail at a time. The brand worked with over 400 bars around the world to create sustainable cocktails made with Flor de Caña rum and with ingredients derived from repurposed food scraps or leftovers from the local community. In 2021, this campaign helped reduce over 10 tons of food waste.
The initiative is supported by Food Made Good, a global non-profit that promotes sustainability within the food service industry, which has helped participating venues design their zero waste cocktails and adopt meaningful sustainable practices in their everyday operations. In 2021, Flor de Caña also organised the global final of its Sustainable Cocktail Challenge, a competition the objective of which is to inspire the bartending community to become sustainability champions and build a greener future together by creating spectacular cocktails using sustainable ingredients, techniques and Flor de Caña rum.
Manachain Monaghan from the UK was crowned the first Global Champion after competing with 30 top bartenders from around the world to create the most spectacular sustainable cocktail. Monaghan, owner of Below Stairs Bar, took the competition's top position with his sustainable cocktail 'Steamship,' a zero-water-waste cocktail prepared with fully sustainable ingredients.
The competition was judged by renowned industry personalities such as Salvatore Calabrese, 'The Maestro' from The Donovan Bar in London; Julio Cabrera from Café La Trova in Miami; and Hannah Sharman-Cox and Siobhan Payne, co-owners and organisers of London Cocktail Week. Each cocktail was evaluated based on four criteria: sustainability component, flavour and appearance, creativity and its backstory and inspiration.
A spirit with purpose
There is a saying that really captures Flor de Caña's vision on sustainability: the Earth is not an inheritance from our parents, but a loan from our children. That's why we strive to be a brand with purpose, a brand that not only produces an award-winning product, but that is also focused on leaving a better future for generations to come.
We'll continue raising the bar on ourselves and looking for ways to do things better and to positively impact our employees, the community and the environment, one Flor de Caña rum bottle at a time.