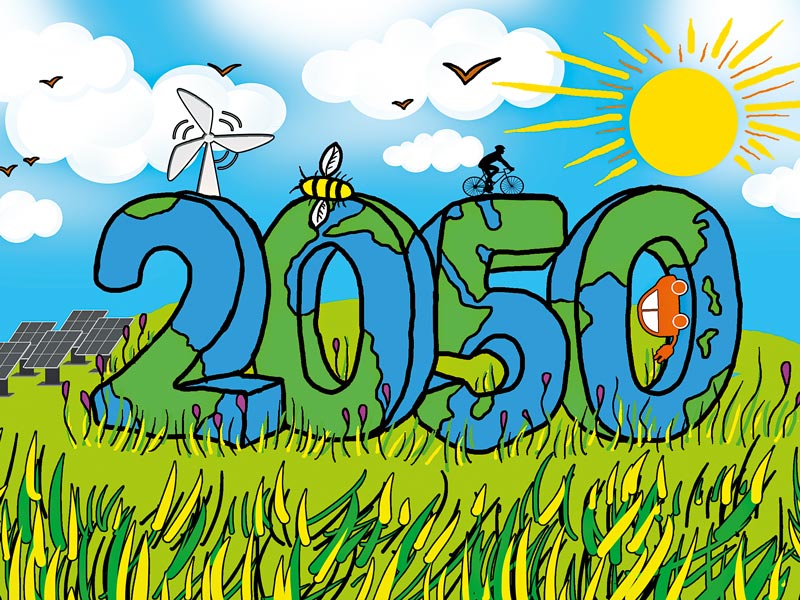 &nbsp
Tackling climate change involves making fundamental changes to how we live. And so it should, as however unappealing the prospect, its effects threaten our very existence. Reaching net zero is essential if we are to avoid the most catastrophic effects of climate change. This means reducing our greenhouse gas emissions as much as possible while making sure any emissions we do produce are absorbed from the atmosphere – by forests, for example. Science shows that we need to limit the planet's temperature increase to 1.5°C above pre-industrial levels – it's already reached around 1.1°C – and to do this we need to cut global emissions by 45 percent by 2030 and get to net zero by 2050.
To meet these targets, all parties (193 states plus the EU) that are signed up to the Paris Agreement to tackle climate change must set a 'nationally determined contribution' (NDC) – a target and action plan for reducing greenhouse gas emissions. The UK's is currently to cut its emissions by at least 68 percent compared to 1990 levels by 2030. Through the Climate Change Act 2008, by law it must reach 100 percent – net zero – by 2050. The UK, along with the EU and the US, is one of the 20 emitters most responsible for the world's greenhouse gas emissions – together they produce 75 percent of them.
A flawed plan
At the end of March, the government launched its new 'Powering up Britain' net zero plan, outlining how it will cut the UK's carbon emissions. This came after the High Court ruled that its existing net zero strategy wasn't detailed enough and was therefore unlawful under the Climate Change Act, in a claim brought by campaign groups.
The plan includes policies to reduce our reliance on imported fossil fuels and boost our energy security by shifting to cheaper and cleaner sources of energy such as wind, solar, nuclear and hydrogen power instead, with the ambition to have the cheapest electricity prices in Europe while also hitting net zero targets. There are policies to decarbonise transport, such as by phasing out the sale of new non-zero-emission vehicles, and more efficient heating of our homes and other buildings.
The installation of new gas boilers will be banned by 2035 at the latest and the Boiler Upgrade Scheme, which gives property owners a grant to install low-carbon alternatives, such as heat pumps, has been extended until 2028. The Great British Insulation Scheme will help people living in the least energy efficient homes and those on the lowest incomes make their homes more energy efficient to reduce the amount of energy they use and waste.
The government is also investing in carbon capture technologies to absorb unavoidable greenhouse gas emissions, including a project linked to the Sizewell C nuclear power plant in Suffolk that will be powered by heat waste from it to capture 1.5 million tonnes of carbon dioxide each year.
It appears to be an ambitious strategy and the government says it's already decarbonised faster than any other G7 country, cutting the UK's emissions by 48 percent between 1990 and 2021, but it has been criticised by experts and campaign groups.
Some think we need a longer-term and more wide-ranging net zero investment plan that will help companies make better decisions for the future and that developing carbon capture while continuing to use fossil fuels is incompatible with a net zero target; we should be focusing on renewable energy more.
There's also disappointment that there isn't more funding for home insulation to reduce the carbon emissions from domestic heating, which accounts for around 14 percent of the UK's total emissions. The Great British Insulation Scheme aims to insulate just 300,000 homes – this represents a missed opportunity when increasing this number could have a significant impact on the amount of energy we use.
The fact is that as comprehensive as the Powering up Britain plan sounds to the uninitiated, the changes we'll have to make as a result of it will already be further than many people want to go. To truly make a difference within the necessary timeframe we'd need a complete overhaul of our way of life. It seems unlikely that any government would want to propose a plan that could undermine its popularity – with both rich and poor – to such an extent. But the reality is that, if we don't make the changes voluntarily, we may be forced to as the impact of climate change continues to grow.