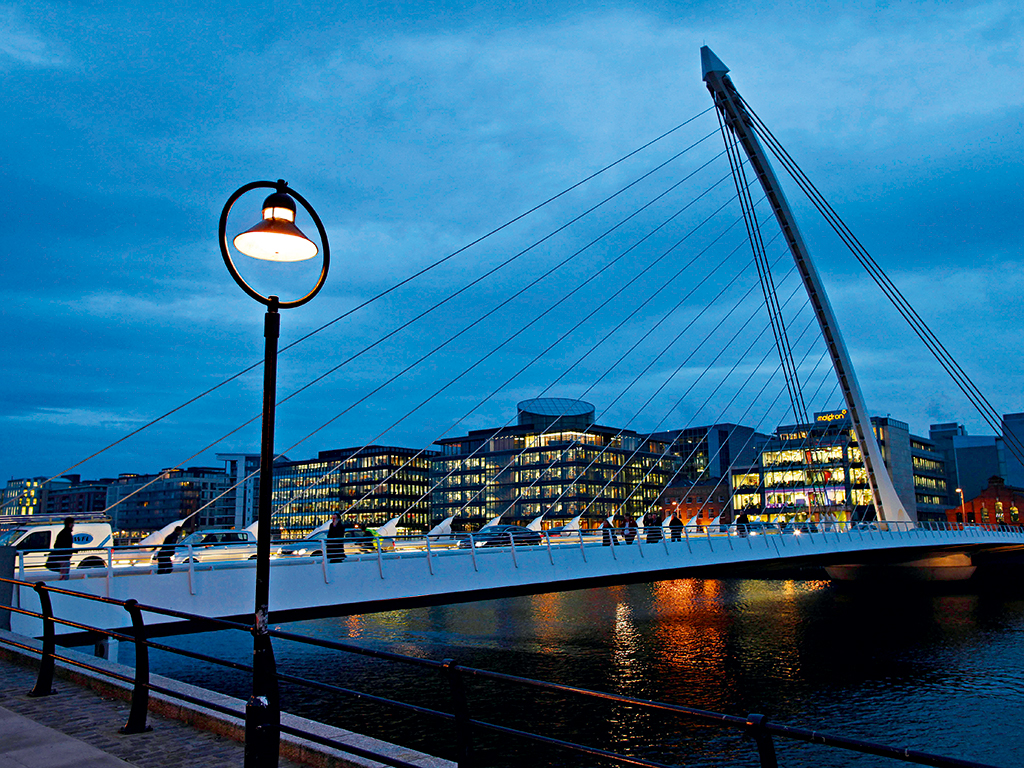 Dublin's financial district, where a number of tech companies have taken up residence. Mediolanum Asset Management also calls the city home&nbsp
Author:
Furio Pietribiasi, Managing Director, Mediolanum Asset Management
July 16, 2014
At Mediolanum Asset Management Limited (MAML), the Dublin-based asset management arm of the Italian Mediolanum Banking Group, we like to think we are unusual in the pre-eminence we give to embedding client-centricity into our culture, and in developing the human capital and innovation processes on which our future successes will depend.
We put a great deal of effort into the development of behaviours, processes, investment solutions and tools of superior quality that are useful to clients. The best litmus test that we are meeting our objectives is the trust of our clients. We have attracted positive net inflows every month since our inception in 1998, with net inflows of €3.1bn in 2013. This represented an increase of approximately 15 percent in total AUM for our Dublin-based mutual fund business.
We focus on designing products that meet the needs of our typically-European retail clients, using a proprietary product development process – MedInSynC – to develop, support and evolve client solutions. It embeds our core brand values of client-centricity, investment quality and execution excellence at the heart of all our services. MedInSync – combined with our investment management process, Med3, and our open innovation research and development centre, MedLab, with its innovation network – powers new product delivery and superior client outcomes.
Active investment
While MedInSynC develops, supports and evolves product solutions, our proprietary investment process, Med3, is the means by which we ensure they actually deliver against client needs and commercial promise. It is based on active investment and the understanding that, at times, assets and instruments will be inefficiently priced. We identify opportunities by using both fundamental and technical analysis combined with an appreciation of investor sentiment and behavioural biases. The fruits of these internal processes are to be found in our core retail offering, Mediolanum Best Brands Umbrella, a fund-of-funds/multi-manager offering in which each individual sub-fund targets a specific client need and each solution is carefully crafted from layered value drivers in asset allocation, risk management, manager selection and security selection.
Building a culture that supports client-centricity
is what creates
real sustainable
competitive advantage
A paper by PWC, Asset Management 2020 – A New World, gives a flavour of why innovation will be so important to financial services companies in the future. Combined with rising life expectancy, assets under management in developing economies are set to grow dramatically, with the global middle class projected to grow by 180 percent between 2010 and 2040. Between 2010 and 2020 alone, more than one billion middle-class consumers are expected to emerge globally, representing the largest single decade increase in potential customers in history. In this new world of rising costs and flat or decreasing margins, investment in technology and data management will be core to identifying and meeting client needs, maximising distribution opportunities, and coping with the rigours of increasing regulation and reporting.
To achieve effective R&D and to keep abreast of market competition, we have embraced an open innovation business model, developing an external network of industry collaboration partners to complement existing internal skills and expertise. Our R&D expertise and capability is driven by one inter-departmental working group, MedLab, which brings together expertise and ideas from a wide range of sources.
However, such a model can only be a source of competitive advantage if supported by investments in enabling technologies, such as our internally developed ideas management system (IMS) for product development which forms part of a customised knowledge network platform to facilitate knowledge transfer. We recognise that not every idea will work, but in rapidly evolving markets, a constant flow of new ideas, and the dynamism to bring them to fruition if they are workable or close them down if not, is critical to business sustainability. MedLab provides the brokering and knowledge transfer required to tap skills and ideas from both internal and external parties in geographically dispersed locations, and supports the development process from feasibility analysis to implementation.
Our open innovation business model and centralised development process saves time spent trying to galvanise competencies in different locations, which tends to require projects run on a one-to-one basis involving a select number of predetermined participants.
It is particularly effective for complex projects, where experience is not immediately to hand and expanding the reach of inputs can make all the difference. Research shows it also opens up the potential for first-mover advantage because groundbreaking developments are, in practice, rarely conceived by potential users or firms with similar backgrounds.
In fact, a survey of business leaders by Cognizant looking into 'innovation outside the four walls' revealed that 42 percent of those questioned have set up a centralised R&D centre, and 58 percent use external resources to implement ideas. The respondents value the open model's scalability and many have expanded their collaboration to clients, partners and external expert networks, with 60 percent encouraging customer input, 54 percent harnessing various types of social media and 47 percent using crowdsourcing.
Talent and attitude
The other fundamental tenet of MAML's operations is the recognition that investing in people is essential to growing the business for the benefit of all stakeholders. In the most traditional sense, this includes the 8,100 hours of training enjoyed by staff last year, but it involves so much more: engendering a culture of creativity, self-discipline, flexibility and responsibility is written into everything we do. It would be easy to pay lip service to this ambition, but we know that the best companies in the world, and particularly those that excel at innovation, are recognised above all by their talent and the attitude of their people. You need only to run though the companies you most admire in your mind's eye, and you will find this is true. To work, however, this kind of culture must be embraced by behaviours and processes throughout the organisation and properly supported by an HR department with the same set of beliefs and targets. For example, a flat hierarchical structure based on empowerment and trust helps to ensure ownership of tasks is effective at all levels.
In recent years there has been a growing realisation that intellectual capital is a major contributor to a company's capacity to secure sustainable competitive advantage. Getting the best out of that intellectual capital, however, is a key challenge for management. One strand of this has been to develop digital tools that enable us to bank the company's knowledge and, which is crucial to enabling and sustaining core processes.
When a staff member leaves, they should not in theory take with them part of the corporate memory. Substantial investments are therefore made into information systems, equipment and software with a view towards embedding flexibility in processes, providing transparency and real time information while also enhancing the risk and control environment. We have set up an in-house virtual library which is key to easing and disseminating internal knowledge flows, and MedCred, a virtual inter-employee reward tool to promote collaboration and teamwork in addition to the IMS and knowledge network platform mentioned above.
Trust in the service
Altogether, our culture and tools ensure we have the very highest quality investment management approach based on transparency and innovation, and that over time we execute it with a constant focus on adapting our investment solutions to changing client needs or changing market conditions. Trust is key in any business, but particularly one where the product is a service.
We strive to build trust with our distributors and customers by explaining our investment views in a user-friendly fashion on an ongoing basis. It is core to our distributor and client support model, as well as an effective means of receiving feedback critical to evolving existing products. We provide ongoing ex-ante updates on products throughout their lifespans, and are always prepared to discuss what did or did not happen as expected. Transparency is so much less effective if offered ex-post. Supporting this commitment to transparency have been significant investments in 'big data' analytics to enable us to capture different perspectives in relation to product performances, first for our portfolio managers versus their own objectives; secondly for our distributors versus their commercial promise; and finally at the level of individual clients.
Although forward-looking models for product innovation depend on broad interactivity across diverse locations that are both real and virtual, most companies will want to centralise their R&D centres in a location that can support dynamic practices, as success in financial services also depends on advances in technology linked to digital media, analytics and big data, as well as cognitive computing. Ireland's technological knowhow, well-educated workforce, access to multiple time zones and well-regulated environment have attracted companies such as Fidelity, Citigroup, AON, Deutsche Bank and many others to establish R&D centres in the capital.
Tech hub
For us, Ireland has provided an invaluable ecosystem of global intelligence through its special mix of leading IT companies and financial services organisations. Dublin is the internet capital of Europe, with a giant cluster of blue chip technology names that includes Microsoft, IBM and Google, as well as social media firms Facebook, Twitter and LinkedIn.
In fact, Ireland has become the cloud capital of Europe and while globally the nation was ranked 10th overall of 142 countries in Cornell's Global Innovation Index 2013, it was voted fourth in the 'knowledge and technology' category, behind only Switzerland, China and Israel. These attributes are great accelerators to businesses located in Dublin, especially those that have the systems and culture in place to tap everything the capital has to offer. MAML contributes to this growing pool of interconnected skills and knowledge, having supported the launch of the Diploma in Innovation offered by the Institute of Banking, a recognised college of UCD, as well as becoming a co-sponsor, alongside the State Agency Enterprise Ireland and others, of the FinTech pre-accelerator run by the National Digital Research Centre (NDRC), which aims to identify, support and grow innovators with early stage ideas which have the potential to grow into viable businesses.
At MAML, we have striven to design an open networked, knowledge-based organisational structure and to instil an innovation-driven culture supported by investment in enabling technologies that is able to generate sustainable competitive advantage. These are secondary objectives, however, to the real prize, which is to embed our client interests and needs in everything we do. Building a culture that supports client-centricity is what creates real sustainable competitive advantage, is something companies can control, and in the future will make all the difference between growing market share and simply surviving.