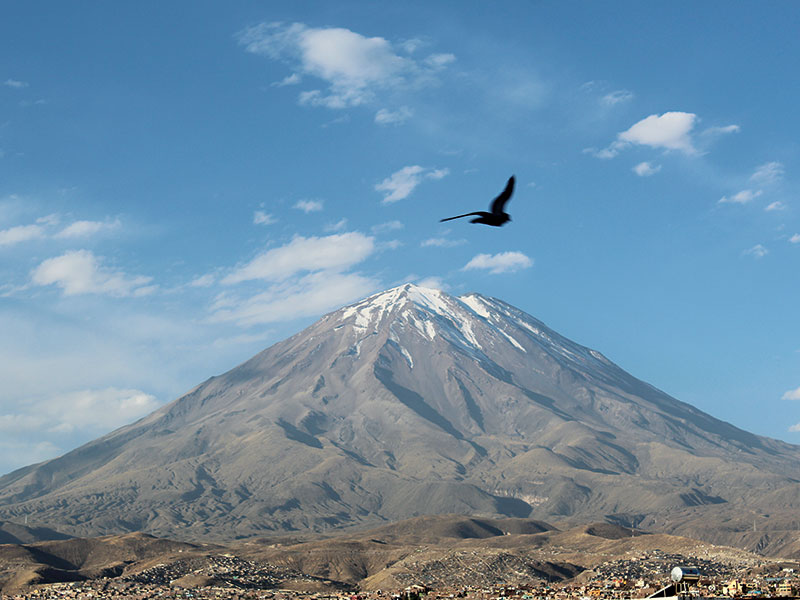 Misti, a volcano in Peru. Natural disasters are a frequent threat in Peru, and a challenge for the country's insurers&nbsp
Author:
Mario Potestá Martínez, Executive Vice-President of Business Insurance at Rimac Seguros
The world of insurance is closely linked to the condition of the economy, technological advances and the environment. In recent years, we have lived in a world with slower growth, with low interest rates, lower productivity within the labour force, increased volatility in capital markets, and unprecedented technological development. Some economies have recovered slightly, but it is unlikely we will return to the growth prospects of previous years, especially if we take into account the lower growth rate for China, which, at 7.7 percent, is at its weakest in over two decades.
The picture is no different in Peru, and recent years have also seen a reduction in GDP growth rate. A slight recovery is expected, but again, we do not foresee reaching levels of six percent growth. As insurance is connected with economic growth, this situation has a direct impact on our industry. Greater investment flows generate a greater demand for labour, which leads to an increase in wages and strengthens the expansion of the middle class, creating new opportunities for business.
The change of government in Peru has injected new optimism and confidence among investors. By reactivating infrastructure and mining projects, generating appropriate investments in the fields of health and education, and implementing the state's strategic plan to address fiscal imbalances in the face of natural disasters (earthquakes, the El Niño phenomenon, rain and flooding), Peru presents a fresh context and opens up new opportunities in the realm of business insurance.
One of the major concerns of insurers is climate change, which leads to a higher frequency of natural disasters
Projects being reactivated include: the Southern Gas Pipeline, Metro Line Two in Lima, water works and sanitation programmes, the expansion of Jorge Chávez Airport, the construction of Chincheros Airport in Cusco, the missing sections of the Sierra highway, and the contract award for the Metro Line Three. These are important for the revival of growth in the insurance market.
This scenario presents a very important challenge for Rimac Seguros as insurance market leaders in Peru. Throughout our 120 years of business, we have been committed to Peru, our clients, and our employees. We have also been immersed in a programme of continuous transformation, in order to address the changes that are occurring in the country and will continue to occur in the insurance market. This flexibility enables Rimac to maintain its leadership in a profitable manner.
New technologies
Advances in technology create a very significant challenge for the insurance industry across the value chain, with more informed customers seeking simplicity, accessibility and more sophisticated products to meet their needs. As such, investment in process improvement, technology and innovation is key.
Rimac has continually invested in these fields, focusing on new trends and forces that generate the most important developments in the insurance industry. One such example is the use of big data and data analytics to find patterns in structured and unstructured data applied to prospecting processes, sales, risk assessment and fraud detection processes. We are also present on social networks, in order to obtain information on the behaviour of consumers and set up product models for related groups. We make great use of the web, smartphones and apps that allow us to better reach our customers in all stages of prospecting, sales, care, use and relationships.
An example of these changes can be seen in the development of the first engineering management app for risk inspection: Risk Inspect. This is a software programme that interacts online and in real time with the company. The software evaluates various risks, such as fire, theft, mechanical breakdown and natural disasters, through detailed questionnaires. This tool allows us to offer finer and more appropriate underwriting to meet our customers' needs, since the data we obtain automatically includes GPS coordinates, building materials, and details of the protections used by companies against fire, among other risks.
This initiative began at the end of 2013, when Rimac and IBM signed a strategic alliance for the digital transformation of our company, with the aim of maintaining leadership in the Peruvian insurance market. During 2014, Apple and IBM announced a global strategic alliance to develop mobile business applications, and approached us to introduce this tool. The interesting thing is we managed to identify the specific needs of Peru's insurance market, and thus Risk Inspect was born – the first mobile business application in Latin America's insurance industry that is provided by two global partners.
This application positions Rimac as the leader in innovation and technology in the general insurance market. In this vein, it is also important to highlight Rimac's annual inspection programme, which has the largest coverage in the country, comprising more than 1,200 business customers nationwide. In addition to this, last year we incorporated a prevention property risks website, which addresses issues of interest to our customers and offers a variety of services, ranging from online courses to train staff and customers, to fire control systems tests in accordance with NFPA 25. This platform has allowed us to strengthen our leadership in prevention. Such developments demonstrate we are true pioneers in technological advancement and innovation within Peru's insurance industry.
Climate change
One of the major concerns of insurers is climate change, which leads to a higher frequency of natural disasters. As we have seen across the globe, these are recurring in shorter timeframes and, in many cases, more severely. In the case of Peru, seismic risk has to be considered, due to the country's location in the Pacific Ring of Fire, and considering there has been no seismic activity for many years.
In the case of Peru, seismic risk has to be considered, due to the country's location in the Pacific Ring of Fire
This obliges us to follow more sophisticated processes of risk assessment and reinsurance purchasing and, above all, to implement prevention and loss mitigation programmes together with our customers, so as to reduce their vulnerability to natural events.
Being market leaders enables us to make best use of both structured and unstructured information, including flood zone maps and topographic maps, either of the country or of places where important events (such as landslides due to rain or landfalls caused by earthquakes) have occurred. We also utilise innovative models that are developed for coastal flood-prone areas in the event of a tsunami or tidal waves, as well as other types of information. This use of vital data is coupled with our leading expertise in the field.
All these factors combined allow us to create analysis models that differentiate us significantly in the market in terms of quality of risk assessment. We therefore remain competitive by maintaining adequate prices, while also offering a clearly compartmentalised offer according to the quality of risk in each individual case.
Reputation and renown
This year, Rimac celebrates 120 years of working in Peru. With around 4,000 employees, it is now recognised as one of the most trusted companies in the country. Throughout the years, Rimac has maintained its position as a key player, having thrived even through the various changes that have shaped the country, including social, economic and political reforms.
The company has achieved several milestones over the years: it was the first company to be listed on the Lima Stock Exchange in 1898; the first to underwrite car insurance in 1919; the first to have a call centre to handle emergencies in 1996; and the first to launch digital applications for services and inquiries in 2014, just to mention a few. In recent times, Rimac has made significant investments in technology to modernise its infrastructure and make the leap towards becoming a customer-centred company.
Its solidity and financial support are recognised by two of the most important international rating agencies: Moody's Investors Service and Fitch Ratings, which awarded the company the best risk rating in Peru, making it the only insurer in the country that operates with such qualifications in the areas of general risk and life insurance. It has also been awarded A+ rating by the two most important risk rating agencies in Peru: Equilibrium and Apoyo & Asociados.
Its business development, financial strength, highly specialised team, and search for continuous innovation have made Rimac a leader in the insurance market throughout the past 12 years. It is the insurer that offers protection to two-thirds of large investment projects in the country.
Being recognised as the most reputable insurance company in Peru, Rimac's leadership in sustainability is considered of great importance. It is also the first insurance company in the country to present sustainability reports under the parameters of GRI4. Furthermore, Rimac has received several awards for its performance as a good employer and for being a socially responsible company. This is reflected by the fact that every year, the Lima Stock Exchange recognises the company for having the best corporate governance practices in Peru.
Rimac is committed to remaining at the forefront of change, which will ensure its sustainability in the face of new tests and challenges in a constantly changing market. Cohesion and team capabilities, commitment to customers and business partners, and the introduction of technological changes are key factors for continuing to lead Peru's insurance market.