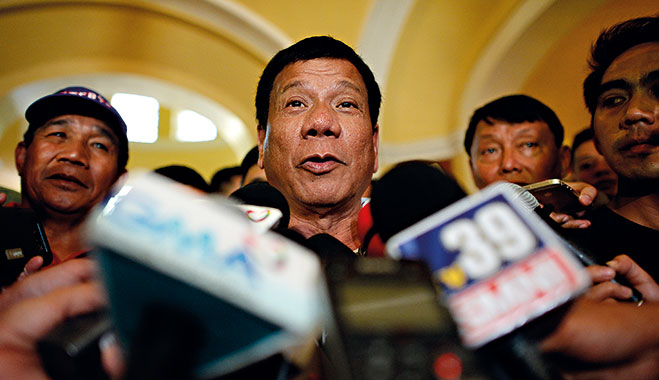 The Philippines' new president, Rodrigo Duterte, aims to continue the country's progress in economic reform&nbsp
Interview with:
Ador A Abrogena, Executive Vice President & Head of Trust & Investments Group, BDO Unibank
July 14, 2016
The Philippines' new president, former City Mayor of Davao Rodrigo Duterte, has shown a steadfast determination to continue the progress in economic reform achieved by his predecessor in recent years. With political will and encouraging GDP growth so far this year, the country's robust economic growth is set to continue on its current path.
While investor confidence will be somewhat cautious during the initial months of Duterte's presidency, once all key governmental positions have been appointed and a new stimulus programme rolled out, confidence is expected to return to promising levels. Given this positive backdrop, more investment – both domestic and foreign – is projected in the near future, which in turn will spur even more economic activity and growth in the Philippines. At this exciting time in the country's economic history, World Finance had the chance to speak to Ador A Abrogena, Executive Vice President and Head of Trust and Investments Group at BDO Unibank, about the current state of the Philippine financial market, and his own plans for business expansion.
How would you describe the current state of the investment and funds market in the Philippines?
During 2015, in the midst of global market volatility – which was brought about by the devaluation of China's yuan and the significant drop in oil prices – the Philippine stock market ended the year down by 3.85 percent. This was the first annual negative close by the Philippine market in the past seven years. Industry growth as a whole has remained flat or slightly negative, because most of the gains in the first half of 2015 were largely erased in the second. With this being the case, the industry has adopted a defensive investment strategy, whereby cash has been given overweight allocation. Consequently, this is the first time in many years that cash has outperformed both equities and bonds.
Investors are optimistic that the Philippines can sustain its GDP growth momentum of six to 6.5 percent, even amid the current global slowdown
The external factors I've mentioned, coupled with the looming rise in US interest rates, are some of the factors that underlie these trends. Nonetheless, at present, investors are optimistic that the Philippines can sustain its GDP growth momentum of six to 6.5 percent, even amid the current global slowdown. This is because the country's growth catalysts remain intact, namely consumer demand, domestic investments and government spending. There also remains ample liquidity and a stable currency, which is supported by the current account surplus.
For the unit investment trust fund (UITF) business at BDO Unibank, the major challenges are the growth of variable unit linked funds from the insurance industry, and the rising need for purchases of USD for offshore investments.
What is needed to further develop the UITF business?
It is vital to introduce financial literacy programmes that will emphasise the need to invest regularly. BDO Trust takes this role very seriously, and has a highly experienced training team in place to conduct these programmes in our 940 branches; we are therefore able to reach out and stay in touch with all of our clients nationwide.
The training team also conducts seminars for corporate accounts, as well as for the public on a regular basis. Moreover, these sessions are further supplemented through our website pages and Facebook posts, which both offer advice on the various investment solutions that we offer. We believe that investing in online platforms is also crucial to reach out to Millenials, as well as to Filipinos overseas who wish to invest in the Philippine market.
We need to allow investors to buy USD for feeder funds as a reliable mechanism for them to pursue diversification on a global scale. I also believe that the government should liberalise the forex market by allowing local investors to purchase USD for the purpose of investing in USD-denominated instruments. At present however, even if the Bangko Sentral ng Pilipinas allows the creation of feeder funds, local investors may not be able to buy the USD needed to access these funds. In addition, the new government should accelerate the implementation of long-approved laws, such as the Personal Equity and Retirement Account Act of 2008 and the Real Estate Investment Trust Act of 2009, which would both encourage long-term investing from the public.
What is the state of BDO's current investment funds business and plans for expansion?
BDO's UITFs experienced double-digit growth last year in terms of Net Asset Value (NAV); by the end of December 2015, NAV reached $5.77bn (PHP 272.19bn), which was 14.5 percent higher than the previous year-end's NAV of $5.04bn (PHP 237.72bn). This is higher than the 12.6 percent growth rate that was achieved by the entire UITF industry in the Philippines last year.
Furthermore, 2015 was also the banner year for BDO Trust in terms of new product development, as we were able to continue growing our family of UITFs by launching two new equity funds. The first was the BDO Equity Index Fund, a passively managed fund that tracks the performance of the Philippine Stock Exchange Composite Index. We also introduced the BDO ESG Equity Fund, which is an actively managed fund that is suitable for investors who want to incorporate environmental, social and governance factors in their investments – this is the first fund of its kind in the Philippines.
The company has also partnered with global fund managers to offer global equity feeder funds. Last year alone BDO Trust was able to launch three feeder funds, starting with the BDO Developed Markets Property Index Feeder Fund, whose Target Fund is the iShares Developed Markets Property Yield UCITS ETF and is managed by BlackRock, the largest fund manager in the world.
We then introduced the BDO Global Equity Select Feeder Fund. Its Target Fund is the SLI Global Equity Unconstrained Fund and is managed by Standard Life Investments, one of the oldest financial institutions in Scotland. Finally, we now have the BDO China Equity Feeder Fund in place. The Target Fund is the Citi China Select Fund that is co-managed by CitiFirst Investment Management and China Asset Management Company, the second largest fund manager in China.
What is the current situation of the company's business?
In 2015, BDO posted double-digit growth in consolidated trust assets under management (AUM) in spite of flat industry growth for the year. Its AUM by the end of last year grew to $19.45bn (PHP 917.35bn) from the previous year's $17.33bn (PHP 817.48bn). This represents a growth rate of 12.22 percent, which again surpasses the industry growth rate of one percent. During this time, BDO also increased its market share of the Trust business to 35.9 percent from 32.3 percent in 2014. We believe that this demonstrates our client's deep confidence in the products and services that we provide.
What are the company's flagship products?
Currently, our flagship products would be our range of UITFs. BDO Trust offers the complete range of money market, bond, balanced and equity funds. This range actually accounts for around 40 percent of the entire UITF market in the Philippines. We also offer institutional UITFs that are exclusive to our managed accounts, namely pension and provident plans, insurance companies, foundations, schools and religious institutions.
What are its plans for growth in 2016 on institutional business?
We will continue to diversify the company's investments and move from Philippine assets into global investments. We also plan to offer feeder funds to institutional clients, as well as global bonds and preferred shares to investors that seek steady income and capital preservation. We recently launched the BDO ESG Equity Fund, which is suitable for institutional clients who want to incorporate environmental, social and governance factors in the investment of their portfolio.
What about plans for growth in 2016 on retail business?
This year, we will be launching the BDO US Equity Feeder Fund and the BDO Japan Equity Feeder Fund. These feeder funds will allow Filipino investors to invest in geographical areas in which they can reach the most promising opportunities, whether this is in the US, Europe, China, Japan or across the international real estate market.
To take advantage of internet technology, we also offer an online investment platform called BDO iOnline, as well as online financial education tools. For the convenience of UITF participants, we are incorporating the Easy Investment Plan across all BDO UITFs. This is an investment build-up plan that enables investors to attain their financial goals and financial wellness through the twin habits of saving regularly and investing via selected BDO UITFs. We will also introduce the Easy Redemption Plan, which is a redemption facility that allows participants to partially, automatically and regularly receive cash payouts from their investments in UITFs.
We will offer switching features, which allow an existing UITF participant to request that his or her units of participation be switched in one or several qualified UITFs without the requirement of having to wait for the usual settlement period for redemptions. This is an extremely useful mechanism as it allows a UITF participant to move from one UITF to another, especially during dynamic market movements.
Finally, BDO Trust has been actively reaching out to underserved sectors, particularly in the countryside. With this mission in mind, we will conduct sales rallies and market/product briefings in provincial areas that we believe have high potential growth as income levels rise. We hope this will not only provide higher growth to our industry, but also promote inclusive growth in our country.