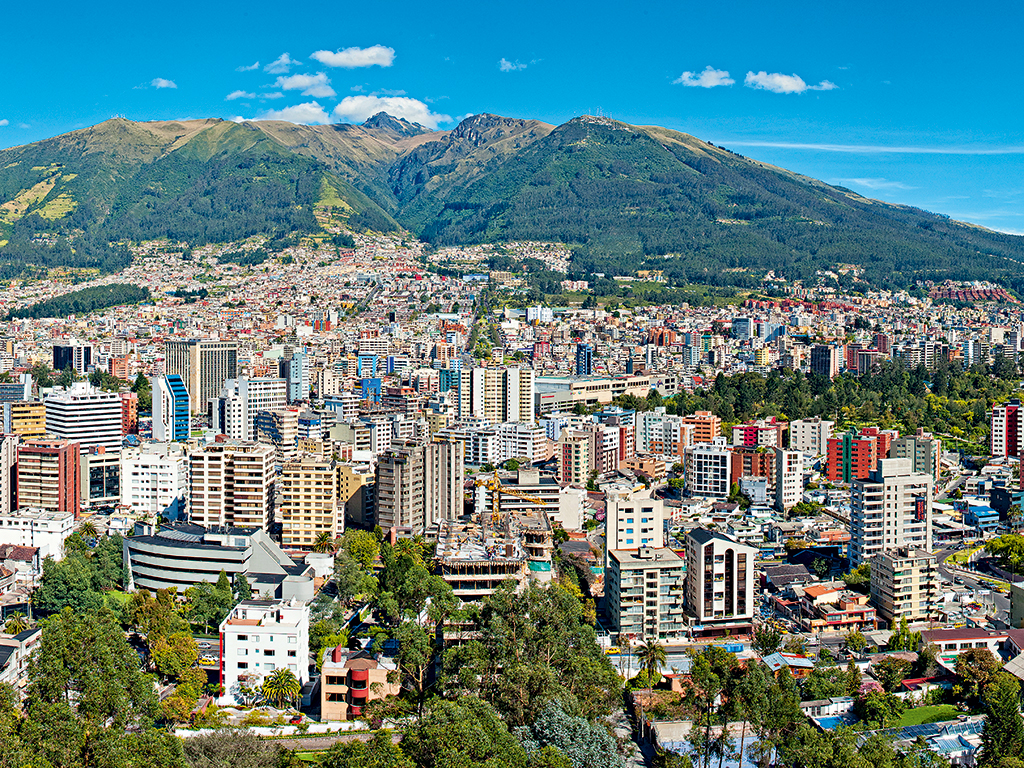 A general view of Quito, Ecuador, where political contention has led to greater investment opportunities. Photo courtesy of Gonzalo Villot&nbsp
Ecuador is full of surprises. Voters supposedly wholeheartedly support its self-styled revolutionary president, Rafael Correa, yet on February 23, they elected a slew of economically centrist and conservative mayors – so many that at the local level, most Ecuadorians are now governed by fiscal conservatives. Civil society, including the business sector, has shown democratic resilience. The electoral results indicate that the cycle of Ecuador's trial-and-error populist experiments – which have economically left it several years behind its immediate neighbours – is perhaps reaching its end.
That's not to say the South American country hasn't had relevant developments in recent years, from resilience against the more radical policies in the likes of Venezuela to its wholehearted adoption of the US dollar, which lessens foreign investors' currency risk. Prospects for an improved investment climate are now at their best in several years. The attractiveness of the hard left has clearly diminished among the electorate.
This means that the president should understand that a rollback of the more radical ideas would in fact increase his popularity among a significant percentage of voters. Aside from the dissatisfaction many voters have shown the government, Correa himself has given away some signs of understanding the need for greater economic orthodoxy. And the chances have increased for his administration to be replaced by a much more market-friendly government in 2017.
Finding a global financial market
Besides oil exports (see Fig. 1), Ecuador's use of the dollar requires foreign cash inflows. China appears to have become more hesitant to fund Ecuador than it has been in the recent past, during which it has lent Ecuador $11bn for major infrastructure projects, mainly hydroelectric power plants. This has nudged the Correa government to mend ties with global financial markets and take steps towards fiscal responsibility by planning to reduce its wasteful gas and electricity subsidies.
Despite being a small country, Ecuador has shown global leadership in several agricultural and resource-based export industries
The government has passed legislation to tighten anti-laundering rules in line with global standards and restored ties with the World Bank, while remaining current with Latin American multilateral lenders. This will hopefully culminate in a successful return to the global bond market with a placement near $700m that would put Ecuador back on the radar of investors, particularly for emerging market funds.
For the local market, a bond placement would help set benchmarks and therefore reduce costs. Recent capital market reform has meanwhile removed much uncertainty for potential issuers and investors. This forms an added boom to companies who already benefitted from lower financing costs on the bond-heavy exchanges of Quito and Guayaquil than from bank loans and where Analytica has provided tailor-made, rather than generic, financial solutions for its issuing clients.
As a key incentive, the new capital markets law passed in the first quarter of 2014 exempts foreign investments in Ecuadorian bonds and stocks from a five percent currency export tax that previously led some investors to hesitate. Not to forget, despite being a small country, Ecuador has shown global leadership in several agricultural and resource-based export industries, including bananas, tuna, roses, and fine cacao.
Investors with a particular interest in Latin American business have therefore already made moves into Ecuador without being distracted by negative news headlines, just as major local companies, including the newspaper and media company El Comercio, the bank Banco Pichincha, and the brewer Cervecería Nacional, have all weathered the crises to continue going strong a century after being founded. The insurance sector has seen major deals, including Australian QBE's purchase of Seguros Colonial, as well as ACE's purchase of Río Guayas from Banco de Guayaquil and Liberty Mutual's purchase of Panamericana.
Four out of the five biggest insurers in Ecuador are now owned by multinationals, reflecting growth and international interest. Premiums show that these deals did not go ahead at fire-sale prices; they are still somewhat lower than in neighbouring markets, positive for international insurers looking to enter Ecuador and/or to expand their presence in Latin America, where the new middle classes are driving insurance business growth. Prices are also going up while still relatively low.
Even the banking industry has seen foreign interest. Promérica, a leading Central American bank that already had a local presence, leapfrogged the competition by closing a deal in 2014 to buy 56 percent of Produbanco, the number three commercial bank in Ecuador, for $130m. Before the takeover, Produbanco had assets of $2.76bn and equity totalling $234m. While Promérica has a presence elsewhere in the region, including Ecuador since 2000 – the year the dollar was introduced – as well as Costa Rica, El Salvador, Honduras, Nicaragua, and Panama, the Produbanco takeover has been its biggest single takeover to date. Other deals reflect the growth of Ecuador's consumer economy and construction, as well as infrastructure.
Cross-company expansion
In the food and beverages industry, where SABMiller set the stage for major foreign entries by buying Cervecería Nacional in 2005, takeover deals have included the $345m takeover of Coca-Cola bottler EBC by Mexican peer Arca in 2010. Since then, Arca has continued expanding in Ecuador, taking over dairy goods company Tonicorp, and snack company Inalecsa. The global paint industry leader Sherwin Williams bought Pinturas Cóndor – Ecuador's number one paint manufacturer – and continued investing in a local production capacity, expanding its presence in the market. Other industrial foreign investment has included a participation of South Korean engineering firm Posco E&C in its local peer Santos CMI, and Australian engineering and construction firm Cardno who in 2012 bought Caminosca, which employs 450 staffers in the country.
In transportation, Colombian airline Avianca bought local airline Aerolíneas Galápagos. Private equity investments have included Darby Overseas' purchase of participations in cargo facilities at the new Quito international airport, built by a US-Canadian-Brazilian consortium and opened in 2013, as well as investing in Cobiscorp, an Ecuadorian specialist provider and exporter of banking software. Other than the Promérica takeover of Produbanco, most of these takeovers have involved buyouts of 90 to 100 percent of the targets.
Analytica – one of Ecuador's most prestigious investment banks – has helped make many of these deals a reality, including the sale of Panamericana, and assisting the entry of Grupo México, which holds the world's second largest copper reserves. Ecuadorian companies meanwhile have also begun to expand across borders. With support from Analytica, the plumbing fixtures and sanitation company Edesa linked up with Fanaloza of Chile, Briggs in the US, and Cesa in Peru to acquire assets from Chilean company Cementos Bio Bio, achieving an international scope of economic success. Its work in divestitures has included government-held assets in TV Cable and Machala Power, tobacco giant Philip Morris, and also includes a series of international companies.
Aside from mergers and acquisitions, Analytica understands its clients' needs thanks to its expertise in raising funding in the fixed and variable income markets, as well as in linking these financial requirements with guarantees of liquidity and convenience for investors given the particularities of risk aversion in Ecuador's market.
By providing teams of highly qualified financial, risk, and legal experts to tailor issuance from large industrial and commercial to relatively small companies, Analytica buyers tend to be large institutional investors. Clients for structured fixed-income instruments include Edesa, distiller and beverages company Azende, chemists Fybeca, forestry company Forescan, and Novacredit, which specialises in buying and selling automotive credit portfolios. In the case of Edesa, it has managed securities issuance in 2011, 2013, and is preparing to do so again this year, as an example of the continuous, follow-up service in long-term relationships with its clients.
The company also leads the market in equities trading volumes. With continued leadership and an impeccable reputation, the team has decades of experience, previously helping to develop specialist micro-credit and commercial banks Unibanco, Banco Solidario, and Finca. It has also won a gold medal for research awarded by Latin Finance.
Analytica's Ecuador Weekly Report, with more than 700 editions, features unparalleled depth in country-specific economic and business analysis. Analytica President Ramiro Crespo, meanwhile, is regularly quoted by local and international media, including The Financial Times.
With a wealth of natural resource possibilities and plenty of catching up with emerging market neighbours Colombia and Peru to plan, Analytica will be happy to advise institutional investors looking for the best value in the complexities of the Ecuadorian market.