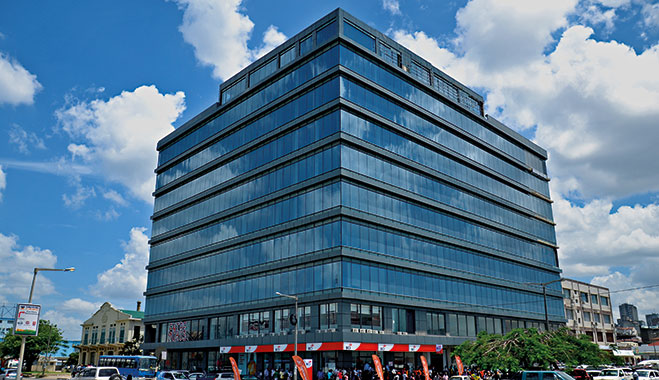 Centro BCI Exclusivo Maputo Estação (BCI Exclusive Centre in downtown Maputo). The bank's primary goal is to boost Mozambique's financial inclusion rate&nbsp
Interview with:
Paulo Sousa, CEO, Banco BCI Mozambique
July 15, 2016
Founded in 1996 with Mozambican investment, Banco Comercial e de Investimentos' (BCI) initial focus was on investment banking, until 2008 – already with a mainly Portuguese capital structure – when it became a universal retail bank. Since then, the bank has invested in the expansion of its branch network in a country that has a banking rate of only 24 percent. The challenge for BCI, and for other banks in the country, is to boost Mozambique's financial inclusion rate.
Paulo Sousa, Board Member of Caixa Geral de Depósitos, was appointed Chief Executive Officer of BCI in 2013. In an interview with World Finance, he reflects on his past three years with the bank, as well as the bank's other 17 years in business.
It's been 20 years since BCI ceased being the largest bank in Mozambique. What is missing to achieve this now?
BCI is already the largest bank in Mozambique in terms of volume of assets, deposits in credit, in the number of branches, ATMs and point of sale. There are still some points where we are not quite there yet, but the most significant ones have been in preponderance since last year.
How is this year significant for BCI?
In 2016 BCI marks its 20th anniversary. To celebrate these 20 years, several initiatives have been set up that will put the spotlight on a series of conferences in the capital provinces.
The cycle began in February in Quelimane, Zambezia, and the others will follow. These forums are excellent spaces for mutual knowledge: on one side is BCI, a bank with resources to support local entrepreneurship, promoting their solutions, and on the other side are various entities and organisations with their great knowledge of the region.
Another highlight this year will be the inauguration of the new headquarters in Maputo, which will host more than a thousand employees. By the end of 2016, BCI intends to achieve the goal of 1.5 million customers, reinforcing its plan to be the preferred bank of Mozambicans.
Can you elaborate on what BCI Decks are?
Launched in August 2014, the BCI Agro Solutions aims to respond to the expected growth in Mozambique's agricultural sector, offering products and services tailored to the entire industry – namely the businesses and agents of the agriculture sector, the food and agro-industry, forestry and timber, acquisition of agricultural input goods and services;,agricultural marketing, agricultural tourism, fisheries, and aquaculture and farming.
With the BCI Agro Solutions, BCI provides these companies a specifically targeted offer, and through the BCI Agro Desk it offers a team of experts with knowledge of the national and international market, and the skills needed to propose solutions to support the management and the expansion of customer projects.
Launched in 2015, the BCI International Desk integrates an experienced expert team that is fully dedicated to supporting foreign companies that seek to invest in Mozambique, as well as Mozambican companies that intend to start or develop business across borders.
The creation of the BCI Energy Desk emerges from the need to monitor and support the development of Mozambique's energy market, develop internal expertise in this area and take advantage of the opportunities that the market presents. The BCI Energy Desk aims to support large companies and SMEs operating in the energy sector, through direct intervention or partnerships with other entities. This support consists of the financing and structuring of operations that allow major projects the access to foreign capital through unions or other financial engineering.
Growth has been impressive recently. Was the investment in expanding your branch network a determining factor?
When I took over as President of the Executive Committee in 2013, the bank had 563,000 customers. It now has more than 1.35 million. All indicators – turnover, deposits, credit – show the potential of the economy.
It is important to note that in Mozambique more than 50 percent of the districts do not have a single bank branch and today, when a customer wants to go to an agency, they may have to walk up to 400km. We made a very strong investment in expanding the branch network, but when you think about the fact that BCI has about 200 branches, and this may seem like too much for a country like Mozambique, it is not really the case.
There are areas where there is a basic economy, based on a very rural economy, which already goes beyond mere subsistence, allowing exchanges and accumulation of surpluses, and all this exists without there being a process associated with banking. This reality will not cease to exist with or without a foreign exchange crisis.
So, there is a part of our activity that will be greatly affected, but this effort in dispersion and risk mitigation through increased geographic presence helps to offset some of these threats. These branches still have little meaning in the global values of the bank's portfolio.