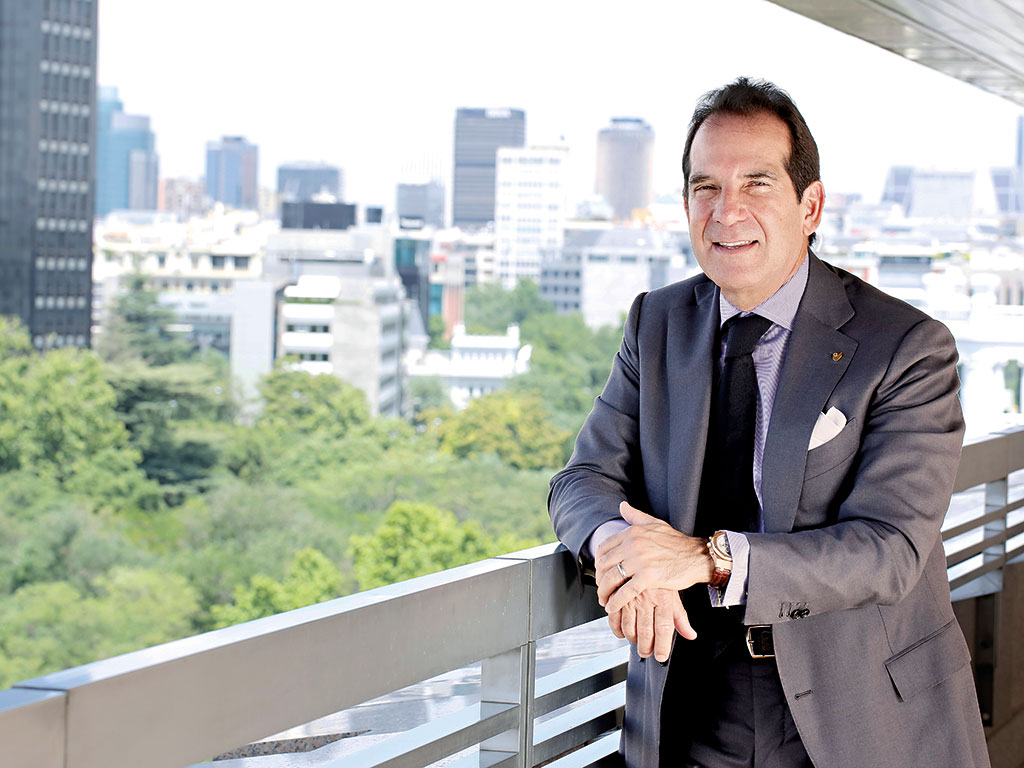 Victor Vagras, President of BOD Financial Group. The company is proof that a sound financial footing and a commitment to the community are essential&nbsp
A slow and uneven recovery throughout much of Latin America has intensified the challenges for financial services, and with the global commodities boom having faded and FDI struggling, the responsibility has gone on to local names to harness growth opportunities from within. Nowhere else is this challenge more pronounced than in the banking sector, which has been tasked with managing the region's changed economic circumstances and serving a community for whom opportunities come less easily as they perhaps have done in the past.
Recently, the banking system has undergone a series of extraordinary changes, though the challenges facing the industry at present ask that they understand the changing nature of risk and get to grips with a marketplace no longer flush with hot prospects. In meeting the challenges and opportunities of the day, certain names have taken the lead and done much to push the latest developments.
[BOD Financial Group], which is among the six largest issuers of American Express cards in the world, has globally grown exponentially, rising 430 places in the Global 2000 list published
by Forbes
BOD Financial Group, for example, is proof that a sound financial footing and a commitment to the community are essential. However, this commitment is one that must come from the top and extend to all areas of the business, if only to make a real and measurable difference, and unfortunately such an attitude is rare.
The history of BOD Financial Group is closely linked to Victor Vargas, its President and an experienced Latin American businessman. A career highlight has been to transform the previously regional bank into the fourth largest financial institution in Venezuela. In addition, over the course of these past two decades Vargas has managed to build BOD into the 34th biggest financial institution in Latin America, according to The Biggest 250 Banks in Latin America report, published by América Economía earlier this year.
The bank, which is among the six largest issuers of American Express cards in the world, has globally grown exponentially, rising 430 places in the Global 2000 list published by Forbes, according to which BOD is the 1,407th most valuable company in the world. Currently, the business generated by the group exceeds $25bn and provides work for over 14,000 people across Latin America.
A history of growth
Victor Vargas' career as a banker began at a young age. He was appointed President of Banco Barinas, a regional business that grew to become the Cordillera Group, at the age of 28. In 1991, he decided to sell the company in order to begin a new stage in his business career with the creation of the Cartera de Inversiones Venezolanas holding company (CIV) and enter into new markets.
He founded pioneering companies in a wide variety of industries, including Fabrica de Carrocerías Cordillera (FACORCA), which was franchised by British automobile manufacturer Rover to assemble the Mini Cooper in Venezuela and distribute it across South America; Alfa Gerencia Inmobiliaria and Grupo Asesor Inmobiliario (GAINCA) in the real estate sector; and Aficheras Nacionales (STYLE) in advertising. The holding also continues through financial investments with the creation of BOI Bank in Antigua and Barbuda, and National Leasing in Panama – which have both been operating institutions for 25 years.
In 2000 BOD merged with Banco Noroco and Valencia Entidad de Ahorro y Préstamo, (which subsequently became Norvalbank). In December 2002 Norvalbank, Banco de Monagas and Fondo de Activos Líquidos BOD merged, which marked a significant step, as BOD then became a universal bank. Four years later, in September 2006, Vargas acquired CorpBanca from the Chilean Corp Group, and in the process became American Express' operator in Venezuela – extending the services of both banks across the entire country. In 2007, BOD and CorpBanca integrated their technological platforms, allowing clients to carry out banking transactions at both banks. The merger was finalised in 2013, five years after the process began.
Another major acquisition process began in 2008 as BOD opened negotiations with Spanish group Banco Santander over the acquisition of what was then its Venezuelan subsidiary Banco de Venezuela, the country's first bank with over 100 years of history. After BOD had transferred $150m to Santander as part of the acquisition process, the late President Hugo Chávez decided to nationalise the bank, side-lining Vargas from negotiations. To this day Banco Santander and BOD are still trying to resolve the issue in court.
Vargas' strategic vision led to the creation of Grupo Financiero BOD, a step taken as a response to the growth of the holding company and the need to further strengthen its financial arm. Grupo Financiero BOD is made up of BOD (Venezuela); Allbank (Panama); BOI Bank (Antigua and Barbuda); BONV (Curacao); and Bancamérica (Dominican Republic). For capital markets institutions it is made up of BOD Valores Casa de Bolsa (Venezuela); Corp Casa de Bolsa (Venezuela); Plus Capital Markets (Panama); Plus Capital Markets (Dominican Republic); BOD Fondos Mutuales (Venezuela); and Element Capital (Venezuela-Panama). The group also includes a number of insurers, including La Occidental; Global Care; Salud Care y Planinsa (all Venezuela, as well as Pymefactoring RD (Venezuela-Dominican Republic) and National Leasing (Panama).
With a career spanning over 32 years, Vargas is today one of Venezuela's most successful entrepreneurs, not simply for the large number of companies he has acquired but also for his commitment to the country and his contribution to the development of the national economy. The Spanish magazine Ejecutivos recently named him 'Empresario Latinoamericano de Referencia', which means a Standout Latin American Businessman.
Social engagement
Alongside his professional work, Vargas has supported a number of business, cultural and educational projects, and in the process has contributed to the growth and development of Venezuela. Through the BOD Foundation that was created in 2002, he has invested close to $20m in CSR programmes, which has helped to support thousands of entrepreneurs, improve education, spread cultural awareness and bring the bank's social work to disadvantaged communities. The BOD Entrepreneur Centre has organised training and financing projects, with over 300 credit operations at a total value of over $15m, helping entrepreneurs develop their businesses.
As part of a commitment to social engagement, for over 20 years Vargas and BOD have supported cultural initiatives. Their commitment to culture grew in 2006 with the acquisition of CorpBanca, an institution that operated a historic cultural centre in the Venezuelan capital, Caracas. Thanks to Vargas' strategic and managerial vision, the BOD Cultural Centre turns 25 this year and is considered a reference point in both Venezuela and abroad. In 2014, it welcomed 116,420 attendees to 920 theatrical events, 28,834 spectators to 98 concerts, 43,060 participants to 112 corporate events and 12,157 visitors to 4 art exhibitions. In total, 204,071 people attended 1,137 events.
BOD's educational work features the BOD Prize for Educative Talent and along with the Fundación Enclave runs an annual Musica para todos programme, which provides free music lessons to 6,500 children in public schools. Investment in the development of the programme reached $500,000 in 2014.
"As an entrepreneur myself, supporting entrepreneurship in all its forms is one of my greatest passions. Since the start of my professional career as a lawyer until now I can say with pride that over the course of the past 32 years I have built financial companies with a proven national and international profile", said Vargas.
The upcoming challenges for Vargas and BOD are to focus on Grupo Financiero BOD's international growth. The group is already present in five countries: Venezuela, Panama, Dominican Republic, Curacao and Antigua. Since Vargas acquired the company in 1994, BOD has maintained its position at the forefront of the Venezuelan financial sector. The bank's objectives up until 2016 are focused on offering its clients personal assistance with projects, and on positioning BOD as a reference in terms of quality.
The plan underscores BOD's present and future objectives of becoming a multichannel bank by 2016, one that its clients can access from different channels and within which its various internal channels interact among themselves. The foundation of this methodology is twofold: a clear understanding of the client through effective Client Relations Management and an efficient business model. The success of a financial company is not solely based on affronting business challenges or market developments. It must be based on solid principles of proximity and commitment to its community and, as part of the country, producing benefits for its citizens.