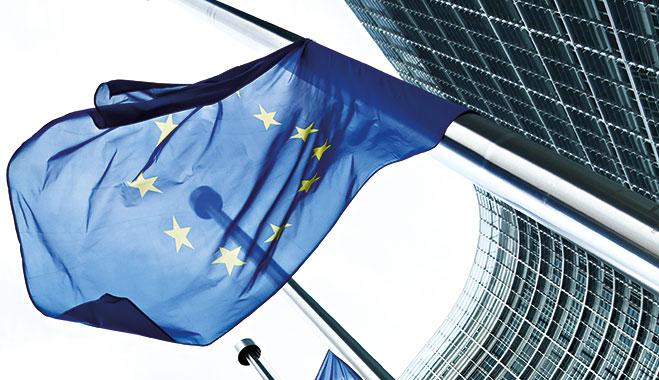 The European Commission headquarters, Belgium. Many microstates, including San Marino, are looking for a more direct EU agreement&nbsp
Author:
Professor Massimo Merlino, Chairman, and Daniele Guidi, CEO, of Banca CIS
September 8, 2015
While European microstates such as the Republic of San Marino have only been partially integrated into the European single market, they have already made significant strides, particularly within the banking sector. Usually when speaking about the EU, the first thought that comes to mind is the 28 member states that comprise the supranational institution. However, there are a lot of very small sovereign states scattered throughout Europe, better known as microstates. These are small independent states that, different from micro nations, are actually recognised by larger sovereign entities.
As a result of their size, microstates tend to have small, less diversified economies, which means that they have less choice both in domestic markets and in foreign policy. Therefore, they tend to rely on cooperation with the EU and neighbouring countries in supporting their economic targets.
For many years, these microstates had gained access to the EU by managing close relationships, through bilateral treaties with nearby neighbours. In the case of San Marino, a microstate set in a small enclave, Italy is the closest neighbouring country. But as the scope and size of the EU has grown, there has been a desire for deeper European integration and microstates have requested a more direct agreement that does not rely on the involvement of neighbouring countries.
There are a lot of very small sovereign states scattered throughout Europe, better known as microstates
In an attempt to address the issue, the EU Commission published a report that explained how the participation of the small-sized countries in the EEA was still not yet a viable option due to 'political and institutional reasons', and instead pushed for 'association agreements' as a more feasible mechanism for integrating microstates into the internal market of the EU.
This EU agreement for microstates, though not perfect, does provide the basis for a new level of cooperation that has many benefits for San Marino, and in particular its developing banking sector. World Finance spoke to Professor Massimo Merlino, Chairman of Banca CIS – Credito Industriale Sammarinese (Banca CIS) and Daniele Guidi, General Manager and CEO of the bank to discuss the company's role in San Marino's banking industry. "Many economists look with favour to the results of microstates in the globalised arena", said Merlino. "Many of them and the other small states are driving globalisation processes with very good performances. San Marino is a benchmark among microstates in the World Health Organization regarding its welfare and health systems. The mutual transferring of best practices among microstates can be of exceptional interest for all them."
A smart bank in a smart state
Originally founded in 1980, Banca CIS is part of the Republic of San Marino banks that have played a leading role in helping raise the country's economic performance, while also gaining an international strategic position in the private banking market. Cultivating an impressive and effective business model achieved this.
Banca CIS has defined how it operates from three cultural and practical experiences, all of which are very different but still complementary: the private banking culture of the original Banca Partner of 2002; the tradition and prestige of a historical bank as Credito Industriale Sammarinese; and, the retail culture of a Eurocommercial bank have all merged to form an entirely new and distinctive Institution, with cross fertilisation of strategies and cultures.
All these factors are constantly revised in a continuous effort of improvement, helping to make Banca CIS a very peculiar and unique offering both within San Marino and in the wider international business community. But in order to balance its offering, it maintains more traditional banking services and practices, as well as providing customers with a wide array of products and services that cater to fulfil every possible need.
After the merging process from 2012, Banca CIS has reengineered its operations and organisational structure in order to attain a number of objectives. One of its many accomplishments has been its improved strength in relation to compliance, legal, auditing and risk management functions according to the new regulations introduced and coordinated by San Marino's Central Bank. The new enhancements have enabled the bank to improve its risk management, focusing on credit loans. The bank has also been extremely proactive in updating its organisation department in order to fulfil the requirements of regulators and improve the use of new technologies in all areas of the business.
All of this has helped to strengthen the business area of the bank, especially in private banking. "Banca CIS is building a quantitative model to help the strategic planning department and top management to simulate different strategic alternatives, calculating the impact on main financial variables and indicators of the balance sheet and assets of the bank", explained Guidi.
"With the help of this tool, top management will be able to examine a set of different scenarios and coherent decisions, and to verify their feasibility and value for business development and their relationship with the rules and ratios defined by the supervisory authority. New tools in risk management are also being set up to analyse management decisions and external scenarios in term of risks for the bank. All these tools and methodologies are used for financial forecasting in both European markets and other promising world areas", continued Guidi.
A united front
The bank holds a unique position in the San Marino domestic private and retail market with more than 8,000 clients, all of which are very loyal to the new institution created when all three banks finished their merging process. Management is client focused, with a particular care for customer satisfaction by integrating services with traditional and innovative products and services.
Great attention is paid to the bank's customers, which is evident in the comments made in customer satisfaction surveys. In order to maintain these high levels of service in the future, Banca CIS has set up a fully immersed training programme for all human resource staff members. Through its financial company Scudo Investimenti SG, the bank is able to offer funds of San Marino law to its clients, covering any form of investment they prefer from shares to corporate bonds and art portfolio investments.
"From its origin in Banca Partner, the competencies of business developers were oriented in private banking, but of course a deep transformation occurred with the exit of San Marino from off-shoring practices", said Merlino. "Now Banca CIS needs the best professionals available in the market to compete with updated offering from international banking.
"A programme of reinforcing the structure of private banking department with new senior promoters has already been launched and will perform before this end summer. Supporting tools in CRM will be also introduced to better follow customers' requirements and administration."
While most private banks promote their wealth management as the most accurate and geared around the customer, Banca CIS aims to highlight its performance. It therefore makes sure to offer a wide range of services from trust to family office, personalising all of its financial products and services in order to better meet each individual customer's preferences and needs, as well as continuously collecting detailed feedback from customers about their satisfaction in a continuous search to better understand and improve service quality.
"Accurate evaluation of the different cultures in Europe and in other major countries are made in approaching wealth management potential customers", explained Guidi. "In other words the objective is to open the international market to Banca CIS, and this can only be done through a private banking service level not expected from a visitor of San Marino. In this way, Banca CIS provides customers with the same sense of security and quality service that they have come to expect at other more well known financial platforms in the world that exist outside the microstate of San Marino."
The new status of normalised relations with Italian institutions, which was created as a result of the EU's willingness to strengthen relations with microstates and attempt to better integrate them into the European single market, will result in new opportunities of commercial links with the Italian financial system. Banca CIS expects that the possible cooperation with Italian banks will provide various benefits for both countries.
Closer links and cooperation between countries will help financial institutions to improve the assistance towards the interests of their own customers, and that will facilitate the creation of a wider agreement for the development of new products and services for customer assistance. At the moment, funds of San Marino law cannot be commercialised in Italy, but this initial agreement is just one step in a much larger process, which in the future will hopefully build the foundations allowing for the creation of new opportunities with Italian financial authorities.
"For these reasons, the new Banca CIS business plan targets three macro guidelines", said Guidi. "This is a strategic business model, with the goal of overseeing a network of international markets that include Dubai, Singapore, Malaysia, Hong Kong, the UK and US." There is the investment advisory model that has an integrated approach to private and corporate business for customers that are both high net worth and ultra high net worth individuals working with the cross-border market growth of the EU, Monaco and Switzerland, with progressive steps forward in line with the development relations between San Marino and the EU.