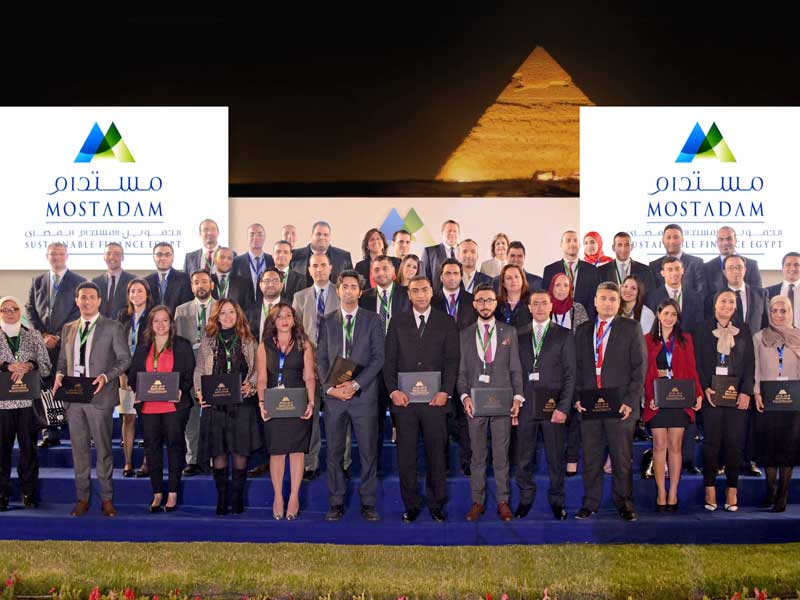 Mostadam graduation ceremony for bankers certified in sustainable finance in Egypt. Sustainable finance is an integral part of AAIB's growth strategy&nbsp
Interview with:
Hassan Abdalla, CEO at Arab African International Bank
March 5, 2018
Over the last several years, regulators and consumers alike have increasingly focused on the role that finance plays in the wider world. While not directly responsible for forces like climate change and pollution, banks and other lenders are often the deciding factor as to whether certain unsustainable projects are brought to fruition or not. As environmental awareness grows, alongside issues related to sustainability, the types of projects a financial institution chooses to support are now coming under mounting scrutiny.
AAIB has succeeded in becoming a forerunner in promoting sustainable finance on a regional level, while also achieving remarkable financial growth
As such, many banks are now being forced to adapt to this changing landscape. However, those few that have pre-empted this shift now have a significant advantage. Speaking to World Finance, CEO of Arab African International Bank (AAIB), Hassan Abdalla, explained how his organisation successfully implemented sustainable practices far earlier than many industry peers. The bank's forward-thinking approach has since seen it become a leader in the region, encouraging other financial institutions to make sustainability a focus.
What were the driving forces behind AAIB's early focus on sustainable finance?
Since the term 'sustainable development' was first coined by the UN Brundtland Commission in 1987, there has been a growing realisation that finance is the most powerful tool for promoting the concept of sustainability and enhancing the creation of sustainable economies. This is because financial institutions bankroll all other sectors and industries, whose operations and production have been more responsible for environmental damage.
Since then, it has been an integral part of our growth strategy. As early as 2004, when AAIB started to pursue more aggressive growth, we began seeking business that targets long-term value rather than mere profit. Sustainability is also the theme of Egypt's Vision 2030 sustainable development strategy, putting us ahead of the curve, since regulators are now focusing on sustainable finance and financial inclusion.
Egypt is heavily promoting financial inclusion in other ways, ratifying a microfinance law in 2015 and mandating that all Egyptian banks provide a minimum of 20 percent of their total lending portfolio to small and medium-sized enterprises by 2020. The Egyptian stock market was also the first in Africa and the MENA region to join the Sustainable Stock Exchanges initiative. The Egyptian financial sector is overall quite resilient and dynamic, having coped with a very active socio-economic and environmental landscape.
AAIB was the first bank to join the Equator Principles in 2009 and introduce social and environmental risks. How did you manage the change given the bank's corporate legacy?
It is not easy to change established systems. Declining a credit-worthy corporate client because they are not environmentally and socially compliant is hard for everyone involved. But over time, the business case for integrating economic, social and governance aspects into our corporate business surfaced as we saw an increasing number of businesses collapse because of these risks.
On top of that, the bank is sourcing new revenue streams from environmentally friendly projects. We are leading new frontiers in clean energy funding and energy efficiency. Recently, AAIB led the Egyptian market in granting credit to participants in the largest solar photovoltaic generation park in Egypt, the Benban solar development complex. With a total capacity of up to 1.86GW, it will be one of the largest solar generation facilities in the world once completed.
In parallel, we are strengthening a fully fledged specialised SMEs department inside our bank. We recently concluded several deals with multilateral development banks that granted facilities to scale up our lending operations to SMEs. This has allowed us to build our sustainable energy finance portfolio, including a $100m loan from the International Finance Corporation and a $30m loan from the European Bank for Reconstruction and Development.
We were the first bank to join the international frameworks in the field of sustainability; including the UN Global Compact in 2005, the London Benchmarking Group in 2007 and the Equator Principles in 2009. We have also been leaders in introducing sustainability reporting into our reviews.
What is AAIB's outlook for sustainable finance?
We are in the midst of revising our internal policies and procedures; developing a new stream of sustainable products and services. Indeed, AAIB is very much committed to promoting an industry-wide movement, by sharing our experience to create a peer-to-peer dynamism that is bound to create significant breakthroughs. Consequently, in 2014 we established the MOSTADAM platform – the Arabic word for 'sustainable'.
MOSTADAM is the first platform advancing sustainable finance in Egypt and the MENA region. It has been a joint endeavour between AAIB, the United Nations Development Programme and the Egyptian Corporate Responsibility Centre. Its objectives are focused on capacity building, advocacy and advancing sustainable products and services. It has been progressing impressively. Around 70 percent of Egyptian banks have participated in the training modules and been certified in disciplines including clean energy funding and SME funding.
What else contributes to AAIB's competitive edge among banks in the region?
Our edge lies in the powerful synergies that are inherent in the bank's lines of business, both locally and regionally. AAIB is practically the only bank in Egypt that provides tailor-made solutions for commercial and investment banking. Our corporate portfolio services include advising on equity placements, mergers and acquisitions, feasibility studies, valuations, escrow arrangements, agency services, and raising finance through the syndicated loan market. We also lead the local debt capital market in terms of issuing corporate and securitisation bonds.
Moreover, the Gulf region provides a solid geographical base for expanding in investment services. In the 1970s, AAIB became the first private sector bank to establish a presence in the Gulf region. Branches are now located in Dubai, Abu Dhabi and Beirut, as well as a strong client base in Saudi Arabia, Kuwait, Bahrain, Oman and Qatar.
We are continually striving to expand our operations. We are establishing an investment axis by linking investors from the US, Europe and Asia with Egypt, the Gulf region and Africa, as well as channelling investments from the Gulf to Egypt and Africa. Notably, the UAE is second only to China in terms of investing in African countries.
How successful has AAIB and its partner companies been in the last year?
AAIB has achieved well-rounded growth, spurred on by the expertise of our entire workforce. We have simultaneously succeeded in becoming a forerunner in promoting sustainable finance on a regional level and achieving remarkable financial growth. Despite operating within a challenging landscape, 2016 saw AAIB achieve its highest ever increase in net profit. The synergy of comprehensive banking solutions, a fully fledged financial group and a strong regional presence continue to drive our ongoing growth.
AAIB offers both commercial and investment banking activities, along with retail services. We also offer a plethora of other services through subsidiaries including asset management, brokerage, mortgage finance and leasing. These organisations within the AAIB financial group have been steadily growing. Arab African Investment Management ranks fifth in Egypt among the top 25 equity mutual funds, and was the only company to launch new funds in 2016. Arab African International Mortgage Finance is the first mortgage finance company to be launched by a bank in Egypt and has successfully increased its market share from 20 percent in 2015 to 24 percent in 2016. Despite only having launched in 2014, Arab African International Leasing also showed unprecedented performance in 2016. It was able to increase its market share to 7.6 percent, up 4.7 percent from the previous year.
What does the future have in store for AAIB?
In 2005, we announced that our vision was to be the leading financial group providing innovative services with a strong regional presence, and to be the gateway for international business into the region. Since then, more than a decade of hard work has taken us closer to fully realising our vision.
AAIB is now out to start another round of high-pace growth through an agile three-year strategy, and to keep leveraging the huge synergies inherent in our business formula. It builds on AAIB's distinguished corporate footprint in the region and seeks to conquer new growth frontiers in Africa and the Gulf. AAIB is strongly positioned to provide well-rounded investment services to meet the rising demand from international investors of China, Europe and the US, who seek partners backed by a comprehensive financial platform.
We also intend to serve new segments by funding entrepreneurs and expanding our funding of SMEs, while also focusing on acquiring the whole supply chain of the existing corporate clients through tapping broader sectors. We shall expand on financial inclusion through Sandah, our standalone microfinance company founded in partnership with the SANAD fund.
Moving on to our continuous improvement efforts, we are also eyeing the next disruption in the industry: digitalisation. Currently, we are in the process of making changes to the core banking system and replacing legacy systems. We believe digital transformation is currently at an inflection point, and banks have just a few years to adapt.
Amid all the dynamism and business growth, AAIB has two constant factors: the human resource calibre that distinguishes us, and the resilience of a solid institution with more than 50 years of banking tradition. These credentials will continue to sustain AAIB's balanced growth going forward.