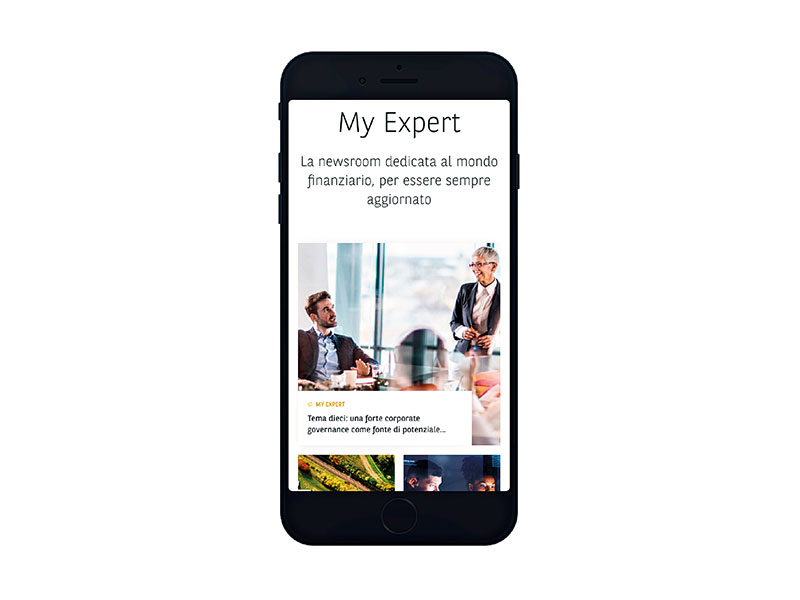 &nbsp
Author:
Claudia Polidori, Head of Marketing and Digital, BNL BNP Paribas Private Banking & Wealth Management
For years, the rise of client experience via touch points has gone hand-in-hand with the digital revolution. The increasing prevalence of smartphones has made it necessary to redesign interactions digitally, across new banking paths based on clients' 'journeys.'
Private banks have understood much too late how digital transformation could enhance clients' loyalty with the bank, due to the conviction that digital channels carry the risk of commoditisation and that they are impersonal and lack the human touch.
Today, due to the maturity of digital usage and the pandemic still ongoing, the landscape has changed and the focus has shifted from front-end redesigns built on usability, to front-to-back digital developments based on the ability of the bank to attain a deep understanding of each client. The aim is to enable clients to have a global view of their wealth and support their personal challenges at each lifecycle stage, leveraging on loyalty recognition, proactivity and human expertise.
At a time when clients need empathy more than ever and still crave personalised advice – especially when it helps them save money and enhance financial management – the shift can be summed up in the 'personal touch, digital reach' formula, in a one-of-a-kind engagement model that includes the best of both digital and human. Empathy and deep understanding of clients' needs and challenges is what we identify as client-centricity, which is crucial in a more mature digital evolution era. This is especially important for a private bank, where empathy is the common thread of every service offered to the clients. It reveals something that we cannot afford to forget: the importance of cultivating deep human connections.
Client-centricity: data, design, empathy
Banks can leverage on large amounts of clients' personal data, which represent a powerful asset: financial profile, digital attitude, spending behaviour, personal interests, client lifecycle stage, social media interactions, and verbatim speech-to-text analysis are just some examples.
The richness of data has led us to develop and effectively enrich in-depth personas analysis: our data scientists continuously examine and update our data lake via machine-learning engines and address actions via CRM systems. The aim is not only to predict real human behaviours but also to support the design of an empathetic and ever-changing vision of the way in which we serve clients.
Design, in fact, is traditionally associated with a client's experience. Strongly intertwined with empathy in the new landscape, design is a new paradigm for all businesses and is disruptive for private banking: we believe that responding to clients' needs with a clear design perspective can make all the difference for a positive digital experience.
Conversational banking aims to replicate the personal touch of face-to-face support and to merge it with the demands of the digital era
But this is not a unique challenge; rather a multiple one: banks need to anticipate customer intent at the zero moment of truth (ZMOT), make empathy part of the digital skillset, transform digital touch points into empathetic points of service and reinvent branches as experience hubs.
Smart usage of data, the designer's mindset and an empathetic service model are the core of a client-centric experience in the next normal private banking scenario: comprehending a client's emotional state here and now, and transforming this understanding into a great experience at all touch points, is the path we are following.
The next normal: business of experience
While CX has been continuously updating to reflect client behaviour and the advent of digital technologies, the COVID-19 pandemic gave a substantial jolt to this process. Suddenly, uptake across these digital channels increased substantially, demanding an urgent and inevitable reconsideration of companies' strategies through which the filters of empathy and experience are applied.
The client journey is no longer tied to what the company offers and how efficient it is at any stage of the client lifecycle. Instead, the client journey should encompass a positive experience and the outcomes each client wishes and needs in that particular moment of their life.
This is another deep overthrow of an old paradigm: where traditional marketing aimed at inducing people to wish for things, the new marketing model aims at identifying what people need at any step and delivering it effectively. This is where client experience becomes a business of experience: where every tool is tailored to a focus on understanding the delivery of client experience, so that clients, company and brand become an 'all-in-one.'
How can our companies deliver great and unique experiences, then? We are convinced – since the rise of a CX-based digital revolution – of end-to-end redesigns, which rely on comprehensive personal analysis (data), based on empathetic design thinking (designer's mindset) and that pursue front-to-back processes, digitisation and back office activities dematerialisation (lean simplification). This favours an ATAWAD (anytime, anywhere, any device) concept and personalised advisory based on clients' needs (conversational banking).
Before the pandemic, this approach was relevant to stand out and meet the customer's expectations; following the pandemic, it is crucial for a business' survival. Following this school of thought, it is therefore paramount to keep on developing and optimising the concept and the outcome of conversational banking. This way, the bank can preserve the trusted relationship between clients and private bankers and allow clients to get in touch and receive assistance on their own terms.
Conversational banking aims to replicate the personal touch of face-to-face support and to merge it with the demands of the digital era. At the same time, it represents a concrete opportunity for our clients to 'have the whole bank in their hands.' The result of our vision is in an ever-growing super app: 'My Private Banking,' where all traditional and digital touch points come together.
In one app, our private clients can accomplish any banking and finance-related activity, they can access any information related to their wealth, accounts, payments and investment opportunities. In the same app, they receive exclusive and profile-based market strategies, advice and smart-meeting opportunities, market strategy newsfeeds and their favourite lifestyle content.
The exclusive Youmanist Club was envisioned as the digital evolution of the traditional participation of the private bank to the clients' cultural universe and growth; a digital ecosystem, which aims to immerse private clients in a cultural world, suggesting paths of reading, listening and viewing, based on their interests, but also on how the client prioritises their downtime. The final purpose and mission is to upgrade and increase the value of every free moment with the freshest, most exclusive and immediate-to-access content, in a fast-changing world.
Moreover, with a look at BNL-BNP Paribas' philosophy to always anticipate our clients' needs, our service ecosystem continues to evolve. The brand new BNL-BNP Paribas private banking website, soon to be released, has been designed to reflect the personal needs of our different types of clients, encapsulating all of our exclusive services and content. Among the most significant innovations, there is 'My Expert': a newsroom to access and receive constantly updated news from our leading experts in the fields of investments, markets, wealth and sustainability.
Finally and perhaps most importantly, our mission on environmental issues continues. We believe in promoting sustainability and integrating it into every choice and action. In order to do our part for a greener future for our planet, we are about to launch 'My Impact': an assessment tool that guides our clients in selecting and integrating their investment choices towards sustainable solutions.
Looking towards the future
Despite finding great fulfillment – if we look back to the last decades of enormous technological and digital progress – with the tools, opportunities and experiences we offered our clients, we keep looking to the future, as we prepare for the next challenge.
For this reason, we use the best tools available to map and intercept our customers' feedback: behavioural analysis and tracking, app ratings and deep-focused and transversal surveys. In particular, we are focused on gaining awareness, growth and enhancement through an advocacy methodology: NPS surveys to benchmark with our competitors, having a full overview of the customer's relationship with us, satisfaction with the touch points and, in the end, with the overall experience.
We are constantly striving towards the satisfaction and fulfillment of our clients as we keep changing, generationally, emotionally and digitally. We try to focus on those things every day as it is our primary challenge, together with both preserving and growing our historical values, especially its cornerstone: being a model of sustainable banking.
Our journey of progress will never end, as our customers, our society and our planet will keep evolving.