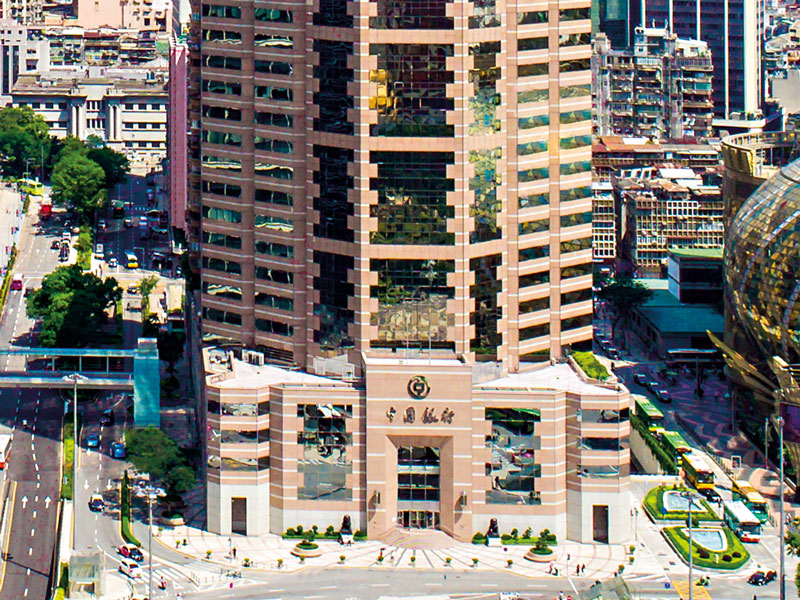 Bank of China Limited, Macau Branch offices in Macau&nbsp
Author:
Li Guang, General Manager of Bank of China Limited, Macau Branch
Established by the businessman Zhuang Shiping in June 1950 – and formerly known as Nam Tung Bank in Macau – Bank of China Limited, Macau Branch was formally renamed on New Year's Day in 1987 and became the ninth overseas branch of Bank of China.
Bank of China Limited, Macau Branch (BOC Macau) holds a full banking licence and provides corporation banking, personal banking and related financial services in Macau. In recent years, the bank has actively expanded its business in investment banking, structural financing, and comprehensive cross-border banking services in order to provide better internationalised professional services for customers and to meet their various financial needs.
At the same time, BOC Macau has given full support to the Macau SAR government's administration and the development of characteristic finance and the construction of smart cities. At the end of 2020, the bank had 36 sub-branches with total assets of over MOP790bn ($98bn), boasting over 40 percent of the local market share in mainstream businesses such as savings and loans.
BOC Macau employ more than 1,800 employees, which is approximately 30 percent of the total number of employees in Macau's banking industry. While promoting economic development and creating wealth for society, BOC Macau also reward local talent with a wide range of employment opportunities and possibilities of upward social mobility.
2020 was the 70th anniversary of the establishment of BOC Macau, and it's also been a year for overcoming adversity for many businesses. Amid the COVID-19 pandemic, with the challenges caused by the complex and severe situation in China, BOC Macau continued to support the relief measures of the Macau government, to combat the pandemic and assist the community to help overcome difficulties. The bank was not only awarded the 'Decoration of Honour – Silver Lotus' by the Macau government, but also had the historical achievement of recording an operating income of MOP10bn ($1.2bn).
Leading with technology
In recent years, the banking retail business has undergone a comprehensive change. BOC Macau has taken the initiative to seek innovation and change. The bank's digital transformation focuses on mobile banking and smart counters, which also achieved breakthrough development during 2020. The digital transformation of retail business is comprehensively promoted through scientific and technological forces, various product types, key scene development and more efficient sub-branch services.
In 2020, BOC Macau listed mobile banking as the number one project for the whole bank. In a push to expand and support its customer base, BOC Macau sped up the optimising and adding of new functions to its mobile banking app, including UnionPay quickPass, cross-border wealth management, 'BOC PAY' online payment support, inter-bank transfer, transfer product sharing, registration and new accounts, and overall login speed. In 2020, the number of mobile banking transactions increased by 150 percent over the same period for the previous year, which successfully became the starting point of the bank's digital transformation and provided a solid platform for new digital ventures.
BOC Macau provides a full range of mobile financial services for Macau merchants and residents through 'BOC PAY' and 'BOC Macau APP' in multiple life scenarios such as paying for clothing, food, housing and transportation. By supporting diversified payment methods, reducing the costs of local merchants and increasing the transparency of the business environment, BOC Macau is committed to providing more convenient mobile payment services for Macau residents, and it also further promotes the development of financial inclusion and economic diversification in Macau.
2020 was also the year for the comprehensive promotion of overseas smart counters in Macau, with more than 100 smart counters launched to achieve full sub-branch coverage. In December, the number of customers served by smart counter reached nearly 50,000, the transaction volume reached nearly 100,000, and the customer migration rate steadily increased to more than 30 percent. The customer service experience will be further improved all while reducing the operating pressure for sub-branches and counters.
Cash management services
BOC Macau has pioneered a cash management service, which provides various products, such as Bank-Enterprise Direct Connection, Bank-Bank Direct Connection, and Swift Direct Connection. These programmes serve a large customer base including state-owned enterprises, private enterprises, insurance companies and integrated resort hotels. BOC Macau has also established local cash pools for many globally operated private enterprises in mainland China to satisfy their need for timely funds scheduling, collection, and inquiry. The successful launch of these multiple projects not only enhanced the satisfaction of key customers and cemented their loyalty, but also further strengthened the bank's dominant place in the local cash management business.
The customer service experience will be further improved all while reducing the operating pressure for sub-branches and counters
In terms of business development, BOC Macau has continued to deepen the implementation of its strategic development, supporting local small and medium enterprises (SMEs) with various types of loans and helped the overall recovery of the economy of Macau. BOC Macau has fully cooperated with the government to construct a smart city and facilitated the development of mobile payments through mobile banking services. BOC Macau has vigorously promoted the services transformation of sub-branches, with the innovation of smart counters and online banking services, in order to provide a high-quality financial services experience to its customers.
In terms of assisting the government to maintain a financial system and livelihood stability during the most severe period of the pandemic, BOC Macau resolutely maintained the services of nine sub-branches, and successively introduced a number of financial supports and measures, such as the special purpose loan for SMEs to combat the pandemic and the mortgage repayment rearrangement plan, which together helped to maintain social stability in Macau.
In terms of supporting the development of the Guangdong-Hong Kong-Macau Greater Bay Area (GBA), BOC Macau integrated and actively linked up with domestic institutions, promoted inter-regional connectivity, and provided convenience for Macau residents to use mobile payments and property investment in the mainland.
Bond breakthroughs
In terms of promoting modern financial development in Macau, the bank has continued to utilise business advantages in bond issuance services. BOC Macau are the first commercial institution in the world to issue RMB blue bonds, and the first commercial institution to issue an anti-pandemic bond in the overseas market of China. BOC Macau will continue to utilise their characteristic financing platform advantages and deepen the construction of financial services platforms between China and Portuguese-speaking countries.
2021 is the first year of the 14th five-year plan of China, and the first year for the Bank of China Group to set its corporate vision of 'building a world-class modern banking group.' BOC Macau will continue to benefit from the advantage of the 'one country, two systems' principle, fully utilising the 'dual circulation' intersection location advantage. This will allow it to seize market opportunities in the development of the GBA, the 'One Belt One Road' initiative and also construction within Portuguese-speaking countries.
BOC Macau will also be able to carry out Bank of China Group's core value: "excellent service, stable creation, openness and tolerance, and win-win cooperation," continuing to provide high-quality financial services to the public, support economic development, maintain financial stability in Macau, and make new and meaningful contributions to the moderate economic diversification of Macau.