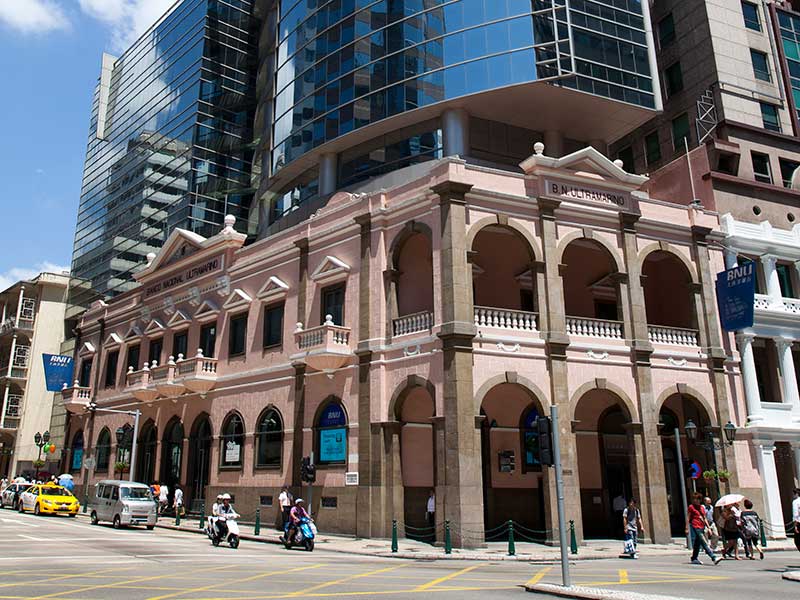 Banco Nacional Ultramarino's office in Macau&nbsp
Interview with:
Pedro Cardoso, CEO, Banco Nacional Ultramarino
A rising hub in China's banking sector, Macau is working to link the country to the wider world by helping emerging markets connect with the Asian nation. A key component in this strategy involves helping local SMEs to extend their reach across the entire region and beyond.
The Special Administrative Region's banks are leading this push, with Banco Nacional Ultramarino (BNU) a particularly active example. A subsidiary of Portugal's Caixa Geral de Depósitos, BNU's focus is on building bridges between China and the Portuguese-speaking world, while simultaneously working to improve the already-competitive local banking industry in Macau.
In light of this, World Finance spoke to CEO Pedro Cardoso, the 2017 Banker of the Year for Asia, about how BNU has tackled recent economic hardships to maintain growth and connect Macau to other countries and continents.
How has Macau's banking industry dealt with the recent contraction in the economy?
Macau is a very competitive market. The territory only has around 650,000 inhabitants, with 28 banks in operation competing to serve them. Nonetheless, some of the large Chinese banks are now seeking to gain market share in Macau, which is resulting in a decline in the profitability of banking operations. That said, despite this challenging environment, the banking sector in Macau has continued to perform well, with good solvency, liquidity, profitability and asset quality indicators.
What's more, under the guidance of the Macau Government and Monetary Authority, the banking sector is looking for new avenues to expand into. These include cooperation with Portuguese-speaking countries, financial leasing and wealth management.
What strategy have you implemented and how has BNU fared in this climate?
Following this pattern of growth and diversification, BNU has grown steadily and prudently over the past few years. Since 2011, our total business has grown by an accumulated 107 percent, and over the same period our ratio of loans overdue over 90 days has also declined from 1.68 percent to just 0.97 percent. The main focus of BNU's expansion has been in the areas of SME finance and retail banking. We have, above all, concentrated on Macau's residents and companies, while also exploring synergies with the very strong network in Portuguese-speaking countries that our parent bank – Caixa Geral de Depósitos – has created.
Deciding whether to keep investing in physical branches or to guide customers towards digital services is one of banking's great dilemmas
Unlike some banks that focus on gaining market share at low prices, BNU has geared itself towards growth. We aim to create the necessary conditions to generate value in an increasingly competitive environment, and to build ourselves up to better provide what the market demands. And, of course, we always aim to stay in tune with our clients' needs.
In terms of everyday banking, we have been working to better understand our customers' behaviour and expectations through surveys and mystery shopping. Alongside this, we have also worked very hard to provide new and innovative products and services, as well as providing extensive training and knowledge to our team members, and motivating them to excel in the pursuit of our mutual goals. To this end, we have frontline staff that are proficient in English, Mandarin, Cantonese and Portuguese, and are able to provide all of our services to our diverse client base.
As a result, we have seen an increase in our customer base of about 17 percent, to around 225,000 customers – more than a third of Macau's total population. Additionally, our top line has progressed quite smoothly, with a 93 percent jump in net interest margin since 2011. We have also decreased our cost-to-income ratio from 35 percent in 2011 to just 29 percent in 2016. We're particularly proud of this indicator, as it's in line with the highest international standards.
What new trends are now emerging in the Macau banking sector?
Macau is a world centre for tourism and leisure, but good progress has also been made recently in economic diversification away from this traditional core sector. As a result, banks are now expanding their corporate resources to serve other industries. Construction and public works are important customer sectors for banks in Macau, with the industry still growing. The local banking community is continuing to support and finance large infrastructure projects, but there is also a new focus on supporting small and medium projects too.
As well as this, since 2014, deposits have been growing slightly faster than expected, leaving banks flooded with money. Competition is, therefore, very keen in credit products such as loans and credit cards – a further boon for consumers and the industry as a whole.
How are banks adapting to accommodate changing consumer demands?
The way customers interact with their banks is indeed changing. For one thing, customers are choosing more and more to bank through a variety of digital means. Banks, therefore, need to adapt themselves and diversify their banking channels in order to allow customers of every age to carry out routine transactions in whatever way they demand – be that in a traditional branch or digitally.
What's more, in spite of the convenience of tech-based interactions, trust and security are still crucial for customers; a strong in-branch experience remains important, especially in terms of driving engagement with banks. To put it another way, customers are coming to branches less often, but their preferred sales/purchasing model is still to meet with an account officer face to face. Whether to embrace this and keep investing in physical branches, or to guide customers away from the in-person experience and towards enhanced digital services, is one of banking's great modern dilemmas.

Why has BNU chosen to enter mainland China?
The opening of our Hengqin branch, on an island located in Guangdong, is intended to provide a bridge for economic and financial cooperation between China and Portuguese-speaking countries, and to provide financial cooperation between Guangdong and Macau, based on the China-Portugal financial services platform. It will open up opportunities to support Chinese investors and companies from Portuguese-speaking countries that are trying to expand into the Chinese market.
650,000
The total number of inhabitants of Macau
225,000
of these are BNU customers
107%
BNU's business growth since 2011
At the same time, another key objective is to assist Macau-based enterprises in expanding their businesses into mainland China, thereby promoting closer cooperation between Macau and Guangdong. In this respect – as an innovative step in strengthening economic cooperation between the two regions – the Hengqin branch is a milestone for BNU. The branch represents the first instance of a Macau local bank opening a branch in mainland China, and it also makes BNU the first bank to enter mainland China with immediate renminbi business operation.
How does BNU make use of new technology?
BNU has been a pioneer on the technology front, working to improve efficiency through the development and implementation of modern operational systems, such as workflow systems, document management and new front-end teller systems. What's more, our online banking experience has now been extended to mobile, allowing services such as transfers, bill payment, time deposits and insurance subscriptions to be accessed in-branch, online or by mobile.
To solve the common problem of low foreign currency availability in Macau, a service has been introduced to allow customers to request foreign currency banknotes through online banking and collect them at a chosen branch. This system, pioneered by BNU, is the first of its kind in the Macau market.
What does BNU have planned for the future, and how do you see Macau's banking climate developing?
We aim to continue along the path of innovation, focusing on product development and the development of better services for our clients. Alongside this central aim, we're also looking to build ties with local and international businesses, with a particular focus on links between Portuguese-speaking countries and China. We'll also continue to lead the local banking industry on various fronts, including excelling in the provision of high quality customer services, rapid time-to-market product development, efficiency enhancement and budget control.
As far as Macau as a whole is concerned, 2017 is looking positive for the financial industry. The sector will continue to vigorously develop ties with emerging markets and emerging businesses. What's more, a range of opportunities will arise as a result of the Chinese Government's One Belt, One Road national strategy, and the implementation of the five-year development plan outlined by the Macau Government.
In this context, Macau's banking sector will act as something of a herald for the wider diversification of the entire Macau economy. In particular, the banking industry will provide support to local SMEs through various preferential service schemes, and will also make further positive adjustments to loan structures in order to support those SMEs in overcoming the various difficulties that accompany early-stage growth. By thinking ahead, we're working to ensure a positive and stable future for Macau and the surrounding region.