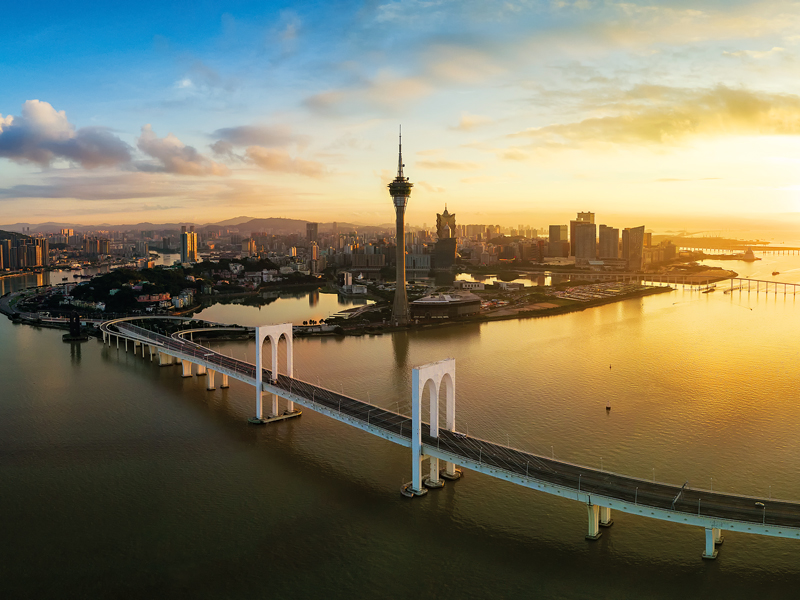 Macau, as well as the rest of the Guangdong-Hong Kong-Macau Greater Bay Area, is playing an important role in China's international development&nbsp
Author:
Li Guang, General Manager, Bank of China, Macau Branch
Macau's story is one of dramatic changes. From its origins in 1557 as an isolated fishing village on the South China Sea to its designation as a Portuguese outpost in 1887, the city has undertaken several drastic transformations to meet the needs of the wider world. Today, as one of China's special administrative regions, Macau is on the brink of another new chapter in its history.
With China's Belt and Road Initiative progressing, Macau's reputation as a destination for both tourism and global trade is seeing it attract more international business. The city already has a vibrant economy, but new opportunities are demanding more of the small region's financial sector. Once again, Macau is being asked to change.
Bank of China Macau Branch (BOCM) has a proud history of supporting the city's businesses – both large and small – throughout such periods of adjustment. Since its establishment in 1950, BOCM has developed into a full-featured bank. By measurement of deposits, loans and profits, it now makes up 40 percent of the city's total financial market – a record it has held for some time.
Amid this period of change, BOCM is accelerating its efforts to improve internal innovation, employee development and its core business services. BOCM is entirely focused on helping organisations reach their goals, creating new financial tools and finding improved ways of doing business. It is also committed to supporting its employees in order to develop, attract and retain the most talented individuals. Through these measures, BOCM is building an organisation that can help Macau reinvent itself once again.
Macau already has a vibrant economy, but new opportunities are demanding more of the small region's financial sector
Business development
Macau, as well as the rest of the Guangdong-Hong Kong-Macau Greater Bay Area, is playing an important role in China's international development initiatives. BOCM strives to support the Bank of China's focus on the globalisation and diversification of the region's economy. To do this, BOCM set up a centre for advancing corporate finance and has built a platform for financing projects in Portuguese-speaking countries. Ultimately, this has expanded BOCM's local and offshore operations.
Given Macau's historical link with Portugal, BOCM is well equipped to support projects across the world's Portuguese-speaking nations – now, its reach is extending even further. BOCM is focused on identifying suitable projects in Central Asia, South Asia, Russia and Mongolia. Primarily, BOCM has specialised in providing convenient cross-border financial services for enterprises targeting foreign investment.
At the same time, BOCM is working to build up the city's smaller businesses. In cooperation with the Macau Government, BOCM launched a dedicated plan to help develop the city's small and medium-sized enterprises through loans and other financial support programmes. Financial services such as the Easy Money Personal Loan and Easy-Plus Mortgage are fast, efficient initiatives available to Macau-based entrepreneurs. Around 1,000 businesses have already benefitted from these specialist services.
Recently, access to financial products has been a particularly important issue for Macau's business community. Following the havoc wreaked by Typhoon Hato in 2017 and Typhoon Mangkhut the following year, many businesses were left in desperate need of financial services to keep them afloat. In response, BOCM developed a loan assistance programme for affected firms, helping around 200 local enterprises quickly get back on their feet. For businesses both large and small, BOCM is always looking for new financial products that can grow with Macau and help people achieve their aspirations.
A campaign of innovation
Despite recent success, BOCM is not resting on its laurels. To be ready for Macau's future, the bank is embarking on a campaign of reinvention and innovation. This has already resulted in a number of achievements, many of which are firsts for Macau.A particular highlight has been the launch of BOC Pay, a one-stop cross-border application that enables mobile payments throughout the Guangdong-Hong Kong-Macau Greater Bay Area. The system lets customers transfer money by simply scanning a QR code, without the need for a mainland Chinese bank account. BOCM operates across the special administrative region to lead the implementation of this and other smart city services. All of this allows the citizens of Macau and tourists from the mainland to conduct safe, convenient and fast transactions.
Another important project has been the development of Macau's bond market. Following in-depth studies of the region and its needs, BOCM is utilising its bonds business to help the region reach its goals. Around $1.8bn in bonds have already been issued in addition to the notable CNY 4bn ($566.3m) 'lotus bond'. This represents the first offshore issuance by the Chinese Government in Macau and has been highly beneficial to the local market.
BOCM has also been actively developing as a yuan clearing centre for Portuguese-speaking countries. Since this function was launched, BOCM has undertaken more than 770,000 transactions totalling CNY 6.4trn ($910bn).
Power to the people
All of these developments have led to great changes in Macau, but it is important to remember that improving people's lives remains the most important factor. As a financial lender, BOCM has a great deal of power. Cognisant of this fact, it has strived to establish a corporate culture that is beneficial to employees and citizens alike. The bank has hosted a number of public welfare activities, including charity walks and fun runs. Athleticism is particularly important to the bank, and it has set up the Bank of China Sports Scholarship for Outstanding Athletes in Macau to support those striving to achieve peak physical performance. In 2018, BOCM donated over MOP 14m ($1.73m) to primary and secondary schools, colleges and local communities throughout Macau. All of this helps the bank live up to its core business motto: 'rooted in Macau, steadfast in serving'.
These social development goals look inward as well, with many support services in place to help employees reach their full potential. To expand the international vision of young employees, BOCM regularly selects members of its team to participate in domestic and foreign learning programmes. At the same time, BOCM fully subsidises employees who pursue degrees and other professional development courses, rewarding those who
obtain new qualifications.
In recent years, BOCM has received much credit for its achievements. In May 2018, for example, BOCM won the Excellent Family-Friendly Employer Award, which was presented at the National Committee of the Chinese People's Political Consultative Conference. The award recognised BOCM's policy of caring for its employees and helping them balance family life with work. It also rewarded BOCM's efforts to promote the Macau Government's family-friendly employment policies.
BOCM has been fortunate enough to receive several other awards in recognition of its work. In May 2019, it was named the Best SME Partner Bank, Macau as part of the Global Business Awards 2019, announced by UK-based magazine The European. Also in 2019, BOCM was recognised in Euromoney's Asia Awards for Excellence, winning Best Bank in the Macau category. In both of these awards, BOCM was the only Macau-based bank to be recognised.
BOCM has reached major goals across the areas of technology, team building, corporate culture, business performance and inclusive finance. In the future, it will adhere to its corporate credo while taking full advantage of the many benefits offered by China's 'one country, two systems' policy.
Just as Macau acts as a bridge to the rest of the world, BOCM will continue to use the city's position to build financial bridges to new areas of the economy. The bank will advance with the times, stimulate vitality, foster new opportunities, achieve breakthroughs and accelerate the construction of a world-class financial institution for Macau. For all of the challenges presented by this new chapter in Macau's history, BOCM stands ready and willing to overcome them.