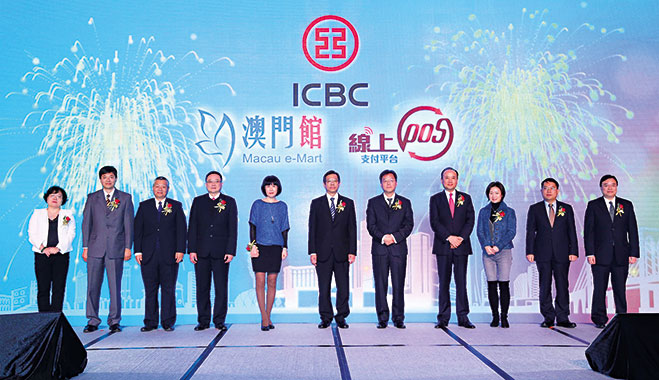 The team at ICBC (Macau). The bank is invested in attracting foreign capital to Macau&nbsp
Author:
Wu Long, CEO of ICBC (Macau)
The key question facing many commercial banks in 2016 is how to continue pursuing profit growth alongside maintaining a commitment to sustainable development. This has always been one of the most important topics for all commercial banks, but has risen to the fore due to the fierce competition and stringent regulation that have characterised the market in recent years.
At ICBC (Macau), we have been steadily and successfully working towards this. Our Macau-based bank has had remarkable success in the localisation of business and traditional finance since its establishment in July 2009. Our assets and net profit have experienced a large increase, and we have secured a strong market position and brand image in the local market. By the end of 2015, our total assets had grown by almost 270 percent over the previous six years. There has also been more than a fourfold increase in net profit for the same period.
Although leading the way in regional markets, it is really vital for us to strengthen our development strategies, reply to the dynamic financial market and adapt to the fluctuations of economic cycles. Banks should be capable of offering combined and flexible services to match changes in consumption habits, industrial structures, and science and technology. For this reason, we are continually working on the transition and optimisation of our asset and liability structure, in order to realise efficient allocation of economic capital. This is especially important now, as banking industry regulation worldwide has become more stringent than ever before.
A flexible portfolio
To remain competitive and sustainable in today's volatile business environment, there is an increasing need for banks to update their product portfolios. There are a total of 29 banks in the Macau area. Most of those are Chinese-funded banks with a familiar business operation and management style, mainly focused on traditional financial business. Our bank deems it vital to explore the full range of options for local profitability, outside areas that are currently facing squeezed profit margins due to competition and the homogeneous product market.
Our optimised mobile banking system was designed to create a flexible product, covering almost all daily financial functions
To further improve its financial services and enhance competitiveness, ICBC (Macau) has come up with a strategy of business diversification and product innovation, adjusting operation patterns and growth modes against a changing external environment. The important question is how to find the most appropriate new business to develop. To answer this, our bank gives full and serious consideration to a variety of opportunities, weighing up the advantages carefully.
As the biggest local bank with a fully functional license in Macau, it is appropriate for us to seek diversified businesses and change from suppliers to creators, offering a full range of financial products. Relying on the ICBC brand influence and our strong support for embracing new technologies, platforms, channels and human resources, together with an outstanding innovation ability and risk management framework compared with other banks in Macau, we recently decided to launch several financial products to fill gaps in the local financial market.
Despite a downward trend in Macau's economy last year, due to a decline in gaming revenue, the government still has a steady fiscal reserve and low unemployment. The income of local residents has been increasing continuously, resulting in significant wealth accumulation. Demand for individual investment services and wealth management products will remain strong in the long term, especially for high-net-worth clients.
Adjusted focus
In 2015, the Chinese Government formally put forward the new strategy of 'One Belt, One Road' (OBOR), and advocated cooperation with other countries in commerce, tourism, finance, culture, communication and several other areas. Macau has plans to be redeveloped as a 'world centre of tourism and leisure', as well as a 'commercial and trade cooperation service platform between China and Portuguese-speaking countries'. Both of these initiatives promise to provide favourable opportunities for our bank's diversification and ongoing stability. Among all the new products on offer, ICBC (Macau) identified internet finance and asset management finance as key development orientation points in the past year, as part of the bank's response to OBOR.
To better adjust our services to the economic structure in Macau and the transformation of the bank's development pattern, ICBC (Macau) has continuously and actively been promoting the progress of mobile internet finance, with two products launched in the past year: the Macau e-Mart platform and an optimised mobile banking system.
Macau e-Mart is the first e-commerce platform launched by a bank in the local market. With an online-to-offline operation model, the platform focuses on attracting self-service travellers from mainland China and beyond, with integrated products and quality service, focusing particularly on tourism-related products. It will help the bank to gain more clients with high viscosity and considerable profit. This kind of service perfectly matches the government's aforementioned goals for Macau. It has made clear progress since it launched in December, and has led to extensive interest from local government and enterprises.
Our optimised mobile banking system was designed to create a flexible product, covering almost all daily financial functions, such as daily consumption, merchant discounts, payments and settlements, fund and investment operations, and more. This new system will not only integrate traditional e-banking services, but will also offer an intense, comprehensive customer experience. It is more like a daily life assistant, with more open and convenient information, than a single financial instrument. The system is currently still in its pilot phase, and will be formally produced later in 2016.
By being the most competitive bank and offering the most comprehensive e-banking service in the local market, ICBC (Macau) will be in an excellent position to continue to optimise its products and better meet the needs of its customers.
Asset management excellence
On top of the aforementioned changes, our new asset management department was established at the end of 2014, providing services including high-end financial consultancy, investment brokerage and commercial investment advice. In the time since the department's establishment, the team has worked hard at promoting the construction of an integrated product line that is suitable for the local market, offering a package of tailored services.
Client resources and cooperation are the main drivers of service expansion, especially for a new team to implement new business activities. In growing the asset management department, ICBC (Macau) worked in close collaboration with the head office, other branches and various internal departments to create a customer-orientated team with a market-orientated marketing mechanism. To date, it has made significant progress; existing customers range from local government departments, local organisations, large foundations, real estate companies and large state-owned enterprises in the mainland, to listed companies in Portugal. Cooperation with customers from Portuguese-speaking countries has been a key emphasis of our expansion.
The bank also considers technology and innovation key factors for further growth. At the end of 2015, it formally launched its first self-developed financial product, named T+0, together with a supporting system on PC and mobile, which is the first product of its kind in our local market. To improve business efficiency and strengthen risk prevention, the bank actively introduced advanced systems from the head office as a business extension.
Even though the asset management business is still in its early stages, it will grow to be another fine example of the bank's diversification policy and innovative strategies.
The bank is now strategically placed to offer investment opportunities in markets within the region, on top of e-banking and asset management services. By establishing multiple product lines around the constraints of controllable risk and capital considerations, the bank will maintain its advantage in local markets and move forward to become one of the most competitive banks in the Hong Kong, Macau and Pearl River Delta region in the future.