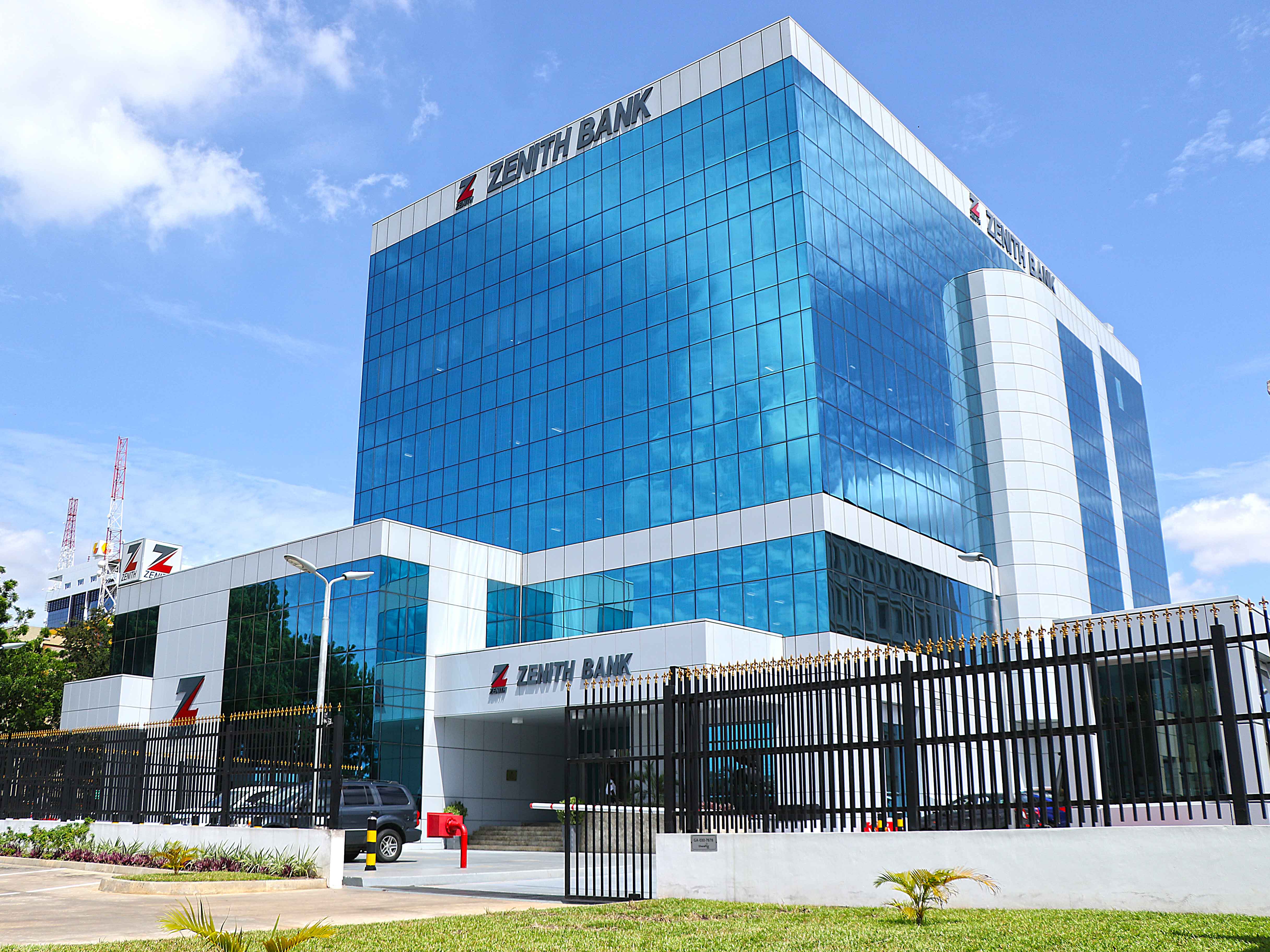 Financial inclusion through the use of digital banking products is a major part of Zenith Bank's growth strategy. It was one of the first banks in Ghana to launch an app-based mobile banking service&nbsp
At Zenith Bank, our outlook for the Ghanaian economy is largely optimistic. According to IMF's latest growth projections, the country is expected to become the fastest-growing economy in sub-Saharan Africa in 2019, with a GDP growth rate of 8.8 percent. In light of this positive view, the government's 2019 budget aims to reach an inflation rate of eight percent by the end of the fiscal year. This looks feasible, even though inflation currently stands at 9.5 percent, according to a Bank of Ghana Monetary Policy Committee press release from May 2019.
GDP growth signals increased economic activity and higher employment rates in the country, which together work to the great advantage of the banking sector. Essentially, higher economic activity translates to higher investment needs for firms, while banks stand to gain from the arrangement of funding for expanding industries. Higher GDP also means growth in household spending power; banks, in turn, can leverage sound retail strategies to tap into the enhanced disposable incomes of citizens.
We expect governmental fiscal discipline to intensify in line with steady GDP growth. This means that governments' tendency to crowd out private firms in financial and capital markets will be reduced, which in turn will result in lower interest rates. For banks, this means our lending rates are seen as much more favourable, which translates into more lending activity and more income, too.
Ultimately, Zenith's goal is to dominate the Ghanaian market by introducing innovative banking products for specific industries and customers
Making strides
A recent recapitalisation drive by the Bank of Ghana saw an increase in the minimum capital requirement from GHS 120m ($22.4m) to GHS 400m ($75m). As a result of this, the number of banks in Ghana dropped from 35 to 23. In addition to making the industry more robust, the move also provides further capacity for banks to partner with the private sector through additional funding. As explained by the Bank of Ghana, banks can now rely on ploughed-back profits or fresh capital inflow. Banks that fund their balance sheets with the latter will have excess capital to lend, especially to the private sector.
The increased minimum capital requirement will also allow Ghanaian banks to handle bigger-ticket transactions, which were previously unfeasible. Until now, individual banks had to pool resources to meet large-ticket transactions due to the single obligor requirements under Section 62 of the Banking Act. With the tripling of the capital requirement, however, banks will have the ability to handle larger transactions individually.
There have also been other significant developments in the economy in recent months: for example, recent moves to bring back the Ghana-Nigeria Chamber of Commerce will have a considerable impact on Ghana's banking industry. The economy stands to benefit from a potential increase in foreign direct investment (FDI) from Nigeria, which is already substantial. Increased FDI also translates to a surge in both employment and household income. As such, Ghanaian industries will now have a chance to network and exploit new opportunities in the largest economy in sub-Saharan Africa. Indeed, Ghanaian businesses with an eye on expansion will be presented with a platform to venture into an economy with a population of 191 million. This will require funding, and will therefore be an opportunity for banks to bridge the financing gap between current and required capacity.
The establishment of the Ghana-Nigeria Chamber of Commerce also opens up more channels for investment across borders. Nigerian investments currently lead FDI in the West African sub-region (see Fig 1); banks in Ghana, therefore, stand to gain from a larger customer base. This will bring in much-needed forex as well.
Digital drive
Against this backdrop, a lot of banks are now seeking a foothold in the digital banking space, with most turning to digital offerings such as mobile banking, relaunching internet banking products and creating apps on the Google Play store. That said, largely speaking, services available to customers remain somewhat homogenous, with most banks offering traditional deposit accounts, as well as some investment products.
There is a great deal of room for the market's continued growth and development, however. For example, banks in Ghana now have the capacity to undertake big-ticket transactions, which can contribute to the overall development of the nation. Financial inclusion, meanwhile, continues to propagate throughout the country. Thanks to the accessibility offered by mobile banking to even the most remote areas in Ghana, inclusive economic growth is being achieved. By participating in the financial system, individuals are able to invest in their children's education, start a business, save and better absorb financial shocks.
Financial inclusion through the use of digital banking products and services continues to form a major part of Zenith Bank's strategy year on year. Since its inception, the bank has ensured the continuous roll-out of a wide array of innovative digital products and services, which are user-friendly and provide total convenience to customers.
In fact, Zenith Bank was among the first banks in Ghana to launch an app-based mobile banking service. Z-Mobile, which is available on both Android and Apple devices, enables customers to make instant interbank transfers, set up beneficiaries, top up investments, pay utility bills and much more right from their mobile phone.
Through its strategic partnership with major companies, the bank has leveraged mobile banking to reach the population's unbanked citizens. For example, Zenith's Bank2Wallet service enables customers to link their mobile money wallets to their bank accounts in order to make immediate transfers and payments remotely at any time of day.
Earlier this year, the bank also launched its 'Go Lite with Zenith Bank' campaign in order to create greater awareness of how its digital banking products and services can be tailor-made for individuals and corporations in order to make banking transactions faster and smarter. The bank's recently upgraded internet banking platform also provides more functionality through the introduction of a new dashboard, which allows customers to view a summary of all the accounts they have with the bank at a glance. With Zenith's Scan To Pay service, they can make payments in stores and restaurants simply by scanning a QR code with their mobile phone.
Meanwhile, the bank's point-of-sale terminals allow customers to process card transactions electronically in real time. Transactions can be verified by biometric identification, PIN or signature using these terminals. Aside from the convenience they offer, they also reduce the cost associated with handling cash and, thanks to a back-up power source, are available 24/7.
Standing apart
The bank has collaborated with the likes of Mastercard, Visa and the Ghana Interbank Payment and Settlement Systems to provide unrivalled products and services to the banking populace in Ghana. Ultimately, Zenith's goal is to dominate the market by introducing innovative banking products for specific industries and customers.
To this end, Zenith Bank boasts a very robust IT platform, as well as talented personnel. Together they form the bedrock of the many innovative banking products and services we continue to churn out into the Ghanaian banking industry. Our ability to provide our customers with top-notch e-banking products and services sets us apart from our direct competitors: for example, our IT personnel are on hand 24 hours a day, seven days a week, to ensure that business continuity is achieved with no downtime.
Some years ago, there were not enough bank branches in Ghana to serve every customer. People had to travel long distances to access a branch for the sole purpose of conducting a simple transaction. With the onset of the internet and mobile devices, however, cutting-edge banking processes have been developed so that banking can be carried out right in the comfort of one's home or office.
A lot of Ghanian banks are now seeking a foothold in the digital banking space, with most turning to digital offerings such as mobile banking
At Zenith Bank, we have been able to balance the use of these two channels to better serve our clients. We understand the unique needs of our customers and appreciate that not everyone is ready to make the shift from visiting our banking halls to banking digitally. As such, we will continue to assess the environment and provide customers with the specific solutions that cater to their needs.
In conjunction with such developments, safety always comes first. Due to the nature of the bank's operations, protecting its systems, networks and programmes from cyberattacks has become critical. As such, in August 2018, Zenith began the process of adopting ISO 27001:2013 and the Payment Card Industry Data Security Standard (PCI DSS). Shortly after, it was certified for both in record time. Zenith is now among very few banks in Ghana to have both certifications.
By taking this major stride towards meeting regulatory requirements through the implementation of an information security management system that is compliant with the requirements of ISO/IEC 27001:201 and PCI DSS, Zenith has reinforced its commitment to embracing global best practices. This in turn ensures the integrity of customer data and a secure operating environment.
This level of robust security runs all the way through to the customer. For example, at the beginning of an account-opening process, several Know Your Customer parameters must be met in order for customers to gain access to a bank account. This is a requisite regulation set by the central bank and has been implemented in order to protect every customer's funds. The use of customer relationship management models, along with other technology-driven databases, has further contributed to Zenith adequately verifying and profiling its customers. After these regulatory processes have been duly followed, customers then go through some requisite steps in order for funds to be disbursed.
With a vigorous security system in place, as well as a forward-thinking approach when it comes to digitalisation, Zenith Bank is well positioned to capture all the new opportunities unfolding in Ghana's promising economic landscape.