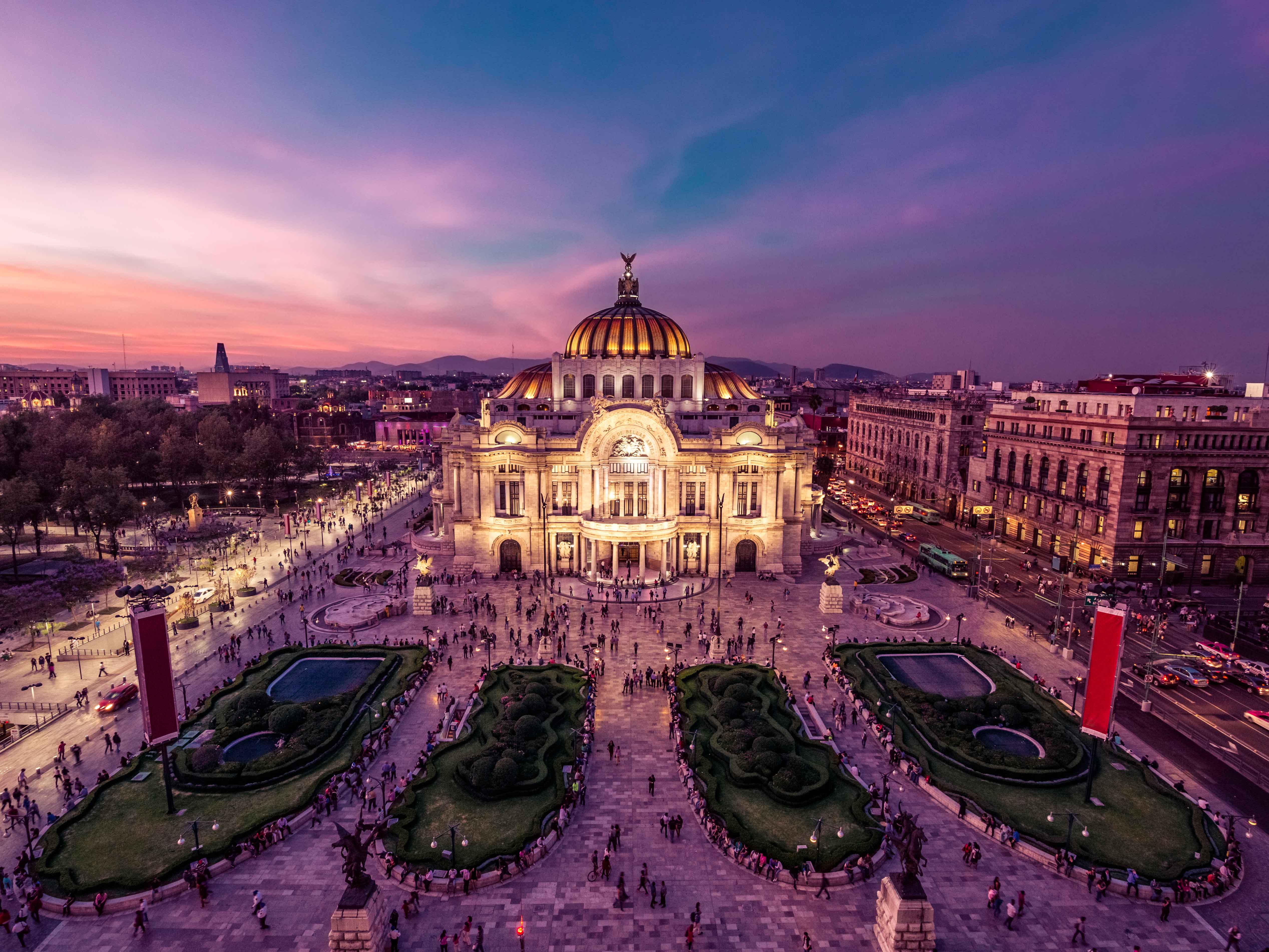 Life expectancy is increasing in Mexico, meaning citizens are facing an extended retirement period. This demographic shift will put immense pressure on the pensions system&nbsp
Author:
Sergio Mendez Centeno, CIO at Afore XXI Banorte
Linking the US with Central America, the expansive country of Mexico is the world's 15th-largest economy and the second biggest in Latin America. Despite ongoing uncertainty surrounding the North American Free Trade Agreement, the Mexican economy has shown remarkable resilience of late, with the IMF expecting the nation to post a steady growth rate of 2.3 percent in 2019.
With a median age of 27.5 years, Mexico boasts a relatively youthful population, and the nation is currently enjoying the economic rewards of this significant demographic dividend. As with many countries across the globe, though, Mexico is facing a rapid shift in its age structure, with the median age projected to increase to 40.8 years by 2050 (see Fig 1). What's more, the proportion of Mexican citizens aged 65 years or older is expected to reach 25 percent by 2050, reflecting a substantial rise in the number and share of older people in the population.
As life expectancy continues to rise in Mexico, with men living to an average age of 74 years and women to 79.2, citizens are facing an extended retirement period. This, in turn, will require extensive financial planning, as well as access to both state and private pensions. As such, this fast-approaching demographic shift is putting increased pressure on the Mexican pensions system.
Mexico's fast-approaching demographic shift is putting increasing pressure on its pensions system
Consequently, the country's pension providers must ensure that pensions remain financially sustainable and workable for all. Put simply, as the population changes, so must the pension sector. Fortunately, forward-thinking pension funds are now helping to drive the industry towards a promising future.
Going green
The Mexican pensions sector is at a pivotal point in its history. The growing demand for pensions among older citizens is prompting industry leaders to consider the future of the sector and review the direction in which they hope to move in the coming years.
For some time now, 'sustainability' has been something of a buzzword in the financial services industry, with image-conscious institutions adopting green policies and strategies in the hope of appealing to ethical consumers. More recently, though, environmental issues have climbed the global political agenda, culminating in the signing of the landmark Paris Agreement in 2016. In order to meet the ambitious goals set out by this milestone accord, financial institutions around the world will need to embrace sustainable products, services and practices, directing capital away from potentially harmful industries and towards environmentally friendly alternatives.
As Mexico's largest pension fund, Afore XXI Banorte understands the importance of setting an industry-wide example, especially when it comes to establishing and achieving sustainable development goals. Environmental, social and governance (ESG) issues are an integral part of our business and we hope to inspire our peers to adopt similar practices as part of a continued effort to propel the industry towards a greener future. We are proud to be a signatory of the United Nations Principles for Responsible Investment. By adhering to these principles, which prioritise ESG issues, Afore XXI Banorte is showing its firm commitment to building a more sustainable global financial landscape.
Further, we appreciate that returns and sustainability are not mutually exclusive. A growing body of evidence has shown that companies with good ESG practices often enjoy higher, more stable profits than those without, suggesting that an improvement in sustainability can prove just as beneficial to a company's profitability as it does to its credibility.
While our ESG ambitions are global in their scope, we hope that our efforts will also have a significant impact closer to home. Mexico is a wonderfully diverse nation, encompassing tropical jungles, arid deserts and more than 9,000km of coastline. Unfortunately, this distinctive topography also renders Mexico highly vulnerable to the most devastating effects of climate change, including tropical cyclones and hurricanes from the Atlantic and Pacific Oceans.
Indeed, in 2017, Mexico City's Chief Resilience Officer, Arnoldo Kramer, told The New York Times that "climate change has become the biggest long-term threat to [the] city's future", highlighting the extent to which global warming threatens to disrupt our country. Through our sustainable development commitments, we hope to address this issue and effect a positive change within Mexico, as well as throughout the wider world.
A positive impact
One of the core principles of sustainable finance is investing in low-carbon, resource-efficient energies and green infrastructure in favour of environmentally damaging alternatives.
Afore XXI Banorte is deeply committed to such practices and has been steadily expanding its investment portfolio to include a variety of green products. Over the course of the past few years, we have strategically invested in the renewable energy sector, providing funding to a range of alternative energy options. At present, these investments stand to generate enough renewable power to prevent more than one million tonnes of carbon dioxide from entering the atmosphere – the equivalent of planting in excess of 28 million trees. We hope these green investments will make a real impact in the fight against climate change – both in Mexico and around the world.
Life expectancy in Mexico:
74 years
Men
79.2 years
Women
As well as honouring its environmental commitments, Afore XXI Banorte is dedicated to improving the lives of Mexican citizens. As the nation's leading pension fund, we want to set an example to our peers by giving something back to those who entrust us with their retirement savings, and have lent our support to a number of valuable causes throughout the country. Over the past three years, we have made substantial investments into local infrastructure, including the construction of toll roads, telecommunications systems, housing and hospitals.
We firmly believe that financial institutions of any size have a duty to enhance the communities they serve, making corporate social responsibility a crucial aspect of any modern business. We will continue to show our support to the community and to the people of Mexico in the years to come, with the aim of maximising citizens' access to education and medical treatment, as well as improving disaster support throughout the country. Through our ongoing and growing support for environmental and social causes, we feel confident that we are moving towards a fairer, more sustainable future.
New tricks
As well as championing sustainability and social issues, the Afore XXI Banorte of the future will be largely defined by technological innovation. We believe that new technologies, such as machine learning and big data, can help us vastly improve the customer experience by giving us a better understanding of what clients want.
As such, we are undergoing something of a digital transformation, rapidly digitalising our services and expanding our contact channels. We have developed a handy mobile app that provides consumers with all the information they could possibly need at the touch of a button. What's more, it acts as another touchpoint for our clients, allowing customers to contact us around the clock, quickly answer any queries and ultimately feel more secure in their investments.
Big data and machine learning are set to revolutionise the pension industry and the wider financial sector, so it is crucial that institutions understand how to effectively harness such vital information. Data analysis therefore forms an integral aspect of our technological strategy, enabling us to continuously enhance our customer service experience. By harnessing machine learning in our social media channels, for example, we can gain greater insight into each demographic and anticipate their future requirements. We also utilise data from our online chat, social media and call centre offerings to assess the interests and needs of our clients. This allows us to offer a more personalised experience to each customer.
The internal culture of Afore XXI Banorte is undergoing a transformation, too. We hope to create a workspace where all of our staff feel inspired to provide an excellent service. With this in mind, we offer crucial support to our employees in the form of specialised training and provide effective communication channels at every level of the organisation. Our inspired employees and innovative digital solutions ensure that the client always comes first – after all, we are fully committed to enhancing the customer experience at all stages of the savings journey.