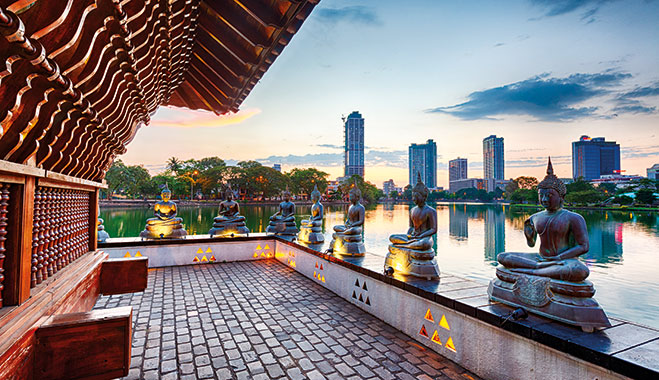 Colombo, Sri Lanka. Sampath Bank is working to give back to the Sri Lankan community through its operations&nbsp
Author:
Ranjith Samaranayake, GCFO, Sampath Bank
July 13, 2016
Global economic growth in 2015 was a disappointing 2.4 percent, and it is expected to recover at a slow pace in 2016. If modest recovery in advanced economies continues throughout 2016, the global economy will reach a growth rate of just 2.9 percent.
Economic expansion in Sri Lanka has markedly slowed in the past three years from the rapid pace of the post-conflict economic boom. Provisional estimates placed growth at 4.8 percent in 2015, marginally lower than the 4.9 percent expansion of a year earlier.
The Sri Lankan situation
Weak global demand and political change characterised the year, as did an expansive fiscal policy following presidential elections in January and parliamentary contests in August, which established a coalition cabinet. Investment faltered as investors decided on a 'wait and see' policy, and the new administration cut capital spending and temporarily suspended some large investment projects approved by its predecessor. A surge in private and government consumption spending was left to sustain growth during the year.
On the supply side, a 5.3 percent expansion in the large service sector was the main driver of growth, as contributions from industry declined. The higher outcome for services came from an acceleration in financial activities and in transportation of goods and passengers.
Preliminary demand-side estimates of real GDP are not available, but nominal expenditure was estimated by the Central Bank of Sri Lanka. Those projections of private and government consumption expenditure indicate much higher growth in 2015 than in 2014, while investment, exports and imports fell.
Economic expansion in Sri Lanka has markedly slowed in the past three years from the rapid pace of the post-conflict economic boom
Weak global demand and uncertainty over policy will continue to hold down economic performance in 2016. Weak demand and low prices for Sri Lanka's major exports will constrain economic growth and exert pressure on the balance of payments, though somewhat lower oil prices projected for 2016 will alleviate this pressure, albeit less so than in 2015. Continued concern over fiscal consolidation will hinder foreign investment and other capital inflows. Notably, In February 2016, Fitch downgraded Sri Lanka to B+ from BB-, with a negative outlook because of rising refinancing risk and weaker public finances.
Fiscal consolidation is to be put back on track by a revision of the 2016 budget. A national development strategy will facilitate investment, both domestic and foreign.
Private investment can recover to drive economic growth in 2016, assuming the revised budget is approved in mid-2016, the national development strategy is finalised, and agreement is reached with the International Monetary Fund on possible support.
Growth will be driven by domestic demand as the weak global economic recovery suppresses external demand. Public investment has the potential to expand once additional revenue streams materialise. Under these circumstances, there is room for private sector investment to lead growth. In this scenario, economic growth is projected to pick up to 5.3 percent in 2016, and further to 5.8 percent in 2017 as the global environment improves.
Banking innovation
The banking industry has been facing an excess liquidity situation, caused by weak credit demand, since 2014. However, from the beginning of 2015, we saw this trend reversing as a result of an increase in credit demand throughout the year, mainly from the private sector. Industry credit growth was a remarkable 21.1 percent, compared with a very low growth rate recorded in corresponding periods in previous years. However, despite this credit growth, the industry-wide non-performing ratio decreased from 4.2 percent in 2014 to 3.2 percent by the end of 2015.
Meanwhile, total deposits grew by 15.3 percent in 2015 and current and savings accounts (CASA), as a percentage of total deposits, also slightly improved in 2015. Overall, 2015 was a successful year for the whole banking industry, recording stable growth in most important areas.
Sampath Bank is the third-largest private commercial bank in Sri Lanka in terms of total assets. The bank serves its customers via a widespread branch network (225 branches), 370 ATMs and 38 automated cash deposit machines.
The bank sees itself as an innovation-based service provider in Sri Lanka, as it has introduced several new products which are the first of their kind in the country. Missed call banking is a convenient way for customers to get their account balance by SMS, after dialling a dedicated number. Sampath's automated teller safes are a first for South Asia, boasting automated versions of the majority of a teller's functions, including cash recognition, counting, sorting and creating transactions in the core-banking system. Branchless banking is an innovative method of reaching the unbanked and underbanked population – it's a cost-effective way to provide banking facilities without opening a physical branch. Implemented VIP customer detection systems using RFID technology have been designed to inform necessary staff members about the arrival of important/high-net-worth customers as and when they reach the premises. On top of all this, Sampath Bank has also stepped into cloud technology.
Number crunching
Innovation aside, it is important to talk about our performance during 2015. Sampath Bank outperformed many key industry benchmarks in 2015; our total deposit portfolio passed the $2.7bn mark for the first time, and we recorded a strong deposit growth of 19.7 percent. This was much better than the industry average of 15.3 percent and our previous year growth of 13.1 percent. CASA also improved during the year, reaching 47.3 percent.
Sampath Bank's total asset base passed the $3.4bn mark in 2015, and reached $3.6bn at the end of 2015, which was another important landmark. Compared with other larger private and public sector banks, Sampath Bank has achieved this landmark in the shorter time period of 29 years. Our asset growth rate was 21.6 percent, which is not only higher than the industry's growth rate of 15.9 percent, but was also the second highest among our peer banks.
All loan products (except pawning) performed well during the year, compared to the previous year. As a result, we recorded substantial credit growth of 24 percent, as opposed to industry credit growth of 21.1 percent in 2015. It is also worth mentioning that we were able to post above credit growth without compromising on credit quality. Our non-performing ratio improved from 1.93 percent at the end of 2014 to 1.64 percent at the end of 2015. This is believed to be the lowest among our industry peers. As part of our risk management strategy, we continued to decrease our pawning portfolio in order to achieve a healthier asset mix. The exposure on pawning at the end of 2015 stood at 3.5 percent of our total loan portfolio, compared with 7.9 percent at the end of 2014.
Net fee and commission income grew 26 percent in 2015, while net interest income grew 11 percent, despite the drop in net interest margins in the industry, fuelled partly by the decrease in high yielding pawning portfolios. As a countermeasure, we also focused on strengthening fee and commission income by leveraging on non-fund based income sources, such as credit card and debit card operations, trade related services and other banking services. As a result of effective cost management, Sampath Bank was able to reduce the cost to income ratio from 54.8 percent at the end of 2014, to 52.7 percent at the end of 2015.
Responsibility and reward
We're also extremely proud to say that Sampath Bank's good performance has been recognised and rewarded by many reputable organisations and magazines. Sampath Bank won a wide range of awards during 2015, including: Bank of the Year, Sri Lanka from The Banker, and Best Commercial Bank, Sri Lanka and Best Retail Bank, Sri Lanka from World Finance. Overall, Sampath Bank received a staggering 24 different local and international awards across 14 different ceremonies in 2015.
Sampath Bank also executed several CSR projects during the year, as we consider CSR an ingrained aspect of our organisational process, and thus strive to develop a sustainable existence for all our stakeholders, throughout all levels of society, through various initiatives. Indeed, our CSR initiatives go well beyond the natural obligations that govern our activities in the ordinary course of business. They are tripartite in nature, as they are facilitated through contributions made by the bank, its staff and the wider community.
Among other projects, we pushed forward with the installation of water purification units in rural Sri Lanka – this project's main objective is to provide clean water to people in areas plagued by chronic kidney disease. We also developed our Sampath Saviya entrepreneur development scheme – an initiative to promote micro, small and medium-scale entrepreneurs. Finally, we organised the Sampath Pasala programme to improve the infrastructure facilities of schools in rural areas of Sri Lanka.