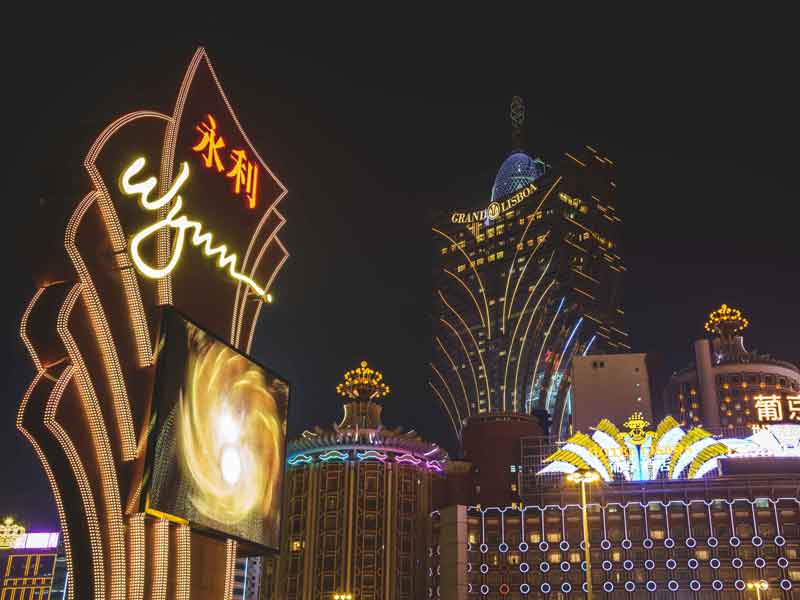 ICBC Macau is based in the Macau Special Administrative Region on the south coast of China&nbsp
Author:
Wu Long, CEO of ICBC Macau
November 21, 2017
Since China resumed sovereignty over Macau, the government of the special administrative region (SAR) has fully implemented the basic policy of 'one country, two systems', and has administrated as mandated by Chinese law.
Macau's economy has expanded rapidly, with per capita GDP among the highest in the world at $73,186 in 2016. Having abundant social wealth, Macau maintains political stability and economic prosperity, making it one of the region's most promising growth prospects.
Macau is, perhaps, most famous for its lavish gaming industry, which brought in $45bn in 2014 – seven times the revenue of gaming heavyweight Las Vegas. Since 2014, however, thanks to global economic fluctuations and a mainland economic slowdown, Macau's gaming industry has decelerated remarkably and regressed, leading to the biggest economic adjustment in Macau in many years (see Fig 1).
It is becoming more and more crucial for Macau to carry out some form of economic transformation and diversification, and the financial industry will play a vital role in this process.
Financial sector
Macau's economy is open and free. The SAR has adopted many measures and policies to facilitate businesses, including a market economy, a free-trade port, no foreign exchange controls, efficient and expeditious customs clearance rules, and low taxation levels.
This free flow of people, capital and goods has turned Macau into one of the most liberal trading regimes in the world. What's more, since Macau's return to China, the SAR has successfully ensured political stability under the principle of 'one country, two systems'. Such loose financial conditions and firm political stability are perfect for the development of the financial industry.
Macau's financial sector, especially the banking sector, has a high degree of internationalisation and rich practical experience. Its customer service, financing and funding extend worldwide.
It covers all features of modern financial services, such as diversified products, manifold businesses and electronic operations, all of which provide a solid foundation on which to develop the financial industry.
In terms of geographical conditions and economic environment, Macau is similar to many regional financial centres, such as Luxembourg, Monaco, Cyprus, the British Virgin Islands and the Cayman Islands.
Luxembourg has a population of 500,000, which is similar to Macau's, and Monaco is Europe's tourism and gaming centre – just as Macau fills this role in Asia.
As early as the year 2000, the IMF defined Luxembourg, Monaco, Hong Kong, the Cayman Islands and Macau as global offshore financial centres, putting the SAR in esteemed company.
Developmental necessity
As a typical micro-economy, Macau has a relatively small scale and a fragile economic structure. The monopoly status of the gaming industry, while once economically important, now stands in the way of sustainable development by reducing the SAR's ability to resist the economic setbacks and limiting its growth.
In 2015, the output decline of both tourism and gambling directly led to Macau's GDP decreasing by 20.3 percent. In this light, the further development of the financial sector offers a welcome solution to Macau's problem of a single industrial structure.
Macau is also short of natural resources, with limited land and water. In particular, the scarcity of land means that Macau is only really suitable for the development of capital-intensive industry.
Compared with other non-gambling industries, the financial industry, which is capital-intensive, has little demand for natural resources, and is thus an ideal sector to lead the diversification of Macau's economy.
In the past five years, the financial industry's contribution to Macau's GDP has increased annually, and it has become the second-largest industry in the region, which has already gone some way to boosting Macau's economic transformation. With all this in mind, accelerating the growth of the financial sector is clearly the most important economic move for Macau.
Economic development
In September 2016, the Macau Government announced the beginning of a long-term policy of 'steady economic development' and 'orderly structural adjustment'. Among other things, this policy will aim to harness China's Belt and Road national strategy and Macau's Portuguese trading platform, in order to support the tourism, exhibition and convention industries, as well as the industries supporting Chinese medicine, culture and entertainment.
The monopoly status of Macau's gaming industry, while once important, now stands in the way of sustainable development
The government also intends to broaden the scope of financial business, and will endeavour to create value in financial leasing, asset management and wealth management. Furthermore, Macau will strive to build an international financing platform and a domestic and overseas cooperation platform.
Companies in the financial industry will sustain these platforms and centres to achieve mutual benefits and win-win results for themselves and the economy of Macau.
Development trends
In terms of financial leasing, Macau has introduced an international infrastructure investment forum, while the government has also brought in a series of preferential measures to attract new businesses, and is trying to enhance industrial activity by amending the law.
Some leasing companies have been in operation since the beginning of last year, and Macau is expected to become a centre for leasing businesses in the future. It is hoped that this will facilitate the development of complementary financial services.
What's more, the Macau Government and the SAR's private sector are undoubtedly wealthy. The government holds reserves of more than MOP 400bn ($49.7bn), with per capita GDP of about $70,000, boasting a market with enormous potential for asset management and wealth management.
Government and industry experts are actively planning the development of these two industries and a number of related industries, which will develop Macau into a hotspot for financial innovation over the next few years. The related developments will include government investment in mainland infrastructure, and the development of a free-trade zone.
Finally, Macau's internet industry is developing rapidly, in tandem with the rise of the mainland internet economy. The Macau Government has launched its 'Digital City, Smart City' plan, and financial disintermediation is on the way.
However, internet finance in the SAR is still lagging compared with that on the mainland. There are no major e-business players or third-party payment platforms, and most payment clearing still works through credit card providers.
Due to the relatively small size of the market, mainstream payment enterprise has not yet entered Macau, providing a window period to allow banks to develop internet finance businesses.
Business diversification
ICBC Macau, the largest locally registered bank, shoulders the responsibility of promoting Macau's developing economic pluralism in order to bolster regional economic prosperity and enhance its own core competitiveness.
ICBC Macau has built multi-pillar product lines, and various other emerging business lines have gradually formed around these, including precious metals trading and asset management.
During 2017 so far, ICBC Macau has assisted the ICBC head office to successfully complete a large acquisition project, fund bond distribution, and complete a number of joint investment and trading projects. Furthermore, ICBC Macau has become a long-term financial consultant for local major institutional investors.
Macau has abundant social wealth and favourable tax and financial conditions, but there are no such capital markets as securities and bonds, giving ICBC Macau something of a clean slate from which to expand new business lines.
At present, ICBC Macau has a full-featured banking licence and two wholly owned subsidiaries – ICBC Pension Fund and ICBC Macau Investment. Currently, it is the only bank in the region to possess both an asset management licence and a custody operations licence.
The bank also intends to set up a special institution to function as a syndicated centre for Hong Kong and Macau, in order to further improve Macau's global business connections.
Once the Belt and Road Initiative is underway, ICBC Macau will provide financial support to emerging markets and to Portuguese-speaking countries connected to Macau. The bank will also serve as a renminbi clearing platform to advance the internationalisation of the currency.
Economic diversification is the starting point for Macau's development. In addition to traditional finance, ICBC Macau will continue to concentrate on wealth and asset management, internet finance, Portuguese trade services and clearing, financial leasing, and precious metals trading, in order to reach a state of balanced development between traditional and modern financial services.