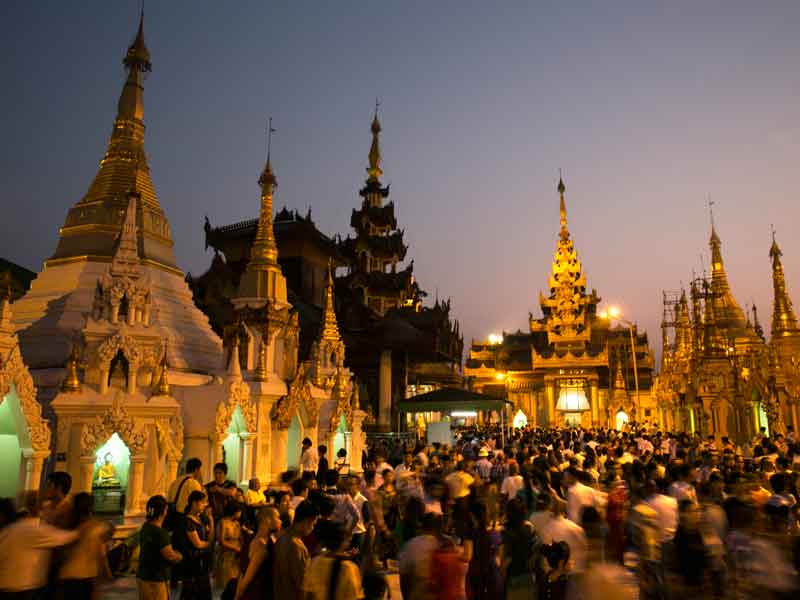 AYA Bank's headquarters are located in Yangon, Myanmar, also home to the beautiful Shwedagon pagoda&nbsp
Author:
U Myint Zaw, Managing Director of AYA Bank
Myanmar's economy is one of the fastest-growing and most promising in Asia. Its dynamic business environment, along with its strong infrastructure, communications sector and flourishing consumer lifestyle have been key to the country's development so far.
Although Myanmar's economic growth has slowed to 6.5 percent in 2016-17 from 7.3 percent in the previous year, projections for the near future are optimistic.
According to the World Bank, the growth rate is expected to remain above 7.1 percent on average until 2020, following a slowdown since its peak in 2013.
What's more, the global institution highlighted in its latest monitor report on Myanmar that this growth will take place in a context of macroeconomic stability and progress on structural reforms, with private and public investment picking up for both infrastructure services and non-commodity sectors.
In line with such forecasts, the country has become an attractive destination for foreign investments, especially since 2012, when the Foreign Investment Law was enacted. In the eyes of investors, Myanmar is the last economic frontier in Asia with significant growth potential.
Changing to support growth
The figures reflect the market's enthusiasm. Foreign direct investment hit a record $9.4bn in the year ending March 2016 – however, this foreign investment flow understandably slowed to $5.8bn in 2016-17 due to legislative elections this April and subsequent changes in the administration.
Nonetheless, with Myanmar's new investment law, it will be easier than ever for foreign companies to benefit from tax incentives, and eventually take advantage of a company law bill that is currently in parliament.
The initiative aims to allow foreign investors to buy up to 35 percent equity in local firms before they are considered foreign-owned. This has been well received in the business community, as local companies can now have foreign shareholders who will be allowed to enter into long-term land leases. None of this had been possible until today.
Key steps have been taken to identify the critical building blocks for a sound financial sector, something that is essential to support the growth and opening of the economy
Indeed, over the past three-to-four years, Myanmar's banking sector has undergone significant changes, many of which are positive. Key steps have been taken to identify the critical building blocks for a sound financial sector, something that is essential to support the growth and opening of the economy.
During this time, the central bank has gained a fair bit of autonomy and has introduced prudential regulations in line with recommendations from the Bank for International Settlements.
Moreover, it has given licences to foreign bank branches to operate locally, and it is also beginning to work closely with multilateral agencies as part of its sector-wide reforms.
That said, at present the local banking sector remains limited in terms of fully serving the requirements of a rapidly growing economy. In response, we expect to see local and foreign banks working closely together in order to play an increasingly significant role in boosting economic activity, especially in terms of financing large-scale projects and capital requirements.
Together, banks will be able to build a solid foundation for a modern financial sector that is capable of working in collaboration with regional financial markets.
Time to roll up the sleeves
Myanmar's financial services industry offers mainly short-term financing on a fully collateralised basis. But it is keen to move towards a broader set of financing capabilities in order to assist infrastructure projects and mortgage financing for end-buyers. There is still much work to be done.
Myanmar's interbank market for foreign exchange is just over a year old. Its continued development is critical to injecting a flow of liquidity into the banking system, and will strengthen alternative sources of funding for banks, which are currently reliant on customer deposits.
As this market evolves, we foresee a robust interplay between the local currency, the kyat, and foreign money markets, paving the way for related hedging and financing options.
Furthermore, the Central Bank of Myanmar's financial network system and interbank payment and settlement system will be further upgraded to be more robust, and will also act as the foundation for the convergence of traditional banking and fintech for Myanmar's 'leapfrog' technology.
Against this backdrop, AYA Bank is well poised to meet the challenges and opportunities that are set for Myanmar. The seven-year-old institution has become the second-largest in the country, playing a pioneering role in developing and introducing numerous products, services, systems and practices that are now standardised in the local banking industry.
In 2017, it achieved significant milestones, totalling more than 220 branches, more than 8,200 employees, MMK 4trn ($2.94bn) in deposits and MMK 3.5bn ($2.57m) in assets.
In June, AYA Bank upgraded its software solution to the new Tier 1 core banking system from Finastra. This is an omni-channel implementation that will replace the existing branch-focused core banking system. Thus, the bank will maximise digitalisation of its operations and improve front-to-back efficiencies throughout the organisation.
This digitalisation of all manual, non-digital processes will enable AYA Bank to streamline its workflow, and better serve all customer segments and strategic business platforms. In addition, it will allow the bank to provide products and services uniformly across the country.
This comes along with new investments in staff development, branches, ATMs and next-generation technology, and underlines AYA Bank's commitment to excellence and putting customers at the heart of the business.
Customer retention depends on their satisfaction; happy customers do more business and remain loyal through good times and bad. The bank's goal is therefore to be regarded by customers as their bank of choice. This is the model for Myanmar's modern banking future, today.
Foreseeing the future
Banking penetration in Myanmar is estimated to be less than 10 percent, perhaps as a consequence of having the lowest branch density in the world – 3.8 branches per 100,000 adults against a global average of 11.7.
With these indicators in mind, AYA Bank accelerated its branch growth strategy, totalling more than 220 branches in 2017 from 34 in 2014. The expansion has shown good results, as the bank added 900,000 new customers, now serving over 1.3 million. Many of these customers have opened a bank account for the first time, and have therefore helped the bank diversify its customer base.
6.5%
Myanmar's economic growth in 2016-17
$5.8bn
Foreign direct investment in 2016-17
$2bn
Loan growth across commercial business in 2017
Furthermore, consumers' interest in supplementary products is high; they are curious and have shown interest in recently introduced technological banking products, like internet and mobile banking, credit card loans and retail loans.
Thus, the large account base secured by AYA Bank is the perfect platform to cross-sell and upsell new products and services to our customers. We are confident that in the near future we will be able to provide customers with a wide range of retail products that will deepen their banking experience.
The development of retail consumer products has shown several successes this year. The bank launched the first 15-year mortgage loan in Myanmar in a bid to better serve the needs of a young mobile workforce.
It then introduced the country's first web-based consumer credit evaluation programme, and finally
it issued the largest number of credit cards in Myanmar.
SMEs and commercial businesses are the backbone of any economy. As such, AYA Bank's contribution to the growth and development of SMEs is significant, with a loan portfolio growing by 64 percent per year over the last three years. Loan growth across commercial business was outstanding in 2017, ending the financial year at almost $2bn.
International framework
AYA Bank has also strived to adopt international best practices to demonstrate that they can be implemented in the country. The Voluntary Human Rights Audit, which is the first of its kind in Myanmar, led to the
 implementation of HR policies compliant with International Labour Organisation recommendations.
These include the implementation of non-discrimination policies, the whistle-blower policy and a zero tolerance gender salary gap policy.
Since 2014, three of the eight members of the board of directors have been independent non-executive directors, despite the Financial Institutions Law only being introduced in 2016.
Indeed, AYA Bank is the only International Financial Reporting Standards-compliant bank in Myanmar and also the only one to be audited under the International Standards of Auditing through the guidance of an international big-four firm.
Moreover, AYA Bank has executed significant regulatory and control priorities and is committed to continuing to set standards locally. This progress has allowed the bank to focus on improving processes to deliver better experiences to its clients in many ways. For example, it recently established a dedicated transaction banking team to provide cash management and trade finance solutions.
It has also partnered with foreign banks across key sectors such as hospitality, manufacture, infrastructure, telecoms and real estate by delivering multiple syndications.
Looking forward, AYA Bank will continue to drive innovation by investing in technology, people and its network, all the while strengthening business processes and adhering to international best practices to improve the customer experience.
Investing aggressively, AYA Bank seeks to play a role in building a bright future for Myanmar, one of the most exciting frontier markets in the world.