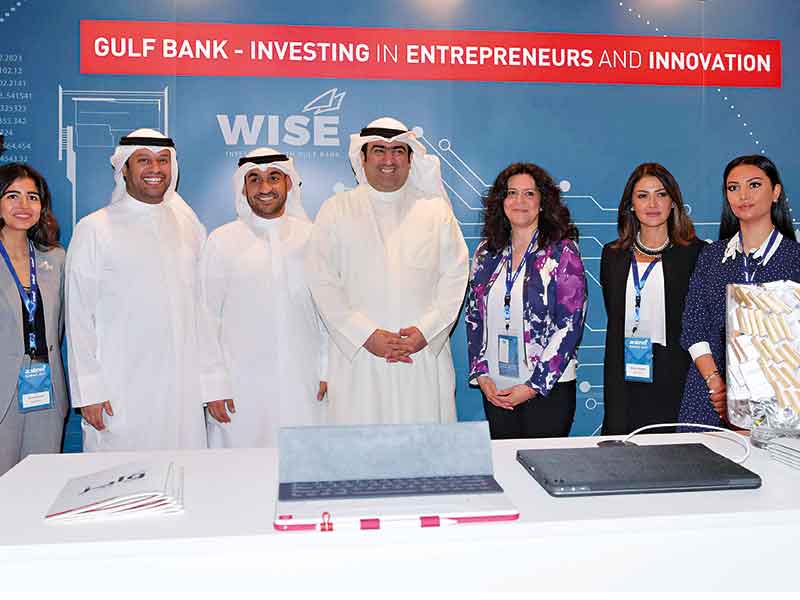 The Gulf Bank team with Khaled Al Roudan, Minister of Commerce and Industry and Minister of State for Youth Affairs&nbsp
Interview with:
Laila Al-Qatami, Assistant General Manager for Corporate Communications at Gulf Bank
January 10, 2018
The past two years have proved economically testing for the oil-rich nations of the Arabian Gulf. Beginning in 2015, the sustained slump in global oil prices has taken its toll on the region, upsetting fiscal balances and prompting a profound push towards economic diversification. While international production cuts have helped to ease the market's two-year glut, these prices appear to be the new norm, creating an uncertain future for the crude-driven economies of the Gulf Cooperation Council (GCC).
As Gulf states adjust to this post-petroleum era, Kuwait in particular is making diversification an absolute priority. Home to almost 10 percent on the world's total oil reserves, Kuwait is one of the most heavily crude-dependent nations on earth. Indeed, the petroleum sector alone accounts for more than half of the nation's GDP and the vast majority of its export revenues. These vast oil reserves may have helped to make Kuwait one of the world's richest countries per capita, but they have also left the Gulf state vulnerable to volatility in the crude market.
With its groundbreaking biometric face recognition technology and numerous e-payment systems, Gulf Bank is pushing the frontiers of digital banking and producing remarkable results
As such, the turbulence of the past two years has had a direct impact on the Kuwaiti economy, pushing the nation into a rare budget deficit and ending 16 consecutive years of fiscal surplus. With a further deficit of $25.9bn expected for the next fiscal year, the Kuwaiti Government is now looking to boost the economy as a matter of urgency. In February 2017, the nation launched the New Kuwait 2035 development plan as part of a sustained effort to mitigate the impact of low oil prices and further diversify the economy away from petroleum. Despite the ongoing regional economic uncertainty, this commitment to development is now setting Kuwait apart from its Gulf neighbours.
Weathering the storm
In addition to combatting prolonged low oil prices, the New Kuwait 2035 initiative also attempts to address several of the nation's own internal economic burdens. At present, Kuwait ranks fairly poorly in the World Bank's oft-consulted ease of doing business index, coming in at 102 out of 190 countries. Significantly, Kuwait's ranking falls further to 173 when it comes to the 'starting a business' indicator, suggesting that there are some significant bureaucratic hurdles for entrepreneurs to overcome in the Gulf state.
Indeed, it takes longer to set up a business in Kuwait than it does in any other country in the Middle East and North Africa (MENA) region, as Kuwaiti regulators demand larger capital requirements from would-be entrepreneurs. This challenging business climate may well be depriving the country of valuable entrepreneurial talent, thus inhibiting Kuwait from reaching its full economic potential. As such, the New Kuwait 2035 development plan is also committed to transforming the Kuwaiti business environment, focusing on creating an enabling ecosystem for new businesses and start-ups in the region.
Laila Al-Qatami, Assistant General Manager for Corporate Communications at Gulf Bank, said: "The New Kuwait 2035 plan focuses on activating development, boosting the economy and diversifying productivity, while also taking a strong approach to economic and financial reforms." She added: "It offers businesses the environment they need to prosper and diversify by removing bureaucratic obstacles, making it easier to do business."
Along with creating a healthier business climate, the Kuwaiti Government also hopes to benefit from the nation's remarkably young population. Demographically, young people now make up most of the Kuwaiti population, with 50 percent of citizens aged 25 or younger. While this youthful population is certainly advantageous in many ways, it also poses its own unique problems. At present, more than 85 percent of Kuwaitis work in the government sector, and this is simply unsustainable for the future.
As Kuwaiti youths begin to enter the workforce in their droves, public sector positions are rapidly filling up, threatening to cause a spike in unemployment. What's more, government spending on the public sector accounts for around 50 percent of Kuwait's annual budget, with expenditures on wages and salaries amounting to an incredible 19 percent of the country's GDP. With the nation now experiencing a budget deficit, these substantial expenditures are coming under increased scrutiny, and the government is exploring how best to expand Kuwait's modest private sector. "Kuwait has a significant demographic issue," Al-Qatami explained. "We must move from a consumption culture to a production culture."
Fortunately, Kuwait is already enjoying some success in this regard. In September, the FTSE upgraded the Kuwait Stock Market to 'emerging market' classification, demonstrating the potential of the government's ambitious development plans. Thanks to this new status, the Gulf nation can expect to attract a greater number of foreign investors, boosting inflows into its equity market by up to $822m.
A digital era
As the Kuwaiti Government endeavours to modernise the economy, the nation's banking sector is undergoing a similar transformation. In recent years, new technologies have begun to change the face of the Kuwaiti financial services industry, with the nation's youthful population demanding digital banking services and on-demand assistance as standard. From mobile banking to contactless payments, technology is reshaping the world of banking as we know it, and financial institutions are coming under increased pressure to adapt to their clients' rapidly evolving tastes. Amid a wave of digital products now flooding the Kuwaiti banking market, one bank has truly established itself as the national leader in innovation. With its groundbreaking biometric face recognition technology and numerous e-payment systems, Gulf Bank is pushing the frontiers of digital banking and producing remarkable results.
"Customers are spending less time in branches nowadays and are increasingly using mobile banking platforms as their preferred modes of conducting their finances," said Al-Qatami. "They expect their bank to be readily available through real-time videos and digital chats, and prefer to use these options rather than visiting their local branches."
A recent EY survey of 2,000 Kuwaiti banking customers observed that 89 percent of those polled would be prepared to switch banks for a better digital experience, and that they would be willing to pay more for digital convenience. Responding to this trend, Gulf Bank has created an award-winning mobile banking app: one that offers customers an easy and convenient way to check their account details and perform basic transactions.
Particularly popular among Kuwait's burgeoning smartphone generation, the app combines two forms of advanced biometric verification for a secure on-the-go experience. In addition to fingerprint scans, customers can also choose to activate Gulf Bank's pioneering facial recognition technology, which uses smartphone cameras to scan customers' faces. Aptly named Blinking to Bank, the biometric technology allows customers to access their mobile banking without the need to manually type a traditional password, thus adding another layer of security to the digital process.
However, Gulf Bank's technological innovation extends far beyond the realm of mobile banking. The bank recently launched its new advisory and portfolio management offering, which focuses on equities and bonds with a long-term investment approach. The WISE investment service offers Gulf Bank clients the opportunity to diversify their investments through international markets in a convenient and cost-effective manner. The first of its kind in Kuwait, the service creates tailor-made portfolios for clients, based on customers' stated investment objectives, length of investment and risk preferences, and collaborates with a host of top international financial institutions for a comprehensive analysis of investment opportunities.
Al-Qatami explained: "This new product came about as a result of significant research into the needs of our priority and wealth management clients. Through WISE, Gulf Bank customers can access investment opportunities around the world, with their trusted banking partner always there to help at every step along the way."
Equal opportunities
Along with enhancing the digital experience of its customers, Gulf Bank is also dedicated to creating a fairer, more equal Kuwait. As a thoroughly modern and progressive bank, Gulf Bank is guided by social responsibility, and partners with a number of national initiatives that are committed to promoting positive change. While Kuwait outperforms its GCC neighbours when it comes to female financial inclusion, gender inequality remains a significant challenge for the nation. Just 64 percent of women currently have a bank account, compared with 79.3 percent of men, representing a substantial gender gap of 15.3 percentage points.
In order to address this issue, Gulf Bank has put women's empowerment at the very heart of its corporate responsibility strategy. In 2016, the bank organised the Women in the Corporate World conference, which helped promote gender equality and raise awareness of the key issues faced by women in the workplace. What's more, Gulf Bank has also undertaken significant research into what motivates women at work, so as to better appeal to female workers and support them in their career progression.
"At Gulf Bank, men and women are treated equally, and are evaluated based on performance," said Al-Qatami. "We are proud to have a substantial number of women holding high-ranking positions within the bank's various divisions."
With this dedication to positive change and its unmatched technological innovations, Gulf Bank truly is Kuwait's bank of the future. As the Kuwaiti economy readies itself for a significant transformation, Gulf Bank is fully embracing this change and continues to solidify its position as an inspired leader in a rapidly evolving market.