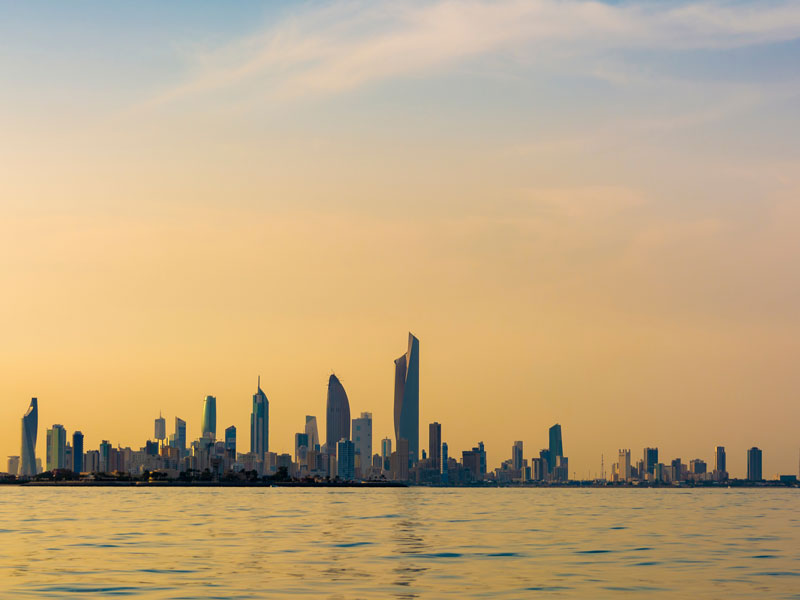 Kuwait City, Kuwait&nbsp
Author:
Fahad Al Mukhaizim, CEO, National Investments Company (NIC)
It is a well-known fact that the pandemic has had far-reaching consequences on the global market beyond the outbreak of the disease itself. Nevertheless, amid a year of economic distress, one cannot overlook the resilience that major financial institutions in the Gulf market, such as National Investments Company (NIC), have shown during times of turmoil.
Established in 1987, National Investments Company is a leading Kuwaiti asset management and investment bank. The company takes pride in its dynamic and agile approach in a fast-changing environment. As a result, the company has been able to report a total comprehensive income of $73m in the first half of 2021, after registering a total comprehensive loss of $19.2m in the comparative period of 2020 (see Fig 1). In addition to these achievements, the company received three prominent awards in 2021. Firstly, the 'Best Wealth Management Award, Kuwait 2021' by Global Business Outlook for its successful record in serving high-net-worth individuals. Secondly, the 'Best Investment Management Company in Kuwait for 2021,' by International Business Magazine, a leading publication in the world of business and financial investment, headquartered in Dubai. And finally the 'Best Asset Management Company of the Year, GCC 2021' from financial platform Global Banking & Finance.
Manoeuvring through crises
The positive return in NIC's H1 2021 occurred as the company was quick to capitalise on opportunities by shifting the tactical allocation of its funds and client portfolios towards sectors poised for recovery. The CEO of NIC, Fahad Al Mukhaizim, explained that Boursa Kuwait witnessed unprecedented circumstances due to the pandemic. By thoroughly analysing the market and understanding the reasons behind the changes, the company's investment banking team took decisions that resulted in exceptional returns for its clients.
One of the examples was the acquisition of a significant stake of Boursa Kuwait, a strategically important asset with strong, recurring and sustainable cash flows due to its market leadership position and improving prospects. Since acquisition, Boursa Kuwait has undergone an IPO and listing process resulting in a gain of several multiples of NIC's acquisition cost. The second case study was the acquisition of Kuwait Foundry, a mispriced asset with intrinsic value significantly greater than the prevailing market value. The investment offered an identifiable path to realisation of true value. Towards this, NIC acquired a 21 percent stake in January 2019 and have been taking measures to realise value. So far, the company has recaptured most of its equity in the transaction already and the total return multiple based on market value is 1.41 times.
Market leadership
Al Mukhaizim elaborated that the company has built specialist teams in key potential areas such as equity capital markets, mergers and acquisitions, and venture capital as part of its long-term strategy that provides NIC with an excellent platform to execute flagship transactions.
In 2021, NIC completed the financing mandate for a leading fitness and lifestyle business and has listed Al Safat Investment Company, a fully-fledged investment-licensed company with a capital of $85.2m. In addition, the team started a strong pipeline of other mandates, including a buy-side transaction for a leading logistics company, one of Kuwait's largest multi-sector businesses. And, it is currently working on two flagship pre-IPO mandates, expected to complete in 2022 and 2023, as well as contracts to provide general advisory services.
Diversification and innovation
Technological innovation and the adoption of digital services have expedited since the emergence of COVID-19 and there are no signs of stopping. The technology sector has been one of the most attractive and high-performing sectors due to its record growth in the past few years. Consumer and business spending in this sector has boosted tech stock price targets and increased share prices, reaching new highs.
Harkening to the developments in this sector, NIC followed a technology investment strategy and invested in several global and regional venture capital funds as well as direct investment opportunities. The investment banking advisory team focused on supporting companies and founders, as well as venture capitalists that are likely to disrupt several industries, including financial services, data security, software, mobility, healthcare, and food. The strategy is to invest in projects and companies that have clear potential to make a huge impact on their respective industries and eventually the regional landscape.
Exemplary transactions include NIC's recent investment in Pipe Technologies as part of its expanding investment strategy targeting the technology sector. Pipe Technologies is a fast-growing US-based financial technology company recognised as the world's first trading platform for recurring revenues, with a recent valuation of $2bn. Its valuation increased in just under a year since its launch in 2020, making it one of the fastest financial technology companies to reach this rating in history. In addition to the Pipe investment, NIC has recently invested in several global and regional venture capital funds as well as direct investment opportunities. The direct opportunities include NotCo and Darktrace. NotCo is one of the most exciting food technology firms focusing on plant-based alternatives, utilising patented AI technology.
Darktrace is one of the global cyber-security champions, also using AI technology, in this case to help clients thwart cyber-attacks. Meanwhile, the investment banking team is in the advanced phase of due diligence to invest in a leading regional VC platform specialising in delivery.
Unrivalled partnerships
"At NIC, not only did we assess the market behaviour and investment projects during the heart of the pandemic, we also acknowledged the impact of the pandemic on our clients – as human beings. We care about our clients and this had to be translated into action during times of crises," stated Al Mukhaizim. Accordingly, NIC's objective was to provide a seamless customer experience that would recognise their psychological status and physical restraints during the uncertain times of the pandemic. Acknowledging what the clients are going through on the other side of the coin has prompted NIC's evolvement plans to launch an electronic portal, the 'Market Maker' service, and support their clients in times of stress by understanding their individual needs and addressing these by offering highly personalised services.
The NIC electronic portal was launched to grant customers direct access to their account so they can view all their investments and the performance of their portfolios through one window integrated with their personal devices. Adhering to social distancing measures, and recognising the series of lockdowns that have occurred in Kuwait and the region, the electronic portal connects clients with their account managers at any time through one application. The service also enables customers to manage their accounts, follow up on investments, carry out withdrawals and deposits, obtain reports on portfolio performance and allows them to update their profiles.
Though the market was significantly impacted by the pandemic, NIC has demonstrated a successful example of strategically capitalising on challenging situations and turning them into opportunities for growth and evolvement. Applying best practices in investor relations and corporate communication has definitely played an important role in cultivating NIC's relationship with its clients amid an economic crisis.