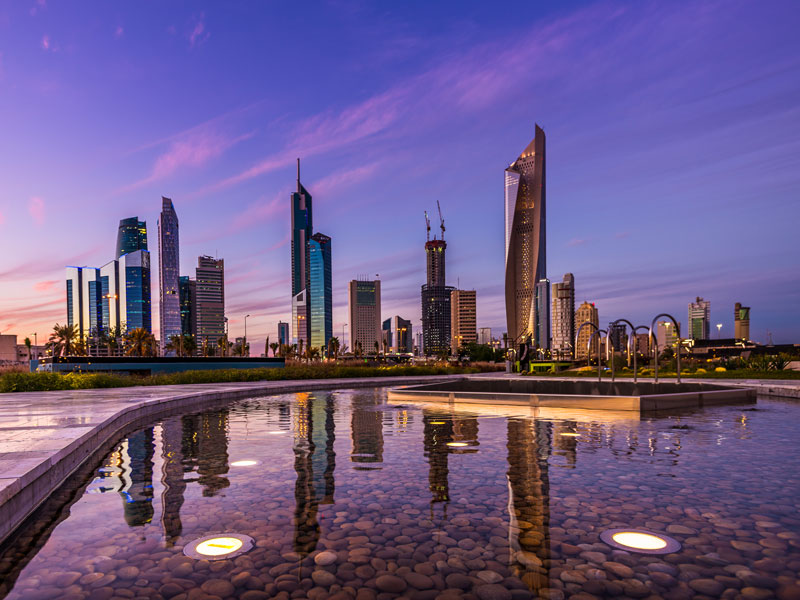 Kuwait City, the capital of Kuwait. The country is benefiting from fintech developments as they are helping to improve and simplify financial processes&nbsp
Interview with:
Raed Jawad Bukhamseen, vice-chairman and CEO, Kuwait International Bank
March 7, 2019
From its origins in the 1950s and 1960s with the invention of the credit card and the ATM to its role in online data storage in the 1990s, financial technology has been central to banking operations for the past 60 years. Now it is an indispensable tool in all customer-facing processes too, and has been helping banks to build better relationships with their clientele.
KIB has brought in a stack of innovative technologies to deliver a better banking experience for its customers
In Kuwait, the banking industry is in the midst of a revolution, with fintech being a key driver of this much-needed change. The country's relatively small financial ecosystem, in comparison to other GCC countries, allows essential institutions to be more agile in adopting new technologies. Moreover, the progressive central bank has committed itself to supporting digitalisation, with the organisation's chief saying in October: "We need to accommodate the new influx of fintech in the country."
Leading the charge is Kuwait International Bank (KIB), which has recently adopted a stack of innovative technologies to deliver a better banking experience for its customers. World Finance spoke with Raed Jawad Bukhamseen, CEO of KIB, to discuss its strategic transformation.
In what ways has KIB embraced a customer-centric strategy recently?
At the start of 2018, KIB embarked on a new phase of transformation, implementing myriad changes to execute its banking vision. KIB's new strategy focuses on becoming more customer-centric by offering an integrated customer banking experience, establishing itself as a partner in every aspect of its customers' lives. With this new strategy, it's aiming to become a true 'bank for life'.
A key component of this latest transformation is a comprehensive digital strategy across both online and mobile platforms, which is aimed at enhancing and streamlining KIB's virtual customer banking experience. By embracing technology and innovation as a core component of its business strategy, the bank seeks to provide the latest digital solutions that are user-friendly and easily accessible at all times.
Our overall strategy is designed to make KIB a more customer-centric business, allowing it to deliver greater value to customers while remaining a valued partner in their everyday lives.
What approaches has KIB implemented to improve the customer experience?
The bank is focusing on putting the customer at the centre of every interaction, across all touchpoints and channels. Its ambitious new approach to customer service sees it transforming the entire customer experience to include a mix of live and digital channels.
KIB has also launched a number of digital banking solutions, such as an interactive voice response (IVR) portal, live chat assistance and more mobile and online services, in a bid to improve the overall customer banking experience.
How do your digital banking solutions help you to deliver a better service to your customers?
One of the most important milestones under the umbrella of this digital revolution has been the inauguration of our first-of-its-kind multichannel contact centre in the Kuwait region. This strategic move seeks to revolutionise the KIB customer experience and improve service quality levels. Operating around the clock, the centre includes an IVR portal and offers centralised monitoring, queuing, routing and reporting solutions.
KIB also launched an innovative visual IVR service in addition to its live chat service, which provides customers with access to most of our services via a visual interface, rather than just a voice-activated self-service interface. This enables us to offer a better self-service call experience.
Strong cybersecurity standards are more essential than ever in the age of digital banking. How does KIB ensure it has robust safeguards in place?
KIB continues to be committed to solving cybersecurity challenges and doing whatever is necessary to safeguard sensitive information in order to gain the trust of its customers. Our information security culture ensures the protection of customers' data and privacy by making it central to the company's mission. KIB upholds the highest levels of banking security by implementing the best practices in information security, such as the ISO 27001, which is the most widely recognised, internationally accepted security standard and benchmark developed for information security management systems. Information security is therefore integrated across all of KIB's core banking operations.
At KIB, information security is considered to be a fundamental pillar of business. In recent years, the bank has invested heavily in techniques and software to combat and deter cybersecurity attacks. As part of the bank's commitment to ensuring information security resiliency, we have established an information security steering committee chaired by the CEO. This group consistently monitors the state of information security across the bank. It also keeps up to date on the growing number of security breaches in other banks and companies as a strategy to ensure that appropriate security controls are in place to thwart potential attacks.
As a testament to its robust cybersecurity standards, strong leadership in information security and upholding strong security practices, KIB has received multiple prestigious awards in this field.
Could you tell us about KIB's social responsibility strategy and why it is so important for the bank?
Social awareness is a vital part of KIB's DNA, both in terms of its position within the industry and its relationship with its customers. As the bank continues to implement its new strategic transformation, which will gradually see it become a partner in its customers' lives, it is more committed than ever to a policy of social responsibility.
At a corporate level, KIB focuses on addressing a diverse range of social issues facing the local community, underscoring its integral role as a national financial institution. The bank's social responsibility programme is based on four key pillars: its flagship financial literacy programme; youth empowerment programme; positive social impact; and community development. As part of its social impact and community development pillars, KIB has committed to investing in all kinds of initiatives, including health, sports, environmental, cultural and educational projects, and many more.
Which body is responsible for driving regulatory reform and compliance in the Kuwaiti banking sector?
In Kuwait, the financial and banking market is regulated and supervised prudently by the Central Bank of Kuwait (CBK), which supports financial institutions across the nation. The CBK also continues to promote efficiency in payments systems, particularly electronic payments and settlement systems, as they provide advanced levels of security. As the primary regulator of payments systems, the CBK has adapted to market changes and set up an appropriate legal framework.
How does KIB ensure that it keeps up with the latest corporate governance standards?
KIB is committed to maintaining the highest standards of corporate governance, believing this to be a critical factor in achieving its business goals and objectives, while also generating shareholder value. The bank has a comprehensive corporate governance framework, which is based upon strong relationships with shareholders, cooperation between management and the bank's board of directors, and transparent reporting.
KIB's corporate governance board committee is responsible for overseeing and implementing sound corporate governance, internal controls, risk management, and preparing and updating its corporate governance manual. Under the guidance of the CBK, KIB also implemented the adjusted standard of capital adequacy, reaffirming its commitment to good corporate governance.
What is KIB's opinion on regulatory technology?
'Regtech' has become the talk of the town, but it's nothing new. After the global financial crisis, financial institutions faced a tightening of regulations, and with that the compliance burden increased. To stay abreast of the latest developments, financial institutions must dedicate time and money to tracking and analysing regulatory changes.
How has the rise of start-up fintech firms changed the industry?
Progress has always been achieved as a result of collaboration, not competition. We have already witnessed how fintech has disrupted the financial and banking market, bearing fruits of technological innovation, efficiency, improved service offerings and much more. Rather than engaging in competition, financial institutions and fintech firms now believe that collaboration is the ideal path.
Fintech firms have inspired traditional banks to embrace technology, pushing them to offer more innovative solutions for consumer demand. In turn, traditional banks can provide fintech firms with regulatory support, capital, and data.
What are KIB's plans for the future?
Going forward, KIB will be focusing on three key pillars: transforming its retail offering by focusing on technological innovation and enhancing its digital services; expanding the corporate banking arm of its business; and building upon its rich history in the real estate sector to become a one-stop real estate financing shop. This will encompass property management and real estate appraisal. The future at KIB continues to be exciting and full of potential.