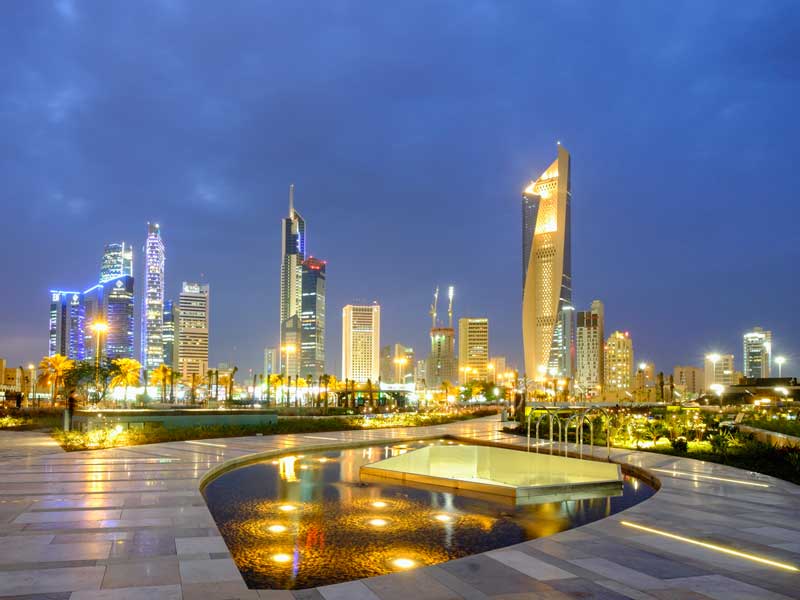 A concerted push towards economic diversification remains a primary focus for corporations in Kuwait and across the Gulf region&nbsp
Author:
James Eugene Galligan, General Manager of Retail Banking, Kuwait International Bank
As with many nations in the Gulf region, a dramatic push towards economic diversification has remained a key focus for governmental organisations and businesses in Kuwait. The necessity of such an overhaul became all too apparent following the fall in oil prices since 2014 (see Fig 1). Since then, Kuwait's banking industry, its strongest non-oil sector, has developed and grown to become a frontrunner for the entire region.
To keep up with the market, banks must be dynamic, adapting in real time to meet the demands of their increasingly tech-savvy clientele
In large part, this is due to the sector's digital transformation – a conscious move on the part of financial institutions to meet the evolving needs of a tech-savvy society. Indeed, given that – according to the UN Development Fund – over 70 percent of Kuwait's total population is under 35 years of age, acting fast on digital trends is a must. Consequently, the level of digital progress seen in the sector has been nothing short of remarkable. From biometric security systems to efficient e-payment systems and intelligent teller machines, the latest innovations in finance are being utilised to provide a supremely fast, easy and intuitive service to customers across the country.
One bank that has this mission at its core is Kuwait International Bank (KIB). Headquartered in Kuwait City, the country's capital, KIB is constantly introducing new technologies to its systems and processes in a bid to improve the service given to its customer base. To find out more about the bank's digital strategy, World Finance spoke to James Eugene Galligan, General Manager of the Retail Banking Department at Kuwait International Bank.
How has KIB introduced alternative banking channels over the years?
Amid the technological changes taking the industry by storm, KIB is striving to position itself at the forefront of banking technology in the region. We have been actively working to remain ahead of the curve by deploying services across digital channels, both online and mobile, which are designed to enhance and streamline the virtual banking experience we offer.
This all comes as part of a comprehensive and long-term programme that is aimed at transforming the way KIB engages with customers across every touch point and communication channel. The goal is to not only offer pioneering solutions with advanced technical capabilities, but to also provide the latest digital solutions that are user-friendly and easily accessible at all times.
Recently, one of the most important milestones under the umbrella of our digital revolution has been the inauguration of the region's first-of-its-kind multichannel contact centre. This strategic move seeks to completely revolutionise the KIB customer experience and improve service levels. Operating around the clock, the centre includes an interactive voice response (IVR) portal, and offers centralised monitoring, queuing, routing and reporting solutions. Last year also saw us launch our innovative visual IVR service, which provides customers access to most of our services via a visual interface, rather than just a voice-activated self-service interface, thereby enabling us to offer a better self-service call experience.
Technology is being introduced at a rapid pace. How can established banks keep up?
The rapid pace of technological advancement is not unique to the banking industry, as we can see how digitalisation has affected industries and sectors all around the world. Nevertheless, as with any change, this technological shift presents risks, as well as an abundance of opportunities. Most banks have already recognised the rapid growth of mobile technology and the consumer dependence that stems from it, and have therefore shifted their focus to expanding and enhancing digital and mobile channels.
To keep up with the ever-changing state of the market, banks must be dynamic and flexible, adapting in real-time to meet the needs of their sensitive, demanding and increasingly tech-savvy clientele. The reality is that customers are no longer satisfied with a 'traditional' banking experience, and banks need to think well beyond the branch when it comes to their customer experience.
Today, we can see banks around the region investing heavily in technology, as many have expanded their presence across all channels – including SMS, mobile websites and mobile banking apps. More integration of online and mobile channels can now be seen throughout the industry, as financial institutions work towards cross-platform solutions and a multichannel customer experience. This integrated approach must also be coupled with a tailored user experience in order to leverage technology to its fullest capability and offer customers a complete virtual banking experience.
How are traditional banks coping with competition from fintech start-ups?
In recent decades, the march of technological progress has significantly impacted many industries. Technological advancements are beginning to undermine, and even disrupt, the nature of traditional banking methods and structures. This is due to depositors, borrowers, investors and businesses being increasingly offered more direct, immediate and cheaper access through fintech services.
On the surface, fintech providers seem to offer consumer services that go beyond traditional banks, bypassing the middleman to offer more attractive services and a better online experience. Their surge in popularity presents banks with a number of challenges, driving traditional players to re-evaluate their strategies and embrace innovation in order to compete.
As consumer preferences move towards more direct channels, traditional banks must adapt by providing customers with a simpler and faster customer experience. Swept up in the fintech momentum, banks are introducing new innovative products, while managing the new digital risks that innovation introduces. This growing competition from fintech companies has propelled traditional banks towards providing more digital banking solutions through a diverse number of channels. Going one step further, traditional banks – although relatively slow to adapt – are making great strides in operations, culture and other facets of the industry, by increasing their total IT spend and investing heavily in digital banking.
How can digital banking channels enhance the customer experience?
As banks move towards employing more and more digital banking channels, many transactional services have now become easily accessible online and through mobile apps. Customers no longer have to wait in long lines, and can now access banking services at their own convenience. Digital banking platforms are currently in place for the majority of banks, thereby enhancing the delivery of key services that suit customers' busy, fast-paced lifestyles.
Based on segmentation insights, banks can deliver a better digital experience, strengthen their customer relationships, grow their customer base and
even lower costs
Banks can also leverage data from digital banking platforms to build a better customer relationship through data analytics, which help banks identify their diverse financial needs in order to craft tailored solutions for them. Based on segmentation insights, banks can deliver a better digital experience, strengthen their customer relationships, grow their customer base and even lower costs.
Furthermore, banks have now begun to fully utilise social media platforms as a customer service tool, providing customers with the necessary channel to voice their needs and concerns. This improves the overall customer experience by transforming the way in which banks communicate with their customers.
Going forward, we can see several major trends that can create both challenges and new opportunities for banks. There will be a shift from digital quantity to digital quality, which means banks will need to focus on improving the usability of existing digital offerings. Finally, organisations must be fully prepared to deliver an excellent customer experience across new channels to create a seamless multichannel experience.
Do new technologies like mobile and online banking create new regulatory or security challenges?
The advance of new technology has inevitably initiated a rise in security and ethical risks. Banks have also become aware of new regulations associated with digital banking technology, as they store sensitive customer data. Banks must therefore ensure their information security is constantly updated to prevent any compromise and avoid potential legal risks. Accordingly, these security risks have driven banks towards installing secure, high-quality information security systems and methodologies to safeguard customer data.
What is KIB's strategy concerning innovative new services? How does it choose which banking channels need to be improved?
KIB uses a wide range of techniques to collect, process and analyse data to deliver significant enhancements across all areas of retail banking and focus further on becoming more customer-centric. Ultimately, this means that we can deliver more bespoke products and tools to our customers.
Technological advancements are beginning to undermine, and even disrupt, the nature of traditional banking methods and structures
In today's world, data reigns supreme, giving banks the opportunity to differentiate themselves from other players in a highly competitive market by introducing targeted, tailored banking products and services. KIB's strategy is to never remain stagnant amid these technological changes and shifts in consumer preferences. For that reason, the bank is looking to invest more in the latest technology and security features that allow for a better understanding of its customer base.
With more than 40 years of experience, what has changed in the industry and which values have remained important?
The banking industry has changed significantly over the past four decades, to say the least. Today, banks are facing irreversible changes across the areas of technology, customer behaviour and regulations. Technological shifts create new segments of customer utility, which in turn fuels further investment in technology.
Additionally, regulatory changes have driven more service and structural innovations, whereas shifting consumer expectations have pushed for more innovation in the customer experience. Today, banks are also focusing on raising awareness of social issues and concerns, alongside introducing innovative products and services.
However, with all these changes happening in the industry, customers remain at the heart of the business. Banks whose strategies remain customer-centric have proven to be more successful, as they operate in service of their customer base and continuously strive to meet their ever-changing expectations.
In what ways are international partnerships important for KIB to develop its banking services?
KIB is determined to position itself as a regional leader in the Islamic banking industry, and one thing is certain: partnerships are crucial to this. Partnerships have paved the way for the exchange of ideas, expertise and capabilities through collaborative advantage.
In this global economy, well-developed collaborations have proved to be extremely fruitful, and are of the utmost importance in achieving significant competitive advantage. We are therefore able to offer our customers a full range of innovative banking services.
Islamic finance has grown hugely in recent times. How important is technological innovation to keep this going?
The Islamic finance industry's growth has been spearheaded by innovative product and service developments, transforming the way banking services and financial products are offered. Banks nowadays are required to provide banking services using e-channels – and Sharia-compliant banks are no exception. Technological innovation has enabled Islamic banks – which, by their very nature, are very different from traditional banks in approach and model – to customise their offerings and meet the extremely specific needs of Islamic finance.
For Islamic banking to reach its full potential, it must ensure that it invests in technology in order to keep pace with an increasingly competitive market. In light of this, Islamic banks can leverage the power of technology to address all issues and challenges they face within the banking industry.
Does Kuwait International Bank have any plans for the future in this area?
The ingenuity and creativity that we continue to see from fintech firms – particularly in the area of product development – are starting to have a real impact on how organisations do business. With the surge of new technologies embedded in their day-to-day lives, customer expectations are also increasingly rising in line with the superior customer experiences and products that are currently being offered in the market.
In order to be a sustainable and successful business, our challenge is to continually deliver innovative Sharia-compliant solutions that meet these changing needs, leveraging emerging delivery channels to reaffirm the bank's relevance in customers' lives. Our goal is to expand our digital and mobile solutions and channels, but to also remain user-friendly in order to deliver the ultimate customer experience.
In addition, we must partner with fintech firms – a journey we have already started – and utilise both their innovative strategies and digital capabilities to reaffirm our key role in defining the future of the digital banking ecosystem, both locally and regionally.
Moreover, we have developed a strategic plan that aims to deliver a new, customer-centric banking experience. By becoming an insight-driven business, we will be able to use data for all of our decision-making and to ensure pricing strategies meet the needs of individual customers' needs, while also recognising further
areas for growth.
Another core component of this strategy includes changes to our organisational structure and the pool of skills and talents required from our team. As part of these changes, customer-centric design and innovation, without compromising regulatory requirements, will become critical to our business strategy going forward.
By incorporating more digital solutions, we will drive the bank towards becoming a more customer-centric business, delivering greater value to customers and remaining an indispensable element to their everyday lives.