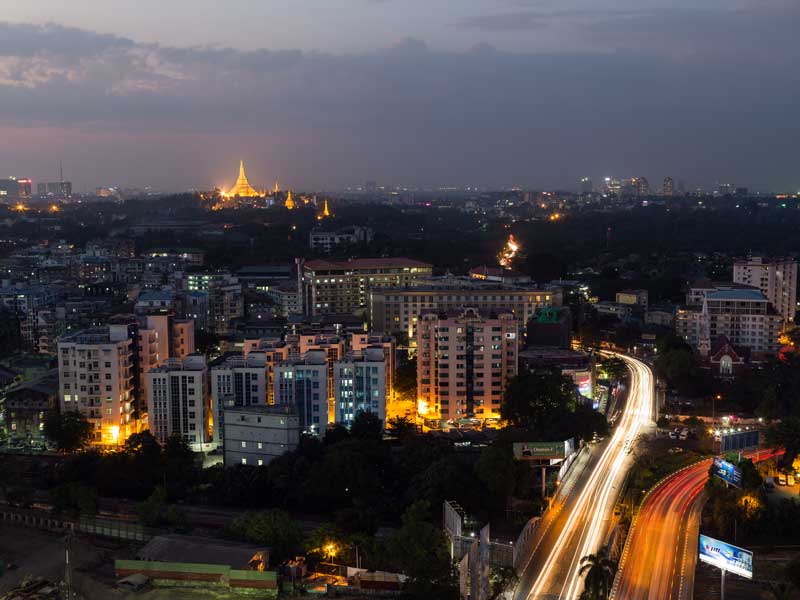 The financial services sector has been fundamental to the rejuvenation of Myanmar's economy and CB Bank is one of the institutions that has played a key role in this upturn in fortunes. &nbsp
Interview with:
Zay Yar Aung, Head of Card Department, and Wai Phyo, Head of Core Banking, CB Bank
Economic liberalisation came relatively late to Myanmar, but the country has been working hard to make up for its slow start. Following a military coup in 1962, the country was governed by an oppressive dictatorship and subsequently experienced the ignominy of being rated one of the least developed and most corrupt nations in the world. The election of 2011, however, marked a sea change for the people of Myanmar. When President Thein Sein's government came to power that year, a number of major reforms were implemented, aimed at boosting economic growth.
Products and services need to be easily distinguished by quality, characteristics, attitudes and lifestyle and should offer some level of personalisation
The impact was immediate. Foreign investment grew by more than 6,000 percent in 2011, and the following year the Asian Development Bank began considering the country for development loans. Myanmar's transition from economic isolation to a fully fledged participant in global affairs has continued under President Htin Kyaw, who became the country's first democratically elected head of state in March 2016.
Following hot on the heels of the government's own liberalisation efforts, private enterprise has played an important role in boosting Myanmar's economic fortunes. The banking sector in particular, which suffered as much as any under military rule, has flourished. There are now 13 foreign banks based in the country, in addition to 24 domestic private sector institutions. Among the latter is CB Bank, which has been meeting the financial needs of Myanmar's citizens since 1992. With more than 206 branches in the country and a growing ATM network, the bank has played a key role in improving financial inclusion. World Finance spoke with Ko Zay Yar Aung, Head of Cards and Merchant Services, and Ko Wai Phyo Aung, Head of Transaction Banking, at CB Bank about the rapid changes taking place in the industry and why digital banking is proving increasingly popular in Myanmar.
How important has the adoption of digital banking services been to Myanmar's growing role within the global economy?
Change is happening at a rapid pace, and emerging markets are expected to grow quickly in the global economy. As Myanmar continues to develop, the adoption of digital banking services has become a catalyst for growth and prosperity. The passing of the Financial Institutions Law of Myanmar in January 2016 represented another significant step forward. It acts as the governing law for both domestic and foreign financial institutions.
How has CB Bank's introduction of digital services helped with cash management in Myanmar?
Historically, cash has always been king in Myanmar, but cash management systems are a relatively recent introduction. Since its inception in 2004, CB Bank has been an early adopter of new cash management solutions, utilising its extensive knowledge of local markets and the relevant regulations. T24, the core banking system provided by Temenos of Switzerland, has enhanced connectivity by enabling bank branches to facilitate better services and improve the overall customer experience. Today, our bank's cash management products include electronic or paper-based payments, receivables solutions, liquidity management solutions and electronic delivery channels to multinational corporations, corporate clients, SMEs, NGOs, embassies and financial institutions.
What role does technology play in CB Bank's cash management services for its multinational clients?
We provide technological sophistication in straight-through processing and enterprise resource planning systems integration. With its new application of programming interface capabilities, the bank can now easily provide better digital services for its corporate clients. In order to ease the administrative burden of payment preparation and approval, CB Bank facilitates payment management through single file processing from its clients. The bank also provides bulk account opening for company payroll purposes.
Payment data confidentiality, integrity and security are the most important aspects, which is why the bank has introduced a virtual private network client service to its customers so authorised personnel can upload the payment file through a secure private connection tunnel.
In what ways has the introduction of more point-of-sale terminals and mobile banking solutions benefitted merchants and SMEs?
CB Bank began introducing ATMs in Myanmar in 2011, followed by accepting Visa, MasterCard and China UnionPay through its point-of-sale terminals in 2012. Myanmar is still a predominantly cash-based economy, therefore it presents difficulties for SMEs in the early stages of growth. Our goal is to reduce cash usage and facilitate more efficient merchant payment. By adopting new solutions, we can collect data on transaction rates, as well as saving and spending patterns. This data collection also leads to improved credit decisions and greater transparency.
To what extent is changing consumer behaviour, particularly among young digital natives, driving banks to adopt more digital services?
Digital banking is quickly becoming the method of choice for many citizens in Myanmar. The growth in technology has made mobile banking possible through SMS or mobile internet. However, digital natives currently require basic financial products to support their lifestyle. Banks need to design products and services that are tailored to their needs, simple to understand and user friendly. Products and services need to be easily distinguished by quality, characteristics, attitudes and lifestyle, and should offer some level of personalisation.
How important are CB Bank's recent partnerships with tech firms like Uber and Grab?
Uber and Grab have turned Myanmar's taxi industry on its head. Myanmar is leapfrogging into smartphones. The availability of mobile phones and the falling cost of data have resulted in a highly digital community. Further, development in mobile technology, the government's increased focus on boosting financial inclusion and a vibrant entrepreneurial community have created a thriving digital finance ecosystem.
Until recently, financial inclusion initiatives have been almost entirely bank-led. Within the past two years, however, we have seen a big push towards digital financial inclusion. The convergence of banks, telecoms players and technology start-ups is paving the road for higher integration and innovation.
In what ways are CB Bank's digital services helping drive financial inclusion in Myanmar?
CB Bank has launched the Agent Banking Service for the development of rural areas. Daily cash withdrawals can be made safely not only at CB Bank branches, but also with Easi Mobile agents. The system is designed to enhance financial inclusion, as banking agents are expected to act as delivery channels and to offer banking services in a cost-effective manner. Approximately 1,100 mobile agents are currently in operation nationwide.
Myanmar remains a cash-based society. How important is it that CB Bank continues to offer traditional services like ATMs and bank branches?
Banks are no longer just competing with other banks – they are also competing with customer self-reliance. To continue adding value and utility, banks have to become omnichannel. The banking industry will always respond to consumer demand, and today that means becoming digital while maintaining our traditional services. As of the 2017/18 financial year, we have more than 206 branches and 700 ATMs throughout Myanmar. Our branches can be found in every major region throughout the country, and our mobile banking agents are in many rural areas where there is no bank presence.
The latest addition to CB Bank's products and services is currency exchange machines. These are available at selective branches and offer notes in US and Singapore dollars, euros, Thai baht and Malaysian ringgit. The demand for currency exchange has grown in recent years alongside rising numbers of international travellers. The introduction of exchange machines has also improved the efficiency of the bank's operations by reducing the frequency of cash replenishment.
What measures has CB Bank put in place to ensure corporate social responsibility plays a key role in its products and services?
CB Bank has gone beyond simply writing a cheque, by volunteering, providing donations like water and food, and encouraging employees to donate by matching contributions. Disaster relief fund donation options are also available on our CB Mobile Banking application. We have a long-standing commitment to responding to communities in times of disaster – whether natural or man-made – humanitarian crises and civil strife. It's one of the ways we strengthen economic and social progress as part of our approach to responsible growth. We help our clients and teammates by leveraging our resources to assist individuals as they navigate a difficult time, and we're working with the KMA Foundation on the ground to help communities recover and rebuild.
What are some of CB Bank's plans for the future?
The forthcoming years will continue to bring more changes and pose new challenges. We are improving the quality of our operations and growing our client base. In 2018, CB Bank is focusing on new ways to create a user-friendly and more engaging digital ecosystem for the mobile banking customer. Our aim is to improve functionality prior to login and to redesign home pages to generate greater engagement using icons, personalisation options and visuals, and to combine increased functionality with an improved user experience through better navigation and design.
CB Bank QR code will allow all the merchants to receive digital payments without the use of point-of-sale swiping machines. It will also allow the customers of any bank to use their smartphone app to make payments using their debit card, but the further success of this scheme will also depend upon people's awareness of QR codes. Ultimately, the industry is shifting towards the digital and mobile banking era and so are we.