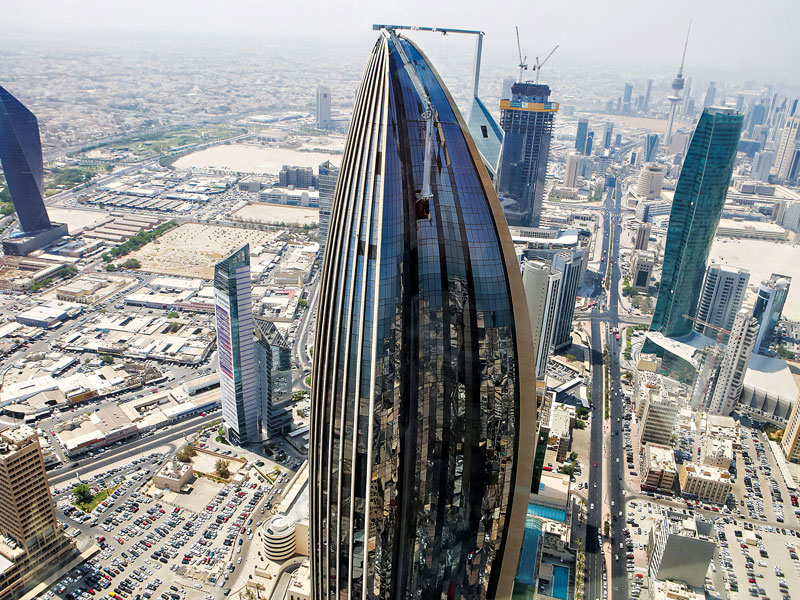 &nbsp
Author:
Raed Jawad Bukhamseen, Vice Chairman and CEO, Kuwait International Bank
Money – how it's acquired, saved, invested, or spent – shapes a great deal of our modern day lives. It's capable of moving entire markets within a matter of hours, and with it hurling global populations to where the demand is. At the centre of these shifting tectonic plates lies the banking and financial sectors, simultaneously driving change and responding to the newly arising market needs.
Since its birth in the early 1940s, Kuwait's banking industry has adopted the latest global trends and technologies, paving a path for other GCC countries to follow suit. With the worldwide migration of services to the digital sphere – a shift that was catalysed by the COVID-19 pandemic and its ensuing lockdowns – Kuwait's banking sector is steadfast in its commitment to keeping abreast of the global industry's developments.
In 2019, Kuwait hosted the International Banking Conference 'Shaping the Future,' which gathered regional and international banking pioneers and market experts to discuss the future of banking digitisation, cementing Kuwait's forward-looking efforts to digitally transform and evolve – especially in the banking industry – as part of the national 2035 vision for 'New Kuwait' to become a regional and international financial and trade hub.
Fast forward to February 2022, the Central Bank of Kuwait (CBK) announced that it will start receiving applications for digital bank licenses between the months of February and June of 2022, a decision that was met with excitement from industry insiders and consumers alike. Despite the news garnering a lot of hype for ushering in the market of digital-only banks, which operate entirely online, it also encouraged the traditional banks to expedite their digital transformation efforts to remain not only relevant, but ahead of the competition.
Among the market leaders whose digitisation efforts continue to set the tone for competition is Kuwait International Bank (KIB) – a bank that is no stranger to adaptation and innovation. Going beyond the narrow-sighted approach to digitisation, which limits it to developing digital alternatives to existing services and products, KIB utilises almost 50 years of experience and market insight in reimagining its inner workings and surrounding ecosystem to serve its comprehensive digital transformation strategy. But before delving any deeper into KIB's digital transformation journey, let's first pause for a moment to consider what digital transformation is.
It certainly is not a set of digital products and services delivered through a website or mobile application. What it is though is a complete paradigm shift in the way the banking sector interacts and serves its market, as well as the role it plays in society. As with any top-down reform, the digitisation of the banking sector requires institutions to take apart their building blocks and rearrange them in alignment with the philosophies, mindsets, and needs that drive the digital sphere, bearing in mind the entire ecosystem which spans staff, customers, market, and society. With this in mind, let's trace the footsteps of KIB, as a market leader, along its journey of digital transformation.
A solid foundation for a solid service
No matter how aesthetically appealing a structure is, no one in their right mind would ever invest in it unless it's built atop solid foundations. The same can easily be said of services, especially when they're as critical as banking and financial services that involve managing customers' hard-earned wealth. With decades of experience, KIB is no stranger to building solid foundations – a notion that it's been applying in the recent years to build a reliable digital infrastructure that's capable of lifting the weight of its extensive, all-encompassing digital banking arm.
By investing in its digital infrastructure, KIB guarantees that all of the digital-first services and products it offers through its online portal and mobile app are seamlessly smooth and glitch-free. More importantly, KIB continues to invest generously in fortifying its digital infrastructure cybersecurity front, safeguarding its customers' data and transactions against any fraud or theft. KIB, in its digital transformation journey, took a major step earlier this year by signing up with one of the biggest consulting firms in the world, with a mandate to modernise the bank's IT infrastructure and build up its digital capabilities.
Experience is king
As soon as the digital infrastructure has been setup and its security shields put up, it's time to start designing a customer journey that flows smoothly from one touchpoint to the next without hassle. With youth – aged 15 to 24 – making up almost one-fifth of the Kuwaiti population, followed by a whopping 52.32 percent of people between the ages of 25 and 54, understanding the mindsets of these majority age groups and their everyday needs is essential to the success of any bank's digital solutions.
With this understanding in mind, KIB spared no effort to understand its customers' every need and aspiration, designing tailor-made programmes that suit them, whether they are part of the tech-savvy youth whose entire consciousness was formed in the digital ether, or established adults who require management of bigger assets and more varied investment portfolios. However, this rings true to both traditional and digital banking, and KIB made sure their services and products succeeded however customers sought them out.
The real hallmark of the KIB digital experience is the integration of services that takes customers on a very smooth ride from the first sales or marketing touchpoint all the way to service fulfillment. To ground this in reality, it was essential for KIB to map out every single customer journey in utmost detail, making sure that the necessary in-app tools are developed to serve every milestone. Needless to say, these journeys were designed so that they can be fulfilled entirely in-app or on the bank's online banking portal, without the need for visiting a physical branch or submitting any paperwork.
KIB utilises almost 50 years of experience and market insight in reimagining its inner workings
KIB took integration further still by collaborating with the Public Authority for Civil Information in Kuwait (PACI) on utilising its database and digital 'Mobile ID' app to facilitate an online onboarding process for new customers. The bank will now be able to easily identify new users through PACI's Mobile ID and quickly verify and extract the required data. Upon obtaining their digital signature, KIB will easily register them as new customers and complete the online account opening transaction in much less time.
Recently, KIB also successfully managed to set up its digital factory; an innovation-focused concept staffed with the necessary resources and tasked with upgrading the bank's offering. As a result, the bank has started the development of several different digital solutions and products catering to all its major customer demographics. The team operates under a philosophy of dynamism and agility; adopting design-thinking methodologies, agile working protocols and utilising the latest technology solutions to ensure fast response to customer needs and market changes.
Change comes from within
What many institutions fail to see, though, is the equal need to restructure the work force in-line with the altered digital workflow. Digital is agile, it's 24/7, it's adaptive and responsive, and it's certainly innovative – merits that KIB made sure were adopted by its staff, to deliver a second-to-none online banking experience to its customers.
Through a series of training programmes that KIB offers periodically to its staff, the bank continues to put great emphasis on the necessity of developing its human resources in parallel to developing its services and products in order to deliver an impeccable, well-rounded, premium digital service to its customers.
With change not being the typical constant in the traditional banking context, succeeding as a digital banking service provider requires upgrading the institutions' inner working, shedding any underlying systematic and bureaucratic obstacles that impede change. Instead, an adaptable mindset that allows for more agility ought to be adopted, enabling the institution to respond swiftly to market changes as they arise.
Big wins start with big data
Among the most valued byproducts of going digital is the ease of data collection. Every transaction, interaction, campaign, or even complaint is a chance for banks to collect more data about their customers and the market. And unless you've been living under a rock for the past couple of decades, then you certainly know that data is the only commodity that can really propel any business forward, and banks are no exception. Data means better understanding of customers, which leads to a more personalised experience and higher retention. It also means more accurate campaign targeting that is capable of boosting any campaign's ROI.
In addition to applying the above, KIB also uses the wealth of customer data it's collected over the years to partner with market leaders whose products and services are sure to add value to KIB's customers. In the recent years, KIB has collaborated with automotive giants like Al Ghanim and Behbehani, along with worldwide favorite furniture brand IKEA to offer easy and flexible financing of their products, with a host of value benefits, delivered conveniently at their showrooms. Digital banking, like everything else within the digital sphere, is still maturing and shifting, allowing for new opportunities to rise. In this ultra-marathon, only the patient and vigilant can come out triumphant.