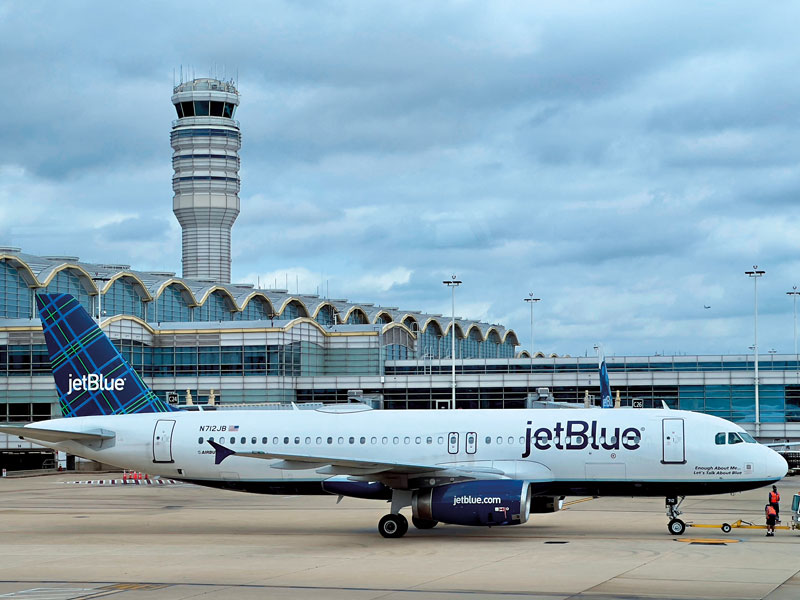 &nbsp
Author:
Sara Bogdan, Director, Head of Sustainability and ESG, JetBlue
We travel to see and understand the world, learning more about other people and places with each flight. At the same time, our travel and emissions contribute to climate change, impacting the same world and nature we seek to understand. How do we balance the critical utility of travel to connect people, promote the beauty of our planet, and power economies, while also limiting the impact on the environment we have at the same time?
This is the question we all face in the airline industry. JetBlue is proud to have been one the first airlines to sign the Climate Pledge to achieve net zero carbon emissions by 2040. We approach our sustainability efforts with the core belief that a healthy environment is more than a nice goal – it's crucial for our business and the protection of the beautiful destinations that we fly to. To hold ourselves accountable during our drive to achieve net zero carbon emissions, we have set a series of specific, measurable, dated, and aggressive decarbonisation targets and will soon be sharing our near-term science-based target approved by SBTi.
In the short and medium term, we continue our focus on in-sector reductions with moves like investing in sustainable aviation fuel (SAF), growing a more fuel-efficient aircraft fleet, electrifying our ground service equipment, and championing improvements to the aging air traffic control systems that have the potential to not only reduce fuel burn, but offer a better travel experience for everyone. We're also thinking long-term and exploring innovations on the horizon with alternative fuel technology like electric or hydrogen-based aircraft. This is a focus area of our JetBlue Ventures subsidiary, which invests in and partners to accelerate the future of lower-carbon travel technology.
But we also know we cannot achieve our net zero goals alone. Partnerships will ultimately be the most pivotal thing to help us all reach our sustainability targets. Whether it is working with regulatory bodies and governments for policy support, joining consortiums like the Sustainable Aviation Buyers Alliance (SABA) and Aviation Climate Taskforce (ACT) to share best practices, or partnering with like-minded businesses to find collaborative solutions, these partnerships require balancing priorities and mutual trust. For JetBlue, finding and championing those immediate opportunities to make an impact helps show everyone what is possible when we work together and encourage each other to push forward.
Sustainable flying
One of the most promising solutions we see to reach net zero, and the biggest example of where partnerships are critical, is with sustainable aviation fuel. SAF drops directly into existing aircraft and infrastructure with no impact to safety or performance and typically offers 80 percent reduction in emissions per neat (before blending) gallon on a lifecycle basis. Because of this, once SAF reaches commercial viability at scale, it will be a game-changer for our industry, driving down our emissions significantly and quickly. But despite the technology being well proven, SAF has long suffered from a 'chicken and egg' problem: there is a very limited supply available, which keeps prices high. With high prices, there is suppressed demand and ability from airlines to buy more of it. To reach the economies of scale necessary to increase supply and drive down the price premium, we need support.
Partnerships will ultimately be the most pivotal thing to help us all reach our sustainability targets
Public policy is one way we can advance SAF. Government incentives can close the price gap between SAF and conventional jet fuel, such as the United States' recently passed Inflation Reduction Act. We hope to see more state-based programmes like the successful California Low Carbon Fuel Standard (LCFS) programme in the Northeast US where JetBlue and so many other world airlines operate. In the absence of further policy support, all SAF for regular supply is likely to be delivered into California only. We regularly engage in advocating for these federal and state policy measures, participate in industry groups, and work directly with current and future SAF producers to encourage the emerging market.
Another way we can signal demand to the market is through the help of corporate partnerships. As more and more companies focus on their own sustainability goals, they are increasingly looking at their 'Scope 3' emissions: indirect emissions organisations are not directly responsible for but that exist within the value chain, such as those produced through corporate travel. By offering JetBlue-issued SAF Certificates to organisations, we have found a way to help offset the cost premium of the SAF JetBlue purchases, while also giving corporate customers the ability to directly and meaningfully reduce their business travel emissions. This not only allows us to continue to buy more SAF but furthers the entire market – encouraging a more sustainable future of flight.
This represents a shift in mindset for many. Only when we stop thinking about just where we can affect change within our own areas of expertise and start thinking about how we can collaborate for shared benefit, we realise our true potential and further our shared goals. At JetBlue, we recognise that we are in this together and welcome those partnership opportunities. We invite you aboard.