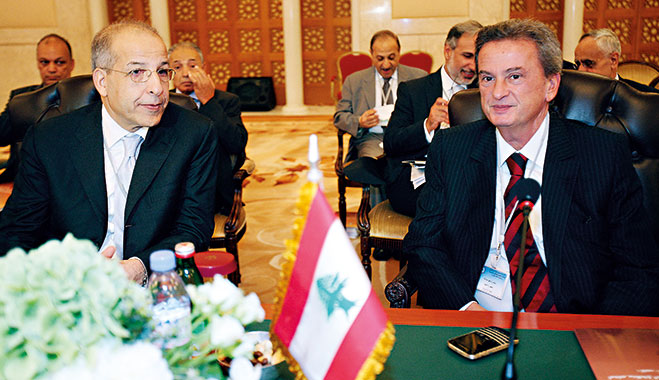 Riad Salameh, Governor of the Central Bank of Lebanon. He insists the banking sector is immune to political issues&nbsp
Author:
Ali Hejeij, Chairman, Middle East & Africa Bank
October 23, 2015
Despite its location in a region of economic and political instability, Lebanon's banking sector is a beacon of excellence and compliance. By offering a wide range of banking services and staying abreast of technological and regulatory changes within the international financial sphere, banking in Lebanon is among the world's finest.
One financial institution that epitomises this reputation in particular is the Middle East & Africa Bank (MEAB) of Lebanon. Since it was established in 1991, MEAB has maintained strong growth and continues to demonstrate an impressive level of resilience in the face of domestic and external shocks. With a strong commitment to customer satisfaction and unrelenting adherence to banking standards, MEAB continues to go from strength to strength, expanding its network both in Lebanon and beyond. World Finance spoke to Ali Hejeij, Chairman of the Board at MEAB about the country's robust banking industry and how it achieves growth in spite of regional challenges.
Over the years, the Lebanese banking industry has earned a reputation for being financially sound and stable. This remains the case today
Can you tell us about the present health of the banking sector in Lebanon and the ways in which it has evolved recently?
Over the years, the Lebanese banking industry has earned a reputation for being financially sound and stable. This remains the case today. According to the Association of Banks in Lebanon, Lebanese financial institutions exhibit a number of qualities conducive for a well-functioning banking sector, including a diverse variety of institutions, which offer both traditional and modern services. We also have a highly skilled work force and an overall commitment to international banking standards. The industry has received international attention for its ability to operate in a relatively unstable political environment and adapt to adverse environments, as demonstrated by the reaction of the country's banks to the global financial crisis.
What are the biggest opportunities and challenges for Lebanon's banking sector?
In spite of various domestic and regional challenges, Lebanon's banking sector looks forward to many new opportunities in the coming years. Just earlier this year in an assessment of over 100 banking systems in both advanced and emerging economies, Fitch Ratings characterised Lebanon's banking sector as one with a "low level of potential vulnerability". This is the agency's highest rating on its Macroprudential Indicator (MPI), which ranks Lebanese banks alongside those in Germany, Denmark and the US, among other countries. Furthermore, as Lebanese expatriates continue to venture abroad and form active diasporas worldwide, banks in Lebanon will be presented with additional prospects. In addition to a strong international reputation, Lebanese banks, including MEAB, have a continuous commitment to employing a world-class workforce and to reaping the benefits of technological innovation.
In terms of challenges, several of our neighbours in the region continue to endure substantial political and economic hardship, which has fuelled an environment of both domestic and regional uncertainty. Although these challenges are not small in nature, Lebanese banks have demonstrated an ability to not only withstand them, but to also perform excellently, even in the face of adversity.
In what important ways has Lebanon's tough economic and political situation hampered the banking sector?
Over the past few years, Lebanon has had to adapt to a number of significant changes, particularly those resulting from the ongoing crisis in Syria. As Syria's neighbour, we have seen a large influx of refugees, which has impacted both the political and economic landscape. The crisis has also affected what the IMF calls Lebanon's "growth drivers", namely its tourism, real estate and construction industries, which in turn influences the way banks operate within the country.
However, Lebanon's Central Bank Governor, Riad Salameh, has expressed confidence in the stability of the country's banking sector, stating that it has developed "immunity" to political and economic issues. This sentiment was echoed by a recent report issued by a Lebanese financial institution, which stated that Lebanese banks have performed well even in adverse global, regional and domestic situations. Furthermore, foreign operations only represent 15 percent of the entire industry's profits, meaning that the impact of such issues on Lebanese banks is limited.
How does the banking sector in Lebanon compare to neighbouring nations?
Lebanon's banking sector is quite strong compared to those of neighbouring nations and the region as a whole. One of the qualities that MEAB and other Lebanese banks have exhibited throughout the years is stability, even when operating in an environment that is unfavourable for growth and profitability. Lebanon is perhaps the most well known for withstanding global, regional and domestic shocks in the region, whether the challenges have been presented by the global financial crisis or years of enduring crisis in Syria. Some attribute this to Lebanon's accustomedness to operating within the uncertainty of the Middle East, as well as the willingness of banks to adhere to international standards. This is especially true for MEAB, which has continued to produce favourable results, despite the country's economic downturn.
How does MEAB stand up to regional competition?
MEAB has been recognised several times as one of the fastest growing and best quality banks in Lebanon, as well as the broader region. While much of the region faces political uncertainty and economic slowdown, we consistently achieve strong performance results, as evidenced by our latest annual report. We continue to exceed expectations for the provision of quality banking services within Lebanon and we intend to expand on such prospects abroad.
To what extent is compliance an important issue for the banking sector to grasp?
Compliance with international banking standards is of the utmost importance. Lebanese banks are held to the regulations put in place by the Banque Du Liban in consultation with the Higher Banking Commission, the Banking Control Commission of Lebanon, the Special Investigation Committee and the Consultative Committee. These groups work closely together to implement regulations and intensively monitor banking operations; they have received international praise for their policies. Not only do these organisations uphold the integrity of the country's commitment to compliance, but they also ensure that customers are continuously offered safe banking options. MEAB has always held high standards of compliance as a cornerstone of its operational procedure.
How has the regulatory environment in Lebanon changed, if at all, in recent years?
The regulatory environment here in Lebanon is driven by the central bank of Lebanon, Banque Du Liban, which sets the standards for the country's banking operations. In recent years, the central bank has worked to implement the Basel III framework and has thus established the guidelines for Lebanon's financial interactions with the rest of the world. Lebanese banks have a reputation for placing international compliance procedures at the core of their mission and activities. For example, in addition to operating under Banque Du Liban regulations, MEAB also develops policies in accordance to international standards, including those of the US and Europe.
How is it that MEAB and the banking sector have combated financial terrorism?
Compliance with international standards to combat financial terrorism is considered a top priority at MEAB. The bank's anti-money laundering/counter terrorist financing (AML/CFT) programmes meet the requirements of both the Banque du Liban and the international standards of the Financial Action Task Force. Currently, the AML software we are using is EasyNets, which is used for filtering and profiling. We are feeding into this software sanctions data from the likes of the EU, UN and US Office of Foreign Assets Control. In addition we are working with Dow Jones and Acuity AML software.
Our leaders are heavily involved in ensuring the efficacy of the bank's AML/CFT policies. This is achieved through our Compliance and Anti-Money Laundering Committee and board of directors, which carefully review and approve all policies and procedures. In additional all employees receive extensive training, while our Know Your Customer programme and customer due diligence procedures are also especially rigorous.
Compliance is a top priority at MEAB and important to any healthy banking sector, however, it is necessary to assess the impact of rigorous AML/CFT procedures. For many, especially those doing business in US dollars, regional instability region may encourage them to "de-risk", leading to a cessation of banking services. This is certainly not just an issue for banks in the Middle East, but is a concerning trend among banks worldwide.
What are your plans and ambitions for the future of MEAB and the banking sector?
Our goal is simple – to continue to fulfil our mission statement of offering the best banking experience to our customers and correspondents and to become the bank of choice in Lebanon and beyond. To do so, we will strive to uphold our promises to provide prudent and top quality banking services, demonstrate strong performance in the face of regional uncertainty and continue looking abroad for new opportunities. For the banking sector as a whole, we hope that Lebanon will further demonstrate its propensity for stability and resilience in the face of adversity.