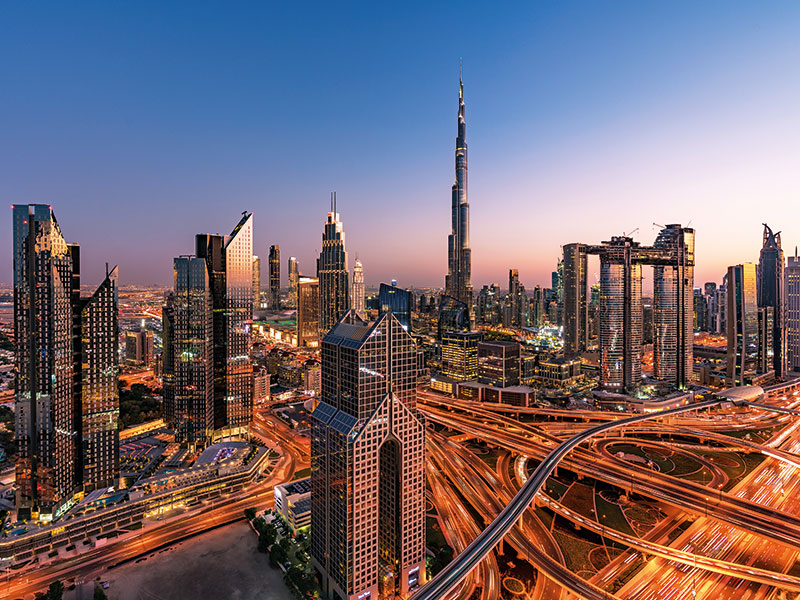 As a customer-centric bank, Mashreq is committed to offering easy access to financial services in the UAE and furthering financial inclusion&nbsp
Interview with:
Subroto Som, Executive Vice President, Mashreq Bank
The global banking industry is going through a period of rapid transformation, heralded by disruption and driven by emerging digital technologies. The changing landscape requires extensive collaboration from governments, regulators, institutions and individuals to create a strong financial and regulatory ecosystem that spurs the growth of innovative financial services.
With many economies increasingly striving to be cashless, innovations in digital banking and disruption from fintech firms are pushing progress. According to EY's Global Fintech Adoption Index 2019, India's consumer fintech adoption rate sits at 87 percent, far above the global average of 64 percent. According to Indian think tank NITI Aayog, the value of the fintech market in India could reach $31bn in 2020, while Accenture reports that global investment in fintech ventures in China was worth $55.3bn in 2018, showing just how lucrative a developed fintech market can be.
Consumers are increasingly choosing digital banking services due to the added convenience they provide. With digital-only banks and mobile wallets proliferating, financial inclusion is only set to increase. Recognising this trend, the UAE Government has established strong technological support for the country's banks.
Mashreq's focus is to continue improving the banking experience for customers through ongoing investments in digitalisation
Regulatory initiatives such as the Emirates Blockchain Strategy 2021 and the Emirates Digital Wallet are already underway, making it clear that digital banking is a major priority in this part of the world. This digital mindset is reflected by Mashreq Bank, the UAE's oldest privately owned bank. World Finance spoke with Mashreq's Executive Vice President and Head of Retail Banking Group, Subroto Som, about the bank's digital solutions and the role they are set to play in the country's economic development.
How is Mashreq leveraging technology to improve its banking solutions?
There is a large opportunity within the banking industry to provide scalable, robust and low-cost technology solutions to customers and to increase the adoption of financial services through digital offerings. At Mashreq, our approach is solution-driven: we want to improve the customer experience for our customers and ensure they are getting the best possible service when they need it, wherever they are. To achieve this, we have invested a significant amount of effort and resources in improving the customer journey.
We are investing heavily in data analytics and artificial intelligence (AI), and are also using robotics to automate a lot of operating procedures, manual entries and activities that are repetitive in nature. We are also both early and advanced users of AI and robotics. Separately, we work with a large number of fintech firms in the retail space – particularly in the areas of payments, wealth management, credit underwriting and Know Your Customer processes. We have launched several digital services and platforms that make it easier for customers to bank with us.
One of the most prominent is Mashreq Neo: launched in 2017, it is the UAE's first fully fledged digital bank. Over the past year, Neo has witnessed astounding uptake, accounting for approximately 70 percent of Mashreq's retail customer acquisition. Neo offers a digital-only banking experience that facilitates instant sign-up and a wide range of products and services, such as a stored-value account. In 2019, we launched Mashreq NeoBiz, the nation's first digital bank for SMEs and start-ups. We are working on several other major projects to expand these services beyond personal banking, catering to businesses and other client segments.
Further, we helped launch initiatives such as UAE Pass, a federal initiative to unify the digital authentication mechanism by unifying and providing one single username and password across several services throughout the Emirates.
What are the benefits of a high mobile penetration rate when it comes to banking?
Mobile penetration in the UAE ranks among the highest in the world, at 210 percent (see Fig 1). Easy access to smart gadgets, the government's commitment to providing digital services and the strong data connectivity offered by the country's telecoms giants all contribute to the region's high penetration rate. The current focus on delivering 5G to the country's mobile users will serve to boost digital commerce and foster even greater access to financial services for all citizens. High mobile penetration enables customers to manage their finances anytime, anywhere.
As a customer-centric bank, Mashreq is committed to offering easy access to financial services in the UAE and furthering financial inclusion. We understand this is only possible when services are delivered through a user-friendly and secure portal, such as our Mashreq Neo and NeoBiz platforms, which is why we continue to place them at the centre of our digitalisation strategy.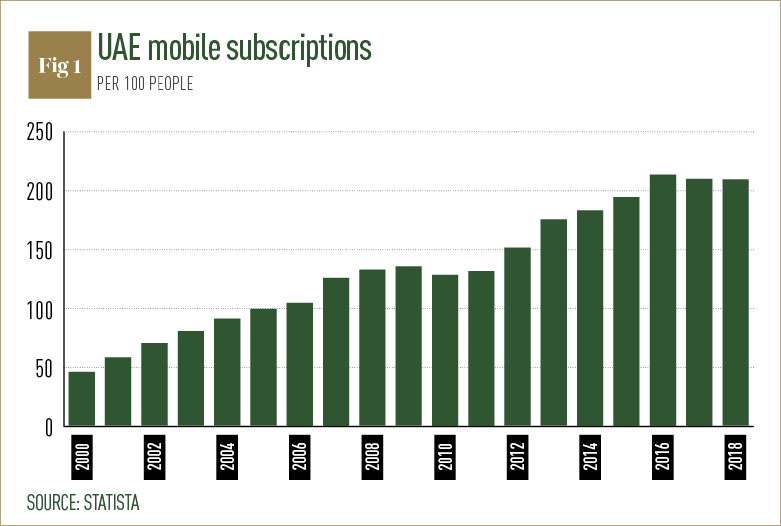 How advanced is digital banking in the UAE and how has it developed over time?
The UAE has always been an early adopter of cutting-edge technology and smart services. As outlined in UAE Vision 2021, the country is keen to achieve digital transformation in order to deliver economic diversity and prosperity. This strategic vision has reached the fiscal services sector, encouraging the country's financial institutions to become more innovative.
As a leader in digital banking, Mashreq has been responsible for several firsts in the UAE. The public response to our initiatives has been extremely positive so far, with consumers embracing the convenience and flexibility Neo and NeoBiz offer. With a favourable regulatory environment, increasing demand from the market and the benefit of cost efficiency, we can expect digital banking to go from strength to strength over the coming years. As one of the oldest financial institutions in the country, Mashreq is committed to leading this change.
What are Mashreq's most innovative digital banking products?
Mashreq continues to encourage the adoption of digital banking in the UAE and beyond. In 2019, we launched a programme to transform our branch network, introducing advisory services that encourage greater face-to-face interaction between employees and customers. For everyday transactions, customers benefit from state-of-the-art self-service facilities. We have plans to extend the range of these solutions to make banking quicker, easier and more accessible across our network.
Also in 2019, we added instant global investment capabilities for our customers through our mobile banking app, Mashreq Mobile. The newly added service provides access to international markets including foreign equities, gold trading and foreign currency accounts, and allows customers to open and trade various investment products. The launch enables instant account openings and trades over a diverse range of geographies, and allows customers to make and manage investments easily, 24 hours a day, at the touch of a button.
We were also the first bank to establish the payment solutions Masterpass QR and Alipay in the region, and one of the first banks in the country to introduce Apple Pay and Samsung Pay. In 2018, we launched our own digital wallet, Mashreq Pay, allowing our customers to simply tap and pay at retail outlets, and in 2019, we began investing heavily in emerging technologies, such as blockchain. Our blockchain initiative exemplifies technology that is secure, easy to integrate and automates the onboarding process for our corporate clients.
A first for the region, the platform ensures the protection of customer data while providing the convenience and flexibility of smart banking. With a launch planned for the first quarter of 2020, we aim to roll out the initiative to our business clients before exploring an expansion into additional segments. Notably, we also launched WhatsApp Banking, an initiative that makes it easier than ever for consumers to bank securely and quickly on the world's most popular instant messaging application.

How has Mashreq contributed to the UAE's economy and how will it continue to do so?
Mashreq has always supported Dubai and the wider UAE economy. We were at the heart of building some of Dubai's most iconic projects and some of the UAE's most significant infrastructure constructions, including the Palm Jumeirah, Dubai International Airport and the Burj Khalifa. We believe these iconic structures have changed the way people see Dubai. Beyond these projects, Mashreq has been the first mover on many occasions, demonstrating our commitment to the UAE's citizens, businesses and the wider economy. We have introduced many innovative firsts to the UAE market, which are now considered standard among businesses and consumers.
Today, there is increased demand for more digital solutions in the region's banking sector, and our digital transformation strategy remains a key pillar in our overall strategy moving forward. Our focus is therefore to continue improving the banking experience for our customers through ongoing investments in digitalisation. We strongly believe that by investing in the latest technology and the talent of tomorrow, we can introduce products that are innovative and relevant, while ensuring we are at the forefront of the changes taking place in the UAE and the wider region's banking sector. We thank and appreciate our customers, whose adoption of these initiatives has created the ultimate boost for digital banking in the UAE.