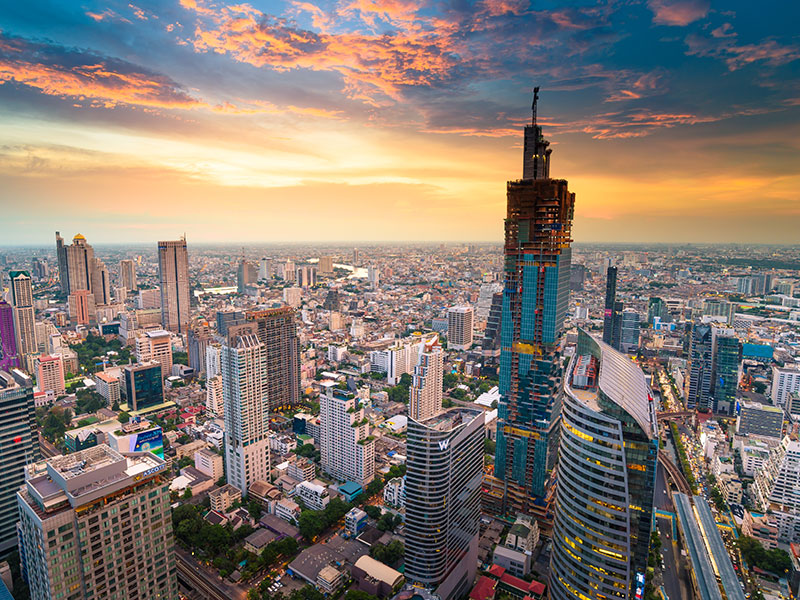 Bangkok, Thailand. As an organisation that places a high value on operating responsibly, Thai Life Insurance maintains a commitment to serving the local community&nbsp
Author:
Chai Chaiyawan, President, Thai Life Insurance
For more than 77 years, Thai Life Insurance has provided financial support to families. At the same time, the company has achieved sustainable business growth and adapted to meet the needs of a shifting market. We run our operations in a manner that prioritises stability to ensure we cultivate a sustainable competitive advantage. We are also careful to identify future marketing opportunities so we can respond to our customers' changing needs and develop in tandem with new business trends. It is our mission to become the first brand that consumers consider for their life insurance needs.
The world is rushing headlong into the digital age. This is causing significant disruption to many businesses, with consumers expecting access to new products, services and information. Thai Life Insurance is determined to develop alongside this change.
Finding the right fit
Thai Life Insurance recently announced it would be reinventing its business model and revamping its corporate culture through technological innovation. This new model – which we have named the Life Innovation approach – includes changes to our work processes, products, distribution channels, service development and risk management. It will also involve a shift in mindset and personnel development across our IT systems, including the creation of social value through our sustainable development goals (SDGs).
Thai Life Insurance's aims stretch far beyond boosting profit; we look to meet the needs of all stakeholders
This new business model moves the focus of life insurance away from death and disability and towards reflection on life. We will now look to emphasise illness prevention and health promotion to reduce the burden of ongoing medical expenses. Alongside this, we will support our clients with financial planning through new investment channels, which will help them and their families to have long, comfortable lives that are eased by wealth during retirement.
Thai Life Insurance has set a target of meeting every customer's life insurance needs. In particular, we are keen to ensure our products are always customer-centric. We are developing five distinct insurance plans within our product range to deliver life-planning resources to our customers, regardless of their age.
The first of our five insurance plans is called Money Fit. It combines financial planning and monetary savings with additional benefits, such as insurance, tax deductions, mortgages and pensions. The second, Investment Fit, provides investment-planning support that promises the returns needed to create a stable life foundation for the customer. It contains our Universal Life policy – a flexible life insurance plan that comprises adjustable benefits based on the client's needs. They can increase or reduce their coverage, add or withdraw savings, and switch to receiving higher returns from the many funds the company meticulously selects.
Our Legacy Fit plan allows clients to create a family heritage fund or save for a child's education in order to pass on stability to a loved one. Customers can create business protection collateral to use against a mortgage or an emergency reserve fund – including a scholarship fund – to accompany a child's estate.
Life Fit, meanwhile, provides life insurance and health protection when the insured individual is in good health, meaning there is a discount on the insurance premium and various privileges related to healthcare. This insurance plan aims to provide holistic healthcare and promote the four key areas of our Circle of Wellness scheme: self (strong physical health), sense (strong mental health), stability (financial wellbeing) and spirit (spiritual happiness). Finally, our Health Fit plan delivers health and medical expense coverage to individuals and their families, including additional health insurance contracts, accident insurance and protection in the event of a serious disease diagnosis.
Life skills
In addition to creating our Life Innovation approach, Thai Life Insurance has worked on developing new technology that will deliver faster and more convenient services while increasing operational efficiency and boosting workflow. Our new business model attaches a great deal of importance to changing the attitudes of people within the organisation. In particular, we recognise that our life insurance agents are more than just salespeople: with their understanding of the life insurance field, they have the knowledge and compassion to be support systems for our customers.
To ensure all our employees are able to create value and deliver it to our customers, we regularly assess our personnel according to each individual's skills, qualifications and production results. We are happy to provide guidance and support to ensure our staff join the training programme that suits their skill set and career ambitions. All employees must possess three key skills.
Thai Life Insurance was among the first life insurance firms in Thailand to place an emphasis on social responsibility and champion it alongside business success
First, knowledge is vital: our staff must have a strong grasp of various life insurance products, health insurance solutions, financial savings opportunities, potential investment areas, tax regulations and health developments to deliver the greatest value to clients. Technological aptitude is another vital skill: technical know-how helps our employees be more effective, whether they are making sales presentations or creating smart contracts. We call the third attribute the 'spirit skill'. This is characterised by service that comes from the heart, displaying the kind of empathy and sensitivity that sets the agents at Thai Life Insurance apart from those at other firms.
By focusing on building skills across these three core competencies, we aim to shift the mindset of Thai Life Insurance sales personnel and empower them to cater to each customer's needs. We also organise an annual Thai Life Family Spirit seminar, which allows sales agents to gain valuable customer insights regarding the importance of maintaining a human connection even as we embrace the latest technological innovation.
The greater good
Encouraging our employees to realise the value of life and people while creating shared benefits for the company and wider society is of the utmost importance to Thai Life Insurance. Our aims stretch far beyond boosting profit; we look to meet the needs of all stakeholders, from customers to employees, shareholders and business partners.
As an organisation that places a high value on operating responsibly, Thai Life Insurance maintains a commitment to serving the local community. In 1995, we established the Thai Life Insurance Foundation to focus on community service. Since then, we have taken particular care to offer support to the country's armed forces. To uphold our corporate social responsibility values, the company has set itself three SDGs.
The first goal involves our 'promise' strategy, which emphasises the importance of managing the organisation with progressive human resource values and a strong adherence to good corporate governance. The second, our 'protect' strategy, seeks to bolster customer trust by delivering quality products and services that meet the needs of every consumer group, while also incorporating effective risk management. The third goal is our 'prosperous' strategy, an initiative that furthers our other SDGs by ensuring our operations are consistent with broader economic, social and environmental trends.
Thai Life Insurance was among the first life insurance firms in Thailand to place an emphasis on social responsibility and champion it alongside business success. When it comes to achieving SDGs, private enterprise and wider society must work together to achieve a brighter future for all.