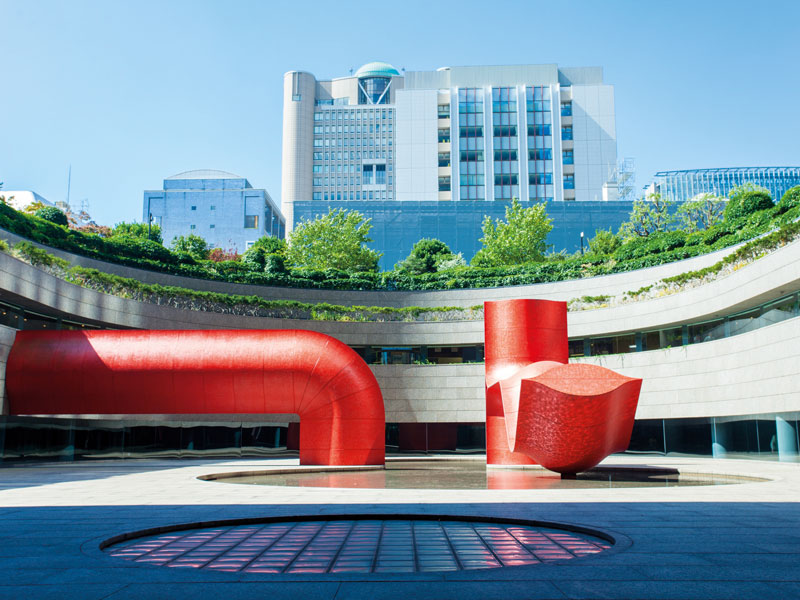 Mitsui Sumitomo Insurance building in Tokyo, Japan&nbsp
Author:
Shinichiro Funabiki, Director, Vice President Executive Officer, Mitsui Sumitomo Insurance and Chief Digitalisation Officer, MS&AD Insurance Group Holdings
Mitsui Sumitomo Insurance boasts a history of more than 100 years, dating back to the establishment of Osaka Insurance Company in Osaka in 1893 and Taisho Marine & Fire Insurance Company in Tokyo in 1918. Both companies grew in tandem with the post-war economic recovery, with Osaka Insurance merging into Sumitomo Marine and Fire Insurance Company in 1954; and Taisho Marine and Fire Insurance also went through a number of mergers and was renamed as Mitsui Marine and Fire Insurance in 1991. Later, in 2001, the two companies merged to form the present Mitsui Sumitomo Insurance.
Mitsui Sumitomo has roots in both the Sumitomo Group, which has a history of more than 400 years, and in the Mitsui Group, which has a history of over 340 years. Today, Mitsui Sumitomo Insurance is one of the largest non-life insurance companies in Japan, a Fortune 500 company with a global reach, and a core part of MS&AD Insurance Group Holdings, itself formed in 2010. MSI is number one in the Japanese non-life insurance market, with profits of almost 143 billion yen ($1.35bn) a year with the most recent final results, and number one in terms of gross premiums written in the 10-nation ASEAN region. They operate in a total of 49 countries and regions based on the knowledge and credibility cultivated from more than 90 years of overseas expansion.
However, despite reporting a rise of 2.3 percent in net premiums written, to 1.5479 trillion yen in its last financial results, the company, led by Noriyuki Hara, president and chief executive, is not standing still, as it seeks to improve the service it offers to both its customers and its agents.
A perfect fusion
MSI believes it has transformed the conventional insurance company sales model for its 40,000 agents in Japan by developing what it claims is the first artificial intelligence-powered agent sales supporting system in the industry, MS1 Brain, a fusion of humans and artificial intelligence (AI), combining customer relationship management (CRM) with sales force automation (SFA). The agent is able to uncover the customer's potential needs through analysis of massive amounts of data, with MS1 Brain then suggesting what insurance products to propose and in what way. In addition, by collecting customer information and accumulating it in the AI system, agents create a sustainable system in which AI and people grow together.
Since MS1 Brain was launched in February 2020, it has provided agents with 860,000 individual sales leads per month and 80,000 corporate sales leads per month, with sales agent productivity increasing between 20 and 130 percent compared to the conventional sales model. We take pride in the ease with which we interact with our customers. We build strong relationships and we strive to build client trust. The experience we have gained will be integrated with AI to provide customers with an improved level of experience. Using digital technology we will revolutionise communications with our customers. MS1 Brain will be our tool for change.
It will mean a revolution in proposals, with the use of AI to analyse big data. Predictive needs analysis will inform us of customers' potential needs, resulting in a 'Brain Video' proposal presentation, with recommendations personalised for each customer. This will create opportunities never seen before. We are building a process for insurance proposals where each step of the way is guided by 'Next Best Action,' which accumulates the know-how practised by experienced agents, with objectives and effects made clear.
Strategic sales plan
For its agents, by adding a data-based approach to accumulated experience, MS1 Brain will enhance sales activities, bringing a revolution in management support: data to maximise profits and grow the business, the ability to view sales activity and improve performance through graphic visualisations, develop a strategic sales plan, and become a 'management compass.' Proposals backed by carefully parsed data, actions modified to higher degrees of accuracy, and better management, will be realised through a combination of human knowledge and AI. The MS1 Brain is very intuitive and user-friendly, even for those who do not have a lot of experience as an insurance agent. Recommendation analysis predicts customers' needs via AI and automatically tells agents the recommended products every month. Customer needs are indicated by a star-rating system. For corporate customers, it reviews a variety of products, such as casualty insurance, while for individual customers it looks at products such as well-compensated automobile insurance and life insurance, and gives reasons for the recommendations.
For corporate customers, MS1 Brain can also analyse partner companies' needs with the corporate information of a credit research company. It displays analysis recommendations for sales customers and suppliers; in addition, top tips and scripts for approaching customers and role-playing videos for practice are also provided.
It also has a management menu that shows the activity of the agents' representatives, including what kind of customers they are approaching, and allows managers to optimise the skill of the agents and the level of the next best actions they want them to use on the settings screen. The management function allows managers to check the status of the agency, compare its performance against other agencies and plan sales initiatives based on this information.
Customers are analysed based on transaction periods and insurance premium size to enable managers to make proposals to customers in a systematic manner. The MS1 Brain helps managers develop management strategies effectively. The management menu ensures that all agents use the system properly.
Innovative digital approach
The development of MS1 Brain is part of an attempt by MSI to transform the conventional non-life insurance business operation and sales model, both within the company and across the insurance industry as a whole, with an innovative digital approach that has three main pillars: digital transformation, digital innovation and digital globalisation. To support this approach the company is also digitalising human resources, digitalising system infrastructure and digitalising governance.
On the digital innovation front, MSI launched a new service called RisTech (Risk × Technology) in May 2019, combining data held by MSI and its clients to offer risk analyses and reports, to provide new opportunities in risk management that go beyond conventional insurance. The initiative, led by MSI's Digital Strategy department, alongside its Corporate Sales and Product Planning departments, has seen more than 150 companies in different industries approached by September 2020, and more than 20 billion yen of insurance premium sales achieved. We are aiming to visualise and minimise risks that could not be done through conventional approaches, thereby protecting companies, communities and the earth from accidents and natural disasters in order to create a hazard-free world.
Another initiative saw the development of a digital insurance platform utilising API (application programming interfaces) to enable someone to buy an appropriate insurance product at the same time as they make a purchase, by embedding the related insurance proposal in the digital platform used by the sellers of goods and services. Someone buying, for example, goods such as home appliances and smartphones on Yahoo Auction (Yahoo's eBay-style service, which is very popular in Japan) can now buy purchase product repair insurance at the same time, with the system integrating the online completion of accident notifications and claims, while still maintaining a smooth user experience.
As well as MS1 Brain, the innovations include:
» Responding to customer inquiries and procedures through chatbots
» Advanced detection of fraudulent claims using AI
» Installing a sales performance dashboard system using Business Intelligence tools, a procedural and technical infrastructure that collects, stores and analyses the data produced by a company's activities
» Setting up a workflow system for application and reporting work between employee and within the company and agents
» Organising a web-based deficiency management system that will enable agents to solve issues by themselves
» Bringing in the automation of routine work by using RPA (robotic process automation) software designed to reduce the burden of repetitive, simple tasks on employees.
Improving customer experience
MSI's Digital Globalisation project involves global digital hubs both in Tokyo and in Singapore, opened in April 2020, to promote digitalisation and solve the issues involved in connecting digital assets worldwide, improving the customer experience and business process productivity, especially in Asia. At the same time, MSI is promoting a data analytics initiative with its subsidiary, the City of London-based MS Amlin, which provides insurance cover to commercial enterprises and reinsurance protection to other insurance companies around the world, and which was acquired by MSI in 2016 for £3.5bn.
To support these initiatives, and in order to realise the creation of new digitalised business models, as part of its digital strategy, Mitsui Sumitomo Insurance is working to improve the basic digital literacy of all its employees and develop 'digital human resources' as well. The company has assigned a 'digital ambassador' to act as a change agent in each department and drive operational efficiency and process innovation. It is training data scientists who will contribute to building a safer and more sustainable society by analysing data.
It is also implementing original educational programmes in cooperation with universities to nurture personnel who can create ideas and develop advanced analytical skills for business issues and, ultimately, plan and realise ideas of unprecedented social value.
To enable its digital initiatives to take root as part of the company's internal culture, a comprehensive system will be constructed and operated, including the creation of what is being called the Digital Human Talent Certification System, to provide an open innovation space that will offer places for MSI's employees to use their new digital knowledge and specialised data analysis skills and apply them to the company's business.