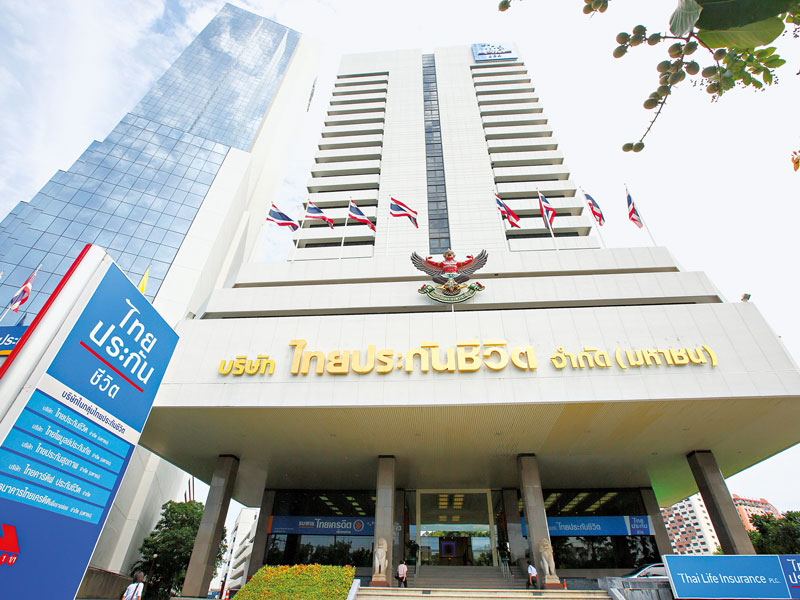 &nbsp
For more than 78 years, Thai Life Insurance has run with the vision of aiming to be a leading brand that inspires every life, by operating as a business that focuses on people from all sectors, because the company believes that people are the key to the success of any organisation. Therefore, it aims to focus on its customers, personnel, shareholders, business partners and people in society on the basis of caring, trust and sharing.
To ensure this, Thai Life Insurance has chosen a sustainable path, optimising profits and reinvesting a portion of those back into society because they believe that if the surrounding community is strong, the company will continue to grow and feed back into the sustainability cycle. Thai Life Insurance is therefore the first life insurance company to develop a sustainable development goals (SDGs) master plan in collaboration with the Thaipat Institute, in order to create shared value between companies and the community. The master plan achieves this by grouping goals into three main strategies according to the sustainability standards of the international insurance business.
Promise strategy
Thai Life Insurance has, from its infancy, been determined to develop into a leading international life insurance company with an aim to help create financial stability for all, and to operate as a trusted partner who supports its customers. It is only with professional organisational management, good corporate governance and human resources management that this can be achieved.
In 2019, the company announced that it would be reinventing its business model and following a 'life solutions' approach, considering the well-being of the customer through the development of the organisation in all aspects, including products, services, distribution channels, human resources development, administration, and branding. This came out of a desire to cultivate a sense of help and support within the company, developing the potential of its employees so that they are knowledgeable, considerate and well-rounded. The sharing of these common goals has been key to a strong company culture.
In particular, the company has helped to develop the role of its life insurance agents to become 'life solutions agents.' Tasked with taking care of customers in every phase of life, they promote healthier, wealthier lives for customers through three features.
Firstly, 'life provider,' which is to be a trusted adviser, ready to give advice and take care of every stage of life with more than 200 life insurance plans.
Secondly, 'health provider,' which is to take into account the health of customers, and give advice and recommendations for hospital visits to all customers at any time.
Thirdly, 'wealth provider,' which is to advise on financial stability, and help customers to make progress with savings and investment.
The company aims to enhance the capabilities of its employees in all aspects, whether it is the development of skills, knowledge, international standards of work, the spirit of caring, known as 'Omotenashi,' and also professional ethics, with specific training courses available at all levels.
The courses are held on a regular basis each month and adhere to the requirements of the Office of Insurance Commission. We provide courses for obtaining an insurance agent licence, for insurance agent licence renewal, and for a code of knowledge for life insurance policy application to name but three.
Our courses also cover the fundamentals, including a basic understanding of the life insurance business and the codes of conduct and good practice, which is vital when striving to maintain the highest levels of professionalism for life insurance agents.
At the same time, the company is also seeking ways to develop knowledge and work potential by adopting technology to help in the effective development of personnel. It has taken steps to achieve this by initiating and applying new technology to support the learning process of all personnel thoroughly.
Protection strategy
Technology has been instrumental in helping Thai Life Insurance strive to meet the needs of its customers by creating products and services that are quickly and easily accessible. The continuing evolution of these products means that the systems and processes behind the user-friendly services are continuously reviewed and improved to ensure maximum efficiency. We hope to be able to provide the very best support to our customers during the transition to this new digital era.
We have considered new aspects such as a fresh look at the Thai Life Insurance app, a service that facilitates access to any policy information and where users can log in and do business in one place. Customers are able to check their personal information online, including policies, change their address, phone number and email, download insurance payment certificates, display a list of premiums to be paid, pay for their insurance via mobile banking and credit card, and search for network hospitals. Along with those benefits, we have also provided customers with access to 'Thai Life Insurance Life Fit' and 'Thai Life Insurance Privilege' projects in order to promote better health and a better life.
Technology has been instrumental in helping Thai Life strive to meet the needs of its customers by creating products and services that are quickly and easily accessible
Also reviewed was the medical second opinion (MSO), which is a consulting service, a special supplementary service which the company runs in collaboration with MediGuide, a medical consultant expert with over 20 years of experience, and there is a service network from more than 100 leading medical institutions around the world, including the US, UK and China, which customers receive free access to.
The Thai Life Insurance virtual hospital was created in order to encourage customers to have good health through preventative healthcare. Thai Life Insurance partnered with Samitivej hospital to create an ecohealth system to help connect customers with healthcare and also to promote good health. Customers will be able to access medical services conveniently anytime through 'Samitivej Plus,' an app that was created to guide customers through each step of their experience; before they come to the hospital, during their stay, and after they return home. Customers are also able to consult a doctor 24 hours a day at their convenience, for a reasonable fee. In 2019, in order to prepare for its digital transformation, Thai Life Insurance laid the foundation for IT and digital works in line with changes such as the data driven customer experience (DDCX) programme, which drives advancement to the customers' experience by analysing customer data to find suitable products and services. This has been invaluable for helping our representatives find and present the right products at the right time.
The sales agent qualifications are set at four levels according to skills, qualifications and production of work referring to the following criteria:
1. Life Partner Qualification (LP) – must hold a life insurance agent licence and be enrolled in the training according to the specified curriculum.
2. Life Partner Prime Qualification (LPP) – a unit manager level or higher who has passed the life partner courses.
3. Financial Partner Qualification (FP) – a unit manager level and higher who has completed LP training and registered as a universal life seller.
4. Financial Partner Prime Qualification (FPP) – a unit management level or higher with an IC licence to sell unit linked products and who has passed the training courses set by the company.
Prosper strategy
We are committed to being a life insurance company with a volunteering spirit, we encourage our people to play an active role in the community
and in doing so, to help enhance the quality of life of others. The company has raised its corporate social responsibility operation towards
creating shared value (CSV), by developing a business model for creating economic values that are shared between society and the company. It is with this that the company hopes to fulfill the needs of stakeholders in all sectors.
The company also initiated a project called 'Thai Life Insurance, opportunity for better life,' during 2019. This is a shared initiative between the company and community that mobilises our people at the sub-district and village levels to use their own local raw materials, resources, capital and labour to provide knowledge in the form of 'teach to do, and to make it practical,' to community enterprises throughout the country. The objective is to provide people in the community with a better quality of life, more money, better health and a long and prosperous life. By bringing knowledge, skills and expertise from experts and representatives of the company and passing it into the community, we can also help improve the overall development of sales, communications and financial management skills among our customers, including knowledge of life and health insurance. The company's sale agents in the area can act as coaches as well as an intermediary, helping to build a good relationship between the company and the community as well as creating a good image for the life insurance business.
Increasing knowledge
Moreover, the company has also opened product distribution channels to community enterprises across the country, and farmers who produce healthy products now have access to an online marketplace through a Facebook group called 'sustainable marketplace' that serves as an online community for presenting products, including a comprehensive hub to increase knowledge from project speakers, and from which community members are able to learn and study at anytime. Thai Life Insurance is therefore the first insurance company aiming to develop business operations with a sustainable goal in mind in Thailand. To do this successfully, it must continue to nurture education within the company and caring in the wider community. By striving to improve the well-being of its customers, Thai Life Insurance will continue to be an organisation that grows sustainably alongside the Thai people