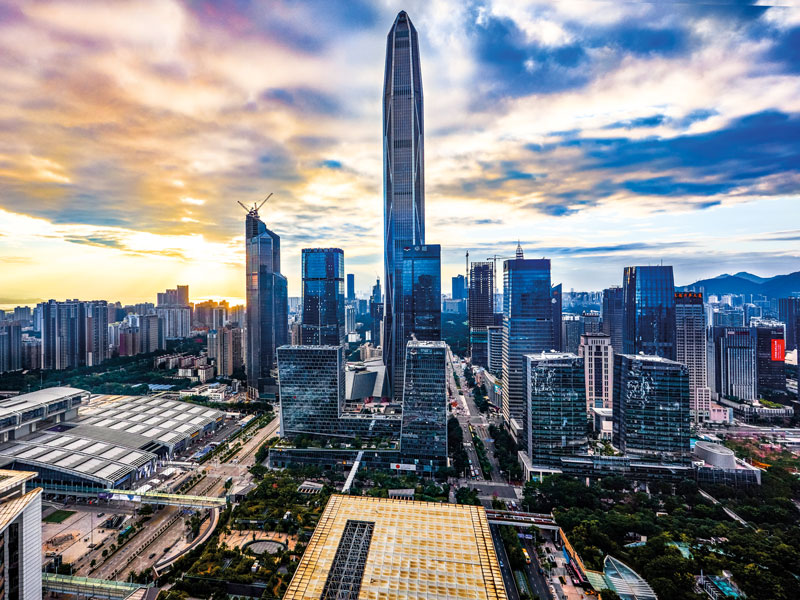 &nbsp
Author:
Ping An Property & Casualty Insurance Company
As one of the world's largest and most populated countries, it should come as no surprise that China's digital economy is of a scale to be reckoned with. With some one billion 'netizens,' businesses in China need to serve huge numbers of people and be reliable, accessible and, vitally, fast. Using the example of revolutionising car insurance claims with AI, image-based assessment, and reliable data processing, Ping An Property & Casualty Insurance Company (hereafter Ping An P&C), a wholly-owned subsidiary of the Ping An Group, explains how the insurance firm has achieved the seemingly impossible.
There are an estimated 340 million cars in China, all of which need insurance and multiple other services. As one of the world's largest insurers, Ping An P&C has created an enviable digital offering for car owners: an app that settles accident claims in as little as two minutes. This app provides users with a one-stop experience, not only for accidents but for an ever-expanding range of auto services from roadside recovery to valeting, and, new for 2020, COVID-secure sterilisation. This is even more impressive when you look at the stats: there are 83 million bound vehicle users on this app, registered to over 123 million users, so the scale of the operation is mind-boggling, as is the market share covered by Ping An P&C's unique 'ecosystem' approach.
A digital ecosystem
With the vigorous development of a new round of information technologies, especially digital technologies including big data and AI, it is imperative for the insurance industry to accelerate its digital transformation in order to keep pace. Since its establishment in 1988, Ping An P&C has adhered to a strategy of stable and healthy development, and in recent years has hired technology talent from home and abroad, and reshaped its organisational structure and corporate culture as a technology-driven company. The company developed such capabilities as cloud computing, big data and mobile applications, and advanced the digitalisation of its various businesses. The Ping An Auto Owner app is a product of this ecosystem transformation, and crucially provides an infrastructure for the company to reconstruct the auto service industry chain as a whole.
Super swift settlement
So how does it work? Take the platform's distinctive service 'vehicle loss calculation' as an example. In the past, car owners had to be familiar with repair shop rules, the structure of vehicle parts, and be able to haggle over the price. The Ping An Auto Owner's smart car loss calculation function has completely solved this issue. In the event of a traffic accident, the car owner only needs to take a picture of the scene, especially the damage caused by a collision, and upload it to the app. The loss report can be generated within seconds, and the premium for the coming year can be estimated immediately to help customers decide whether commercial insurance needs to be used or not. In addition, a reasonable repair price will be accurately generated, and a reliable repair shop recommended. This saves time comparing different repair shops and enables customers to obtain the best maintenance package.
The company has also taken quality and accuracy into account, laying a solid foundation for a data-driven system and ensuring the veracity of claims. In 2019, the precision of Ping An's digital reporting and processing defeated over 100 international and local participants to take the top ranking in the Robust Reading Challenge for Scanned Receipts Optical Character Recognition and Information Extraction (SROIE). This in turn engenders consumer confidence, knowing that the app's eye-watering processing speeds are underpinned by reliable technology and an award-winning level of precision.
Claims during COVID-19
Since the coronavirus outbreak began, Ping An P&C has added a new aspect to its services: that of epidemic containment. It strengthened its online services and fast-track claim settlement with these technologies, ensuring not only an efficient, convenient customer experience but critically, a minimal number of contacts. For example, its 'one-click claims service' enables 36 functions for car owners, including reporting, uploading car accident photos and documents, signing agreements, input of payment information, claims progress enquiries, and auto repair service booking.
It is human nature that we seek ease, convenience and simplicity when making decisions, and businesses the world over have taken advantage of this knowledge
It is not an automated service to the exclusion of any human interaction, of course. The company ensures its back office procedures are as smoothly digitalised as the customer-facing element, allowing claims settlement experts to be on hand to answer questions, help customers with the claims process, and ensure access to contactless, super-fast, easy services for car owners during the COVID-19 pandemic. In 2020 the online claims settlement service has been delivered to nine million customers and counting, 95 percent of whom have used the 'one-click claims service' function, and the app has achieved a 95.7 percent positive rating. During the epidemic, the fastest auto insurance claim took only two minutes to close.
Car owners' various service demands obviously changed during the COVID-19 pandemic, and contactless online service including emergency electricity connection, car disinfection, automatic refuelling, pandemic prevention, annual car inspection agency and subsidies for green transportation were all launched on the app immediately so that Ping An P&C could provide car owners with more considered services while contributing to pandemic prevention and control. The app is even able to help car owners develop safe driving habits. The optional 'safe trip' feature can record driving behaviours – with the consent of car owners – and significantly reduces driving risks by providing risk assessments and prompts for bad driving behaviours and generating improvement plans.
An integrated service
But the convenience doesn't end there. When it comes to insurance application and renewal, Ping An Auto Owner can generate personalised auto insurance plans in just seven seconds and accurately recommend product portfolios for customers based on AI image automatic classification, OCR recognition, smart marketing and other technologies.
The potential for expanding customer offerings and keeping people coming back again and again through convenience alone is obvious. If it only takes customers a few minutes to purchase insurance products thanks to AI-driven automatic enquiry, why would they leave the service and go elsewhere?
By building an ecosystem, Ping An P&C links users with service providers, helps partners improve their operating efficiency, provides users with considerate services, and effectively balances the needs of users and those of partners.
Through this ecosystem, Ping An P&C ultimately provides users with 80 types of one-stop services including parking payment, fuel card recharge, vehicle loss calculation and refuelling discounts. Up to now, Ping An Auto Owner has integrated a total of more than 190,000 outlets, including over 59,000 maintenance outlets, over 78,000 repair shops, and over 30,000 4S car dealers. This is another smart move on Ping An P&C's part: with such an enormous market share and the convenience of staying with them year after year, it is in the interest of auto business owners to be affiliated with the name of Ping An P&C. This enables them to secure incoming business as well as providing the extra level of customer confidence brought about by association with such a huge insurance provider.
Looking to the future
With the rapid development of information technology such as big data and AI, the acceleration of digital transformation in the insurance sector is a must. Amid the wave of digitalisation and a persistently complex and volatile landscape worldwide, Ping An P&C's new vision to be a world-leading technological property and casualty insurer has driven its increasing investment in scientific research. Moving forward, the company aims to become a property and casualty insurer that is powered by technology, data, and an ecosystem approach.
In its retail auto insurance business, over 90 percent of Ping An P&C's quotes are made automatically, and the first quote is accepted. As no manual data entry is required, the turnaround time from quotation to policy issue is as short as 20 seconds. This is clearly an attractive option; if customers do not even need to fill out a form or go online to compare the insurance market, it is much less tempting to stray to a competitor.
It is human nature that we seek ease, convenience and simplicity when making decisions, and businesses the world over have taken advantage of this knowledge: consider Amazon's one-click offering that makes online purchasing effortless. Ping An P&C is utilising similar factors when offering their 20-second turnarounds and in-app purchasing. Ping An P&C clearly knows that making things easy for their customers will lead to repeat business and allow customers to feel like they are on top of things, which in 2020 is no small feat.
Up to now, Ping An P&C has developed and offered more than 1,000 types of master insurances, and its business scope covers all the lawful property and casualty insurance you would expect, such as auto, corporate property, engineering, liability, cargo transportation, agricultural and more. In developing a way to turn the potentially stressful experience of auto claims into a secure, reliable, and almost instant process, you can't help but wonder what other areas of insurance this comprehensive technology could be applied to in the future.