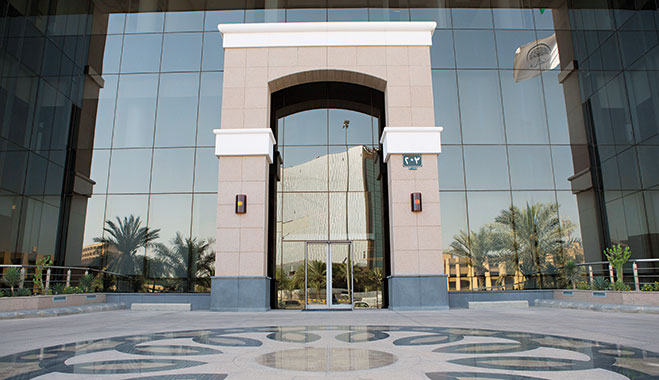 MASIC head office in Riyadh, Saudi Arabia. The company is optimistic about the Kingdom's future now its capital markets are open to foreign investors&nbsp
Author:
Ihsan A Bafakih, CEO of MASIC
September 4, 2015
The development of the Middle East's leading economy has brought with it comprehensive and wide-reaching gains to the country's almost 30 million inhabitants, and none can dispute the nation's growing geopolitical clout on the global stage. Its real GDP increased fivefold in the period through 1970 to 2007, averaging at 5.5 percent a year, and even the financial crisis couldn't stop the nation's onwards march, with growth clocking in at 6.5 percent in the period between 2010 and 2013.
Home to one of the planet's most formidable hydrocarbons sectors and one of the fastest growing economies worldwide, the recent decision to open up the stock market to foreign investment looks to extend these benefits further afield, though at what price is unknown.
"I think Saudi Arabia's decision to open its capital markets this year for foreign participation will lure big global investors to take part in the Middle East's biggest economy", said Ihsan Bafakih, CEO of MASIC, or Mohammed I Alsubeaei and Sons Investment Company, to give the firm its full name.
"There is no doubt that international investors would leap enthusiastically at the chance to participate in such a market. The Tadawul exchange (Saudi stock market) is as big as that of Russia and, with a market capitalisation of over $430bn."
5.5%
Saudi Arabia's share of total emerging market capitalisation
Market penetration
Before the reform was passed, foreign businesses could access the market only through a local Saudi institution, which was both costly and complicated, and served to dissuade a great many from investing. The opening up of its capital markets, however, makes Saudi Arabia a more inviting opportunity for foreigners, and, as well as driving growth, promises to boost employment opportunities for the kingdom's fast growing population. The decision is also important insofar as it marks a departure from the cautious approach that has so characterised its past, at least as far as foreign influence is concerned, and the move is closely in keeping with a much broader liberalisation push sweeping the economy.
The region has seen similar attempts to open markets, recently in the UAE and Qatar. With the opening of Saudi Arabia, the major emerging market indices will have a greater representation of Middle Eastern markets. Prior to the move, the country was perhaps the last big frontier market to shield its capital markets from foreign influence in this way, though the decision to turn tail on the strategy is proof enough that foreign investment has a big part to play in the coming years.
Larger than South Africa, Mexico, Turkey and Russia, Saudi Arabia represents some 5.5 percent of total emerging market capitalisation, and the reforms, while slow at first, mean that the country's share will be greater even in the coming months. Initially, access is restricted to institutions going by the 'qualified foreign investors' tag, on the proviso that they manage a minimum of $5bn and have a five-year track record, so as to avoid a sharp spike in speculative money flooding into the country.
With oil prices still at a low, this influx of foreign money, while modest in its early stages, should extend Saudi Arabia a lifeline in a period where hydrocarbons are struggling to keep its development on course. Further, the decision is part of a much broader package to accelerate the country's development and diversify its economic make up away from hydrocarbons. "The Saudi Capital Market Authority is opening up the local public equity market to qualified foreign institutional investors. Also, the Saudi government has indicated it will begin taxing raw land sitting in city centres in an effort to encourage more development", said Bafakih.
According to official statistics, real estate transactions dropped off in the opening half of the year, and the land tax introduced by the government is intended to inject some much-needed life and affordability into the sector. In doing so, the government aims to transform real estate, both by making homes more affordable and boosting construction. "The taxation of vacant land will spur land owners to develop the real estate instead of leaving it undeveloped hoping for price appreciation. It reduces land speculation and gives our cities what they deserve in quality efficiency", said Bafakih. Whereas beforehand landowners were known to sit on land, only to await the right development opportunity, the new tax means that owners will be more inclined to build income-generating housing on a shorter timescale.
Right place, right time
"MASIC is well positioned to benefit from these regulatory changes, given our exposure to public equities and given our real estate portfolio, which has been developing raw lands and creating alternative real estate plays that cater to our continuous needs", said Bafakih, in relation to the reforms.
Since 2006, MASIC has transformed from a traditional family investment businesses into a professional investment company, though without losing the values that so characterised its initial establishment. Focusing on new opportunities on local, regional and global frontiers, the firm has established a reputation as a responsible investment vehicle, whose decisions are underpinned by an ethical culture.
"MASIC is a holding company and does not offer investment services to third parties. Our portfolio includes investment services offering such as Albilad capital, Jadwa Investment and Fajr Capital who offer investment products", said Bafakih.
"After 80 years of running the business, the drive came from the principals/owners who wished to work toward the family business having a long corporate life (measured in hundreds of years, not decades). To achieve this goal, MASIC adopted international best practices in terms of corporate governance, policies and procedures, decision-making process for investments and family participation – i.e., no family member works in MASIC, their representation is at the board or committee levels."
Speaking on the importance of family values and on the key issue of Sharia compliance, Bafakih said, "MASIC's values are very important to us as they define who we are, what we do and why we do it. MASIC believes in supporting our local community and investing in companies/sectors that do not harm people or the planet, e.g., alcohol, tobacco, defence, etc."
Closely in keeping with this same commitment to corporate social responsibility, MASIC holds an annual forum each year, where the company invites the business community in Saudi Arabia to hear from world-renowned experts in the fields of investment and economics. In doing so, the company plays an important part in the education of the business community and in shepherding positive and progressive change throughout. Another of MASIC's main goals is to support the Mohammed and Abdullah Alsubeaei Charity Foundation, which, in the 10 years since its inception, has donated generously to support humanitarian, religious, cultural and social projects in the kingdom.
With oil prices still at a low, the influx of foreign money, while modest in its early stages, should extend Saudi Arabia a lifeline
Localisation targets
In this same vein, MASIC shares the government's commitment to localisation, and to equip the kingdom's growing population, particularly the youth segment, with the right tools to succeed. "Attracting local talent from the Saudi population is a priority of MASIC. Our firm has nurtured strong ties with local educational and training institutions to source talented Saudis. We offer attractive and competitive packages to draw high-quality graduates, along with an entrepreneurial environment that allows young Saudis to excel. This initiative is in line with the government's continuous efforts to increase employment among the Saudi youth by investing profoundly in its education sector", said Bafakih.
By focusing on both financial returns and social development, MASIC's approach mirrors that of the nation as a whole, as the government seeks to more fairly distribute the country's economic gains and build a sustainable future for younger generations. True, by opening up its capital markets, Saudi Arabia may lose some of the conservatism that has so characterised its past, though in order to build on the progress made in past decades and compete with similarly sized nations, the country must do away with its overly conservative tendencies.
In doing so, the country runs the risk of exposing the economy to disruptive and potentially damaging forces, so companies like MASIC are paramount in demonstrating that international exposure is not necessarily at odds with local gains. "God willing, MASIC will grow in terms of assets, employees and our impact in the business world", said Bafakih. "We hope to practice the high ethical standards embodied by our founder and to encourage others to do the same. We hope that MASIC will continue to be a leading light in the investment world 100 years from today."