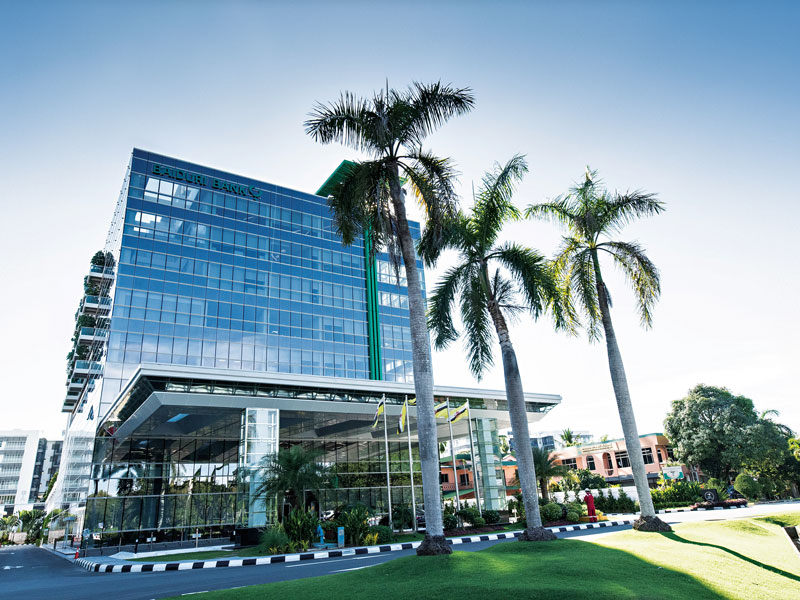 &nbsp
Author:
Ti Eng Hui, CEO, Baiduri Bank
One of the greatest lessons to emerge from the COVID-19 pandemic has been the importance of connection. Whether that's our relationships with our families and friends, or with the community and the wider world around us, repeated lockdowns have served as a pertinent reminder of the value of strong, long-lasting bonds.
In the business world, too, the pandemic has re-emphasised the need for companies to lead with empathy, and to place the customer experience at the very heart of their operations. In fact, never before has it been more important for companies to devote themselves to meeting their customers' new and evolving needs. The pandemic has reshaped customer expectations and habits, with consumers now desiring simpler, faster service and digital solutions as standard. Those who fail to adapt to these new standards of customer care will soon find themselves left behind in what is an increasingly competitive market.
This is particularly true in the banking industry. Before the pandemic hit, banks had spent years working to rebuild consumer trust in the wake of the 2008 financial crisis. Then, after many years of effort and investment in restoring customer confidence, the banking world was hit with a fresh crisis in the form of COVID-19. This time, though, lessons had been learned, and banks around the world were quick to respond to the rapidly unfolding emergency with a host of innovative digital solutions and a re-orientated customer service experience.
As the largest conventional bank in Brunei, Baiduri Bank felt compelled to lead the way when it came to the industry response to the pandemic. Acting swiftly and with sensitivity, Baiduri Bank lent its support to customers with a range of financial relief methods, including loan deferment and restructuring, as well as introducing new digital channels to streamline the user experience and prioritise low-risk contactless interactions. As the world tentatively reopens and moves towards a post-pandemic new normal, Baiduri Bank remains as committed to its customers as ever before, and is fully focused on enhancing the user experience through innovation and digitalisation.
A bold new era
Long before the pandemic hit, new technologies were beginning to reshape the banking world as we once knew it. Digital-only challenger banks, Artificial Intelligence (AI) and remote payment methods were rapidly redefining the industry, with banks under ever increasing pressure to innovate and expand their digital offerings. Then, in March 2020, as the pandemic took hold and kept people confined to their homes, it became clear that the banking industry would need to fully embrace digitisation during that period – and fast.
Baiduri Bank has had a sustained focus on digital transformation for some years now, and the unprecedented events of the past two years have only served to highlight just how important it is to continue on this mission of continuous, customer-focused technological progress. In March 2020, we relaunched Baiduri b.Digital Personal, our award-winning personal online banking service. This successful relaunch proved very timely, as it offered our customers a range of enhanced features that enabled them to access a whole host of banking services from their smartphone.
Suddenly, as lockdowns came into effect and bank branches closed, customers needed to be able to access banking services remotely, and the Baiduri b.Digital Personal app allowed them to do exactly that. Offering a safe and secure way to carry out remote transactions, the new and improved version of the app includes a biometric login feature, along with a time-saving online registration process. Once customers are set up on the app, they can use it to view a dashboard of their assets and liabilities, set themselves a savings goal and view a number of in-app calculators, including a loan calculator, retirement calculator and a risk-profiling tool. Designed to be an 'all-in-one' platform to help customers to navigate their personal finances and make the most of their money, the app offers a number of features seen nowhere else in Bruneian banking – which has proved particularly appealing to new users.
Recognising the growing appetite for contactless payment options in the wake of COVID-19, Baiduri Bank is also partnering with financial firm UnionPay International (UPI) and telecommunications provider DST to launch a pioneering e-wallet. With DSTPay, Baiduri Bank and UPI customers will be able to scan QR codes at over 200 merchant outlets in Brunei, letting them pay for products and services with a simple tap on their smartphone. The cross-sector partnership is now gearing up to launch phase two of DSTPay, which will enable contactless payments at 25 million UnionPay merchants across the globe.
Our customers have continued to respond positively to our enhanced digital offers. Between September 2020 and September 2021, Baiduri Bank saw a 53 percent increase in average monthly transactions, and a 52 percent increase in its active user base. As we continue on our journey of technological transformation, our customers remain, first and foremost, at the very heart of our digital mission.
Keeping things personal
At Baiduri Bank, our customers are well informed of each and every decision we make. We take a humanised approach to financial services, using our deep knowledge of customer needs and preferences to create a truly personalised service. Above all, our approach to customer care is guided by our core values of trustworthiness, empathy and inclusion – in both our online and offline interactions.
Banks around the world were quick to respond to the rapidly unfolding emergency with a host of innovative digital solutions
We firmly believe in an omnichannel, 'phygital' approach, that ensures a seamless customer service experience across all channels. In September 2020, Baiduri Bank released its first AI chatbot – Emmi – as part of the revamped website. One of the first of its kind among banks in Brunei, Emmi uses predictive analytics, meaning that it is able to actively learn from conversations, providing relevant answers before customers even complete their questions, and offering next-best answers based on context.
Through conversing with Emmi, customers can have their frequently-asked-questions answered in real time, helping them to better understand our products and services. What's more, during the second wave of the pandemic, we actively trained Emmi to provide updated information and assistance on COVID-19. Our customers appreciated this enhanced level of digital support, and we saw a marked increase in our digital engagements during this turbulent time.
While Emmi marked our first venture into the world of AI, we are now committed to exploring other applications of this groundbreaking technology. From robo-advisors to enhanced cybersecurity and predictive analytics, there are a number of different ways to utilise AI that will help to create an ever more seamless and intuitive service for our customers.
When it comes to our in-person interactions, we maintain the same level of commitment to high-quality customer care. We understand that everyone has different needs and preferences, and some may prefer to use our traditional brick-and-mortar branches to carry out their banking transactions. That's why we are continuously looking to enhance our in-person experience, ensuring improved facilities and a comprehensive suite of services at our high-traffic branches, while catering the services of other, more localised branches to best suit the needs of the communities they serve. Financial inclusion is at the very core of our mission, and we hope to empower each and every customer to gain greater control over their finances in whatever way best suits them.
Building a sustainable future
In the wake of the COVID-19 crisis, customers and companies alike have begun to reassess their values, reflecting on what kind of post-pandemic future they would like to see emerge as the world reopens. The past two years have shown that our communities are immensely capable of collective action when faced with an emergency – and now is the time to build on that momentum and tackle some of our world's most pressing issues head on.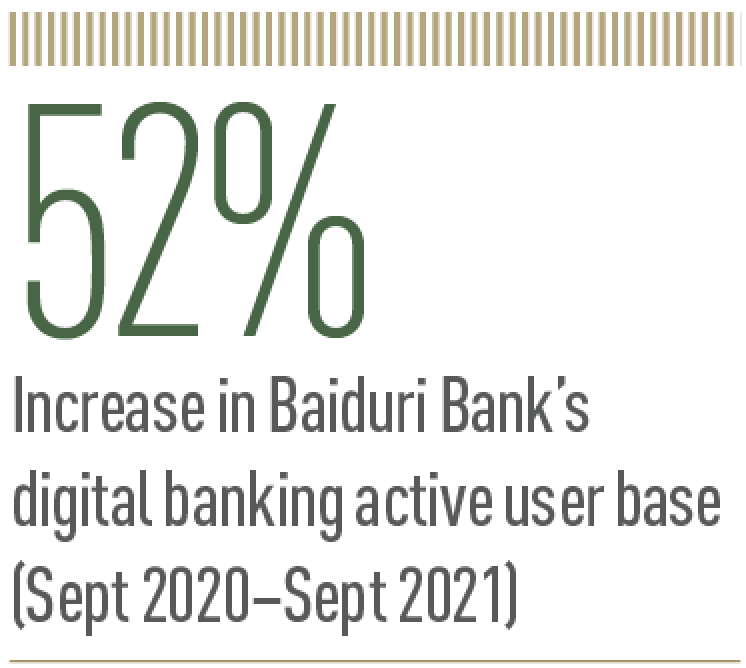 The climate crisis is perhaps the next looming global emergency, and at Baiduri Bank, sustainability is a matter of real priority. We are in the process of developing a detailed roadmap that will embed sustainability into our strategy and operations going forward, aligning with the UN's Sustainable Development Goals and matching national commitments when it comes to environmental good practice. In this spirit, we have also reviewed our Corporate Social Responsibility (CSR) commitments, ensuring that they reflect the UN's sustainable development pillars and prioritise doing good – for the environment, for our communities and for our people.
At the height of the pandemic, Baiduri bank donated much-needed supplies of PPE materials to frontline healthcare workers as they fought to save lives and protect citizens from the virus. As part of our CSR efforts, we also donated care packages to underprivileged special-needs families across Brunei, as well as sending a number of laptops to disadvantaged students for home learning purposes, in partnership with the Ministry of Education.
We also partnered with the Ministry of Culture, Youth and Sports to develop an innovative national volunteering app, named 'Mengalinga' – which translates as 'We Care.' Launched in August 2021, at the start of Brunei's second wave, the app became instrumental in organising and mobilising volunteer support, with over 1,100 individuals and 115 organisations registered with the app as of February 2022.
During this unprecedented time, Baiduri Bank has been committed to supporting its valued employees, introducing a dedicated internal WhatsApp line specifically focused on mental health and wellbeing. At the start of the pandemic, all employees were given special care kits that included surgical face masks, and we introduced a series of virtual wellness activities and workshops in collaboration with health experts to offer sustained support to employees who were working from home. All of our employees were also offered two days of leave in-lieu for each vaccine dose to allow them to recover in their own time. Throughout the pandemic, Baiduri Bank has strived to make a real difference in the community that it serves.
In the months and years to come, our ESG principles will remain at the core of our strategy, and we will continue to look towards a more sustainable future, where the needs of our customers, employees and our wider communities will always come first.